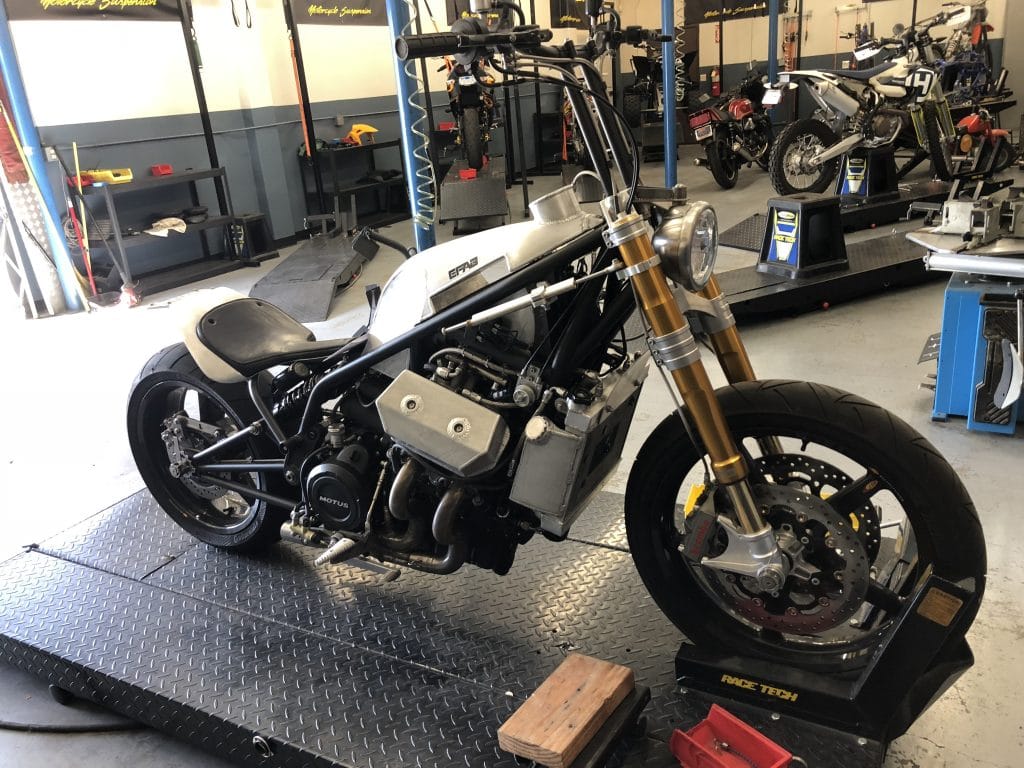 Eastern Fabrications was started in 1996 to serve as a basis for Lock Bakers motorcycle craft and manufacture. To date, Lock has built 18 completely hand made motorcycles ranging from Hot-rodded Harleys to Ducati powered street bikes and even handmade proprietary engines. Lock has always been a chopper builder at heart, and even his latest bike featured here was built as a chopper, albeit a very high tech one. Ride-ability is Locks secret weapon in the bike industry, and the aspect that he is proudest of in all of his builds. "I want my bikes to function, and by function I mean day after day, mile after mile, like a factory vehicle does. At the same time, what you are riding is a completely handmade jewel"
"Red Asphalt" is Lock's latest. The spec sheet lets you know that this is not a motorcycle for the faint of heart in any way. The bike is wrapped around the most powerful pushrod engine ever made for a motorcycle- a liquid cooled 100" V-4 developed by K-tech and Motus Motorcycles in Birmingham, AL. Take a look at a stock Motus and you find a sport-touring bike with all the bells and whistles. Lock wanted to strip it down to its essence- the motor. Every single component from the frame and swingarm,  fuel tank, seat, axles, risers, spacers, wiring, plumbing, welding, finishing, and wiring was done by Lock.  The geometry reflects locks chopper mentality, and features a 62 inch wheelbase, extremely low and rearward seat position, and tall bars. Mid controls are directly beneath the rider.  This provides a very upright yet strong body position with great field of vision and a flat back. The coating is Cerakote, a coating designed originally for firearms. It is extremely thin, durable, and heat-resistant. Color is "graphite black". Many of the smaller components were polished and media tumbled, and some polishing with directional brushing.
Eastern Fabrications is currently located in downtown Los Angels, CA. And visitation by appointment only.
Spec Sheet:
Shop- Efab
Web- www.Easternfabrications.com
Year/make/model- 2018/Efab chopper/Red Asphalt
Fabrication- Lock Baker with help from Ryan Boyd, Alex Lerner, Shane Mcmullen, and Thomas Vaeretti
Built time- 3 years
Engine:
Year- 2016
Type- Motus MSTR
Size- 100"
Builder- Motus
Cases- Motus aluminum
Cylinders- Motus aluminum with iron liners
Heads- Motus, 2 valves per cylinder, single plug
Rocker boxes- Shane Mcmullen
Cam- Motus, hydraulic roller
Throttle body- Motus/Bosch quad bore downdraft with port injection
Air Cleaner- K&N
EFI controller- Bosch
Exhaust- Efab 321 stainless
Transmission:
Year- 2016
Type- Motus 6-speed
Gears- helical
Clutch- Motus multiplate wet
Primary drive- shaft with shock trap
Frame:
Year/type- Efab handmade 4130 steel
Rake/stretch- Proprietary geometry, 25 degree neck/ 3" trail
Suspension:
Frontend- Ohlins NIX 30 legs, Efab titanium axle
Length- Stock Efab
Tripple trees- Efab/Boyd
Swingarm- Efab
Rear shocks- Race Tech
Rolling stock:
Front wheel
Builder/size- BST 19"
Tire size- 100/90-19
Calipers- Brembo x 2
Rotors- Suzuki
Drum- NA
Rear wheel
Builder/size-BST 17"
Tire size- 180/60-17
Caliper- Brembo
Rotor- Suzuki
Drum-NA
Pulley-NA
Sprocket- Superlight
Paint and plating:
Paint manufacturer- Cerakote
Colors used- N/A
Painter- N/A
Graphics- N/A
Plating-N/A
Polishing- Efab
Powdercoationg- N/A
Accessories:
Fairing- NA
Lowers- NA
Front fender- NA
Rear fender- Efab
Gas tank- Efab
Dash- Efab
Gauges- Efab/Motogadget
Handlebars- Pro-Taper
Grips- Renthal
Mirrors-NA
Hand controls- Dunhill/ Brembo
Foot controls- Efab
Pegs- Efab
Headlight- HD dyna
Tailight- Alex Lerner
License mount- Efab
Seat- Efab
Custom accessories/features:
Its a load-bearing engine with 180 HP/126 foot pounds of torque @ 7000 rpm. It weighs in at 500 pounds wetland has a 110 mile range @ 80mph with a top speed of 170 mph with stock gearing.