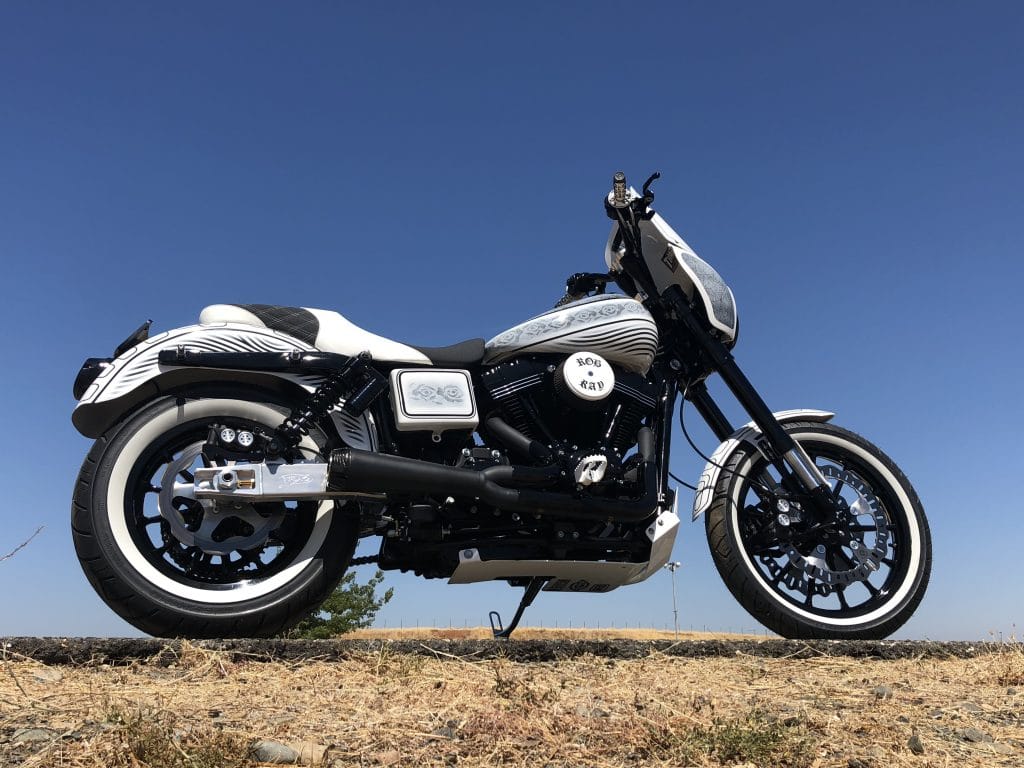 I bought this bike wrecked back in 2016 from the Copart auction back when I had a motorcycle business going. I was buying wrecked bikes and flipping them as well as working on customers bikes. I had this bike sold and the dude backed out right at the time I sold my personal Dyna, which was a full custom Dyna Bagger on air ride. This particular wrecked bike was so clean and had only 1300 miles, so I decided to keep it and start over. I wanted to build a bike that was a practical and reliable machine that could be hammered on and rode a long distance and not worry about issues arising. I finished it night before I took it to Born-Free 9. After that show I rode it to Lake of the Ozark's in Missouri. And from there to Sturgis and then back to CA. I left with a basically pristine new bike and came back with a bike just totally thrashed. It was so rock chipped and beat up, so I decided to sell it. It wasn't really my style anyways just another blacked-out Dyna. I had a bunch of dudes low balling me and trying to get it for nothing. Finally, I had a guy on his way with cash and I had a change of heart, so told him forget it I'm keeping the bike. At this point the bike had been through too much with me. Across a good part of the country, through a divorce, and all kinds of late night "sun in your eyes" homeward trips with the sun in your eyes. After I made my decision, that very night the bike was totally torn apart and I said to myself "this time I'm really building it for me with my style being the number one order of business." And so here it is. Its a fusion between Hot Rod, performance and Chicano Lowrider that literally has my name on it, where I'm from, and a logo of my close friends at Hard Case Performance. I finished the bike up about 1am on the same day as the FXR's of California show and bombed to Sacramento. I test rode the bike at 100mph on the way to a show slowing down to grab a clip of Modelo Cheladas at the liquor store. Who knows what the next saga to this bike is. Hopefully it wont be wrecked and getting auctioned off at Copart again.
Spec Sheet
Year- 2015
Make- Dyna
Model- FXDB Street Bob
ENGINE
Year-2015
Type-Twin Cam
Size-103ci
Exhaust- Two Brothers Exhaust
Cams- Andrews H37
TRANSMISSION
Year-2015
Type- 6 speed 
FRAME
Year/Type- 2015 H-D
Rake/Stretch- Factory Fresh
SUSPENSION
Frontend- ODC Monza Inverted Frontend
Rear Shocks- ODC Reservoir
Swingarm- Trac Dynamics Machine Polish Finish
Engine Mount- Alloy Art Stabilizer Kit
WHEELS & TIRES
Wheels- Stock 2003 Dyna 13 spokes converted to 25mm and spokes machined out by Hard Case
Brand- Shinko 777 White Walls
Size-150/80-16 & 100/90-19
Calipers- 2017 Yamaha R1 radial mount calipers front and rear with Kraus Rear Radial bracket
Rotors- Hard Case Performance dual front rotors /Galfer rear rotor
Pulley/Sprocket- IMZZ Elite Rear Sprocket and Bullet Proof Cycles chain kit
PAINT & PLATING
Painter- Jeff Woodard (Styleline Kustoms)
Graphics- Your Grandmas tablecloth. Striping done by Denise Corbett 
Plating- N/A
Polishing-N/A
Powdercoating- Vinny's Classic Powdercoating
ACCESSORIES
Fairing- Conely's T-sport fairing with 14-inch windshield painted and striped
Front Fender- Stock 
Rear Fender- Stock
Gas- Stock
Dash- Hard Case Performance Dash Panel
Gauges – Stock Harley Speedometer with Hard Case Performance Single Guage Pod Set Up.
Handlebars- Hard Case Performance 7-inch risers & indicator light bracket. Renthal RC Mini Bars Powdercoated Black  
Grips- Scott MX Grips and Hard Case Performance MX throttle kit.
Mirrors- None
Hand Controls- Oberon Adjustible Levers 
Foot Controls-BungKing Shifter peg
Pegs- Burly MX Pegs 
Headlight- Rouge Rider Industries 
Taillight – Drag Specialties 
Turn Signals-ODC Front LED Turn Signals and Alloy Art Rear Turn/Brake Signals
License Mount-Kuryakyn Curved Plate Holder
Seat-C&C 
Skid Plate- Speed Merchant