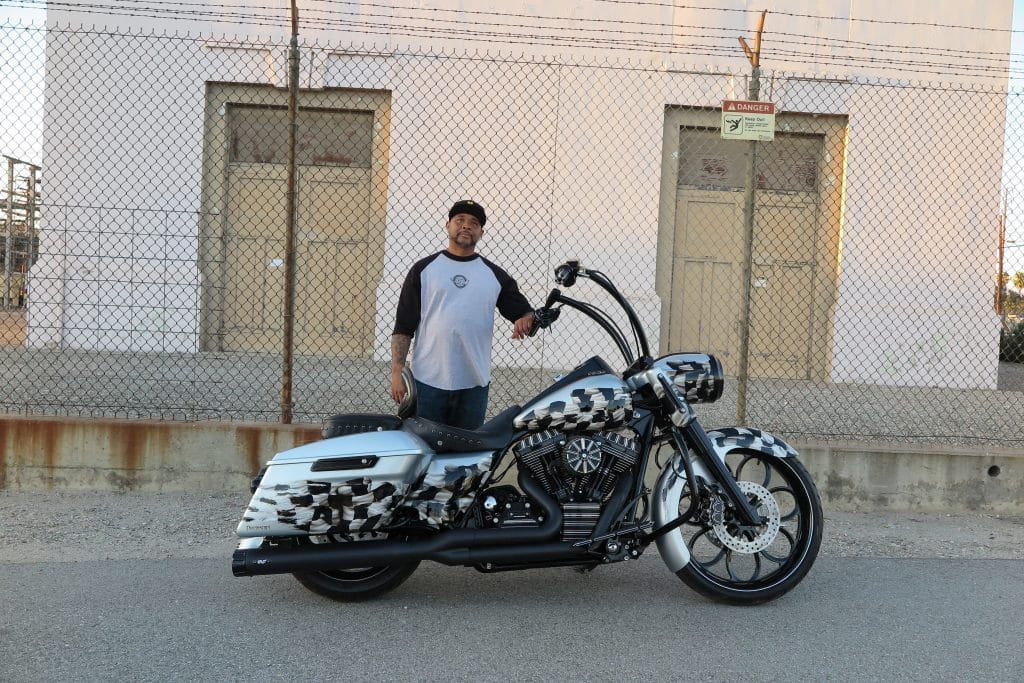 I've been knowing the owner of this bike "Smiley" for over a year before we realized the bike was in my possession. A friend of mine had the full responsibility of overseeing the customization of this here 2014 Road King back in 2016. The initial plan was to assist him with only my advice and suggestions. I was open minded to the customization of this project not realizing that the bike actually belonged to a friend of mine. After a bit of time the middle man abandoned this project after it was in pieces and ready for paint, motor work and parts. And I haven't heard from him since. I don't really blame him one bit. Building a custom Bagger from the ground up ain't no joke.
So there I was. This bike was in a thousand pieces and I had not a clue who or where the Road King's true owner was. A few months later another mutual friend of both Smiley and myself found out where Smiley could find his bike. Thats when Smiley came by my place of business and was reunited with his bike. From there we charted the course of how the bike should properly be built and with what parts. We started from scratch and I showed him the inventory that was amassed. And of course Smiley didn't have the parts that he thought he had.
After he calmed down, Smiley then gave me the green light to build the "Silver Surfer" you see here with my own personal touch. I assured him that even though the bike's life so far had been a bumpy ride, that he could trust me 100-percent to build it correct. Just like I do with every single one of my customer's bikes. Although this was not my initial project I truly enjoyed building it as well as the outcome of the completed bike. And Smiley was impressed as well. Making my mission complete.
General
Owner- Smiley
Shop- Strictly Hawgs
Website-strictlyhawgs.com
Year/Make/Model- 2014/H-D/Road King
Fabrication- Strictly Hawgs
Build Time- 11 Months
ENGINE
Year- 2016
Type- Twin Cam
Size- 110ci
Builder- Strictly Hawgs
Cases- H-D
Cylinders- H-D
Heads- Branch
Rocker Boxes- H-D
Cams- Feuling .574
Throttle Body- H-D
Air Cleaner- Arlen Ness
EFI Controller- Vance & Hines
Exhaust- Magnaflow
TRANSMISSION
Year- 2014
Type- H-D
Gears- H-D
Clutch- AIM
Primary Drive- H-D
FRAME
Year/Type- 2014/H-D
Rake/Stretch- Stock
SUSPENSION
Frontend- H-D
Length- Stock
Triple Trees- H-D
Swingarm- H-D
Rear Shocks- Progressive 440
ROLLING STOCK
FRONT WHEEL
Builder/Size- Primo/23×3.50
Tire/Size- Avon/130-60-23
Calipers- Arlen Ness
Rotors- Primo 11.8
REAR WHEEL
Builder/Size- Primo/18×5.50
Tire/Size- Avon/180-55-18
Caliper- H-D
Rotor- Primo
Pulley- H-D
PAINT & PLATING
Paint Manufacturer- House of Kolor
Colors Used- A bunch
Painter- John at Dreamscape
Graphics- John at Dreamscape
Plating- H-D
Polishing- None
Powdercoating- Specialized
ACCESSORIES
Nacelle- Bad Dad
Front Fender- Fat Kats
Rear Fender- H-D
Gas Tank- H-D
Dash- H-D
Gauges – H-D
Handlebars- Triple OG's
Grips- Arlen Ness
Mirrors- Nope
Hand Controls- H-D
Foot Controls- H-D
Floorboards- Arlen Ness
Pegs- Arlen Ness
Headlight- Performance Machine
Taillight – Custom Dynamics
Turn Signals- Alloy Art
License Mount- H-D