Place: 

Long Beach CA   

Handle: 

@MikeyVirus_963 / @VirusMoto_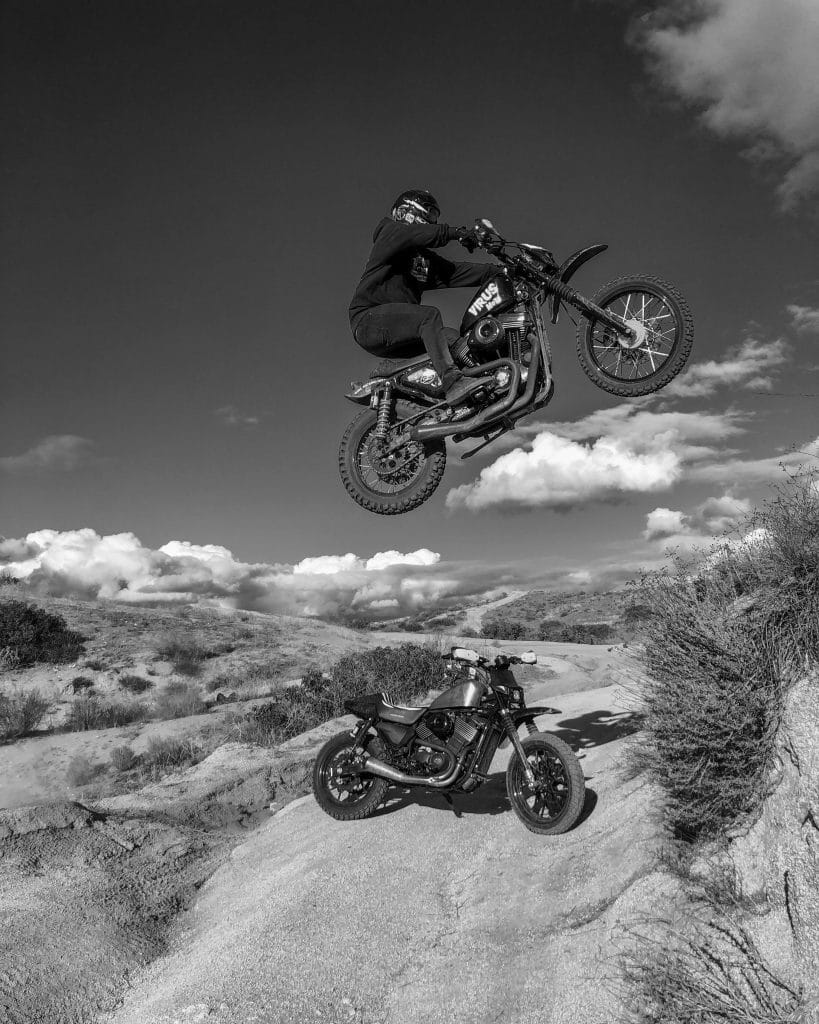 What do you do for money? 
Cogeneration / GenSet Technician
How did you get into motorcycles?
My Dad bought me my first dirtbike when I was 3 years old, and I used to ride it wherever I could, the desert, the backyard, up and down the street if he let me. I've just been hooked on motorcycles ever since then. 
What was your first motorcycle? 
1992 Yamaha PW50, still have it
What do you currently ride?
2018 HD Softail FatBob, 2011 Sportster, 1991 Sportster (TT/Moto Sporty), 1999 Sportster (Hooligan Race Bike), a couple old Hondas, and a garage full of dirtbikes
What is your all-time favorite motorcycle?
Idk dude, haha, I like most motorcycles, from Old to New, dirt to street, cruisers to race bikes.  If I had to pick one right off the top of my head, I'm a big fan of James Doerr (@WheelieTheLBC) moto inspired FXRSM
What attracted you to motorcycles?
I grew up with my dad and all his friends riding dirt bikes and other motorcycles, and I thought they were so cool, I wanted to be just like them. Hangin out in the garage full of bikes, then going to races and watching old Moto videos, I wanted to be a dirt bike rider/racer.  Then when I finally ventured out and rode other motorcycles besides dirt bikes, they just appealed to me that much more, different terrains, different thrills, different amounts of fun, different styles, just endless possibilities.
What do you like about riding motorcycles?
Everything! Love the adrenaline.  I love the thrill of blasting through canyons, jumping shit, racing with your homies, poppin wheelies up, smashing down the freeways with fast dudes, Road Trips!  Love that's there's usually always someone to ride with no matter what the terrain. Love the fact that I don't think about anything else while I'm riding a motorcycle, just stress free and usually smiling underneath the helmet.
How have motorcycles changed your life?
They have given me something to be passionate about. I want to be around motorcycles all day every day, haha.  Motorcycles have also given me a reason to travel around the country, either riding or going to races, and They have introduced me to some of the raddest people, some who are now great friends.
Who or what have you gained inspiration from?
I can gain inspiration from things like rad bikes, music, moto videos, friends that are killin it.  I gain a lot of inspiration from my son Ryder who seems to love bikes almost more than me, it's awesome to share that with him and very inspiring.
What do you think is the future of motorcycles?
No clue, but as long as they have two wheels and a motor, I'm ok with it.
What has changed your life for the better?
My Wife and Kids, they definitely make me a better human being. And of course, motorcycles.
What has changed your life for the worse?
I've had a lot of shitty negative times and drama in my life, but who hasn't.  I'd rather not focus on the negative things in life anymore, just trying to have fun and live life the best I can, surrounded by good people, good vibes, and good times.
Any other statements or slander you would like the world to know?
"Shred The Dirt, Shred The Gnar, and Keep It Grimey"
Also I'd like to thank Harley Davidson, Mike and Grant with Born Free Show, and Mark at Rusty Butcher, for everything they've done for me this year, this year has definitely been Rad, and one to remember!
Oh, and Jeff Holt Rules! V-Twin Fucking Visionary! Yeah Dude!