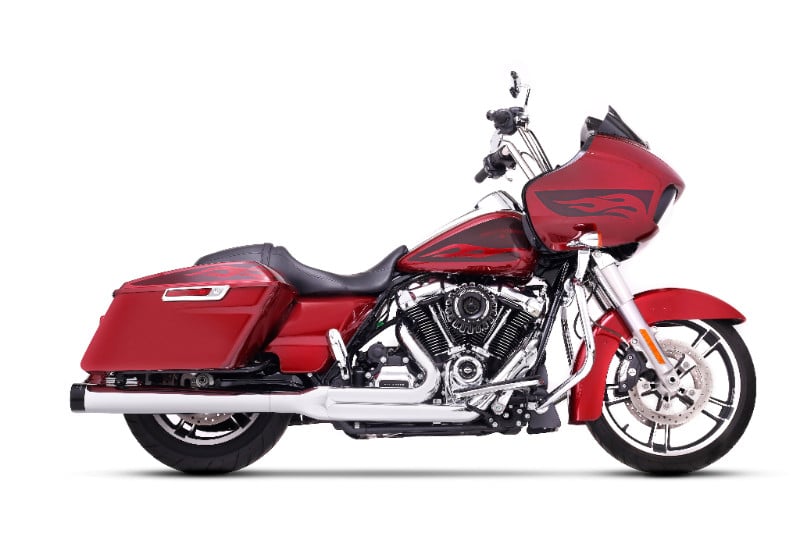 Rinehart Racing's 2-Into-1 system was designed to combine serious performance boosts and the trademark Rinehart sound into a sleek and sophisticated package that beautifully accentuates the H-D Milwaukee-Eight engine. The stepped header technology efficiently scavenges exhaust, allowing the engine to operate at peak performance. This system provides powerful low-end torque without sacrificing top-end horsepower, making it the best performing 2-Into-1 in the industry. 12mm and 18mm O2 ports are optimally placed for easy dyno tuning, eliminating the need for bung adapters.The smooth aesthetics start with a half-megaphone, half-straight muffler body, while precision laser-cut heat shields and collector heat shield complete the look. The 2-Into-1 system is offered in chrome or black with chrome or black standard end caps to complement the bike and the rider's style. This system also accepts a wide range of 4-inch end caps, including all of Rinehart's Moto Series and Eagle Beak varieties.
Rinehart's 2-Into-1 system is compatible with 2017-Later H-D Touring models, including the 2019 models that are hitting showroom floors. This system does not fit Tri Glide® or Freewheeler® models. Learn more at www.RinehartRacing.com.
Click here to listen to the Rinehart Racing 2-Into-1 System on a 2017 Milwaukee-Eight 107 engine.