Sturgis: VTV Motorcycle Shows and Where to Find Em
V-Twin Visionary has three events going on this year during the Black Hills Rally. We also invite you and your latest bike build out for the fun with us in Sturgis and Deadwood.
August 8th in Deadwood
Rockford Fosgate "ALL IN Bagger Show"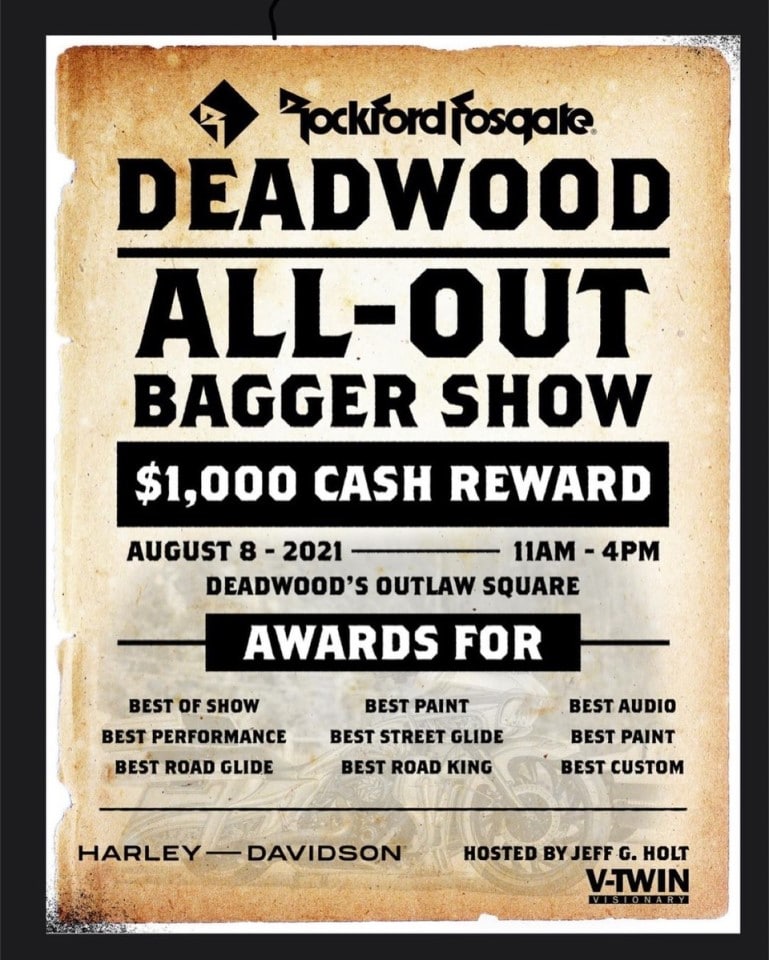 11-4pm at the Harley-Davidson Outlaw Square Takeover
703 Main St. Deadwood, SD
This is the inaugural year for the ALL- IN Bagger Show. It's already the talk of bagger builders and customizers alike. Harley-Davidson presents the show, with Jeff G. Holt hosting and emceeing the event. You'll find classes for every sort of custom touring motorcycle and "Best Of Show" wins a cool $1000 cash.
August 10th in Deadwood
VTV Speed & Style Showcase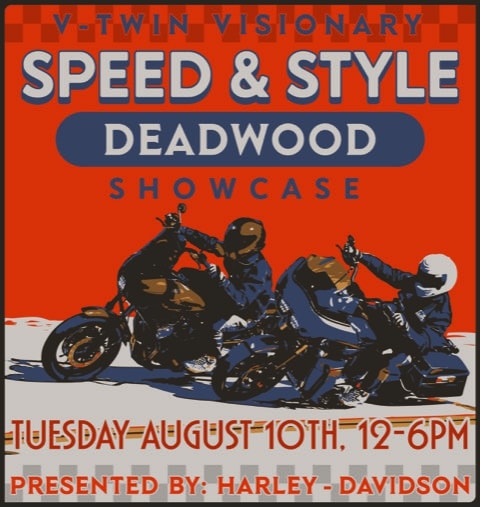 12-4pm at the Harley-Davidson Outlaw Square Takeover
703 Main St. Deadwood, SD
The V-twin Visionary x Harley-Davidson Speed & Style Showcase features a collection of custom Harley-Davidson powered motorcycles. All of which combine contemporary style, refined performance, and a mix of inventive ideas. From baggers to bobbers, choppers, and other customs, these expertly built two-wheeled machines and their creators will be showing up to Outlaw Square and showing off!
August 11th in Downtown Sturgis
VTV Performance Motorcycle Show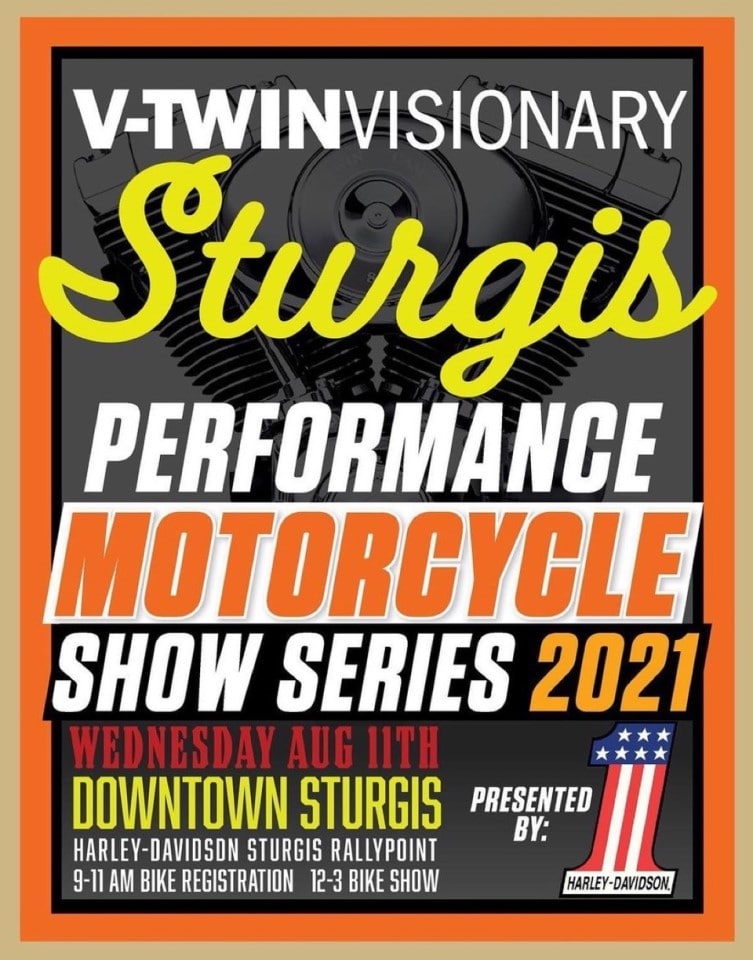 11-3 at Harley-Davidson Rally Point
1040 2nd St. Sturgis, SD
This will be the sixth of the nine stops we have this year with our Harley-Davidson-presented VTV Performance Motorcycle Show. This wildly successful series traverses the USA promoting custom and performance motorcycles and the people who ride as well as build them. V-Twin Visionary has moved its VTV Performance Motorcycle Show Series from the Buffalo Chip Campground to the Harley-Davidson Sturgis Rally Point venue in downtown Sturgis. Going down on the corner of Harley-Davidson Way and Main Street, which is smack-dab in the middle of the Black Hills Rally, the place gets transformed into a performance motorcycle showground where like-minded bike builders, fabricators, and fans of the hottest growing segment of the custom American motorcycle culture can be seen showing off their creations.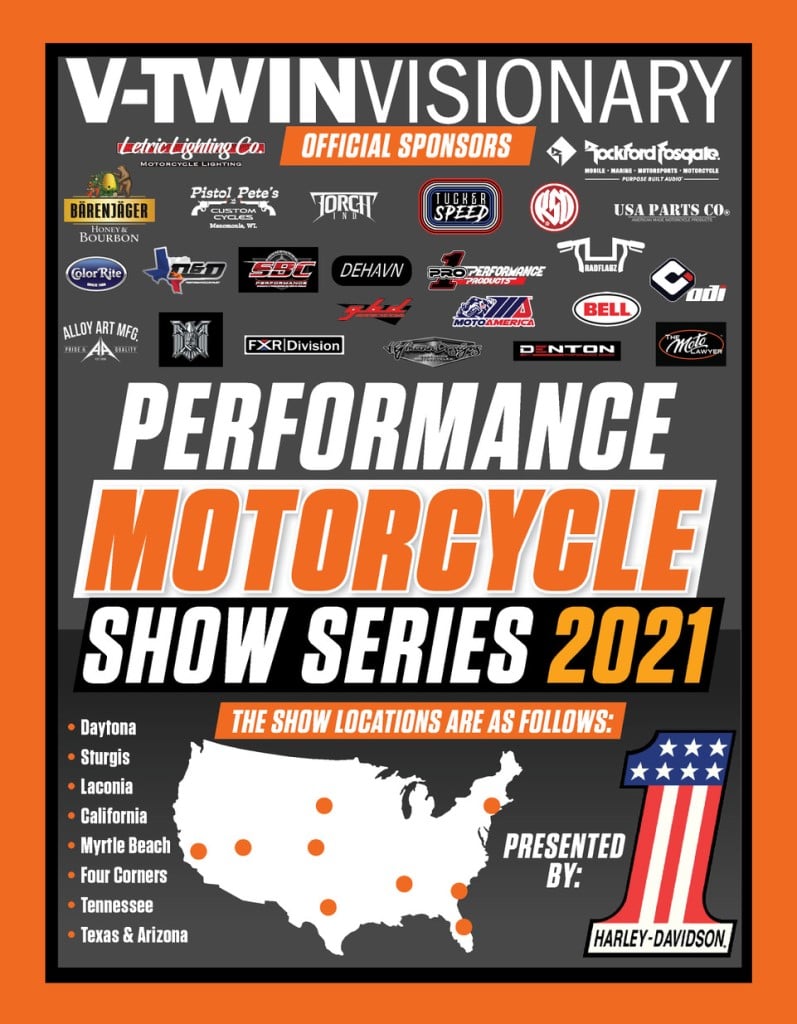 "For years we had our shows up at the Chip, but felt this year we needed to move the ever-expanding Performance Motorcycle Show Series Sturgis event to downtown where the people are and the action is. Performance V-twin motorcycles are all about having the power to ride anywhere and the sportiness to do it in a superior way. At this show, above all, you will see the best of the best; big-inch motors, tuned suspension, powerful brakes, and other race-inspired parts being outfitted on carbon fiber clad, wildly painted purpose-built bikes. And what better place to show these amazing machines off than at the Sturgis Rally Point?" said Jeff G. Holt of V-Twin Visionary.
Into the Unknown
And not only will there be the ground-breaking V-Twin Visionary Performance Motorcycle Show from 11-3pm, but none other than the Unknown Industries will be putting on their immensely famous mind-melting stunt show during the hours of V-Twin Visionary's event on Harley-Davidson Way.
VTV, H-D, VIP
Also, The Sturgis "Best of Show" winner will receive $1000 cash and each class winner of the Harley-Davidson presented VTV Performance Show will be included in an exclusive VTV and H-D VIP experience in Deadwood. Yes, later evening all of the show winners will be be part of a ride-to evening party and will be included in a motorcycle showcase during the Harley-Davidson street festival and industry party happening on the streets of Deadwood.
As you can see we have a ton of fun going on in the Black Hills during the rally. For more information on these events and our other shows, takeovers, and appearances feel free to hit us up directly, visit www.vtwinvisisonary.com or follow @vtwinvisionary on Instagram, Facebook, and Twitter.