Three Daytona V-Twin Visionary Motorcycle Shows Announced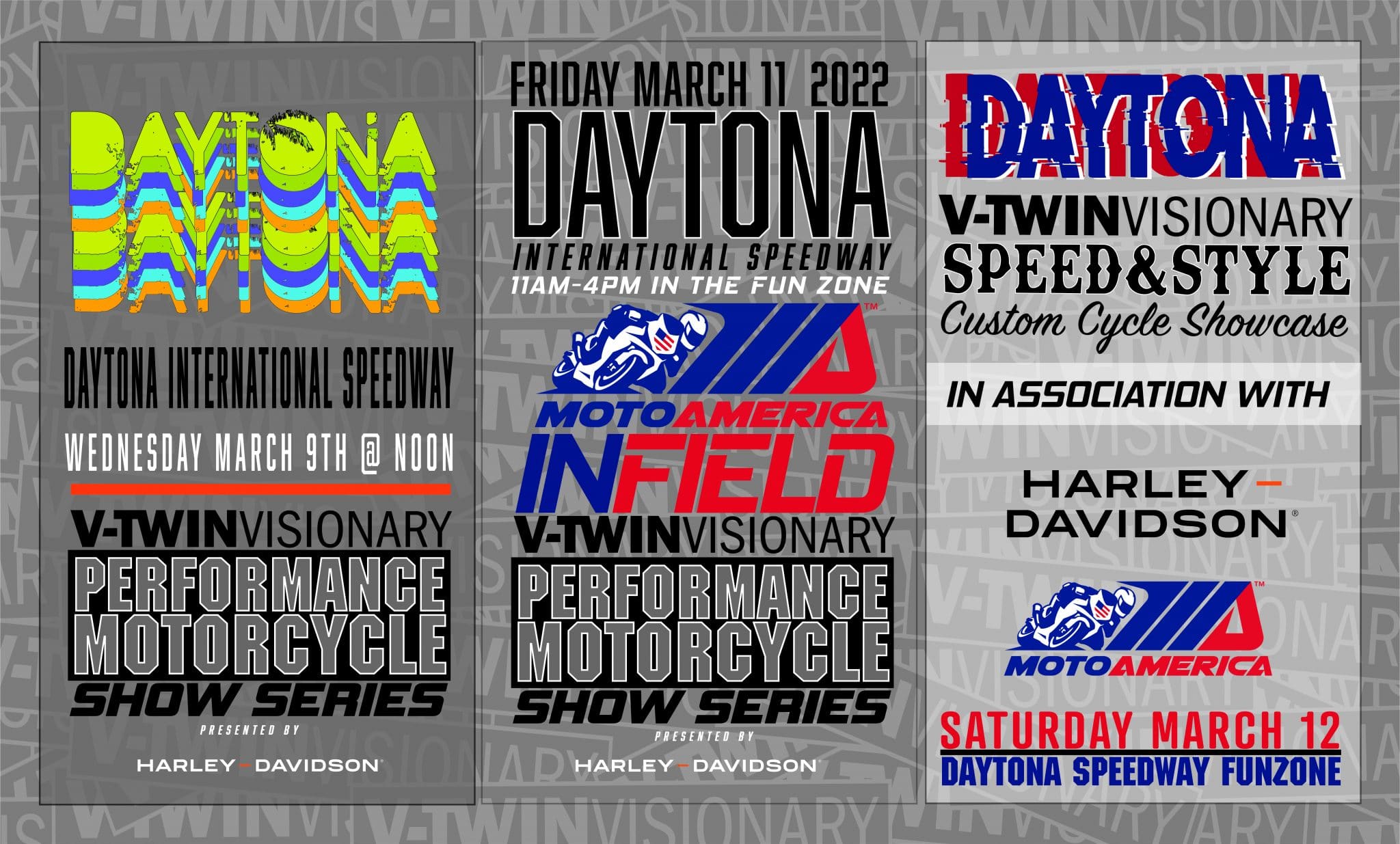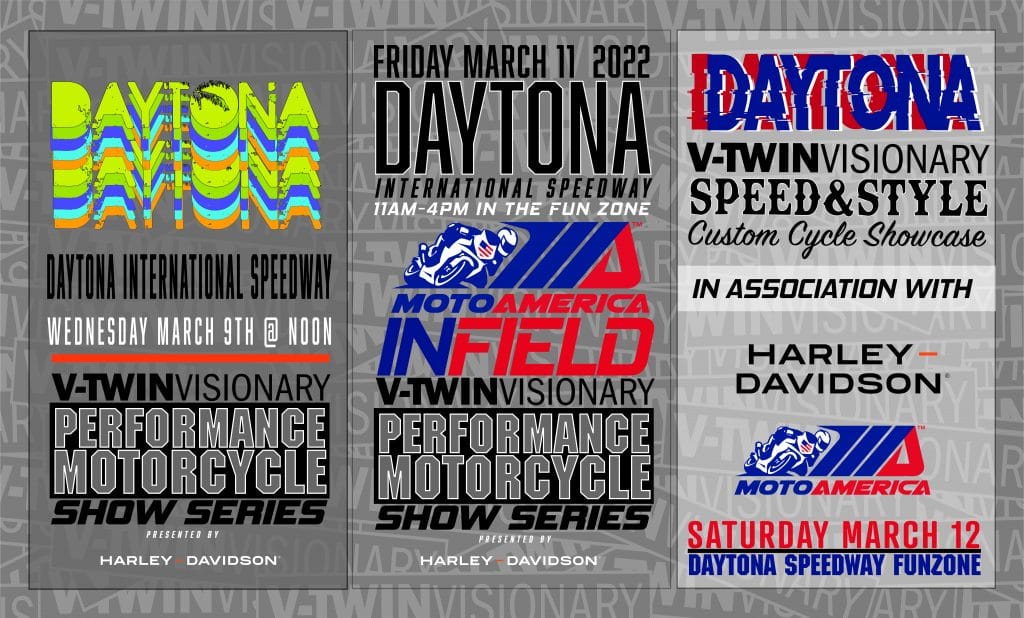 V-TWIN VISIONARY'S 2022 DAYTONA PERFORMANCE MOTORCYCLE SHOW
Wed, March 9th @ 12 noon. Awards at 4pm
The first stop of the one and only V-Twin Visionary Performance Motorcycle Show series presented by Harley-Davidson is going down at Daytona International Speedway in the H-D event space in front of tens of thousands of race fans and rally goers. The largest performance bike show of its kind, this show packs in hundreds of bikes and thousands of motorcycle enthusiasts all united in their need for speed. We are proud to show off the next generation of performance-based American V-Twin motorcycles, riders, and builders. To do it in Daytona, at the speedway, where so many motorcycle race records have been set, it really takes this event to the next level.
$1000 goes to "Best of Show" and the winning bike & builder will be invited to the VTV Invitational Build-off happening on the VTV Smoky MTN Tour October 6-9 2022
Other judged classes: Editor's Performance Choice ~ People's Performance Choice ~ Performance Sharknose ~ Performance Batwing ~ Performance Road King ~ Performance Softail ~ Performance Dyna ~ Performance FXR ~ Performance Sportster ~ Performance H2O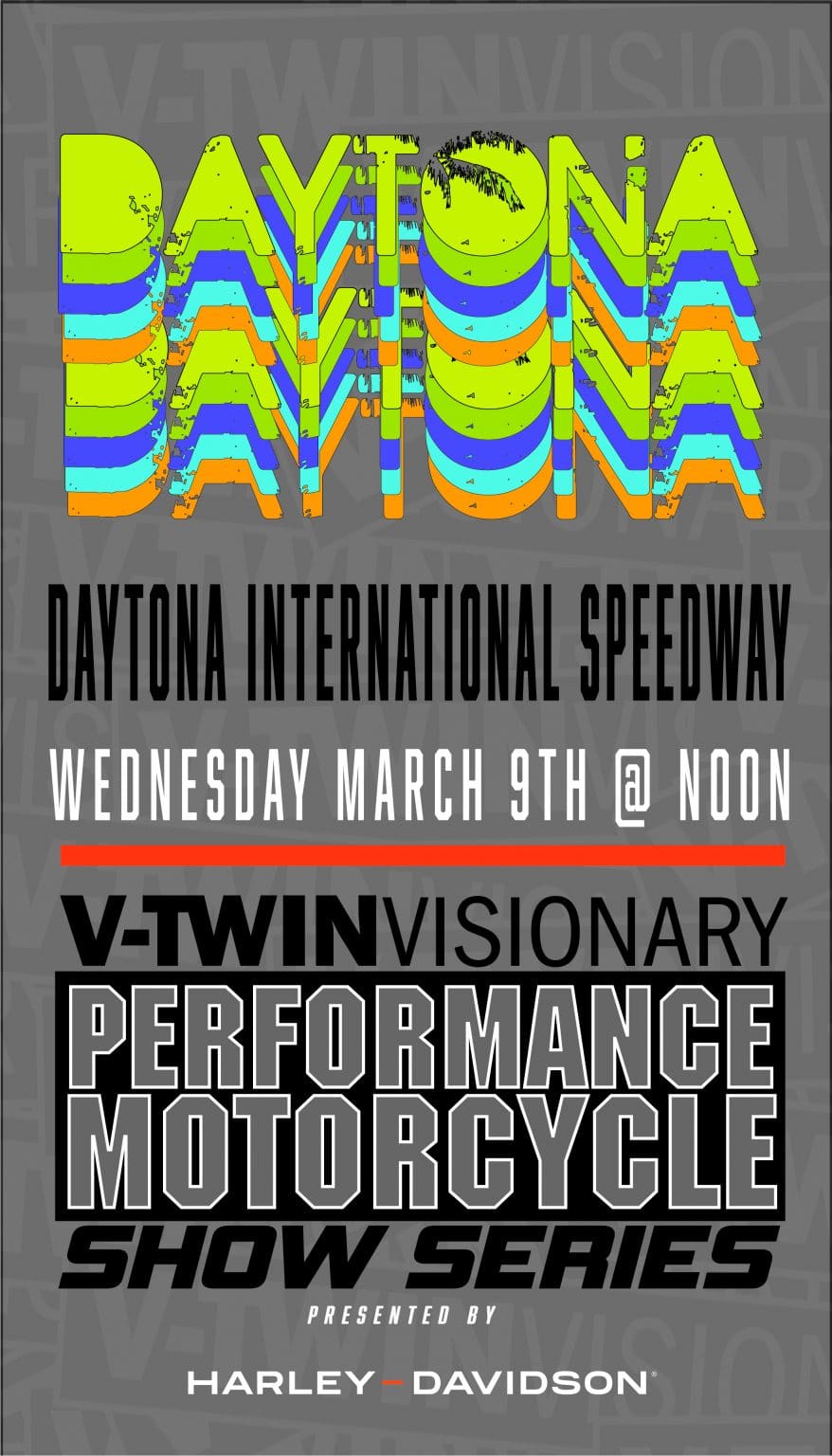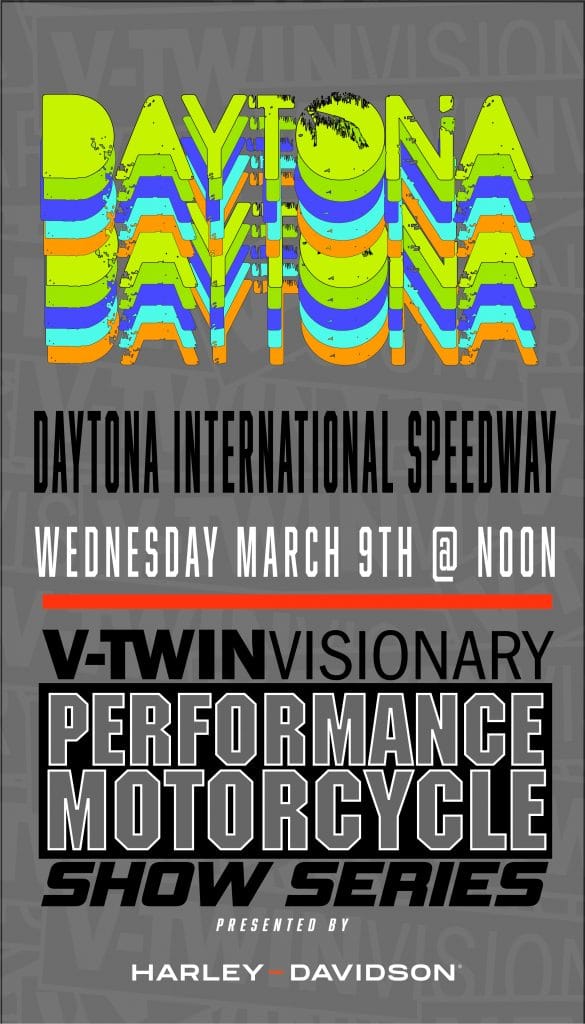 V-TWIN VISIONARY X MOTO AMERICA INFIELD PERFORMANCE BIKE SHOW
Friday March 11th 11Am -4PM
This Harley-Davidson presented ride-in performance motorcycle show is like no other. How you ask? This event is smack-dab in the middle of the Daytona International Speedway's Funzone where the infield King Of The Baggers race action is. You should be warned, his isn't your dad's bike show. You won't see any big wheel Baggers, or fat tire Choppers here. High-Horsepower engines, performance suspension, big brakes, and carbon fiber bodywork are what's happening at this event. And what better place to show off these amazingly-built machines and their legion of builders than smack-dab in the middle of such a famed raceway.
Show categories: Best Of Show ~ Editor's Choice ~ KOB's Choice ~ Best Bagger ~ Best Softail ~ Best Dyna ~ Best FXR ~ Best Sportster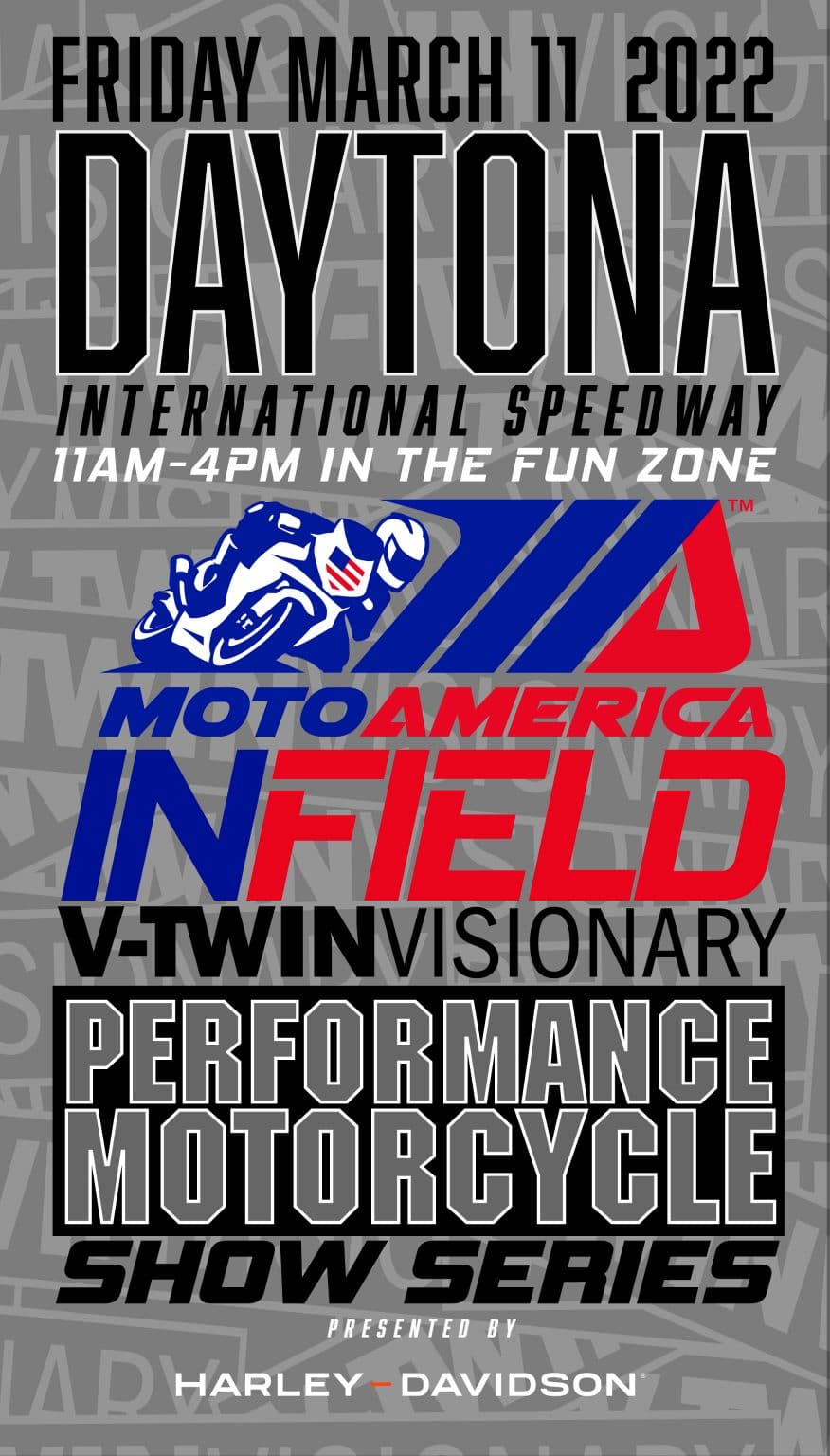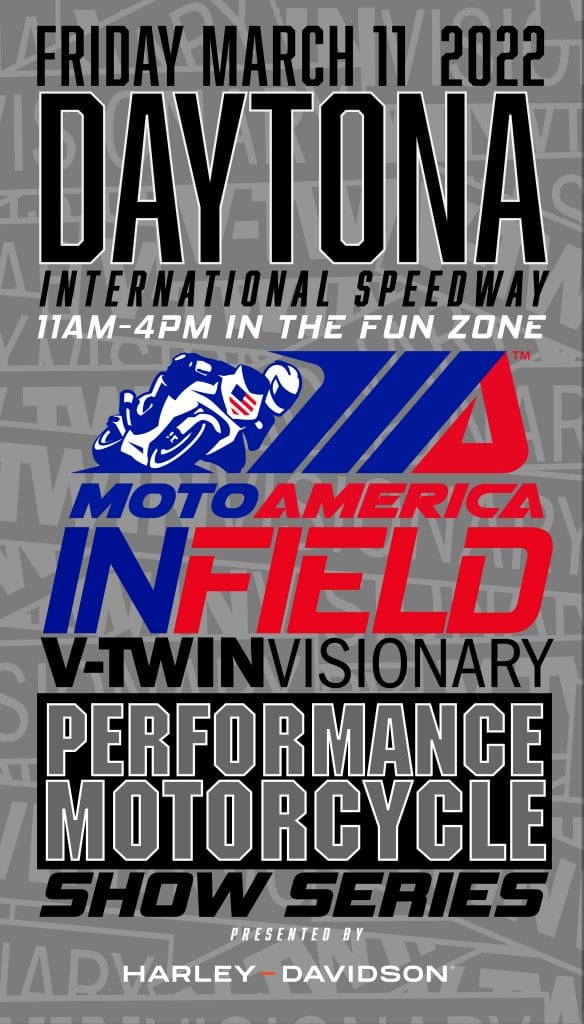 V-TWIN VISIONARY DAYTONA SPEED & STYLE CUSTOM CYCLE SHOWCASE
Saturday March 12th (time?)
The Daytona VTV Speed & Style Custom Cycle Showcase will have many of the world's current crop of top bike builders on hand during the second day of Moto America's King Of The Baggers racing. The V-twin Visionary Speed & Style Showcase will be featuring a collection of custom Harley-Davidson powered motorcycles, which combine both contemporary style with refined performance coupled with a mix of custom ideas and some major fabrication skills. From Baggers to Bobbers & Choppers to Customs these expertly built two-wheeled hand-fabricated machines have been personally invited by the editors of V-Twin Visionary to be on display at the Daytona International Speedway infield Fun Zone for all racegoers to engage with.