Cardo Systems & Simpson Performance Products Special Edition Simpson Packtalk Edge
Cardo Systems, a global market leader in wireless communication systems for powersports riders, today unveiled the Simpson PACTALK EDGE. The special edition PACTALK EDGE, features a matte black finish and Simpson logo, developed and released in partnership with Simpson, the legendary racing equipment brand. Now die-hard Simpson riders can show their loyalty and communicate in style with this unique PACTALK EDGE, Cardo's most-advanced helmet communication system. The special edition Simpson PACKTALK EDGE will launch April 15 and is available exclusively at Simpson retailers or at the company's website, https://www.simpsonmmotorcyclehelmets.com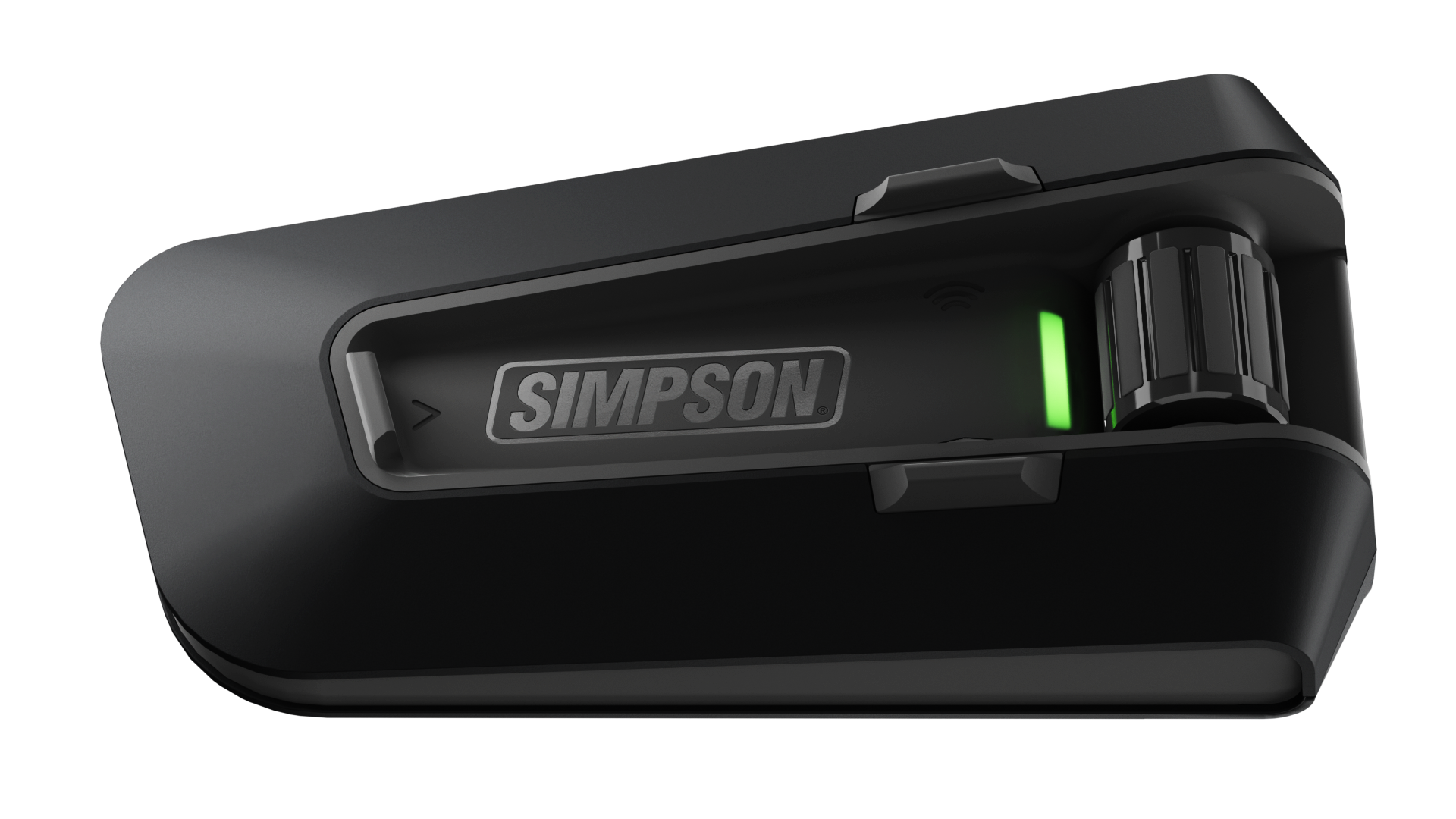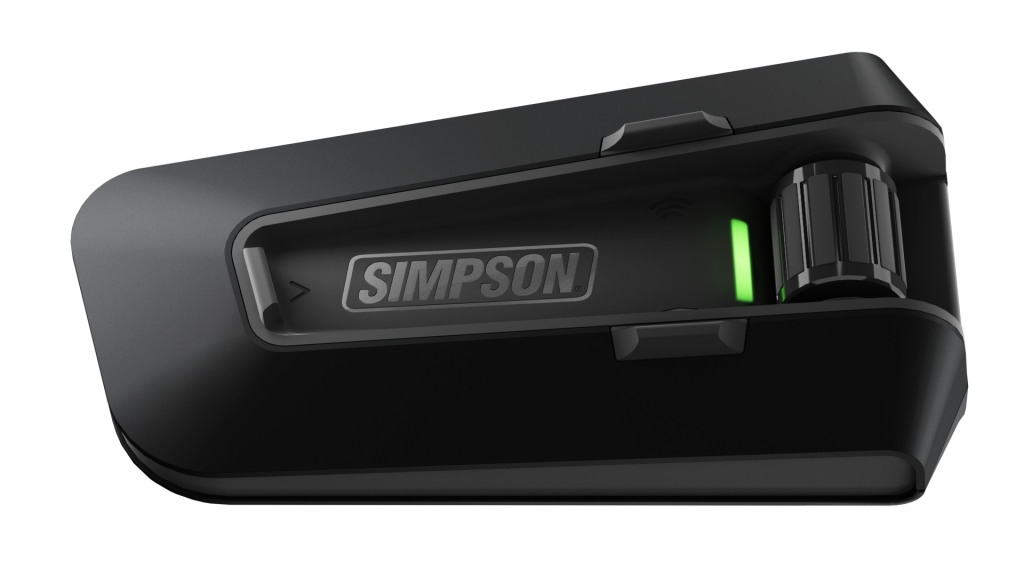 "While safety is our core priority, equipping Simpson motorcyclists with industry leading technology that complements the riding experience is critical to our mission, and there is no better partner to help achieve this than Cardo Systems," said Simpson's VP of product development Scott Holbrooks. "The Simpson PACKTALK EDGE will enhance the way our riders enjoy their motorcycles, enabling seamless communication with other riders and friends while out on the road."
Proudly displaying a gloss black Simpson logo against its matte black finish, the elegant tone-on-tone Simpson PACKTALK EDGE offers all the state-of-the-art features and benefits of the recently launched PACKTALK EDGE, including second-generation Dynamic Mesh Communication (DMC) connectivity, unparalleled audio clarity from JBL, and an enhanced microphone and noise cancellation system. PACKTALK EDGE offers faster pairing in DMC and Bluetooth modes and can connect up to 15 riders within a range of nearly one mile. Cardo's Natural Voice Operation technology means riders can keep their eyes on the road, hands on the bars and initiate a variety of PACKTALK features and functions by simply saying "Hey, Cardo." Antenna free, PACKTALK EDGE also features a new magnetic "Air Mount," and is waterproof, dust and mudproof.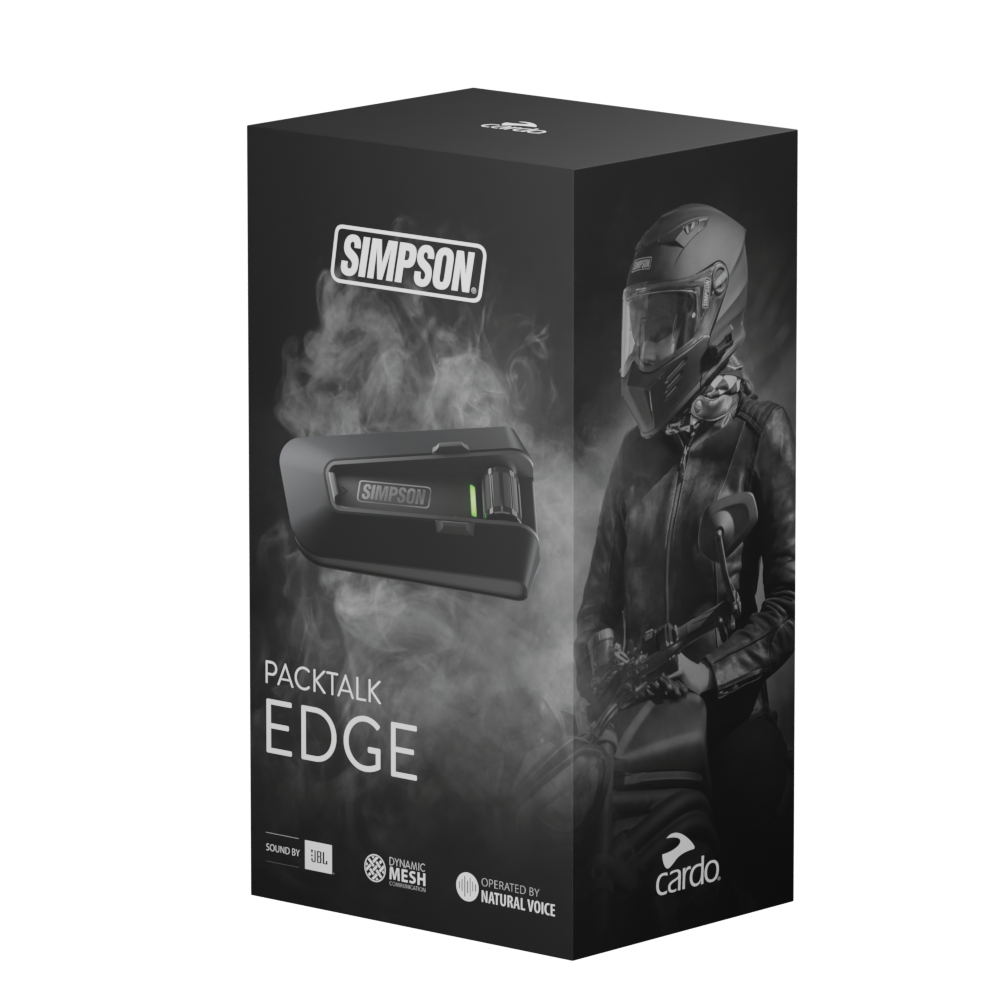 "Cardo couldn't be more excited to join forces with Simpson, a brand with a rich motorsports history and deep ties to the V-Twin community," said Shachar Harari, VP of Business Development at Cardo Systems. "Brand loyalty is a big part of motorcycle culture, and there are legions of riders who proudly choose Simpson helmets, because they combine incredible quality with an unmistakable attitude and style. We're proud to now offer them a PACKTALK EDGE Special Edition that's the perfect complement to their Simpson helmet of choice."
Offering 13-hours of battery life, the Simpson PACKTALK EDGE comes standard with a USB-C plug and fast charging technology. A quick 20-minute charge gives users two hours of ride time, with a full charge achieved in less than two hours.
Over-the-air software updates via the Cardo Connect App, mean that no cables or Wi-Fi adapters are required to ensure the Simpson PACKTALK EDGE device is loaded with the latest firmware. The new Simpson PACKTALK EDGE has an MSRP of $389.95/€389,95 and will be available April15th from Simpson retailers, or ordered directly from https://www.simpsonmotorcyclehelmets.com