Corbin: Harley Pan America Seats
Harley-Davidson created a genuinely excellent adventure bike with the Pan America, and Corbin has been a big part of that world for decades. So of course they've got a great custom motorcycle seat for it.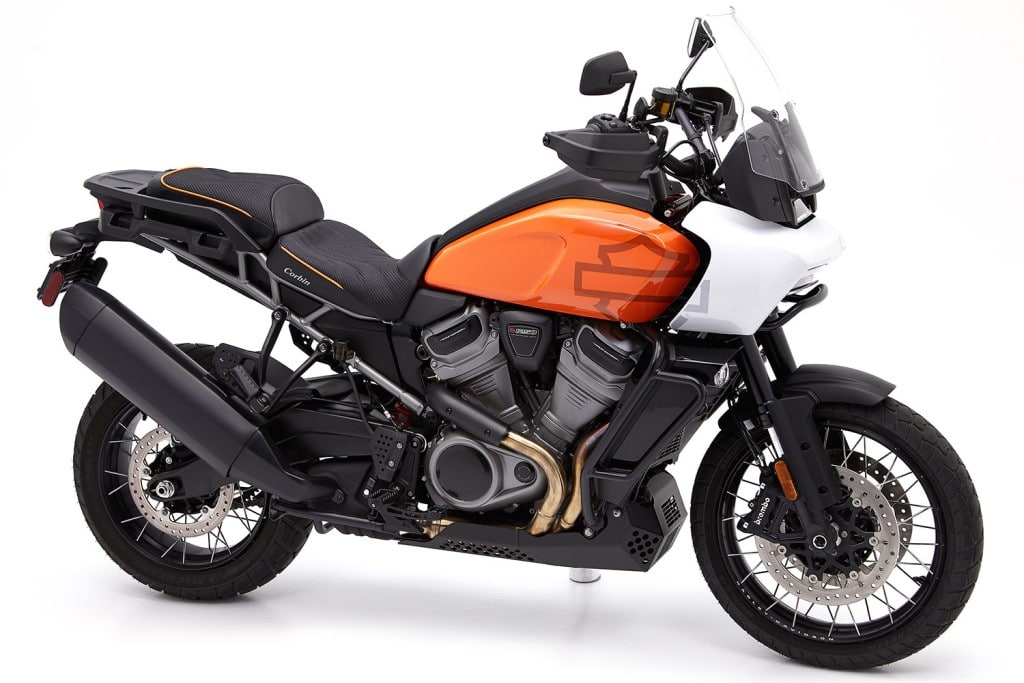 Adventure bikes are tall by nature, and that creates a reach issue for a lot of riders. But in this case, the peg distance is a bit cramped while the reach to the bars is long. So having the correct body placement is critical. This predicament is complicated further with the admirable ride height feature.
Low, Standard, or High: Which is Right for You?
To meet the needs of various riders, Corbin created a Low, Standard and High model. That way you get the best possible seating rather than using the adjustable bracket. They optimized seating for each position for a properly neutralized platform. The Corbin front seats also install simply and integrate with your factory key lock. Each solo model also works with your factory rear seat or the companion passenger saddle. In addition, the rear seat works with your factory front seat, if desired.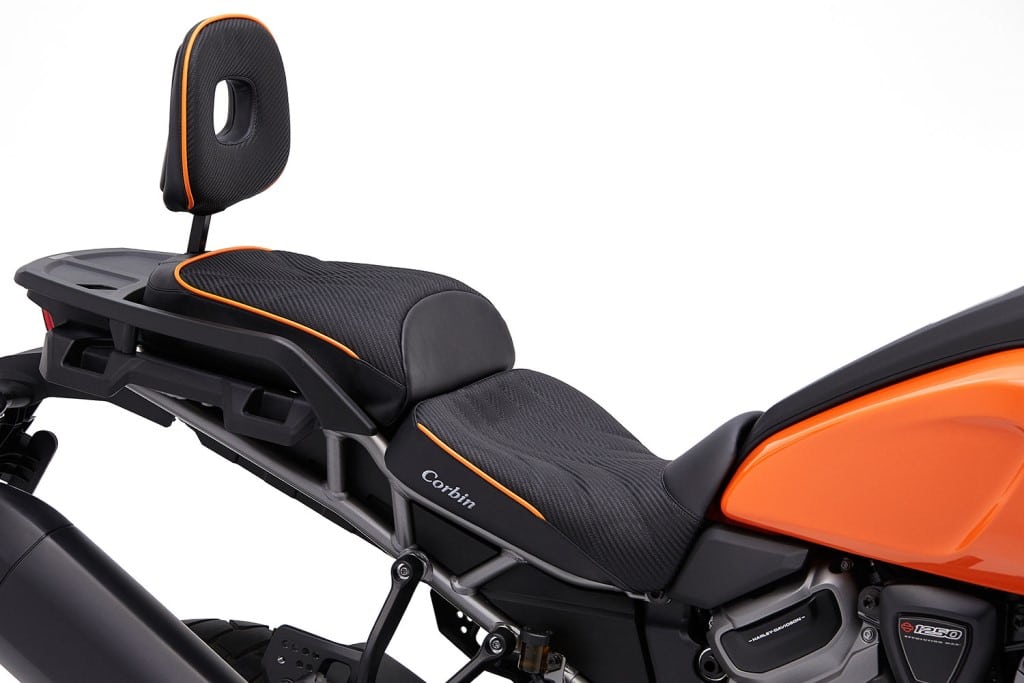 The Corbin front and rear saddles are designed for maximum comfort value and support. The company increased body contact area significantly for better weight distribution, eliminating hot spots, and centralizing pressure. Neutralized platforms aid in curbing sliding in the saddle, which in turn helps to reduce rider fatigue. If you're looking for something to support more aggressive offroad riding, they're also developing a Rally seat.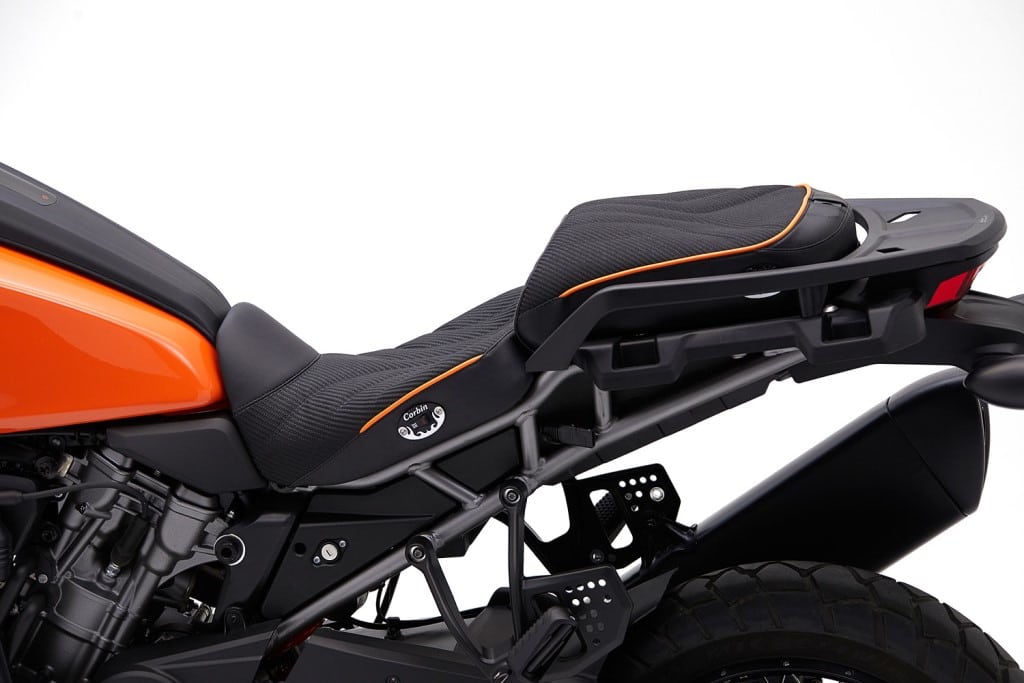 The company's front saddles are all cut narrow at the nose for easier ground reach and help you grip the bike with your legs. All three models also let the rider sit further back when desired. Corbin's sculpted shaping also removes the tendency of the stock unit to bunch up and roll your hips forward.
Corbin Pan America: Measuring In
The rear seat provides the same seating benefits and also adds the ability to accept a removable backrest. Corbin backrests install with a single bolt into internal hardware. They also adjust to rider profile for a tailored fit. Choose from a variety of backrest models to suit your taste and the amount of support desired (model #BR shown).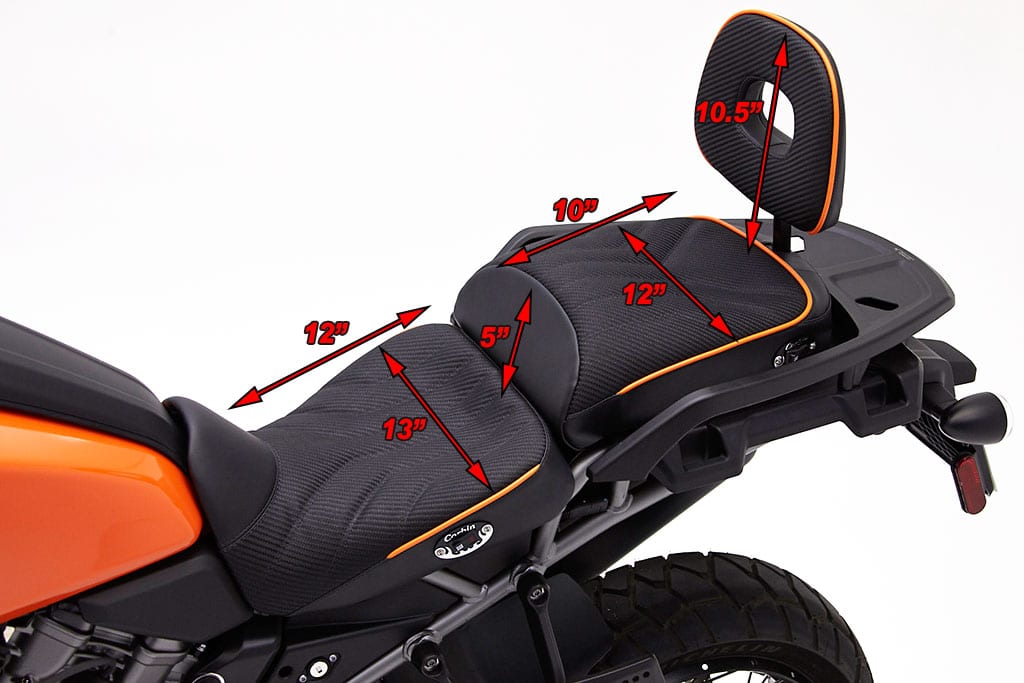 All components are built up with exclusive Comfort Cell foam for a firm, supportive ride that lasts. Over time (approx 1500 miles), Comfort Cell breaks in, providing a custom fit to your profile.
The shaping of all components emulates the shape of your body. Corbin says this gives excellent support for extended range and eliminates hot spots. They also include genuine leather seating for a perch that breathes with your body and enhances comfort further. The company also offers a large variety of color and material options to choose from at no extra cost.
Corbin Brings the Heat (and More)
They also build electric seat heaters into their saddle designs for an added luxurious touch. Each packs conveniently located switches on the left side of the saddles. Temperature is controlled and maintained automatically to provide luxurious heat on those chilly mornings.
Corbin's leather seating performs well for many years and adapts with the foam shape during break-in for a personalized fit. Over time it develops its own unique character, just like your leather jacket. Be sure to care for it properly with a quality conditioner like Corbin's Saddle Cream. Find out more on the custom Harley-Davidson Pan America seat here.