Drag Specialties 3/4 Solo Seat
Drag Specialties new 3/4 Solo Seat is kinda like a 3/4 helmet. It's more than a solo but not a full two-up saddle, either. That's because the point wasn't to give an assless passenger adequate sitting space.* It's to give your spine additional support above and beyond that of a normal solo seat.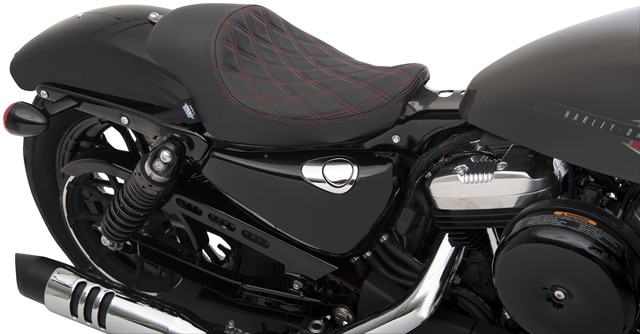 These new Drag Specialties seats are constructed from molded polyurethane foam that offers the maximum in comfort and styling, while also providing better leg clearance and 3¼" back support. The high-quality automotive-grade vinyl cover is available in five variations: smooth, double diamond stitch with black thread, double diamond stitch with silver thread, double diamond stitch with red thread and distressed brown leather. The 3/4 Solo is available for 04-20 XL models. Its suggested retail ranges from $211.95 – $258.95. For more information, visit their website or talk to your local Drag Specialties dealer.
*Gluteus minimus is a terrible condition but there is help. Most cases can be treated with a mix of cheeseburgers, fries, and squats.