Drag Specialties Seats EZ-On Solo Seats
The Drag Specialties Seats EZ-On Solo seat features an internal rubber mount/stud system that allows for easy installation and removal with no tools required. It's now available for 2018-20 FLFB/FLFBS Softails. Made from high-quality automotive-grade vinyl with select seats featuring solar-reflective leather in the seating area and automotive-grade vinyl on the sides.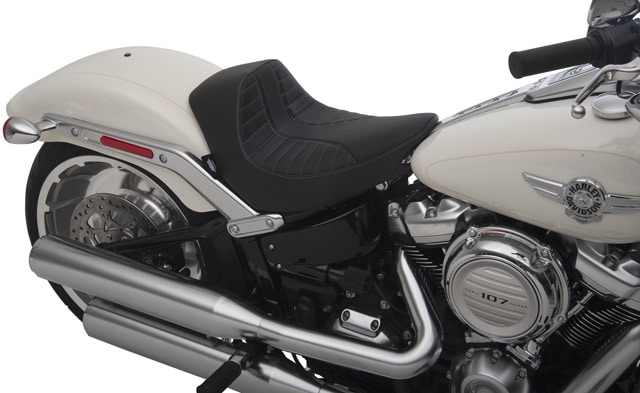 All seats have a molded flexible urethane foam interior for maximum comfort and styling. Seat is made narrower up front, has a 3/16​" ABS thermoformed seat base for a perfect fit and a fully carpeted bottom with rubber bumpers to protect paint. Available in Smooth vinyl, Smooth solar-reflective leather, Scorpion stitch, black thread and Scorpion stitch, silver thread and are compatible with fender skins, which are sold separately. Find out more here or talk to your local dealer.