Lynyrd Skynyrd, Top Motorcycle Builders Join Sturgis Buffalo Chip
The Sturgis Buffalo Chip's self-proclaimed house band, Lynyrd Skynyrd, is continuing a legendary tradition by finishing off their 40-plus year career with an ultimate send-off on the Wolfman Jack Stage on Sunday, Aug. 9.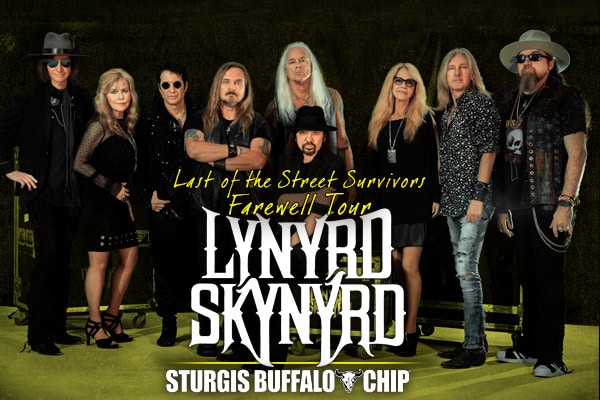 In keeping with the theme, 36 of the world's most celebrated motorcycle builders have accepted Michael Lichter's invitation to create and display a motorcycle in the style of their choosing for the Sturgis Buffalo Chip's 2020 Motorcycles as Art exhibit titled "Heavy Mettle: Motorcycles and Art with Moxie." All invited builders have completed at least 20 custom builds and been in business for at least 20 years. The one-time exhibit will also feature photographs captured by Lichter over his 40 plus-year career. The exhibit is free and open to the public at the Sturgis Buffalo Chip Event Center from 2 p.m. to 10 p.m. Saturday, Aug. 8 through Friday, Aug. 14, 2020.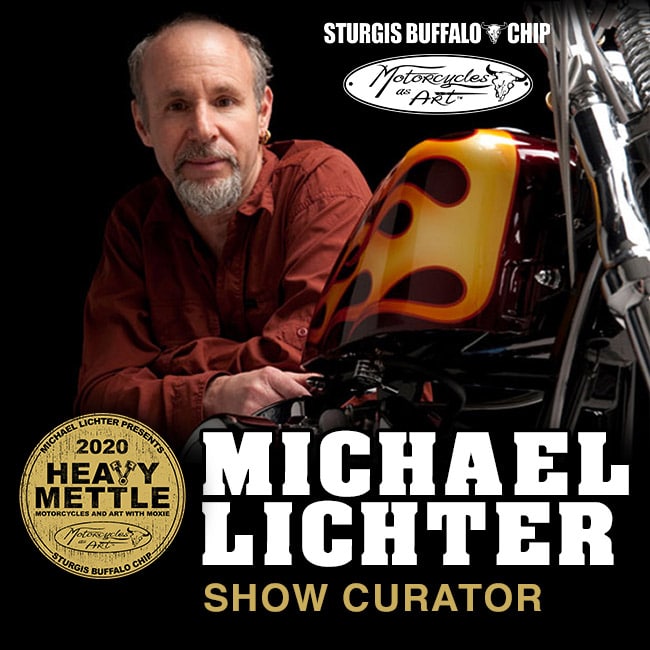 About Michael Lichter
Michael Lichter began photographing custom bikes and the biker-lifestyle in the 1970s. Working with Easyriders Magazine since 1979, he has produced over 800 stories for them. Michael is also a regular contributor to 16 other publications around the world, has 11 coffee table books to his credit and exhibits his photographic art in galleries and museums in the USA and abroad. As a curator, Michael first started creating themed exhibitions with custom motorcycles and art in 2001 at the Journey Museum in Rapid City. In 2009, the annual exhibition was moved to the purpose-built 7,000 square foot gallery at the Sturgis Buffalo Chip where it was given the name "Motorcycles as Art" and continues to this day. Michael has operated out of the same commercial photography studio in beautiful Boulder, Colorado for more than 35-years. Visit www.facebook.com/lichterphoto, Instagram (whistlingmike) or the all new www.lichterphoto.com to see his images. Contact Michael atmike@lichterphoto.com.
About Motorcycles as Art
Every year the Sturgis Buffalo Chip's indoor Motorcycles as Art exhibition presents a changing conceptual theme that brings together the most innovative collection of groundbreaking custom bikes from today's premier builders with artwork from the most famed moto-artists. The Sturgis Buffalo Chip and curator, famed photographer Michael Lichter, present an environment that must be seen to appreciate. Free to the public and open for just seven days each year, all are invited to take their time and walk through history in the making that is the Motorcycles as Art exhibit.
About the Sturgis Buffalo Chip
The Sturgis Buffalo Chip is the Largest Music Festival in Motorcycling®. It is the world's first and leading entertainment destination for the motorcycle enthusiast, awarded AMA Track of the Year in 2016, American Flat Track Event of the Year and South Dakota Excellence in Tourism Innovation award winner in 2017. Since 1981, the venue's high-profile, nine-day festival, known as The Best Party Anywhere®, remains one of the world's most televised and longest running independent music festivals. Located three miles east of Sturgis, SD on 600 creek-fed acres, it offers six stages of entertainment, a swimming hole, bars, mouth-watering food, showers, cabins, RVs, camping and more to visitors traveling from all corners of the world. The Chip's concerts and races are free with camping. The Motorcycles as Art exhibit curated by Michael Lichter showcases the works of the world's best bike builders. Numerous bike and stunt shows and all shopping, live music and events at the CrossRoads are free and open to the public. More details are available at www.BuffaloChip.com.