Meet Harley's KOTB Road Glide Race Bagger
The 2022 King of the Baggers season is in the rear view mirror and while we've seen a lot of coverage of the races, we thought you'd want a look at the actual race baggers themselves. We've already talked to S&S about their involvement with Indian's factory steeds. Harley-Davidson was kind enough to indulge us in getting to know its KOTB Road Glide race bagger. Check it out!
What makes the Road Glide the platform-of-choice for King of the Baggers? How is it better suited than Harley-Davidson's other Touring motorcycles?
The Road Glide was chosen for the King of the Baggers race bike because of the stability of the frame mounted fairing at extreme speeds. The H-D Screamin' Eagle Factory bikes regularly see top speeds in excess of 160 mph. The fixed fairing better dissipates these high speed wind loads around the bike and rider.
What are the Road Glide's greatest strengths as a platform for racing? What areas needed more help than others?
One of the best strengths of all our Touring models is the frame. This steel weldment is designed to provide stability of a fully laden Touring bike up to the speed limit of the motorcycle. The full payload of a Touring bike includes rider, passenger, and luggage up to the maximum GVWR of 1,360 lbs. Tuning the chassis for these conditions with that stock frame is what enables these race bikes – with much lower weights in racing trim – to achieve stability at racing speeds.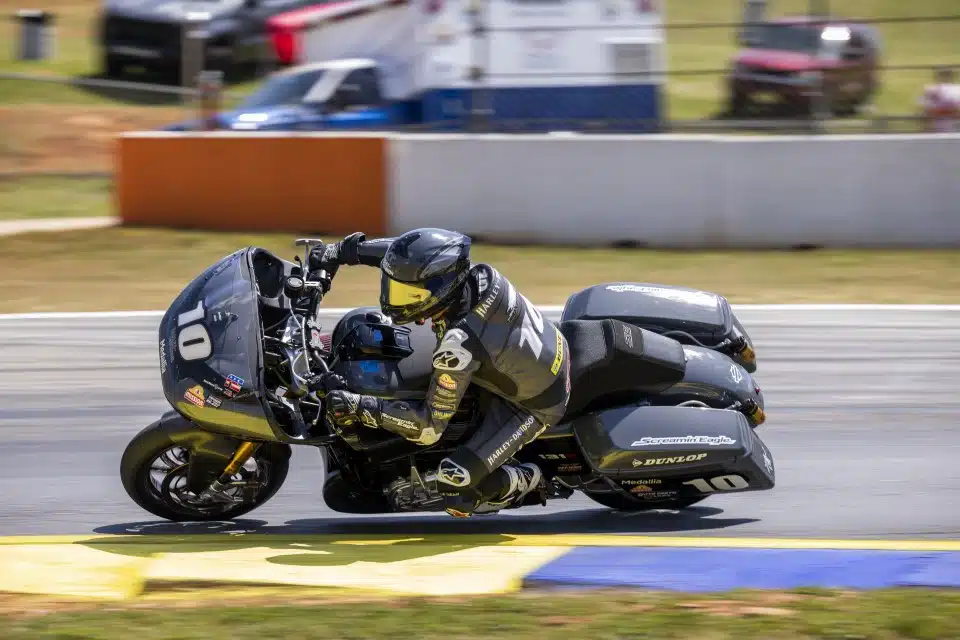 Tell us about how a team takes a stocker like this, breaks it down, and builds it back up into a race bike. Don't worry; we have time if you do.
There are three main areas H-D focused on to turn a stock Touring motorcycle into a 'Superbagger' for the racetrack: weight, lean angle, and thermal management.
Weight: a stock Road Glide Special is about 853 lbs. in running order vs. the minimum weight of 620 lbs. for the racing class. We achieved the reduction in weight by removing all unnecessary mechanical and electrical components from the bike, including lighting, audio, ABS (not allowed in the class), and by the use of lightweight materials such as carbon fiber bodywork.
Lean Angle: SAE lean-angles of a stock Road Glide Special are 32 and 31 degrees respectively right and left. The factory race bikes have achieved lean angles of more than 55 degrees in certain cornering conditions. To achieve this performance, the rider's feet sit in a classic sport bike rear-set location. Then, the bike is raised significantly from its stock ride height. Finally, everything is tucked up as close as possible on the left and right sides of the motorcycle. On the left side, it required the team to create a custom billet primary cover that is chamfered around the clutch basket. On the right side, the design focused around the custom 2-into-1 racing headers and muffler that are moved out of the lean-angle plane.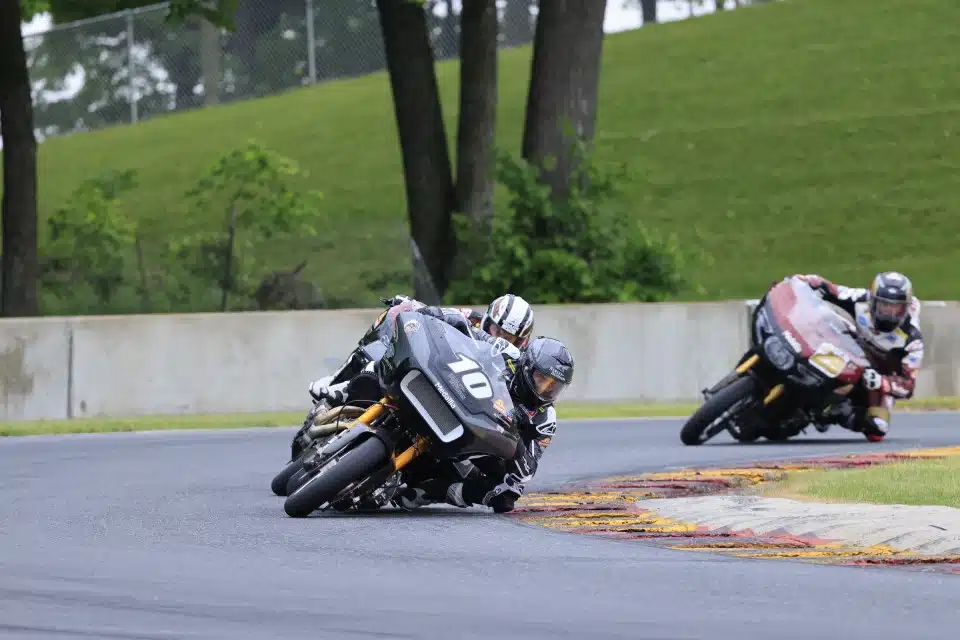 Thermal Management: Unique to Harley-Davidson models in the King of the Baggers class is that all Milwaukee-Eight engines are primarily air-cooled motorcycles. Keeping them cool under the intense demands of a road racing circuit has been a challenge from the beginning. The race bikes deploy a few key strategies to keep running temperatures down. Extended cooling fins on the heads of the bikes increase the surface area of the fins and enable more efficient thermal transfer to the passing air. To cool the rear-cylinder that is blocked from direct airflow by the front-cylinder, the race bike uses an air scoop to help direct air over the heads. Also in 2022, the race program adopted the Twin-Cooled Milwaukee-Eight engine that improves heat rejection from the hottest area of the powertrain, the area around the exhaust valves.
What similar and different challenges (different vs a sport bike or cruiser) do you face when turning a dedicated stock bagger into a track-worthy racing machine?
Tuning a Touring motorcycle for the racetrack is not dissimilar to tuning a sport bike other than the bike's size and weight. The same physics that allow a Superbike to perform apply to a Bagger. Rake, trail, offset, wheelbase, swingarm angle, etc. all apply to chassis tuning with the same design principles. Similarly with suspension, sag, stroke, dampening, pre-load, etc. all apply the same. Harley-Davidson has some of the very best motorcycle dynamics engineers in the world at its headquarters in Milwaukee. These men and women that work day-to-day on cargo and passenger handling are the same experts that tune our championship-winning King of the Baggers motorcycles on the racetrack.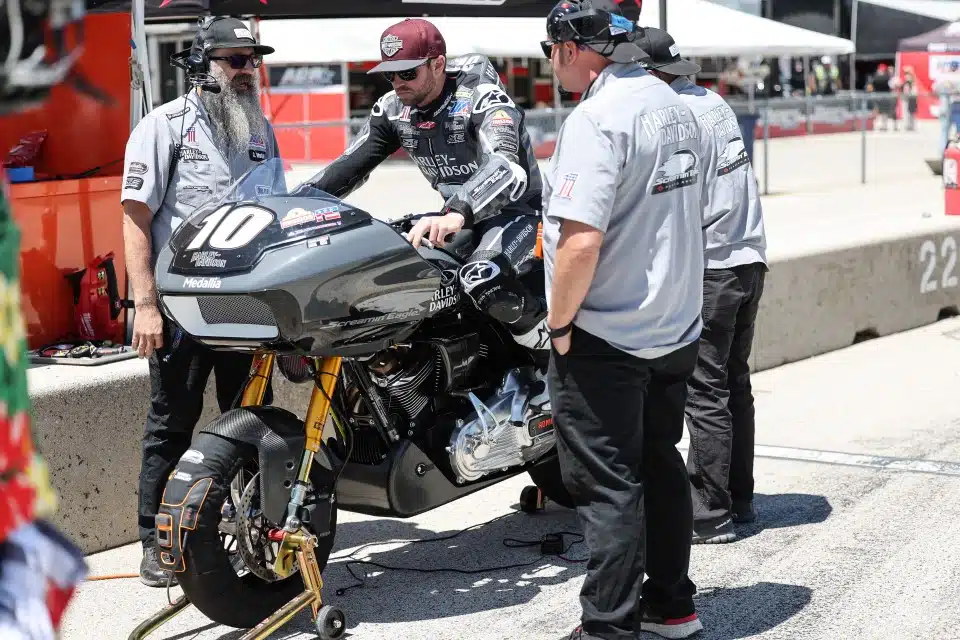 Tell us about researching the racing parts Harley-Davidson created for the bike.
Our performance division, the H-D Screamin' Eagle team, approached the race bike design the same as it does any development project. The first step is to understand what you want the motorcycle to do and set appropriate functional requirements. Once we define the function, the team begins to define system level requirements for each subsystem on the motorcycle. You want to go how fast? There is a power number defined for that. You want to stop a 620 lb. motorcycle in what distance? There are braking systems requirements defined for that. You need to change a rear wheel on the grid in what time? We have a requirement for that.
The same research, benchmarking, and requirements definition that allow product development at Harley-Davidson to deliver bikes as the Pan America 1250, are the same fundamentals that enable the mind-blowing lap times you see on race day…such as 1:29's at Laguna Seca!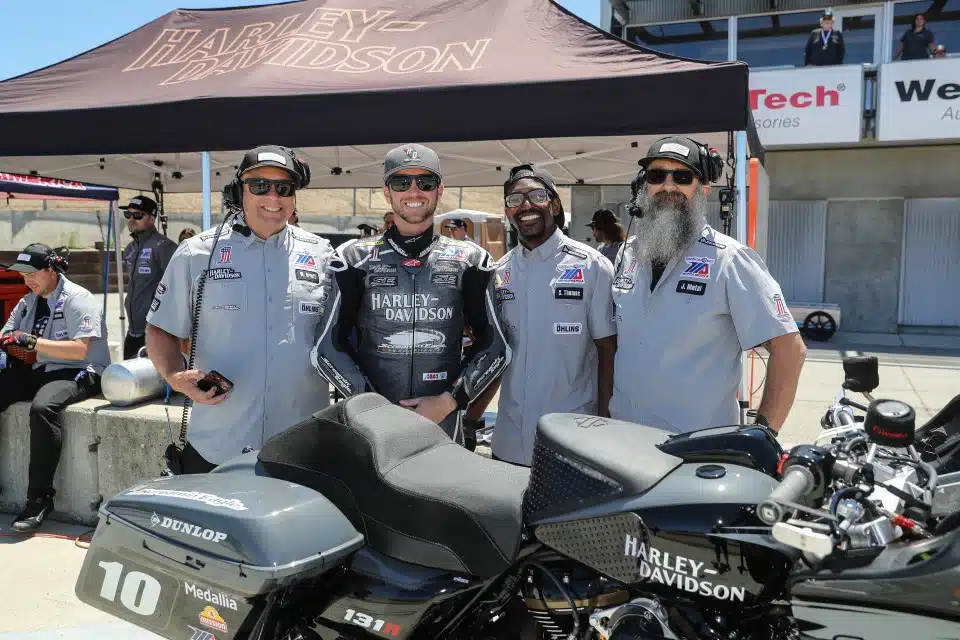 Has there been a lot of re-tuning and adjustment for the team and the bike over the course of racing KOTB or did you guys get it locked in so smooth that you didn't need to make any big adaptations to the bikes during the season?
For the 2022 season, the H-D Screamin' Eagle team adopted the mission statement, "Engineer and Deliver Relentless Performance." This statement summarizes the same attitude our founders exhibited in 1903 to build the world's best motorcycles. We never stop. Some mid-season changes were larger than others, but each time we went to the track the bike was better than the time before. It's the same approach to new models for the street. In addition to the bike getting better every race, the team got better. A passionate group of enthusiasts based in Milwaukee conceived, engineered, built, and delivered these motorcycles, and around each H-D product development facility in the country.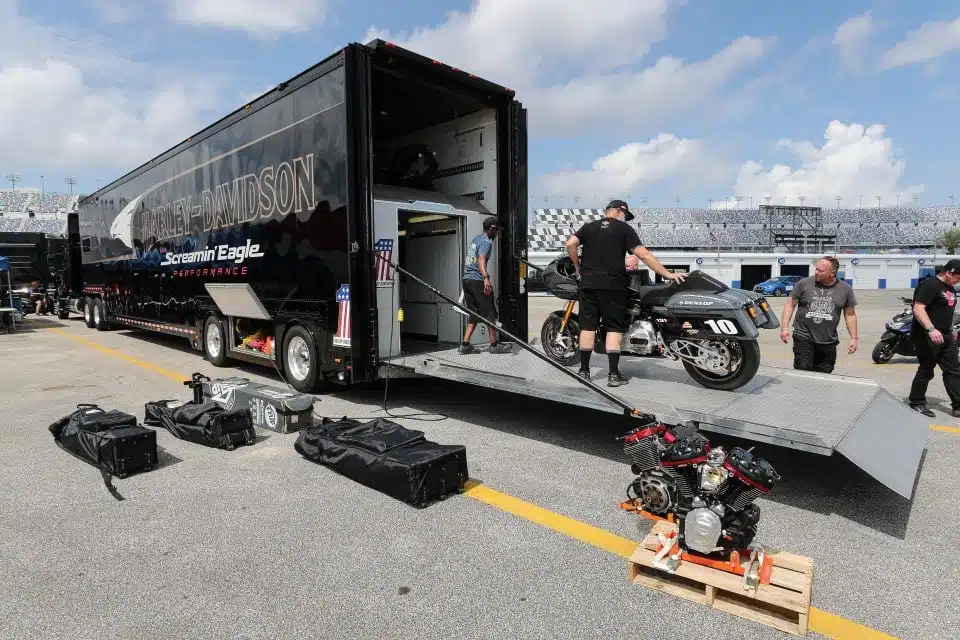 What lessons has King of the Baggers taught Harley-Davidson about the Road Glide?
We believe the Road Glide is the best Grand American Touring motorcycle in the world, and its capable of so much more than people think. Racing the King of the Baggers series has opened eyes to what is possible on Harley-Davidson's Touring platform.
How do those lessons apply to consumer parts?
There is no question that the lessons learned in racing apply directly to consumer parts. In 2021, amongst other accessories, we launched a new Screamin' Eagle by Ohlins rear shock and a new Screamin' Eagle oil pump influenced directly from this racing program. In 2022, we launched the new Road Glide ST and Street Glide ST performance bagger models.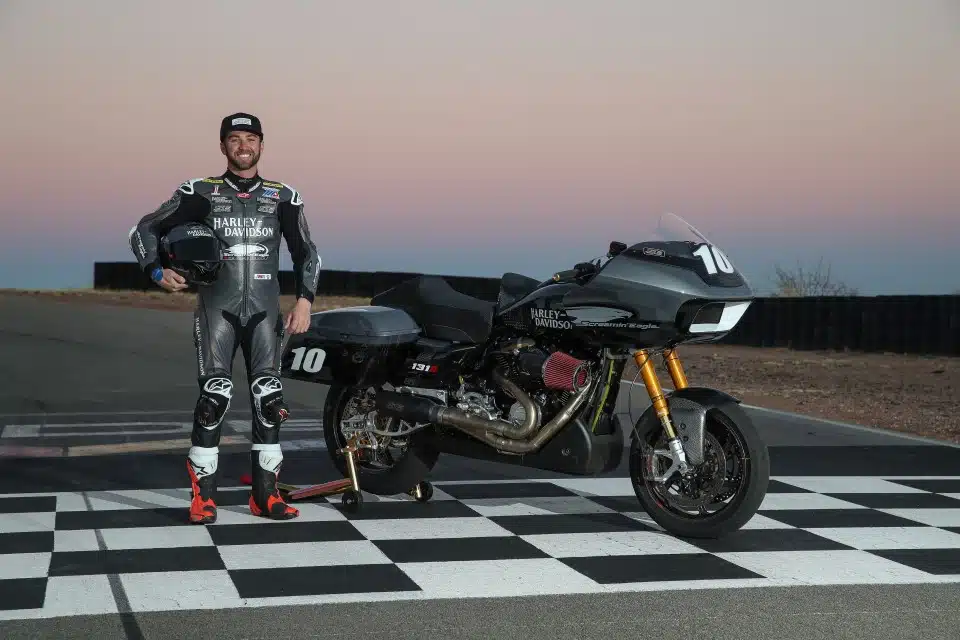 Harley-Davidson Race Road Glide Special Specs
Year/Make/Model: 2022 Harley-Davidson Road Glide Limited
Fabrication: Stock bike hand built into race bike in Milwaukee, WI by H-D Technical Specialists.
Build Time: Stock trim to race bike in 3 days with all components on-hand.
Engine
Engine: Screamin' Eagle 131R, Race modified Screamin' Eagle Milwaukee-Eight 131ci Performance Crate Engine – Twin-Cooled
Year/Type/Size: 2022 / 45deg Pushrod V-Twin / 131ci (2152cc)Builder: Harley-Davidson Motor Company
Cases: OEM
Cylinders: Screamin' Eagle 4.310" Big Bore Cylinders
Heads: Race Modified Screamin' Eagle Milwaukee-Eight CNC Ported Cylinder Heads
Rocker Boxes: OEMCams: Screamin' Eagle Race Cam
Throttle Body: Prototype Screamin' Eagle Throttle Body
Exhaust: Screamin' Eagle Race 2-into-1 Stainless Steel Header and Titanium Street Cannon Muffler by Leo Vince
Air Cleaner: Screamin' Eagle Race Carbon Fiber Heavy Breather Extreme with Custom K&N Air Filter
Transmission/Driveline
Transmission: Screamin' Eagle Race Modified OEM Transmission
Year/Type: 2022 / 6-speed Manual
Gears: OEM Gear Ratios (First 3.34, Second 2.31, Third 1.72, Fourth 1.39, Fifth 1.19, Sixth 1.00)
Clutch: Screamin' Eagle High Capacity Clutch Kit (10 fiber clutch plates, 10 contact plates, 3-1200 Newton clutch springs)
Primary Drive: Chain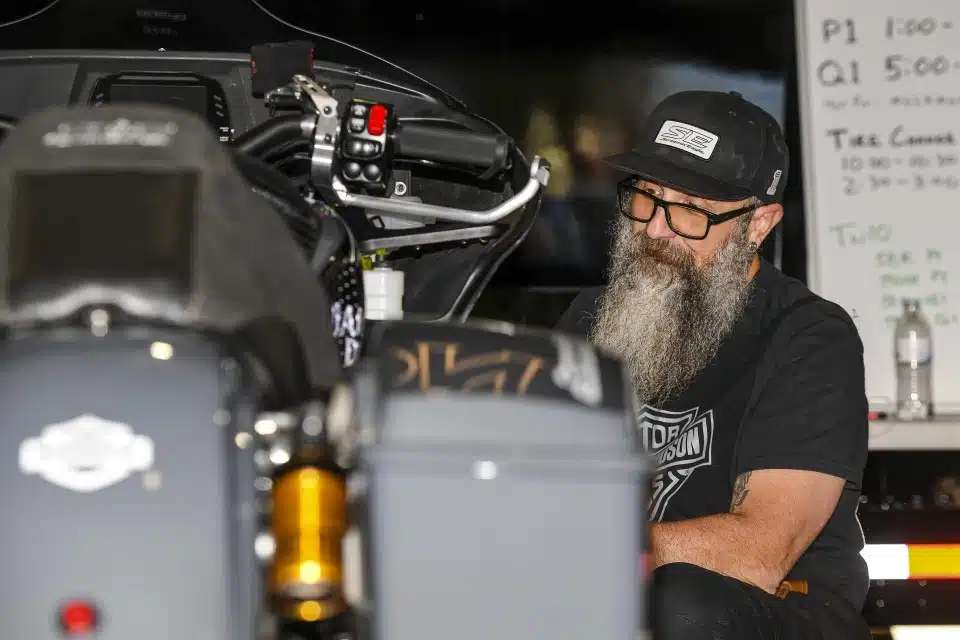 Frame
Frame Type: OEM
Year/Type: 2022 / Steel Weldment
Rake/Trail: 26deg / Variable Trail (custom Screamin' Eagle Racing adjustable triple trees)
Suspension
Screamin' Eagle by Ohlins FGR250 Bagger Front Fork
Screamin' Eagle by Ohlins Remote Reservoir Rear Shocks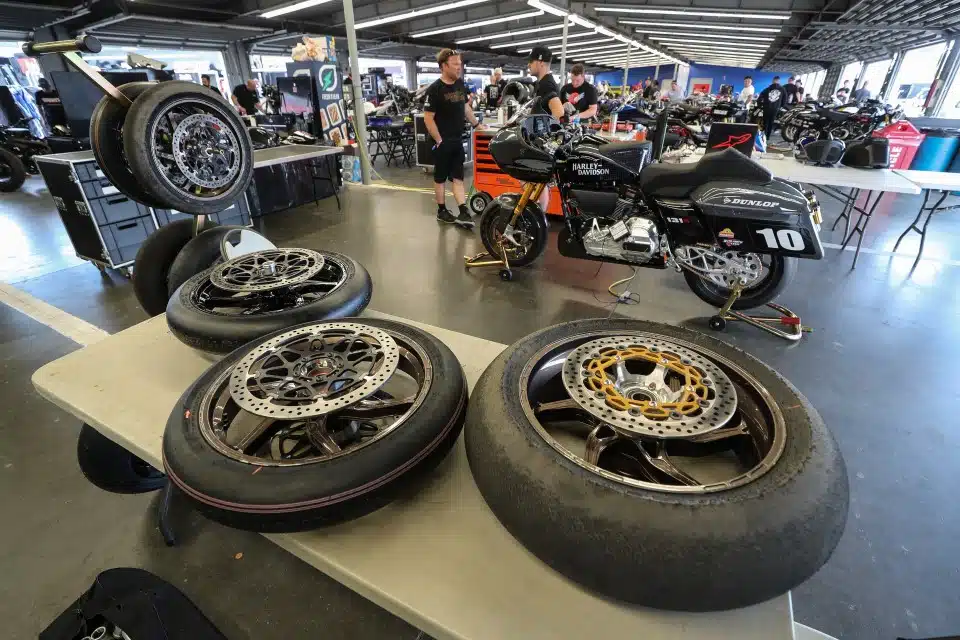 Wheels, Tires, and Brakes
Front
Builder/Size: Core Moto Apex 6 Forged Aluminum (made in USA) / 17×3.5-inch
Tire/Size: Dunlop Race Slick KR448 / 120/70R17
Calipers: Dual Brembo GP4-RR P4 32/26 Billet Monobloc 108mm Radial Mount
Rotors: Dual Brembo Pistabassa Superbike T-Drive Rotor, 330×6.75mm
Rear
Builder/Size: Core Moto Apex 6 Forged Aluminum (made in USA) / 17×6.0-inch
Tire/Size: Dunlop Race Slick KR451 / 200/60R17
Caliper: Brembo Rear Caliper Billet 2-Piece P2 34mm
Rotor: Brembo HPK Supersport Floating Brake Rotor, 300×5.5mm
Finish/Paint
Colors: Gunship Grey (No.10 Bike)
Paint/Graphics: Custom H-D Screamin' Eagle design by CPV Paint & Graphics
Accessories
Front Fender: Screamin' Eagle Carbon Fiber Racing Front Fender
Rear Fender: DTF Carbon Fiber
Gas Tank: OEM
Dash:AiM MXS 1.2 TFT Data Logger
Handlebars: Custom Harley-Davidson Racing Designed, 1.25" to 7/8" Tapered
Grips: ODI Ruffian
Hand Controls: OEM
Foot Controls: Custom Harley-Davidson designed Racing Mid-Controls
Taillight: Single LED Rain Light
Seat: Custom Screamin' Eagle +4" Stepped Buttstop design, manufactured by Milsco
Additional Harley-Davidson Genuine Parts & Accessories
Screamin' Eagle Pro High Volume Oil Pump & Cam Support Plate (62400260)
Screamin' Eagle Performance Spark Plugs (31600085)
H-D Screamin' Eagle 10mm Phat Spark Plug Wires (31600108)
Screamin' Eagle Smart Tune Pro Automatic Tuning Module (41000445A)
Screamin' Eagle SYN3 Full Synthetic Motorcycle Oil (62600031)
Keep up with Harley-Davidson on Facebook, Instagram, YouTube, and their website.