Natalie Kleiner's 1994 Harley Davidson FXLR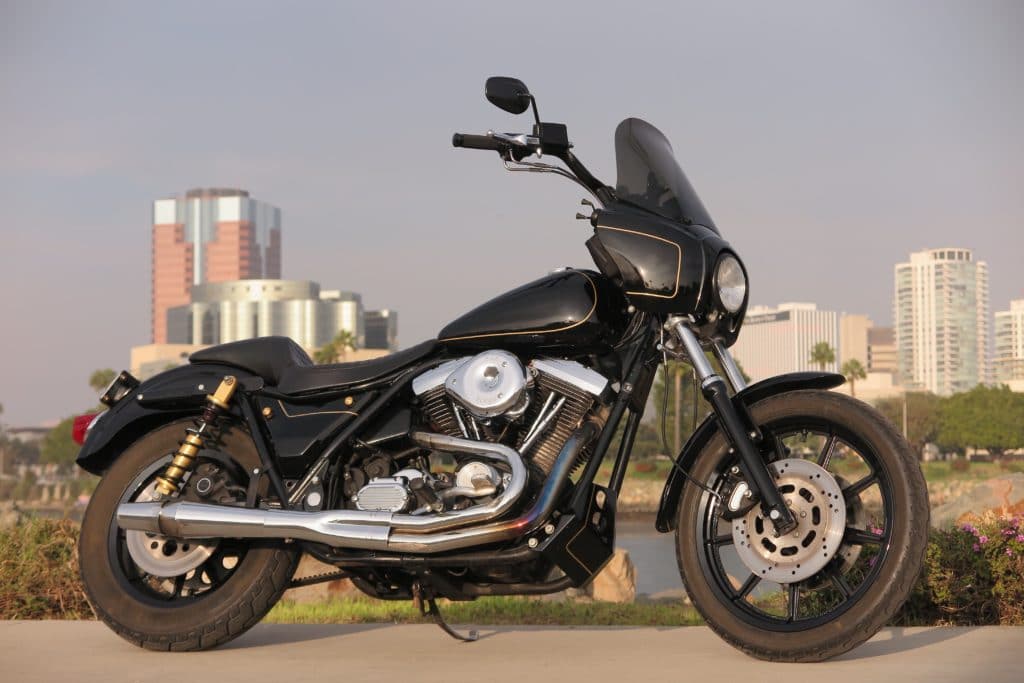 I had been living in Jacksonville, Florida and was up in Minnesota visiting friends and family for a bit. I was in a "state of transition" so to say. I had more than a few life changes, learned more than a few lessons, and after much personal debate I had made the decision to finally up and move.
With what I do for work, loving to ride and wanting to get my business off the ground, I figured California just made sense. I needed to stop fighting it and finally just make the move. So, I had planned to fly out from Minnesota to Huntington Beach and check out the area to see if I really liked So Cal. After talking to Tony from Landspeed who was telling me about how rad the OC/LA area is, I needed to check it out for myself. And do it soon.
Which brings me to my buddy ole pal, Joseph Jurado. We had talked on the phone years prior about an FXR I was interested in getting off of him. Though I didn't buy the bike we then proceeded to talk FXR's on the phone for about an hour or more on a regular basis after that. I never had actually met him face to face Juston the phone and via DMs. We both knew we were soon headed out to California and talked a bit that we'd maybe just road trip together to scope stuff out and have some fun along the way.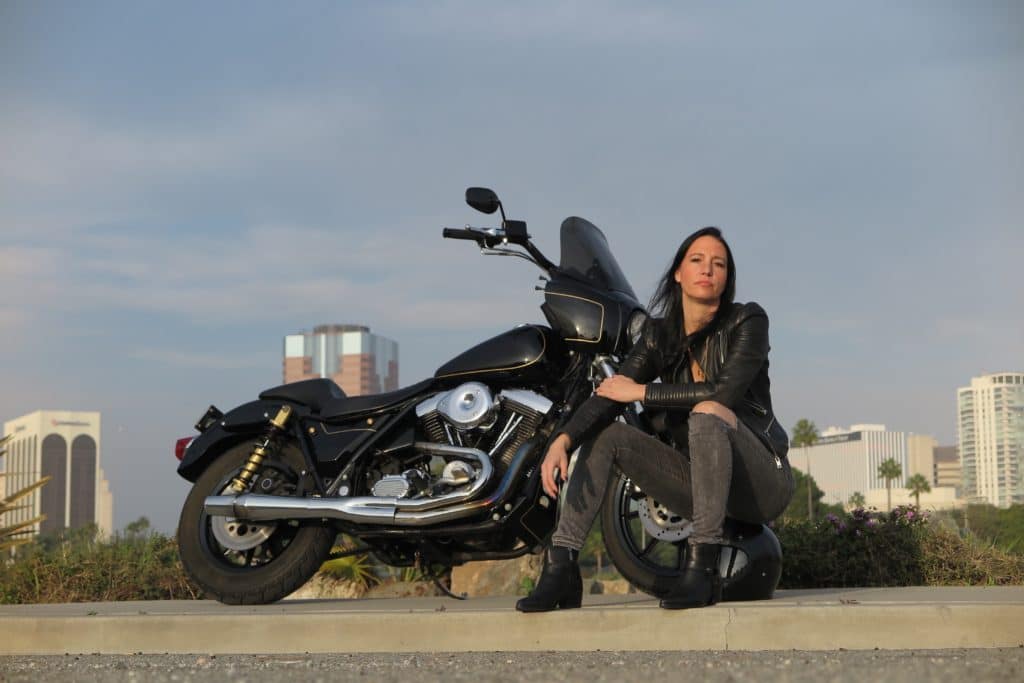 One day, Joe threw a video up on Instagram of his trailer with two bikes loaded in the back, so I knew he was getting ready to head out. I got on the phone right then and asked him, "When are you heading out?" He said, " I already left, I'm in Mankato." Which is about two hours away from where I was staying in Minnesota. He said "come with, let's go!" Within that 5 minute phone conversation, I decided I was going. I then started throwing shit in my bags as fast as I could and then blasted down to meet him. I met him for the very first time in person that day while committing to a two-and-half week road trip with a pretty much a stranger. In hindsight it couldn't have been a better idea! We made our rounds across the US, he sold the bikes, and I scoped out SoCal. I found that I loved it, so decided to move out West! Thank goodness for goodhearted people like Kelly Messia for helping me break new ground out here. I really couldn't have done it with out his help putting a roof over my head til I landed my job at none other than Troy Lee Designs. After the job was secured I quickly got my place lined up in Long Beach.
Without the common interest of Harleys who knows if any of us would have met and none of this probably would have ever come to fruition. Joe sold Kelly his first FXR sale. Then Joe introduced me to Kelly and the rest is history. I have found out first hand that motorcycles do this to people. And I love it!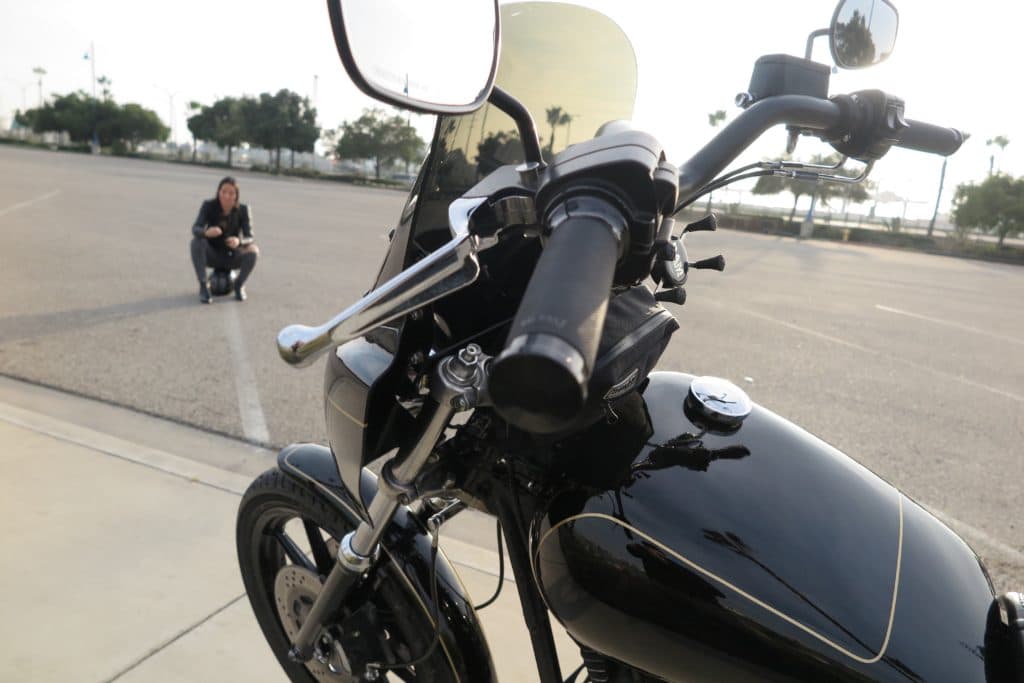 On our drive back to Minnesota, I was looking at bikes for sale online (because I can't buy enough bikes) and found an FXLR in St Paul, MN. Lucky for me that it was right on the same route we were heading back to Minnesota on. I called the guy immediately and set up a meeting to look at it later that night when we'd be rolling through town at 8:00 pm. I remember it like it was yesterday because I was so excited. When I found the bike, I told Joe, "First of all, I'm gonna show you this, but you CAN'T have this bike, its MINE!" And he said, "What bike?! What is it?" I told him what it was and the price and he was so pissed he hadn't already found it first! Then somehow over dinner, I would pass on taking it. Joe convinced me to let him go swoop the bike up instead. With my move coming up from Florida to California I already needed to haul the two other bikes I had out East. So I decided to slow my roll for a minute.
Sometimes I get these awesome ideas and go 120 MPH straight ahead and don't look back. And this was one of those moments. Throwing a 3rd bike in the mix meant needing a bigger trailer, and keeping more stuff in Kelly's garage. You catch what I'm saying? Yes, Joe got the bike. That fucker.
See, this bike was as super clean one-owner bike for the past 20 years. And I could have gotten it for a really good price. It had a wolf painted on the side of the tank and it was even owned by a Minnesota state body builder champion. The bike was the perfect canvas for me to build what I wanted. And when he went to pick it up, Tim, the original owner was so adamant that my name be on the title because he had been under the impression that it was me buying the bike the entire time. Joe called me and said "Hey, this dude needs a pic of your drivers license so we can put your info on the title, otherwise he's not gonna let me take it" So, I shot a pic over to him and off Joe went with the bike.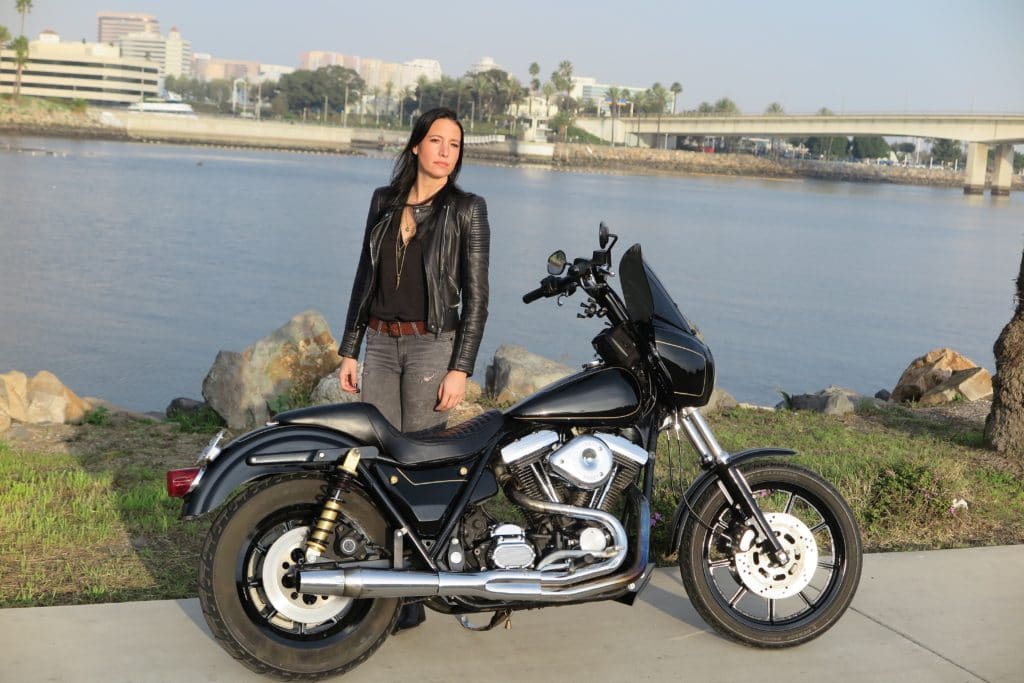 A bit of time passed and Joe and I both proceeded to move out to California months after the trip. He went up North and I went South. After getting on my feet deep in that Long Beach sand (and getting a place of my own) it was time I bought myself an FXR. Joe and I had been talking about my FXR dream build during that trip, so I had the bike already planned out. I kept going back to that original FXR I had called him about years ago. Then a few days later, Joe called me out of the blue and said, "Kleiner, this is your bike. This needs to be your bike. The way it all worked out, how you found it, Tim making me put your name on the title, its meant to be yours." He agreed to strip off what he had already started and to give me the blank canvas I needed. 
But I still needed some of Joe's help and expertise, since he'd done this a million times before. But I didn't want a bike just handed over that someone else built for me. I'm wired to have my hands in everything I do. I was raised to work hard for what you want, and if you want something done right, you need to do it yourself. Especially if you're picky like me. It's both a gift and a curse. I have to have my hands in everything I do and own, from the clothing I do, the houses I renovate, the furniture I refinish. Everything. So my bikes certainly are no different. I wanted to go through the struggles and frustrations, as well as the awesome moments when something works and comes together and we freak out and yell and High-five and do a little dance in the shop when things went good. I can truly say that I have formed a connection with my bike because of this build. You appreciate things so much more if you have to make it with your own hands, work hard and put the time in.
So just this November, the bike became mine and it all became very real. What I was dreaming about was about to come to life! So for the first time ever, Joe agreed to do the build with me. He had never worked with anyone on a build before or done what someone else wanted. It was a first for him. I finally convinced him that if we were gonna do this, its gonna be how I want it. Its gonna be my bike. I got up to Lodi on Thursday at about noon. We started the minute I got there. We immediately started looking for the parts I needed. Luckily Joe already has a jumbo inventory of FXR parts, it's like being a kid in a candy store! He was a saint and helped me every single step of the way. He taught me so much during this build. Everything he did, he would do one side and have me do the other. That bike was stripped down to nothing. And we put that thing together piece by piece. He'd double check my work and call me out if there was anything that wasn't done up to par. I love riding this thing and knowing that I can feel every part we pieced together. I can tell you where every wire is that we connected. Every bolt that was being a pain in the ass. You can't get any of that experience by just handing over a check. The fact that I was able to do this build with Joe meant the world to me. Because not only had he already become a great friend, but helped give me a foundation and teach me things I'll continue to use. And in many ways this bike reflects the rebuild of a multitude of things in my life.
We put an FXDX adjustable front end on it. A Thunderheader that totally CRACKS when you rip on it! I also installed a T-sport fairing for some wind protection. I later found some gold 14-inch Legend Suspension Revo-A's. Those rear shocks paired with the adjustable H-D front end makes the bike ride like I'm sailing in a warm sea of butter. I sanded layer upon layer off of the tank. We decided to keep it all original LR tins. I'm so glad we did. I sanded that tank for 10 hours at least to get the wolf off. I was hesitant at first to keep the stock tank. But It holds true to the bike and brought it back to some of its original state. I had the paint mixed multiple times to nail the color and get just the right amount of gold dust. It looks like root-beer in the sunlight and matches right up with the pinstripes. I'll be doing some tank art eventually. I have the general idea for the artwork in my head.
We worked from Thursday to Sunday with very little sleep. It was starting to get cold at night up in Nor Cal. I looked at the temp and it was 42 degrees one night in the shop. We were carefully piecing freshly painted parts on the bike with cold and stiff hands. I was so tired that after a while we could hardly see straight. We worked non stop, we were on a time crunch. I had that new job with TLD I was about to start and I needed to be back for. And we both wanted to try and make the last NorCal swap of the year which gave us til Sunday to wrap it up. It was about midnight on Saturday night when we first got it fired up. I was so excited I had goosebumps and my blood was pumping! I think I hugged Joe like 25 times in a matter of 45 seconds! We got that last of the tins on and finally wrapped up wiring the rear fender at about 2:00 am Sunday morning. I was both Dead tired and on Cloud Nine! We made it to the bike swap where I was a zombie, but already scouring for more parts. We then went and ate some killer Pho and met up with Oliver Jones, Dave Polgreen and Fury at the shop to load my bike up and bring it home to Long Beach. Those guys were awesome. And the bike got to ride down in a nice warm sprinter van.
There are still so many things that I want to do to the bike. It's not nearly done yet, but then again I walk a fine line with wanting to do so much to it and also making sure to not go overboard. Upgrades like rotors, pegs, powder coat, and a few other things are on the short list, but there will always be something more.
This experience has brought me so much and opened me up to a ton of new adventures. I've met so many great people just because of this bike. And. It's also created a monster in me as I'm already planning my next build. It still makes me think. What if I hadn't made that split second decision to go on a long road trip with a stranger?
General
Owner- Natalie Kleiner
Year/Make/Model- 1994 Harley Davidson FXLR
Fabrication- Joe and I
Build Time- 3 1/2 days and not much sleep. 
ENGINE
Year- 1994
Type- H-D Evo
Size- 1340
Builder- H-D
Cases- H-D
Cylinders- H-D
Heads- H-D
Rocker Boxes- H-D
Cam- Unknown
Carburetor-S&S
Air Cleaner- S&S
Exhaust-  Thunderheader
TRANSMISSION
Year- 1994
Type- H-D
Gears- 5
Clutch- Rivera Pro Clutch
Primary Drive- H-D
FRAME
Year/Type- 1994 FXLR
Rake/Stretch- None
SUSPENSION
Frontend- H-D FXDX
Length- +2
Triple Trees- H-D
Swingarm- H-D
Rear Shocks- 14-inch Legend Revo A
ROLLING STOCK
FRONT WHEEL
Builder/Size- H-D 19 x 2.15
Tire/Size-100/90 x 19
Calipers- 4 Piston H-D
Rotors- H-D
REAR WHEEL
Builder/Size- H-D 16 x 3.50
Tire/Size- 140 90 x 16
Caliper- H-D
Rotor- H-D
Pulley- 70T H-D
PAINT & PLATING
Paint Manufacturer – L&P Automotive
Colors Used- Custom Black with Gold Dust
Painter- Joe Jurado and Natalie Kleiner
Graphics- Vinyl Pin Stripe
Plating- N/A
Polishing- N/A
Powdercoating- N/A
ACCESSORIES
Fairing-  JD Customs T-Sport
Front Fender- 1994 FXLR
Rear Fender- 1994 FXLR
Gas Tank- (Molded)1994 FXLR
Gauges – Digi HUD via iPhone 6
Handlebars- Wild-1 Psycho's
Grips- Arlen Ness
Mirrors- H-D
Hand Controls- H-D
Foot Controls- H-D
Pegs- H-D
Headlight- 1994 FXLR
Taillight – 1994 FXLR
Turn Signals- Haha NO!
License Mount- Custom Lay Down
Seat- Powerplant