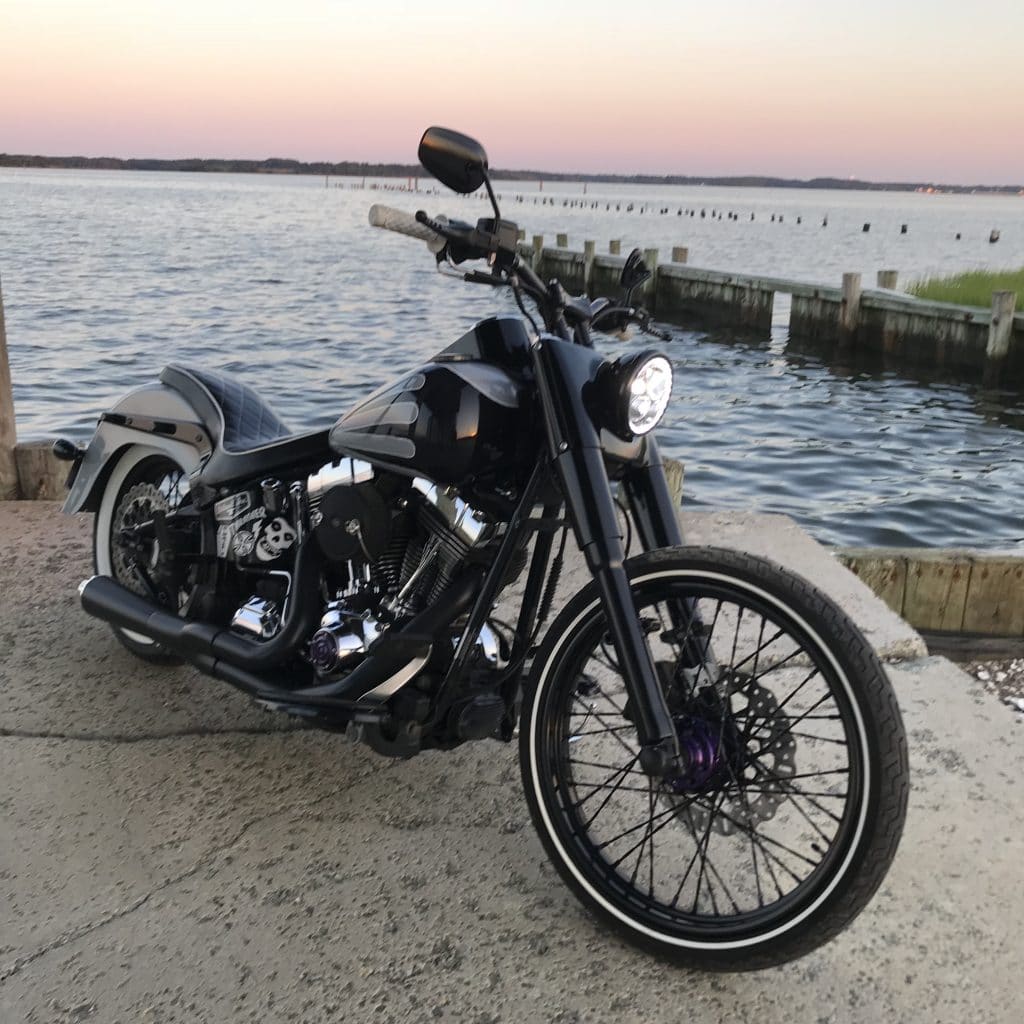 Im a gearhead, motorhead or whatever you want to call it. I have been fascinated with cars, trucks , and bikes since I was a kid. I have always veered towards the old school style, ratrods, but I also have a love for new tech and modern ideas that push the boundaries of the custom culture to new places. I really got the ideas for this bike you see here from a car show I went to with my wife Nicole. I saw an old chevy nomad, that just caught my eye. It had a sort of stock look to the exterior, and you could see the performance upgrades very subtlety all over this thing. I knew I wanted to keep a sort of stock look to the bike, with an old school style paint job. I wanted to have the performance detail as well. When I started , I knew I wanted to upgrade the suspension , brakes, and drive line. I wanted to have an almost flat tracker style bar set up, cause that's what I like. I also knew that I wanted to change the headlight and front wheel size to give a more aggressive look. The Disco purple hubs, were my way of adding some detail to the bike without being too much.  I guess I was going for a look and style of an old race car that someone had made street legal. The performance is coming along as well. The new motor will be put  in over the winter, as this bike is my daily ride. Did I mention that it also has over 124k miles on it. So in the end I wanted a hotrod themed softail, and I feel that's what I ended up with. I know that at first I wasn't sure about how all the parts and styles I wanted would work together, but I love the end results.
Owner- Jonathan Weisner
Year- 2007
Make- Harley-Davidson
Model- Deluxe (Flstn)
ENGINE
Year- 2007
Type- Twin Cam
Size- 96 ci
TRANSMISSION
Year- 2007
Type- H-D 6-Speed
FRAME
Year/Type- H-D Stock Softail
SUSPENSION
Frontend- Progressive Suspension mono tubes
Rear Shocks- Progressive suspension 422 adjustables
WHEELS & TIRES
Brand- Custom mix
Size- 21 front, 16 rear
Calipers- Stock H-D
Rotors- EBC Wave rotors
Pulley/Sprocket – H-D Acc.
PAINT & PLATING
Painter- John Hartman
Powdercoating- Pro Coats Coatings, Gloucester va
ACCESSORIES
Front Fender- None at the moment
Rear Fender- H-D Deluxe 
Gas Tank- H-D
Dash- Powdercoated stock dash
Gauges – H-D Speedo/Tach
Handlebars- Biltwell tracker mids on 4" Murdock risers 
Grips- Biltwell
Mirrors- Swap meet
Hand Controls- H-D
Foot Controls- HD
Floorboards- HD
Pegs- HD passenger
Headlight- HD/Custom Dynamics LED
Taillight- Custom Dynamics LED Tombstone with smoked lens
Turn Signals- Custom Dynamics LED with smoked lens
License Mount- Soft Brake Mounting bracket
Seat- Custom made Lepera cobra full length, with rider gel, diamond stitching, and white piping.
Exhaust- Bassani Road rage2 2 into 1 exhaust
ANY OTHER CUSTOM OR SPECIAL ACCESSORIES/FEATURES:
A lot of the stock parts were re-used after some modification, and powdercoating. Some of the parts were found at swap meets, some were bought, and some were donated to the cause from friends and people I know. The wheels were build out of the stock hubs, with new spokes, rims, bearings, and rubber.