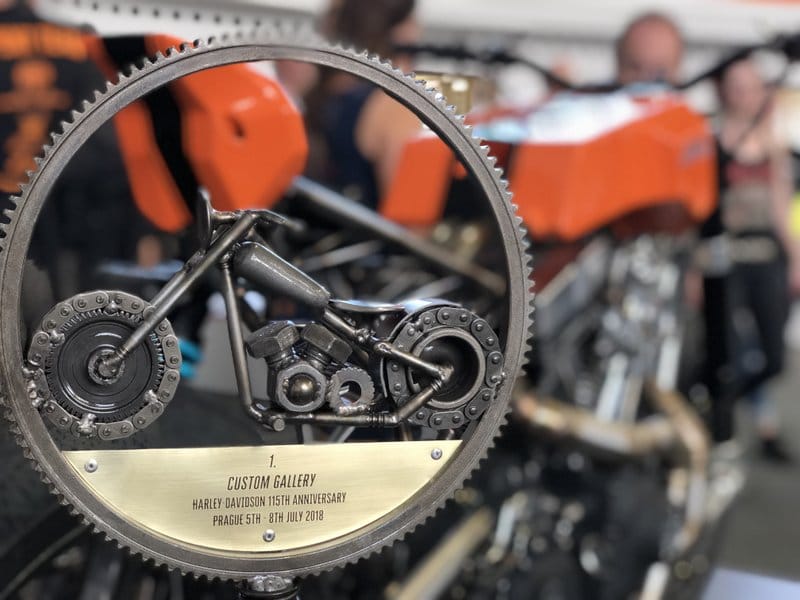 The ancient city of Prauge, in the heart of Europe was the backdrop for the H-D 115th Anniversary European Celebration, where more than 100,000 bikers from over 77 countries revved into Prague, making it the biggest anniversary festival for the motorcycles outside of H-D's U.S. home of Milwaukee, where a similar party takes place in August.
The centrepiece for the event was the Prague Custom Gallery; a unique exhibition of 50 custom H-D projects from around the world selected especially for the event by a jury consisting of motorcycle builders, designers, engineers and H-D representatives including honored guests Bill Davidson (Director of the H-D Museum in Milwaukee) & Karen Davidson (H-D Creative Director). The top prize was ultimately awarded to the U.K.'s Rocket Bobs Cycle Works whose lightweight, compact Street Racer 'Pressure Drop' stood out in a strong field. The bike features a custom ultra-strong race frame which wraps around a JIMS 135" race engine and uses the Baker Grudge Box to put the power down through the Rotobox full carbon wheels. The rear end is controlled by a custom built Nitron race monoshock and braking is handled with HEL race calipers at the end of the HC3 Magura hand controls. The bike weighs 420 lbs wet and, with a no compromise riding position, it's quite a handful and not for the fainthearted!
Pete 'Rocket Bob' Pearson took a year to design and plan, and three months to build the bike. "I was honored to be asked by H-D to showcase one of our custom motorcycles at the 115th Anniversary celebrations in Prague, and to take the 'World's Best V-Twin 2018' award amongst such strong competition is an overwhelming experience".
Based in Swindon and founded in 2009, Rocket Bobs Cycle Works has made a name for itself in a very short time by creating extraordinary handcrafted custom motorcycles which are totally unique. This latest award follows wins at CustomBike (Germany), back to back wins at MotorBikeExpo (Verona) and the Artistry in Iron Master Builders Championship in Las Vegas. For more info hit up: www.rocketbobs.biz
Photo's courtesy of Onno Wieringa