Rough Crafts "Tarmac Raven" Custom Harley-Davidson Softail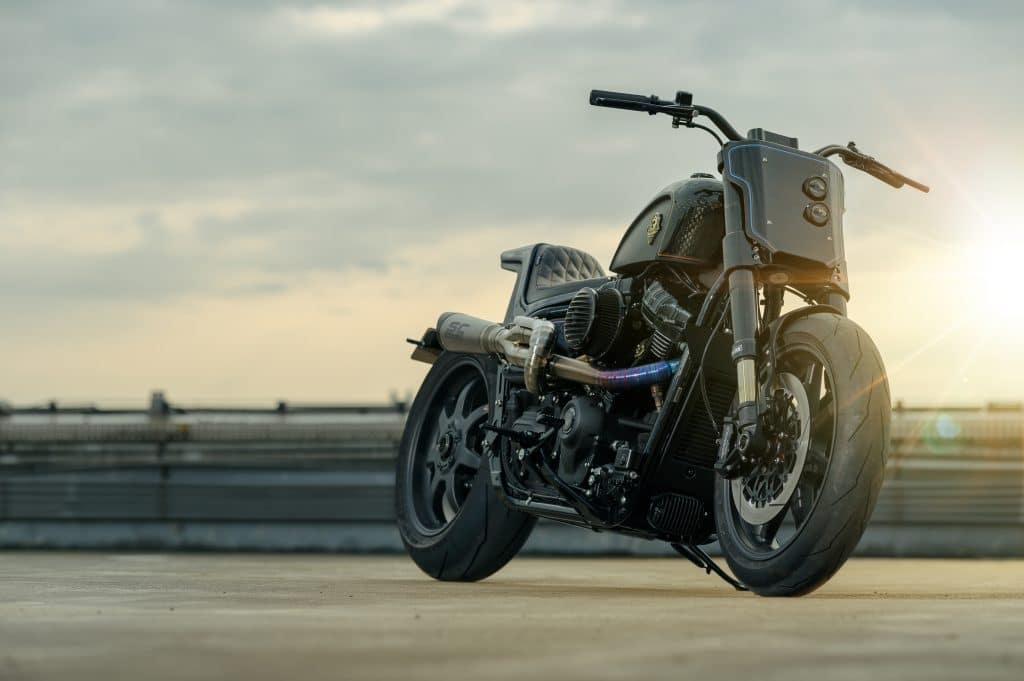 Ever since Harley-Davidson flew me to Barcelona to test ride the Milwaukee Eight Softails at 2017, I was amazed by how much improvement HD had put into this new softail platform, and a performance version of it has been flowing through my head ever since. So when a customer came in with an open brief, I knew exactly what I want to do. Luckily, through out the years of Rough Crafts, I have the privilege to became friends with many of the top manufacture in the business, and when I explain them my plan for this build, they all jump in and helped.
The stance started with a set of Ohlins suspension, they custom made me a rear shock that's 1-inch longer than their regular offer for the M8 softail, plus the beefy 48mm FGRT301 forks up front, to change the bike from HD's lay back cruiser to a more aggressive lean forward stance.
Than I talked to Roaring Toyz, who specialized in custom biller sportbike swingarm who I've been worked with in several projects, to see if they're interested in the M8 softail platform, a single sided swingarm was emerged, Robert actually went and bought a M8 softail to develop a whole billet single sided swingarm system, that works with Ducati Panigale style rear eccentric drive/single sided wheel, and as always, it showed up my door with a perfect fit!
CNC Racing provide the triple clamp which I modified to take Harley style neck and risers mount, BST Blackstone TEK once again provided the amazing carbon fiber wheels for the setup I was looking for. And the latest Pirelli SuperCorsa V3 wrapped up the handling package.
Along the build I had a chat with David Zemla from S&S Cycle, seems like with all the performance upgrade wouldn't be complete with some engine upgrade also. And S&S is kind enough to provide a set of their latest offer for the M8 engine: 124ci Power Package, which claims to offer 124hp and 135ft-lb of torque, which I haven't had a chance to dyno mine, but man, it really has some serious push!!
Like our previous Mighty Guerilla, SC Project also provided the end can, this time is their Titanium S1 series, which we made a full titanium header, and will be send back to SC project to jig up for production full system soon!!
Through out the whole build, you can really tell the work HD put into this platform for custom, with now sporting this radical look, it actually has no cutting anywhere. Even the stock gauge for streetbob is so nice we simply designed our Finned Risers around it so it maintains all stock functions, plus Rebuffini came up with this CAN-BUS hand control system, which made the used-to-be nightmare for custom CAN-BUS controls now a super clean looking plug-and-play kit.
With this Tarmac Raven and our previous Mighty Guerilla, we can really appreciate the work HD put into this platform and you can be sure we're working on many pieces you see here into production.
Bike Name: Tarmac Raven
Builder: Winston Yeh
City/state: Taipei, Taiwan
Company Info: Rough Crafts
E-mail: roughcrafts@gmail.com
Website: www.roughcrafts.com www.facebook.com/ROUGHCRAFTS
Year / Model: 2018 Street Bob
Engine Make / Size: S&S 124″
Frame Make / Type: HD/stock
Front End Make / Type: CNC Racing triple clamp modified with Ohlins FGRT301
Rear Shocks: Ohlins custom +1″
Rake: stock
Stretch: none
Trail: stock
Swingarm: Roaring Toyz single sided
Transmission/Drives/Clutch: stock with Rough Crafts Clutch cover
Exhausts: SC Project/Rough Crafts Full Titanium
Wheels F: BST Blackstone TEK – Black Mamba Carbon Fiber 7 strait spokes / 17 x 3.50″
Wheels R: BST Blackstone TEK – Black Mamba Carbon Fiber 7 strait spokes / 17 x 6.00″
Tires F: Pirelli Diablo Supercorsa SP V3 120/70ZR17
Tires R: Pirelli Diablo Supercorsa SP V3 200/60ZR17
Brakes F: BERINGER dual 4 pistons Calipers / Sunstar discs
Brakes R: BERINGER panigale rear brake kit
Painter: Air Runner Custom Paint
Fiber Glass/Carbon Fiber work: SFC Simon Fiber Craft
Assembly: CT-Garage
Foot controls: Stock Mids/MS Pro
Handlebars: Rough Crafts Fighter Bars for TBW
Handlebar controls: Rebuffini RR90 hand control with CAN BUS kit
Headlight: Rough Crafts number plate + KOSO Led lights
Turnsignals/Taillight: Rizoma
Seat/Tail Section: Rough Crafts
Mirror: none
Gas caps: Rough Crafts
Risers: Rough Crafts fin risers for stock gauge
Grips: Arlen Ness
RockerArm Cover: Arlen Ness
Intake: Rough Crafts Fin Air Filter for M8
Rear drive kit: AEM/RoaringToyz sprocket
Side Licence Plate bracket: Rough Crafts
front fender: Rough Crafts
Additional Info:
Push Rod Collars and Tank Badge by 2 Abnormal Sides
S&S 124″ Power Package for M8