The Darkness – Project 124-FXDX
Words and Photos: Jeff G. Holt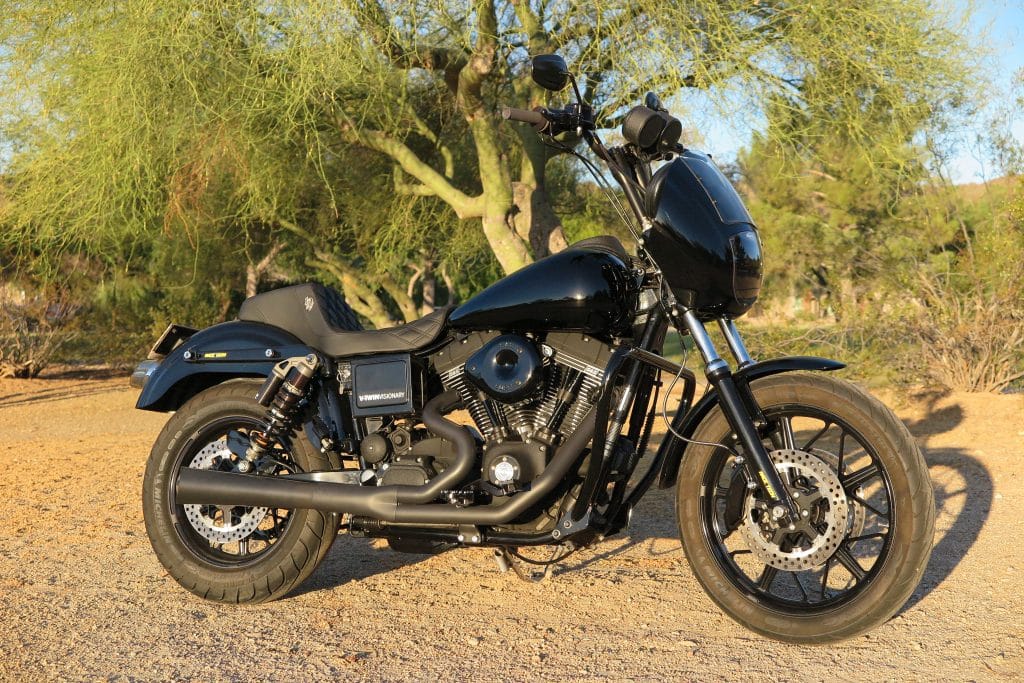 In the summer of 2005 I was standing in Beartooth Harley-Davidson in Billings Montana with a pocket full of cash and a pretty good credit score. I knew I didn't want a Bagger or a Sportster, but I wanted to leave with a bike that day. Well, I saw an 88ci H-D FXDX in the far corner and went to check it out. It was cool as hell and all-black and it already had a black Quarter fairing installed by the dealership staff. After a gazed at that bike for a while it was at the top of my shopping list. Regardless, I went and looked at a few other bikes while dodging sales people. After I spent some time debating, I narrowed it down to two bikes. In a lapse of judgement I ended up leaving with a Springer Softail Classic and spent the whole 5 years of paying it off with a very bad state of buyer's remorse wishing I would have bought the FXDX.
Fast Forward ten years. I had the chance to pick up a 2005 FXDX relatively cheap from a friend of mine in the Midwest. After a few weeks the bike shows up on the transporter and it was pretty clean for a bike from the rust belt. I rode the bike for a little while and found the stock 88ci motor to be lacking like a motherfucker. After I knew some changes had to be made, two calls were made. The first was to my dude at S&S for a 124ci Hot Set Up kit and the second was to Danny Wilson aka Motor Witch begging him to build it. Along the way the fine Folks at Race Tech hooked up the suspension, Roland Sands kicked down the rolling stock, and Hawg Haulters chipped in for some six-piston calipers. Once the motor was machined, built and back in the bike we also added a set of 7/8-inch Protaper bars mated to a set of Hardcase Performance riders. A Lucky Dave's seat, a set of Michelin Commander II tires, and a Kerker exhaust were added as well. Finishing off the build was a powerful inner fairing Bluetooth sound system from Plex Audio and a crash bar from IMZZ Elite. Durng the time the bike was getting finished up, I ended up horse trading the FXDX to Danny for a few other engine builds, so he is the current owner of this fine-assed machine.
Now that this motorcycle is complete the break-in miles and heat cycles are being put on the bike and we will let you know how much horsepower this big black machine has with video real soon.