The John Wigent-Built FXDB-R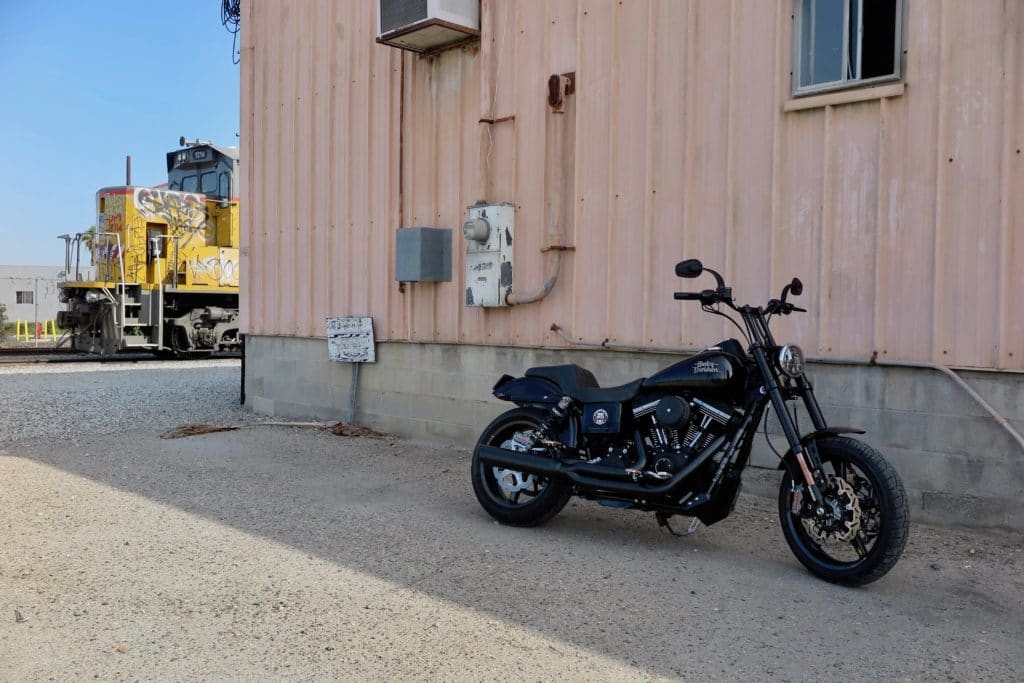 It's not often you get lucky enough to be the first and only person to work on a bike since it was new. In this case, I was.  From day one Dalton Rikansrud, the bike owner, and I hit it off. We both share the brotherhood of being United States Marines, so maybe that's where the closeness comes from. Like most Harley owners, Dalton started upgrading his bike with cams, an exhaust, big bore kit, and a tuner. These first upgrades fueled many late-night conversations and the desire for more performance. Since I've been in the motorcycle industry for close to 8 years I was able to guide him to the best performing parts.
This eventually led to the monster you see pictured. The overall goal on this bike was to eliminate as much rotating mass as possible, while maintaining strength and dependability. Roughly 40lbs of rotating mass was stripped from the Street Bob by lightening the crankshaft (thanks to DarkHorse Crankworks), eliminating the compensator, using a forged clutched basket, titanium hardware on all rotating components, and lastly those BST carbon fiber wheels.    
During the planning process, Dalton told me he wanted a canyon carver that also could be a daily rider and have enough power to bend the handlebars when the throttle gets snapped wide open. At this time I was heavy into the Buell XBRR platform, so I got a lot of inspiration from that bike. Lucky for us there are tons of badass performance parts on the market today and from my past experience building some rippers I knew where to go for the best proven performance parts. For this build I wanted to stick with OG companies like Race Tech, Saddlemans, S&S Cycle, and Wood Performance. Using this combination of parts is really what makes this particular bike ride and handle so insanely.
The day came when Dalton gave me the go-ahead to start ordering parts. Even though he was on deployment at the time, a fat stack of cash was deposited in my account and it was on. For the motor build we wanted maximum power while maintaining reliability.  So we sent the bottom end out to Darkhorse Crankworks to get the royal treatment. The  heads got sent out to none other than FuelMoto to get CNC-ported, and a Horsepower Inc. throttle body was ordered to take full advantage of the newly ported heads. For the suspension we went with the best in the business Race Tech. After this bike went together and I hit up my usual canyon roads I honestly don't have words to describe how amazing this suspension performs. Using the made-to-order RaceTech G6 frontend opened up a plethora of choices for braking and wheel options. Since this bike was going to be a rocket it needed to slow to a stop just as good as it got up to speed. To make this happen we used a hayabusa front hub and ran massive 330mm rotors with radial mounted calipers. The last component was the carbon fiber BST wheels with ceramic bearings. Just this upgrade alone lightens the rotating mass by over 20 lbs making this bike handle more like a street bike and less like a Harley-Davidson.
Eight months later and a lot of blood and sweat, the bike was finally finished. From the very first shakedown ride I felt like I had my legs wrapped around a fucking feather with 120hp. The bike handles like it a JATO rocket on rails and if you get a little greedy with the throttle exiting a turn, the front end will gladly lift towards the sky. You can literally chop the throttle in first or second gear and the bike will hang the front wheel in the air as high as you would like. This FXDB-R is insanely fun to ride and is clean as fresh pair of creased Dickies. I'd like to thank Dalton for trusting me with his bike build, Travis at FuelMoto for sharing knowledge with me, Louie at RaceTech for getting the suspension dialed, Aaron at K-Tech Fabrication for handling the machining, Motorcycle Dynamic Racing for the great machining, and lastly Crown Performance for the bitch'n brake lines.  Hit me up if you need a clean and mean a bike built.      
Spec Sheet
Owner- Dalton Rikansrud
Shop- John Wigent Engr.
Shop Phone- 619 565-5564
Website-IG @johnwigentengr
Year/Make/Model-2016 Harley-Davidson FXDB-R
Fabrication- Light Machining 
Build Time- 8 months
ENGINE
Year-2016
Type-Twin Cam
Size-107ci
Builder- John Wigent/Darkhorse Crankworks
Cases- H-D
Crankshaft- Darkhorse Crankworks: lightened, balanced, pro-plugged, H-beam rods and Timken conversion
Cylinders- Fuel Moto Extreme Duty Cylinders and Carrillo Pistons
Heads- Fuel Moto CNC-ported
Rocker Boxes- H-D
Cams- Wood Performance Knight Prowler
Throttle Body- HPI 55mm w/ 5.3gps Injectors
Air Cleaner- Arlen Ness
EFI Controller- Thundermax
Exhaust- D&D FatCat
TRANSMISSION
Year- 2016
Type- 6-Speed
Gears- H-D
Clutch- Evolution Industries Diamond Terminator
Primary Drive- Evolution Industries Compensator Eliminator w/ 30tooth pulley 
FRAME
Year/Type- 2016/H-D
Rake/Stretch- 29 degrees/none
SUSPENSION
Frontend- RaceTech G6
Length- Custom w/ bronze tubes
Triple Trees- Modified Brock's Performance
Swingarm- H-D
Rear Shocks- Race Tech G3-S 
ROLLING STOCK
FRONT WHEEL
Builder/Size- BST Carbon Fiber 18×3"
Tire/Size- Michelin Pilot Road 4 GT 120/70-18
Calipers- Brembo M4 monoblock
Rotors- Braking 330mm w/ titanium hardware
Hub- '08 Hayabusa
REAR WHEEL
Builder/Size- BST Carbon Fiber 17×5.5" 
Tire/Size- Michelin Pilot Road 4 GT 190/55-17
Caliper- Brembo M4 monoblock
Rotor- Galfer Wave
Hub- H-D style
Sproket- 55 tooth
PAINT & PLATING
Paint Manufacturer- H-D
Colors- The right ones
Painter- H-D
Graphics- H-D
Plating- H-D
Polishing- Nah
Powdercoating- Very little
ACCESSORIES
Fairing- Nope
Lowers- Too heavy
Front Fender- Carbon Fiber XR1200X
Rear Fender- H-D
Gas Tank- H-D
Dash- H-D
Gauges – H-D
Handlebars- Todd's Cycle's MotoBars
Risers- Todd's Cycle 8-inchers
Grips- Roland Sands
Mirrors- Russ Wernimont Designs
Hand Controls- H-D
Foot Controls- H-D
Pegs- BungKing
Headlight- Moons MC
Taillight- Todd's Cycle 
Turn Signals- Todd's Cycle
License Mount- Kuryakan 
Seat- Saddleman