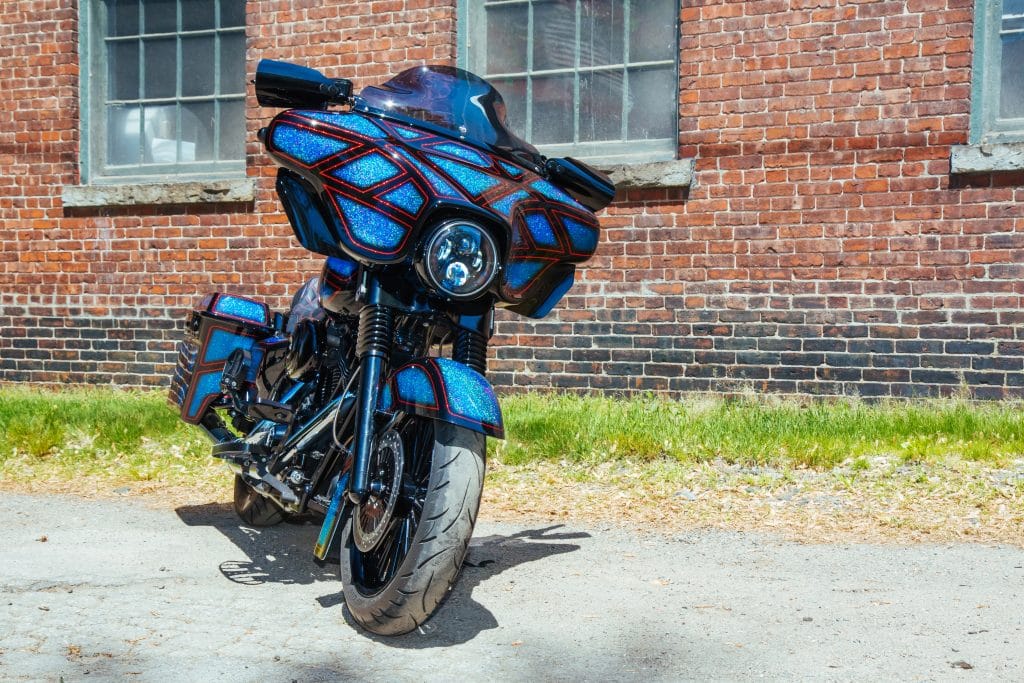 Words & Photos:  Joshua Elzey
Adam Golen out of Hudson NH father nicknamed "Scrap Dog" ordered a 2006 Harley Street Glide around mid 2005. He was like a kid a in a candy store waiting for the newest Harley to come out. This would be his first new bike in 13 years after he had to sell his 90's Electra Glide due to family obligations. He cherished every mile reaching 48K on the glide during the 2006-2013 riding season. He even installed a Thunderheader and S&S 510G cams with their gear drive. Unfortunately, he high sided the bike in a turn and sustained a traumatic brain injury.  Even though his riding days of riding were over he had no intention of selling the bike so asked Adam to maintain and more importantly ride the street glide.
The motorcycle culture also grew to part of Adam's life after being encouraged by his mother to sign up for Harley courses however he continued to pursue dirt and sport bikes instead funding it much more interesting. This changed when his father handed over the keys to his bike and said to take it for a spin. After ripping thru the local town, Adam was instantly hooked! When he turned 25 his father helped with the purchase of a 2001 Road King.
In the upcoming years "Scrap Dog's" health continued to get worse and in 2015 was diagnosed with Dementia. This lead to Adam putting the following riding season on hold in order to become a night time aide so 'Scrap' could stay home. After being moved ultimately to a facility, he passed away on August 10, 2017. At this point Adam thought the best way for his family to remember "Scrap Dog" was to resurrect his old bike to build a tribute to him. Adam took the bike on a 1,027-mile loop taking 17 hours to complete, road 16 hours for near 1K miles to Niagara Falls, and then St. Eustache Canada before the fuel pump went just shy of 30 miles from home. With 57K miles now on the 'Scrap Glide' it was now cosmetically and mechanically in bad shape even though it ran well. "Scrap Dog" always asked Adam – "What would you do to this bike?" After his passing, Adam's friends Dustin Nadeau and Jeff Gates convinced him that it was time to treat the old girl to a refresh with Dustin lending him his garage to work on the bagger.  Adam decided to go a little further.   
The build never truly had a timeline until they decided to go to the motocycle event called Americade held in Lake George NY.  Adam's girlfriend suggested he should pick a drop-dead date so he chose May 20th.  It would allow him to complete the bike and get some miles on the bike making sure everything was mechanically sound.   As Adam started researching parts and thinking about his personal riding style, he decided to go more towards the performance bagger but wanted to keep the shape of the bike fairly stock.  He liked the idea of being able to carve corners at a high rate of speed similar to sport bikes and not have the nervous feeling the bikes can seem to have trying to accomplish certain riding expectations. Adam also chose not to farm any of the parts purchased out to anyone in order to make the build more personable. With this in mind, he started looking at and choosing what parts to use while already knowing the paint would require some metal flake. His only restriction was his own talent, no formulated plan, and finding time. Adam just wanted to make the bike his, something to be proud of, and never sell.
Adam started with the SMT Machining Fat Daddy wheels wrapped in Avon tires that then dictated what the front end would need to be. Adam like the spoke look and this provided the strength of a forged wheel. He decided on a slight modification to the saddlebags to give it a slightly lower look as well as using the longer Bad Dad front fender. This helped since he was going to raise the rear up an inch with the Ohlins 159 13" rear shocks. To match the rear shocks Adam knew a little more damping up front would be required so figured Ohlins FKC101 front cartridges were perfect for the job. Performance Machine 6 piston calipers up front and Lyndal Racing brake pads in the rear would provide better braking. The frame and swing arm were sent out to Peter Bartlett in order to get re-powder coated black after being stripped down to bare metal. He kept the original fairing shape and gas tank so not only did the lines work out but wanted one to determine the year of the bike. Jeff Gates of Afterhours Paintworks laid down some bluish panels over black with Tropical Glitz Sunburn and Seabreaze metal flake. Adam repainted the motor, transmission, and start with Harley black wrinkle engine paint then polished by hand the fins. The engine, transmission, outer primary, and starter covers were powdercoated as well. Adam really had to resist hopping up the motor as wanting to keep some of what his father had leaving the heart beat the same. He did update the windshield, bars, seat, mirrors, foot controls, gauges and headlight/taillight. Justin of Infocus Mobile Audio installed a Kenwood HU with Rockford speakers/amp.
The huge challenge during this build was the learning curve of a first frame up. While Adam had to free up time from the day-to-day job working on high performance engines at Golen, he also had to buckle down to start the project instead of just thinking about it. After stripping the bike down, in hindsight Adam wished he had better documented the parts with labeling etc. to help later as over time one tends to forget the details. Adam also spent a lot of time dealing with aftermarket parts for the first time and all the fun that can provide to a project. In the long run his stubbornness got him thru with Dustin, Jeff, and girlfriend Taylor to lend a hand was key to the success of the build. Dustin would spend time with Adam and Jeff going over ideas, talking about parts, and spending time with his three children adding to a memorable experience. Eventually Adam was able to overcome the long distance to the garage after work and gather the energy to work out the setbacks builders run into that weigh on one mentally.
General
Bike Name: Scrap Glide
Fab. By: Owner/Jeff Gate
Year: 2006
Make/Model: Harley Street Glide
Value: Priceless
Time: 6 months
Club Affiliation: none
Engine
Year: 2006
Model: Twin Cam
Builder: stock
Ignition: stock
Displacement: 88ci
Pistons: stock
Heads: stock
Carb: Fuel Injected
Cam: S&S 510G
Air Cleaner: Harley High Flo
Exhaust: Thunderheader
Primary: Stock with Rekluse Torq Clutch
Other Modifications: Feuling Cam Plate and HP+ oil pump, S&S Gear Drive, Velva Ride Vibration Control
Transmission
Year: 2006
Make: Stock
Shifting: 5 speed
Frame
Year: 2006
Make: Harley
Rake: stock
Stretch: stock
Other Modifications: Velva Ride Vibration Control, Ohlins HD 159 rear shocks.
Forks
Type: Arlen Ness Smooth Lowers with Ohlins FKC101 cartridge kit
Builder: Myself
Extension: none
Triple Trees: stock
Wheels, Tires, Brakes
Front Wheel: SMT Big Fatty
Size: 18″ x 3.5″
Front Tire: Avon Cobra
Front Brake: Performance Machine 6 piston dual calipers
Rear Wheel: SMT Big Fatty
Size: 16″ x 3.5″
Rear Tire: Avon Cobra
Rear Brake: Performance Machine Master Cylinder, stock caliper
Painting
Painter: Jeff Gates at Afterhours Paintworks
Color/Type:  Black, Tropical Glitz Sunburn and Seabreeze metal flake
Graphics:
Molding:
Polished/Chroming: Powder Coating by Peter Bartlett
Accessories
Bars: Burly brand 13″
Risers: none
Hand Controls: stock, Avon Grips
Fuel Tanks: stock
Front Fender: BadDad Slammed Fender
Rear Fender: stock
Seat: Lucky Daves
Upholstery by:
Material/Color:
Foot Controls: Burly Brand MX style floor boards
Mirrors: Russ Wernimont Designs Oval Convex
Oil Tank: none
Headlight: Dirty Bird Money Shot
Taillight: Custom Dynamics
Speedo: Stock, Refaced by EyezOn Gauges
Gauges: Stock, Refaced by EyezOn Gauges
Stereo: Kenwood with Rockford speakers/amp
Body Modifications: 2.5″ extentions on saddlebags, Bad Dad Dash
Other: Joker Machine Serrated Brake and shifter pedal, Klock Werks 8.5″ Flare Windshield. Memphis Shades hand guards.