Upgrade Your Sturgis with Black Hills H-D, Buffalo Chip
Upgrade Your Sturgis is what happens when two titans of the Sturgis Motorcycle Rally put their heads together. Black Hills Harley-Davidson and the Sturgis Buffalo Chip are partnered to create the ultimate, upgraded Sturgis experience this year at the 80th Sturgis Rally. The sweepstakes is now taking entries at the Black Hills H-D website. Upgrade Your Sturgis packs a host of powerhouse brands giving one winner a package of top-quality custom parts and VIP experiences. As a result, the winner upgrades their ride and Sturgis experience.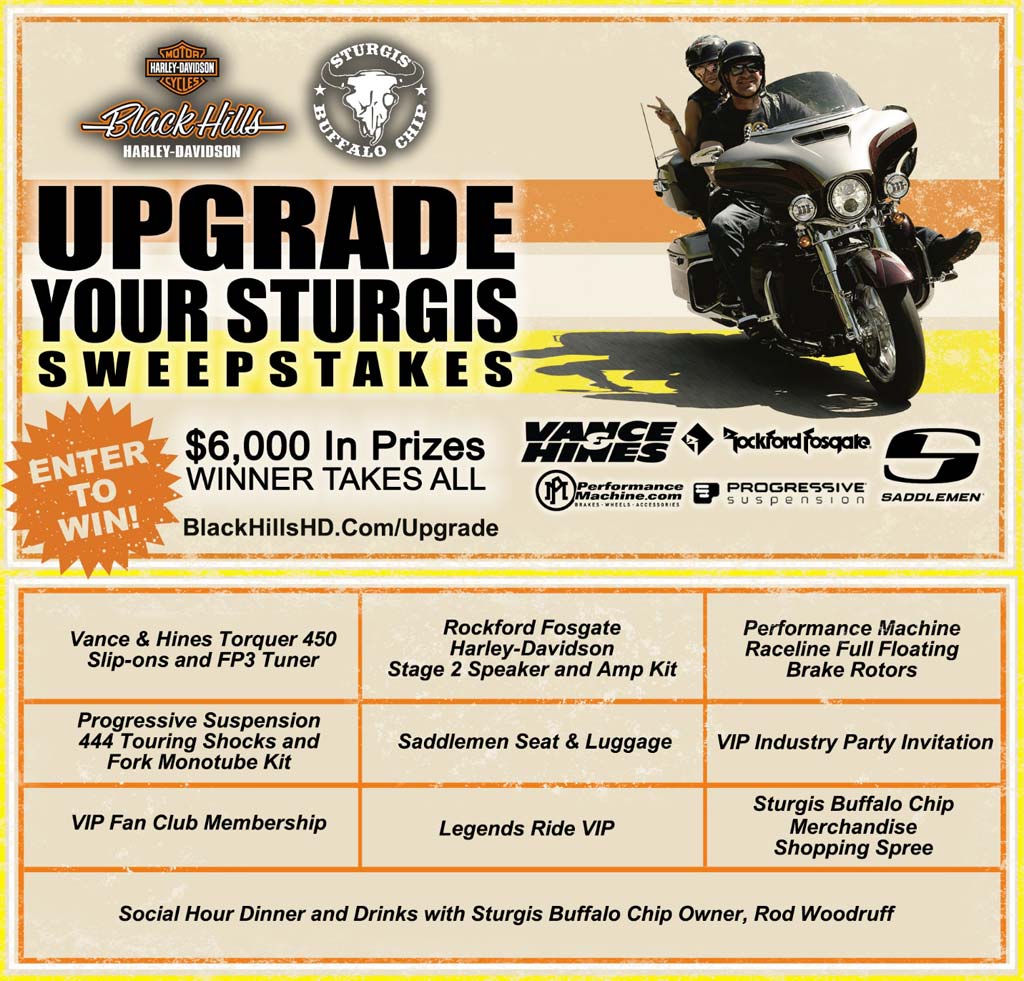 "From the moment you purchase your first motorcycle, you know that you'll visit the Sturgis Rally as a right-of-passage," said Sturgis Buffalo Chip President, Rod Woodruff. "Black Hills Harley-Davidson and the Sturgis Buffalo Chip want you to do it right for 2020 and elevate your bucket list experience to truly memorable."
The eight-week Upgrade Your Sturgis Sweepstakes features over $6,000 in prizes as well as a handful of priceless VIP experiences. Each week, the custom experts at Black Hills Harley-Davidson will feature a product upgrade from the sweepstakes. It's their way of giving entrants a detailed look at what they can win.
Prizes include performance upgrades courtesy of Black Hills Harley-Davidson from top parts manufacturers including:
Additionally, the lucky winner of the Upgrade Your Sturgis Sweepstakes upgrades their Sturgis experience with exclusive, VIP treatment at the Buffalo Chip. The winner receives:
VIP Industry Party invitation
VIP Chip Fam Club Membership
Social Hour Dinner and Drinks with Sturgis Buffalo Chip Owner Rod Woodruff
Sturgis Buffalo Chip Merchandise Shopping Spree
Legends Ride VIP
The sweepstakes begins June 3rd. It stays open for entries until July 16. Only one person will win the VIP experiences and the prize package valued at $6,000. The grand prize winner will be announced July 16.