2021 Indian Chief Dark Horse First Ride
A couple weeks back I was able to ride the backroads of Arizona on both the Indian Chief  Dark Horse as well as as the Chief Bobber. Both of these bikes posses many of the same componentry, as you can already sense. However each of these the bikes also ride very differently due to their inherent parts mix. This review you are reading now is going to be based on my findings with the Chief Dark Horse. My review of the Bobber drops in a couple more days.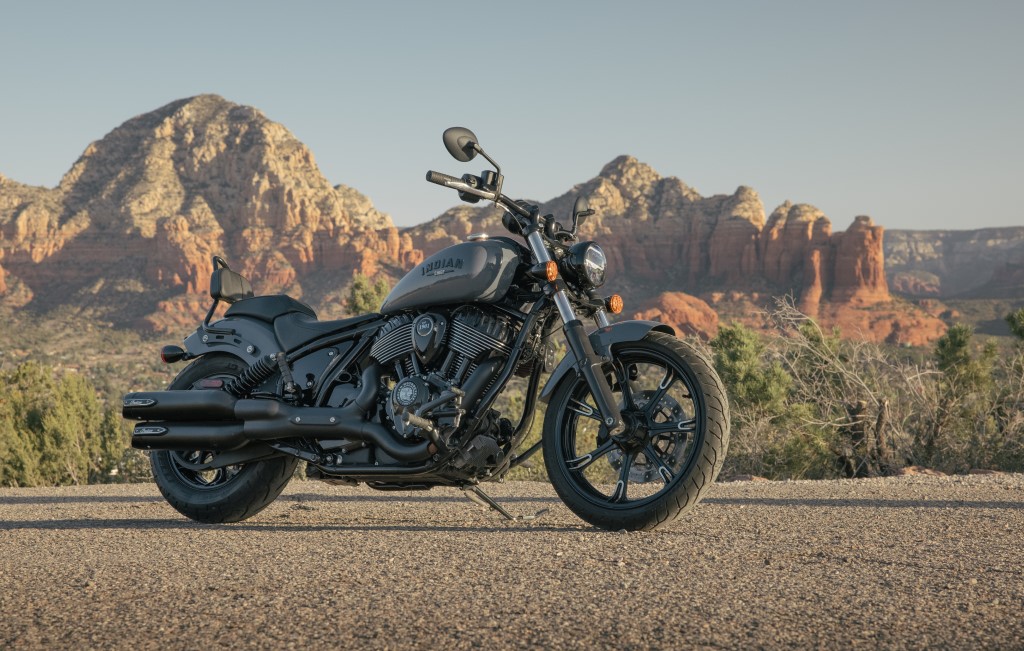 The Indian Chief Dark Horse , $16,999 ($17,499 as tested) has more of a "current custom" style. The low rise bars, blacked-out finish, and 16-inch rear,19-inch front cast wheel combo wrapped in Pirelli Night Dragon 130/60/19 front and 180/65/16 rear rubber on the motorcycle looks pretty nice straight from the factory. But what about the power it possesses? Well, it has a very healthy 116ci air-cooled Thunderstoke motor (4.063-inch bore x 4.449-inch stroke) with a claimed 120ft-lbs of torque backed with a smooth shifting six-speed transmission and final belt drive.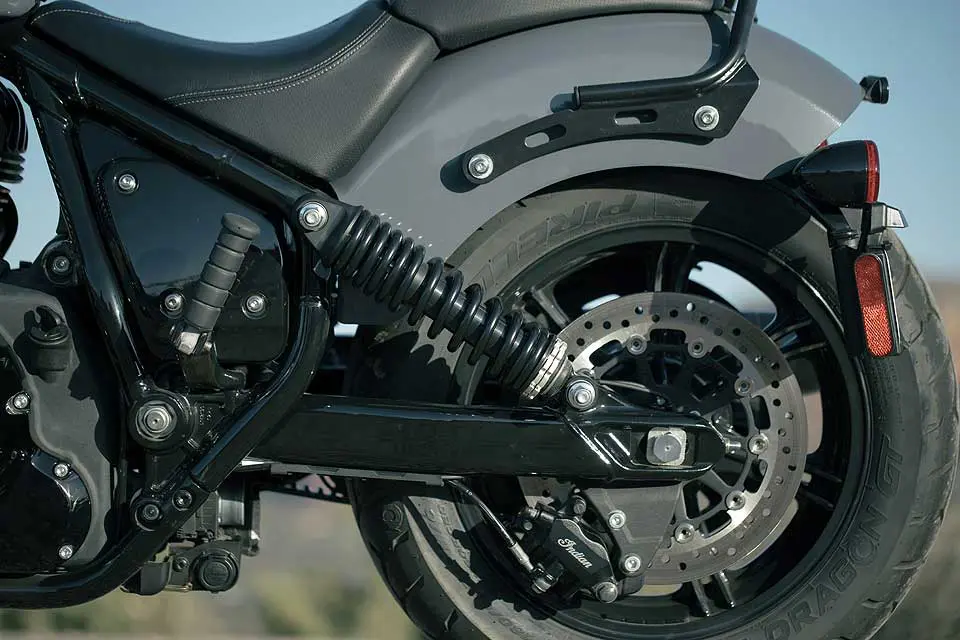 I initially thought that the vintage-inspired steel frame is very attractive. And from what I found immediately after riding it is that the frame was very stiff laterally. And that's a good thing. The frame also has a rear twin-shock set up instead of a mono-shock like Indian's baggers. I am not going to go into the pros and cons of a single shock over a dual, and who thinks what is better, because it is all personal preference now. Especially on a "Cruiser" style motorcycle. Many people on the Interwebs have been weirded out by the angle of the rear shocks, and if they are in fact at the right angle in which to work at their very best. All it took is a single multi-hundred mile ride on a Chief to tell you that Indian's twin rear preload-adjustable motorcycle shocks are doing their job with ample ability.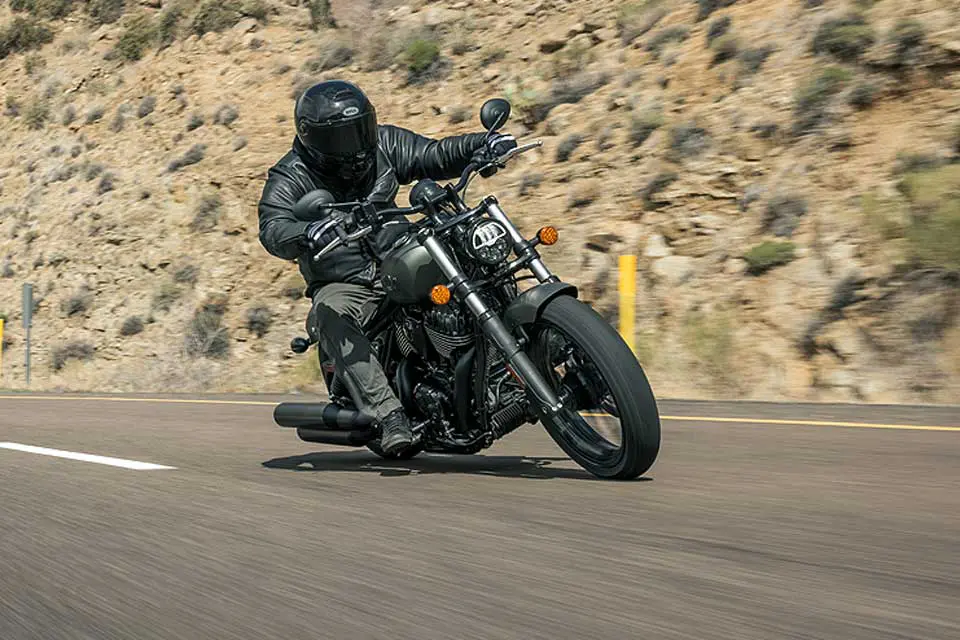 When hitting the twisties the 4.9-inches of stock ground clearance and the bike's rather well-thought out mid controls, coupled with the 5.5-inches of front, and 3-inches of rear travel, this bike didn't have any issues with scraping the pegs. The 670 lb weight, 90-inch length, 26-inch seat height, 29-degree rake and 5.2-inch trail were a spot on combination. They made the bike fun both in a straight line as well as carving canyons. Whereas most of Indian's past big twin cruisers have felt a bit too long and heavy for my 5-foot 10-inch 190-pound hunk of manliness, this new version of the Chief felt very comfortable for an unmodified machine.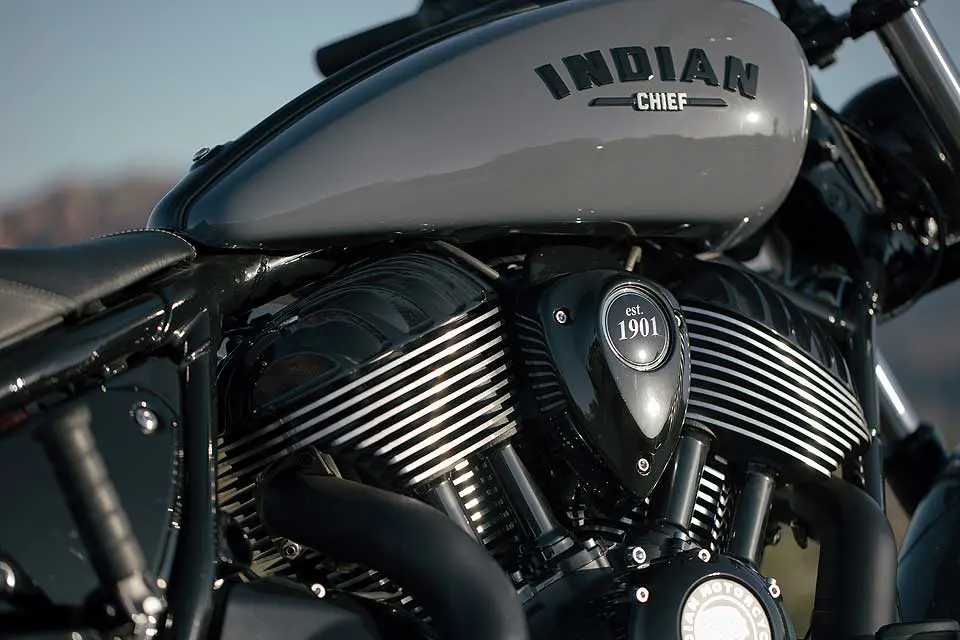 The engine, trans, and wet clutch combo had great power and was a blast to run through the gears both on the highway and on the endless Arizona backroads we rode on. Of course, I thoroughly liked the ample performance the Indian Thunderstroke 116 had to offer in combination with the new chassis. And let's talk about the braking. Though the front is a single 300mm semi-floating rotor with 4 piston calipers and a 300mm rotor with a 2-piston caliper in the rear, the braking is superb. These stoppers provided plenty of power at any speed and in any condition with a ton of positive modulation.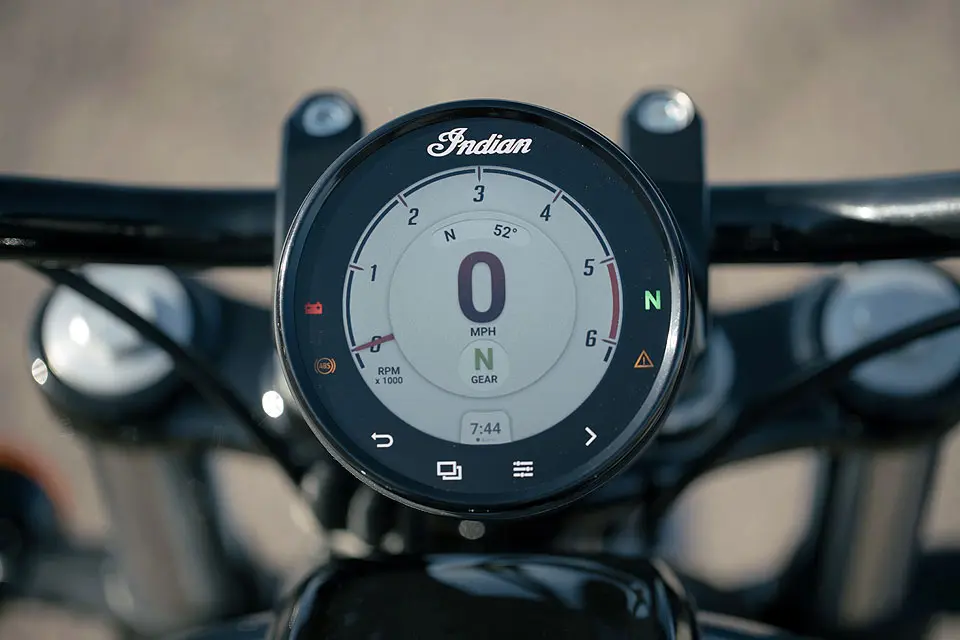 In this day and age the electronics of the bike have just as much to do with a bike's success as the powerplant, brakes, and chassis. And Indian hit it out of the park with the Chief Dark Horse's 4-inch Ride Command display. This retro-looking "speedometer" possesses the norms like vehicle speed, fuel range, RPM, gear position, and digital clock. But Indian takes it a step further with at-a-glance readings and operations of ambient air temperature, map/navigation (with real-time traffic and weather), Bluetooth status for phone and headset/communication systems, vehicle status readouts such as voltage, engine hours, and when oil changes are needed. There is even current to-the-second ride data such as distance, moving time, stop time, current altitude, altitude changes, trip meters, screen brightness adjustability, and even a vehicle trouble code readout. Rounding out this bike are other beneficial electric features such as keyless ignition, a USB charging port, full LED lighting, and the Chief even comes with cruise control as standard equipment. Talk about having a slew of current creature comforts.
Another thing I really liked technology-wise was the Chief's ride modes. Yes, many metric motorcycle manufacturers have been doing this for years. But Indian has followed suit with a few of its models as of late, and to see this tech now in the "mid-weight" market is a very cool thing indeed. The three ride mode choices are Standard, Tour, and Sport. I rode copious amounts of miles with the bike in all three modes and can tell you that they all really make the bike feel different. And of course my favorite mode is Sport where you get all the horsepower and torque that the Indian engineers would currently give us.
Do I like Indian Chief Dark Horse?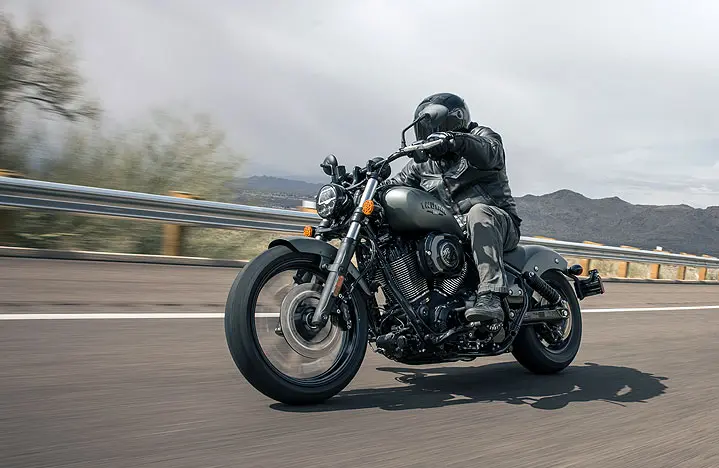 Yes, as a matter of fact I enjoyed the way it rides very much. For a stock bike I think is a real good choice for many people. I also believe that this Chief line of bikes is a solid step in the right direction for Indian Motorcycle. It shows their level of commitment and this model along with the Bobber and the Super Chief effectively round out their full line of bikes very well. Of all the bikes I rode I liked the Chief with the mid controls best. I feel that it put me in a great position that was not cramped, but comfortable even for longer rides. The power that the bike possesses in its stock form was impressive as well.
What Don't I Like About the Indian Chief Dark Horse?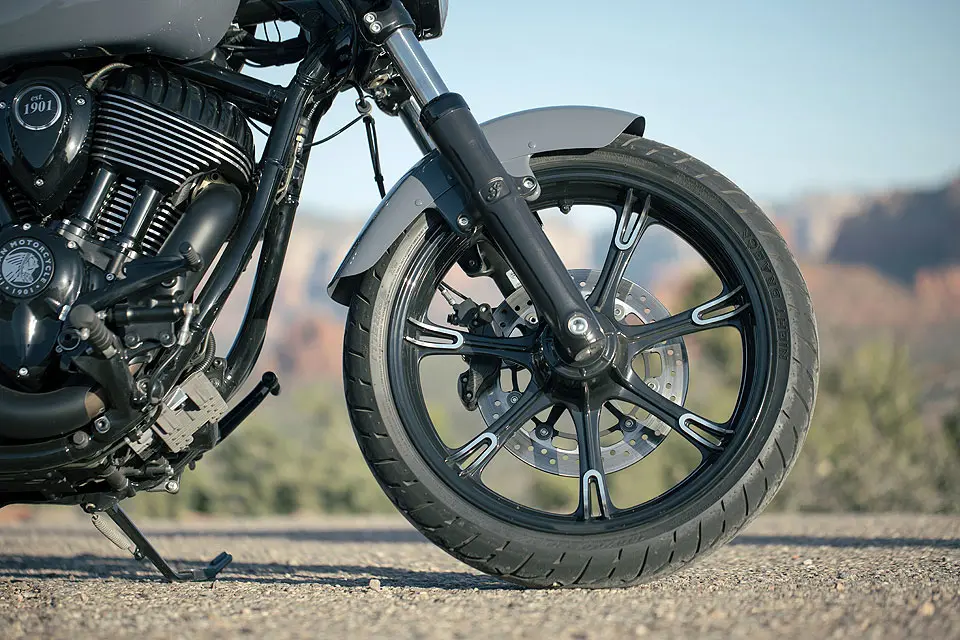 I'm not a fan of the bobbed fender on this model. This is not the Bobber model, so why is the rear fender bobbed? I like a front and rear fender to actually do its job. Not have the front fender do little to nothing but look good, or have the lack of a full rear fender send a rooster tail straight up 30 feet when the bike comes in contact with water. I am sure that Klock Werks, Arlen Ness, or Hofmann Designs will be (or already are) making some full-length fenders for this bike, so my bitching regarding fender length will be remedied soon. Indian's grips have always felt too bulky and hard for me, but with the help of Cary Hart and ODI Grips there are some solid choices over the stock offerings.
Also, I have really never been a fan of OE bars on pretty much any motorcycle I have tested. To the level where It's really a point of contention with me. I can say that these bars are actually a bend in the right direction (pun intended) but I would still have to swap the hand control combination out almost immediately if I was to keep this bike in my personal stable. 
How Easily Can the Chief Darkhorse be Upgraded and/or Customized?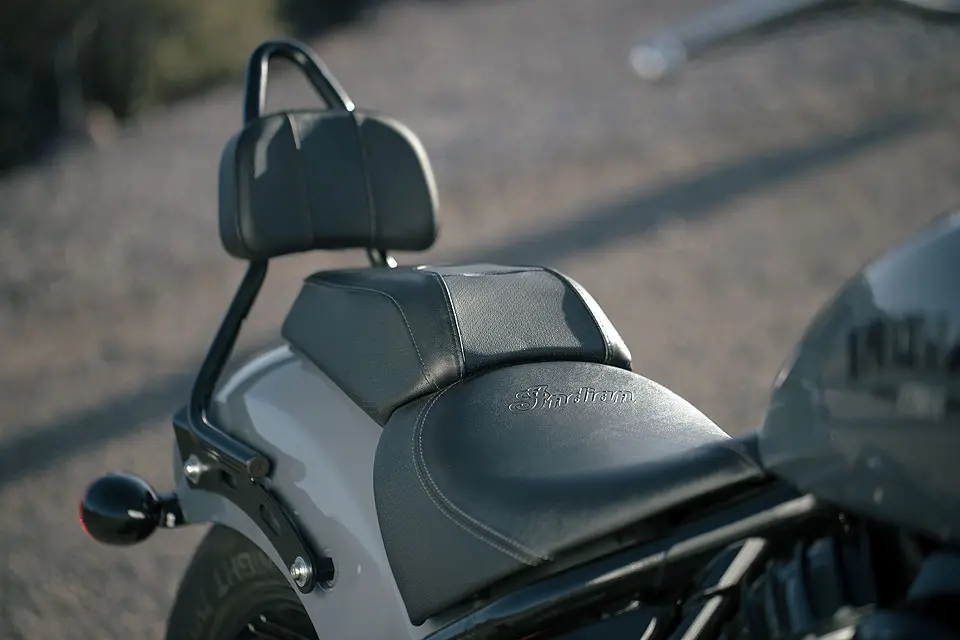 Of the three model Chiefs this would be the bike that I would start with for sure. I like the look of the wheels, the wheel sizes, and of course the torquey 116ci motor. As you know V-Twin Visionary is all about custom and performance bike building. This one would be a solid basis to build a street-eating V-Twin with. Luckily for all involved I have already been hearing grumblings from many American aftermarket parts makers that there will be exhausts, wheels, seats, handlebars, risers, suspension, and all sorts of anodized (as well as carbon fiber) parts coming for the Chief as fast as they can be made. 
Comparisons to the Indian Chief Dark Horse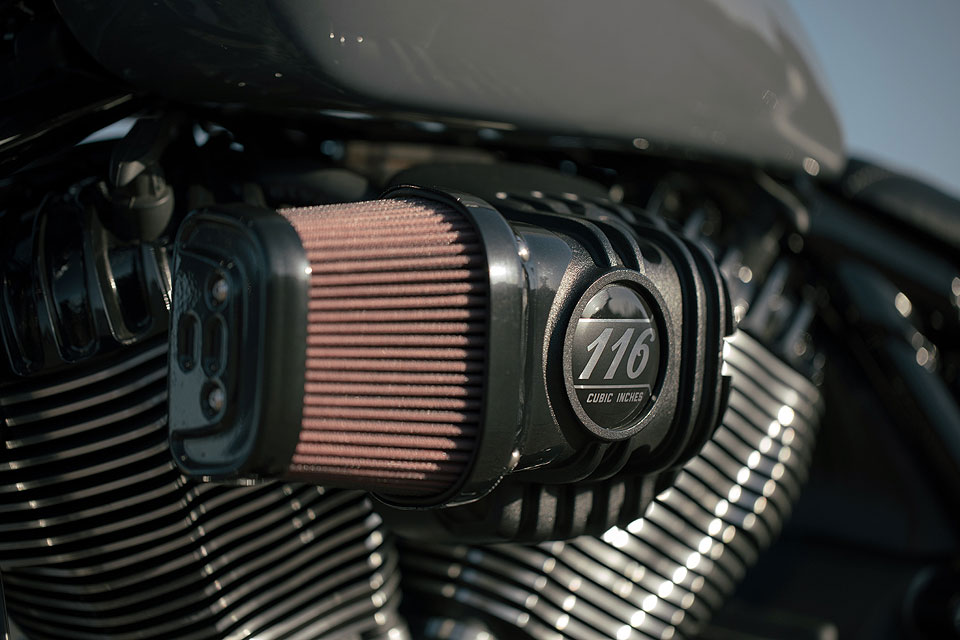 Is it a Dyna? No. Is it an FXR? No. I don't think it's really fair to compare a brand new bike jammed with technology against older models who don't pack the same technological punch. The Chief Dark Horse is also lighter, stiffer, and has more power than the Dyna or FXR. 
Which leads me to pair the Chief Dark Horse up against a 2018-2021 Softail Lowrider. I can say with authority that each of those bikes has measurable strengths and weaknesses. Also they are both very nicely made machines that now offer a much greater level of performance than each of their predecessors. 
For me it all boils down to this: I have lead you to the water, and now it's time for you to drink. So, if you are serious about owning either of these bikes, just make sure you throw a leg over each of them yourself for a test ride before you plunk down your hard-earned money on a new motorcycle. It will be a major win/win for you to do so.