Twin Power Shocker Battery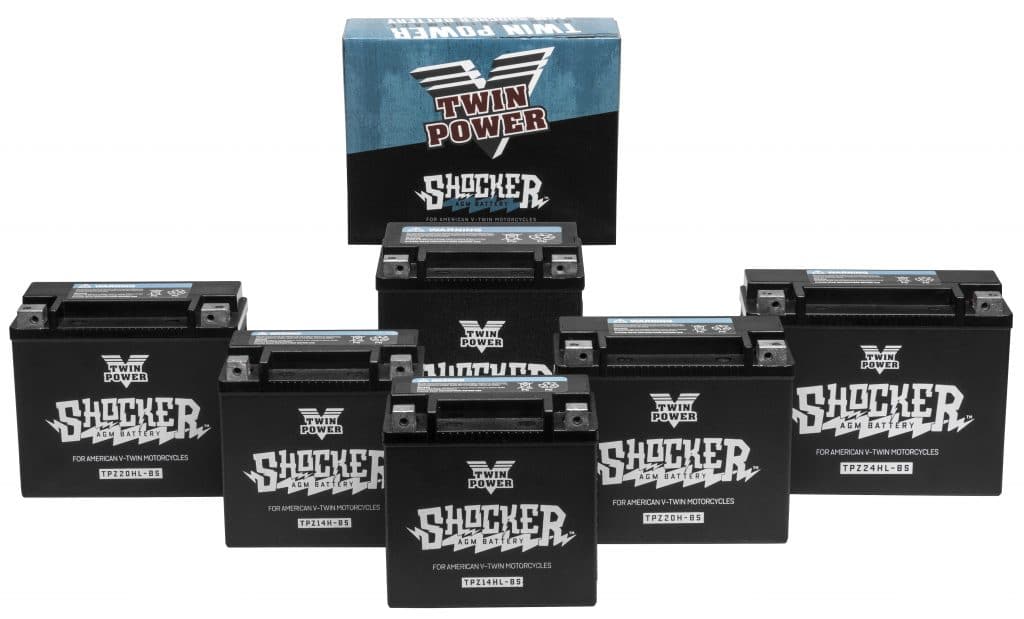 Twin Power is excited to announce the addition of Shocker™ batteries for American-made V-Twins to its product line. Twin Power is known for its high-quality parts and accessories designed for the American V-Twin enthusiast.
Shocker batteries are a new line explicitly developed for V-Twins and offered at a very competitive price. These factory-activated and sealed AGM-style batteries are assembled in a robust stock appearing ABS case with a matte black finish. The terminals are a flush mount design with dual connection points (14-amp models have one connection point) and captive internal nuts for a fumble-free installation.
The impressive list of features includes extra thick plates for extreme vibration resistance, a heat-sealed cover to protect against leakage and corrosion, and fully sealed posts. Independent laboratory testing parameters include high-rate discharge, ten-hour discharge, vibration, short circuit, and zero-degree Fahrenheit cold cranking amp tests. Also, these units were subject to extreme field-testing conditions during their development.
"The Shocker might be offered at a reasonable price, but is not short on performance," says James Simonelli, Twin Power Brand Manager. "This is by no means a standard 'metric' or 'universal' type battery. We have found through testing that any time terminal adaptors or spacers are used, amperage transfer during the initial start may be compromised. You may get strong starts after the initial installation, but over time, vibration, arcing, and corrosion can affect the battery's ability to deliver reliable performance. The Shocker won't let you down."
Fitments are available in all popular 14, 20, 24, and 30 Amp configurations and retail prices start at $91.15.
See your local Tucker V-Twin dealer for more info about Twin Power products.

About Twin Power
Since 1982, Twin Power has been designing and producing quality parts and accessories for
the American V-Twin enthusiast. Driven by the same passion that fuels the American V-Twin scene, Twin Power is relentless in their pursuit of quality, functionality, and value. They will not offer a Twin Power product to their customers unless they are proud to sport it on one of their own rides. More information can be found at twinpower-usa.com.