All About Figurati Designs
Figurati Designs makes "jewelry-grade" accessories. These parts include swingarm covers, front-axle covers, Timing Covers, Docking Hardware and Seat Screws all made from 316L Stainless Steel, yielding an accessory that's designed to last a lifetime, says company founder Kerry Cromer.
"Jewelry-grade" isn't a term Cromer throws around arbitrarily. "It means the detailing, the materials, are all next-level quality, because it's made in a dedicated jewelry factory, by trained personnel using specialized equipment," Cromer says. "'Jewelry-grade' also means longevity; the item is made to last decades. It's meant to be an heirloom."
Cromer would know. The native Georgian spent more than a decade as a jewelry wholesaler, traveling across America and around the world connecting jewelry makers and manufacturers with shops and buyers. It's an unlikely background for someone entering the motorcycle aftermarket, but it turned out to be the perfect foundation for Figurati, an Italian phrase that essentially translates to "imagine that."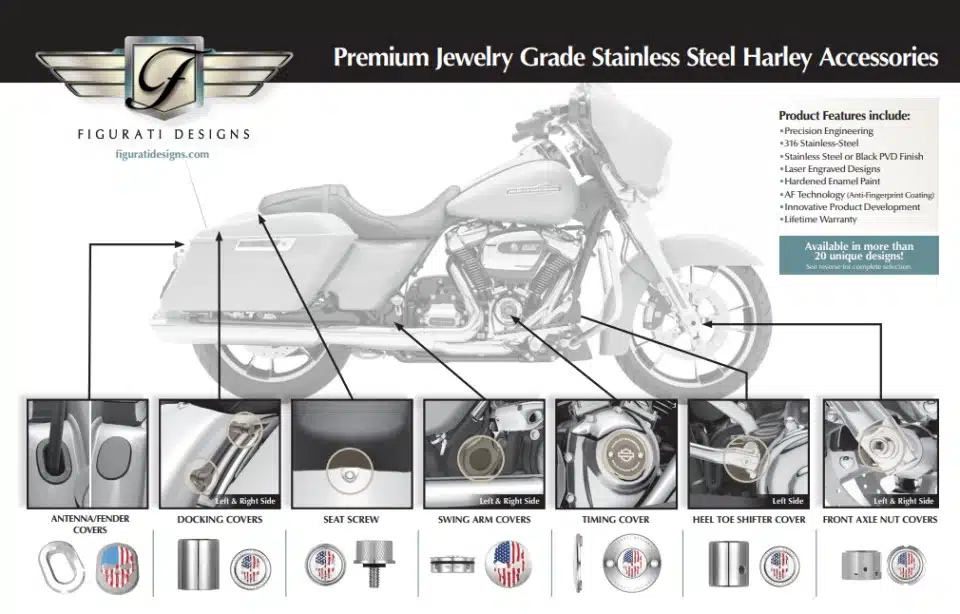 Figurati Designs is all about imagining a new way to adorn riders' motorcycles, and it all started in 2016 when Cromer took his first road trip on a Harley. "I'd always wanted to get into riding," says Cromer, "so when a buddy with a couple of Harleys asked me if I wanted to ride up to upstate New York, I jumped at the chance."
As soon as Cromer got back from that trip he bought a brand-new Street Glide Special, and immediately started customizing it. He ran through the gamut of parts, but when he got down to the plain plugs that close off the swingarm pivot, he couldn't find any suitable upgrades. "They're easy to overlook, but once you see them they stand out," he says.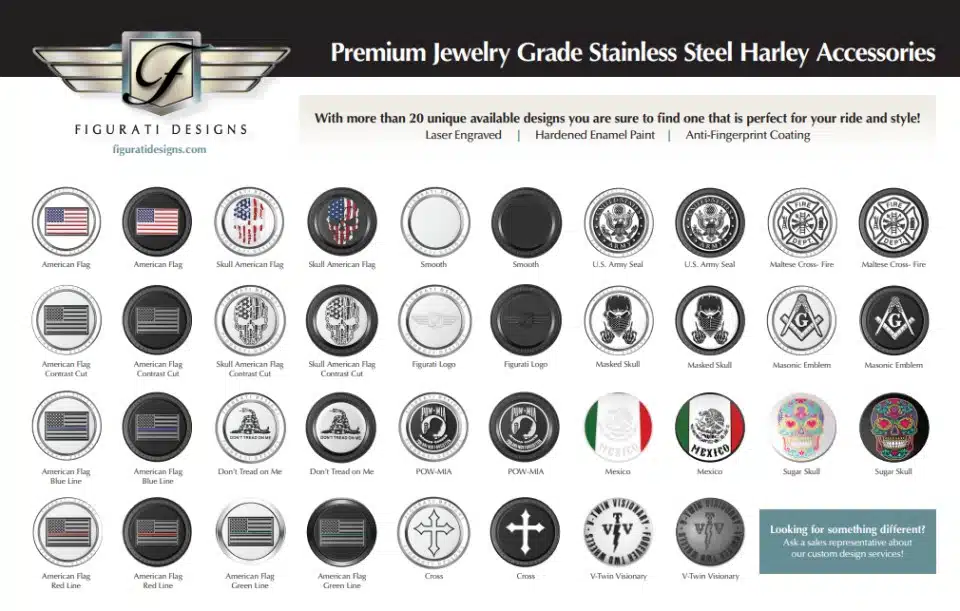 Cromer knew he could do better, and recognized that the flat discs had the potential to host some pretty cool designs. "The motifs I had in mind were too detailed for CNC machining, but I'd seen similar stuff done with a jewelry grade laser engraver," says Cromer. So he reached out to some of his old contacts in the jewelry industry to see about turning his idea into a reality. He got linked up with some engineers who helped him produce his first prototypes.
A little more research and development led Cromer to his final design, which uses jewelry grade 316L stainless steel, ball-bearing detents, and a rubber O-ring for a quick, secure install that effectively seals out moisture and dirt. That's thoughtful, quality stuff, but the real magic is the artwork on the covers' faces.
"The designs are laser engraved, just like you'd get on a wedding band, and the color is all hand-painted enamel. They have to be; a machine can't do that kind of detailing," he explains."They're literally painting that stuff using a magnifying glass, so the quality control is built right into the process."
The result are noticeable. The motifs are intricate and crisp, and offered in a variety of designs ranging from crosses, to flags, to skulls, to military emblems. Every motif Figurati has is available across the product range, so your customers can create a matching set or mix it up.
Better still, these beautiful accessories are made to last, with a lifetime warranty and a level of quality and durability that means they they're built to last.
Bikes came to Cromer late in life but motorcycling and Figurati Designs are Cromer's full-time gig now. He runs the company with his wife, Jeannette, and business partners.