Arai Helmets Regent-X 1K-mile Thrash Test
The Arai Helmets name is synonymous with MotoGP and Formula 1 racing were high-speed accidents and incidents seem to happen at almost every turn. But Arai didn't start out making high-speed helmets for the world fastest racers. Hirotake Arai made them as protection for his own head., Mr. Arai was originally a hat maker and motorcycle enthusiast. In the early 1950s there were no helmet manufacturers in Japan due to it being a closed market with little to no imports, so Mr. Arai started making them. And many decades later I hold a Regent-X helmet in my possession.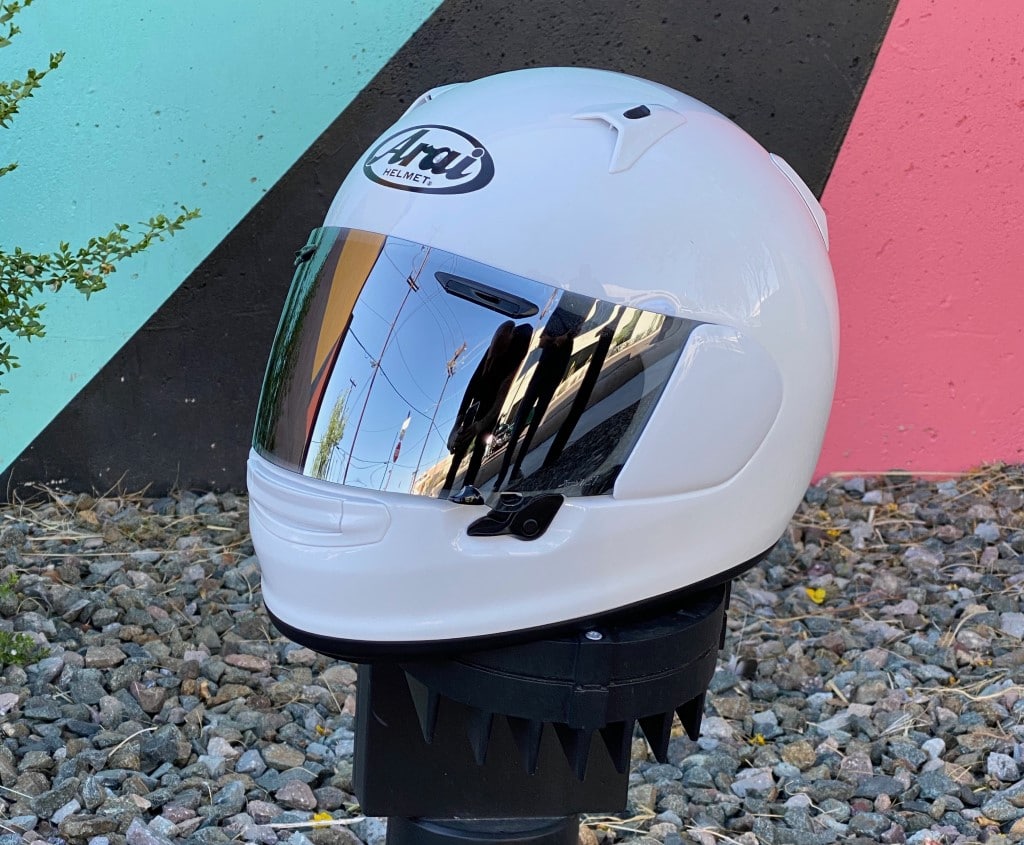 The Regent-X ($559) falls in Arai's "intermediate oval" family of helmets. It fits our American heads better than some of their other international offerings. But like I've said ten thousand times, "Try on a helmet in-person before you buy it." Though this helmet doesn't look like some sort of Star Wars villain like all the cool guys ride with, this one is the real-deal. Yes, we all know all helmets are made to absorb impact, but the basic function of a helmet is not just that. Having a helmet that easily glances off the surfaces it comes in contact with is also a major way to impede injury. So a rounder, smoother and stronger shell design with no sharp edges or other hard angles, like the Arai Helmets Regent-X, makes for a safer helmet, in theory.
If you don't believe me, just look at how many pro athletes depend on Arai helmets to keep them safe on the racetrack. And most of them don't even get paid to do so.
Arai Helmets Regent-X: The Inside Line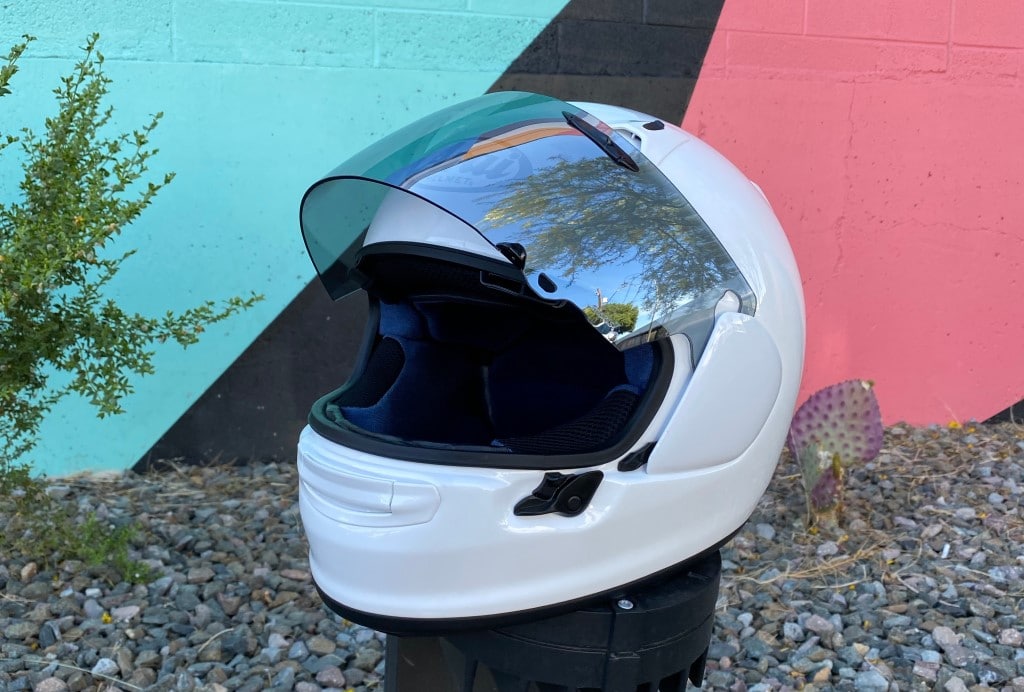 Inside the Regent-X, Arai uses one-piece multi-density expanded polystyrene (EPS) liners. Even in this day and age, they're made by hand, not machines. Arai develops these liners this way so the company can fine tune impact energy absorption in all areas of the helmet, while keeping the size as compact as possible within a uniform thickness. The helmet also has a semi-replaceable liner and a chin cover, which smooths airflow around the helmet and reduces helmet buffeting from things like fairings and windshields. The "Foam Spring" FCS Facial Contour System cheek pads in the Regent-X are a thing of simple, yet effective beauty with many sizes available for fine tuning of one's facial features.
The Outside Look
Outside, the PB-CLC shell is born from Arai's exclusive Formula One helmet technology, the Peripherally Belted Complex Laminate Construction shell is developed to be both light and strong. The upper edge of the eye port is reinforced with Arai's Peripheral Belt. It's custom woven in-house with proprietary super fibers to increase shell strength without adding thickness or weight. Arai's helmet coating resins are also developed in-house and are specially formulated for their helmets. Arai uses the minimum amount of resin to keep the helmet light, while still fully bonding to the shell material.
Once I put the XXL-sized helmet on my 7 5/8-inch head it fit really well. It was snug, but not tight. I usually have to change to thinner cheek pads due to my bowling ball melon, but not with the Regent-X. The weight of this helmet was not bad at all. After a few break-in miles it I felt as if I had the helmet for years. The shield was easier to change than the past generation of Arai's helmets. That's good since we put a dark smoke version on any and all helmets we get. We also like the new shield latch as well. It was easy to open and control with just one finger.
This helmet seems to have fewer and smaller air ducts compared to many of Aria's helmet offerings, but that does not at all mean that it doesn't flow well. The Regent-X has some great flow into the helmet with two upper adjustable air ducts and one massive adjustable chin duct. The Regent-X has a one-piece upper rear exhaust as well as side and neck exhaust vents for hot air extraction. And they all did their jobs very well. Even in the Phoenix, Arizona sun. The aforementioned chin curtail had some to do with keeping the air system working in the helmet as well as keeping the noise down to tolerable levels.
After spending well over 1000 miles with this helmet, this DOT, SNELL, and ECE approved lid is seriously one of the most comfortable helmets I have had on my head. It is light, quiet and flows good. And knowing that it is an Arai helmet, I know that the Regent-X's quality is top-notch as well.
Arai's website www.araiamericas.com is one of the most informative and educational places for motorcycle helmets online. It not just informs you of Arai's designs and models, it also dives deep into the company's history, past and present technology, and overall philosophy on how and why the family makes their helmets the way they do.