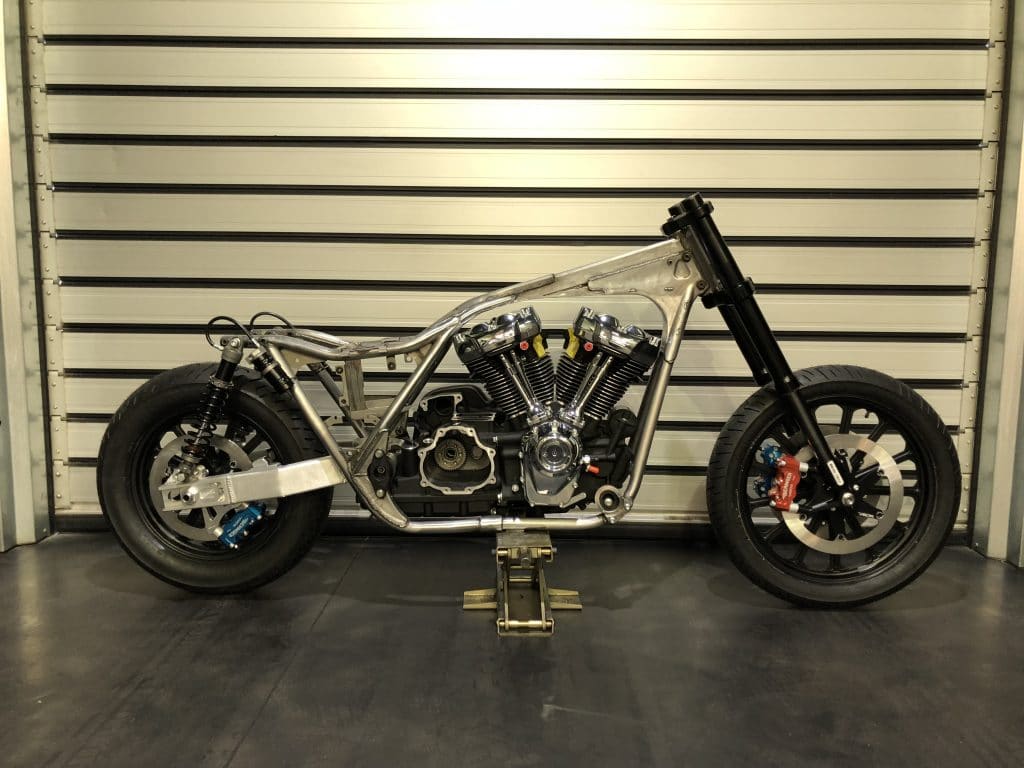 Words and Photos: Jeff G. Holt
We left off of part 2 with the issue of component incapatability. This usually a minor part of every custom bike build, but when the shocks are four inches longer than the swingarm will allow, its a major fucking issue. It was not C&S customs fault, who manufactured the unit. We ordered a swingarm from them to fit an FXR. Not one that would have long travel and a 2018 Milwaukee Eight Bagger motor in it. Scrambling to find a replacement Brock's Performance informed us that they had just what we needed and that they had it in stock. After we pinched ourselves we asked what was this magical unicorn of a swingarm that they had on their shelves. Brock's answer was simply the "West Coast Bagger" version of their already stellar swingarm. It seems like us dudes out in the west like our bikes with a bit more clearance than most other parts of the US of A. So to field the many requests that Brock Davidson and company were getting, they whipped up a swingarm with an offset pivot mount at the transmission. This swingarm also has three-separate shock locations and is 42% lighter than the stock unit. Once we received the swingarm from Brock's it indeed bolted up with nary an issue. And the included axle and pivot bearings and bushing were all just as smooth as butter.
We then installed the custom built and tuned USA-made Race Tech G-6 frontend and 14.5-inch G3-S remote rear shocks. We used a set of Speed Merchant trees for the bike due to their rake and quality construction. The bike was also treated to a set of one-off 19 and 16-inch 13-spoke cnc-machined wheels from a rather new company called Jade Affiliated, this company was started by Jad Wakim, who is the son of Ride Wright Wheels owner Sam Wakim. We wrapped the Jade AF wheels in Continental Tire's latest and greatest rubber known as the Conti Tour tire. These German-engineered skins are some of the best tires I have ridden in over a decade of testing parts professionally. So when I got to freely choose tires for this bike I for sure made it a set of Conti Tours.
Now that the suspension and wheels were handled we really started to think about how much power this machine will be putting down to the tarmac and how are we going to stop this rocket once it got going. There really was only one choice when it came to getting a set of stoppers that where both top performers in form and function. And the brand we chose was of course Beringer. This French company has been at the forefront of braking for over 30 years and has supplied next-level stopping power to all sorts of two and four-wheels racers as well as to the airline and aerospace industries. Knowing that Beringer manufactured badass brakes in a myriad of colors I opted for one blue front Aerotec radial caliper and one red Aerotec radial caliper on the opposite fork leg to mimic the police lights in the fairing. Danny Wilson who is in charge of building the bike absolutely hated this idea and still does to this day. Oh well, it does pay being the designer and benefactor of the build. Out back we used a Kraus Moto Co radial mount and another Beringer Aerotec radial caliper in blue so it matched the front caliper. To keep the Nth level braking theme going, we also employed Beringer's Areonal stainless steel floating rotors both front and rear.
Another part of the deal that Danny and I made with each other as well as with H-D was that the M8FXR was to have ALL running and electrical gear from a 2018 model touring motorcycle. This means not only will the bike have fuel injection, but it will also rely on a CAN bus system to make it all run and communicate through an H-D ECU/ECM. Sounds easy? Well it's not. First of all trying to jam four times the wiring in a bike then there was before as well as computers, controllers, and all the other items that modern motorcycles bring with them was an almost impossible task. Luckily the oil tank is now housed in the transmission and not in the frame of the bike. So we had a fair amount of room behind the infamous FXR frame triangle to house most of the ugly parts of the bike that actually make it run. A fuel pump and all the mounting hardware was hacked out of a late-model Sportster tank and meticulously installed in the bikes original carbureted FXRP tank by Justin Coleman of Torch Industries.
All of the lighting was to be switched out the LED and we also had a few special red and blue lights built into them too keep the Cop Bike theme throughout the bike. When Danny got rolling on the preliminary wiring it was prevalent that this was going to be an uphill battle filled with opposition the entire time.
Stay tuned for part four in the coming weeks.