RIDER: Damian Concepcion's 1992 FXRT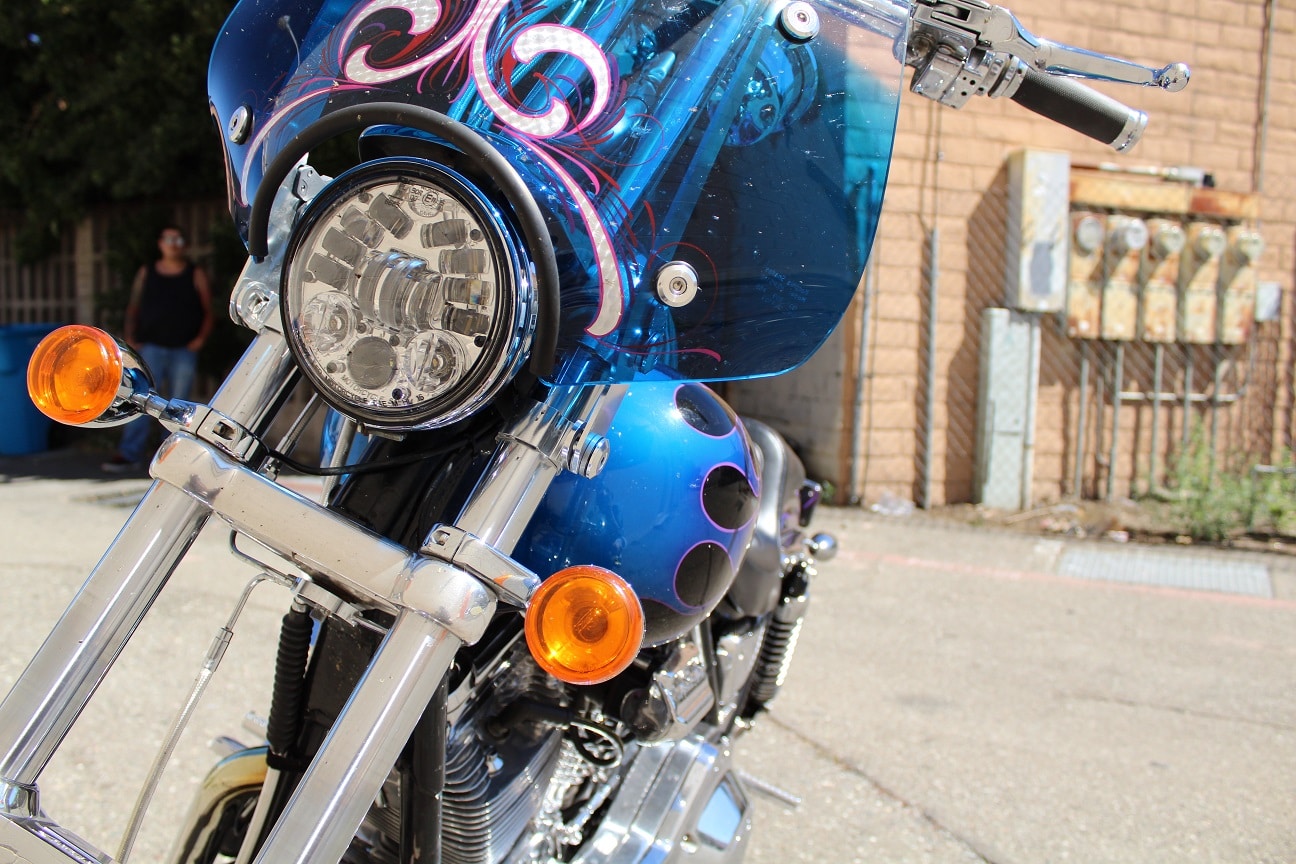 Words and Photos: Damian Concepcion
This bike was built almost 20 years ago I don't know the guy who built it, I don't know the inspiration I wish I did, but I don't. However I'm very grateful.
I acquired the bike in November of 2015 after a wreck that totaled my 2003 Sportster that I loved and rode everywhere. It was my daily driver and only vehicle for about four years. I'd wrecked it a couple times prior, all three on the friggin freeway, and gave it a good makeover to make it mine and rideable again. I did almost everything myself to that bike, receiving my motorcycle technician certificate in May of 2011 I thought I could do it all and I was able to complete 99% of it, LD Cycle got me set with the rest and the owner, Larry told me it looked pretty good,  so I was overly proud of it. Countless miles and memories later, coming home from work a chick hit me, go figure, and I ate shit, and the bike was done for. Luckily for me I walked away and was already thinking about what the next bike would be, so after all the police reports and lawyers were done it was on!
November 2015 I'd now been without a bike for over a year and was dying inside and out to ride. I researched for the whole time I was down, I knew I needed a bigger bike for the miles I do but I wasn't sure if I should just go get a new Dyna or see about this FXR I've heard so many good things about.
Test ride time came and I rode a "race tuned" Dyna, it was kinda fast but it was like riding an elephant to me coming from a Sportster background, so figured I'd give an old FXR a chance. Best decision I've made!
I was looking on Craigslist and a bunch of other websites for a somewhat done up bike so I could ride it instantly and be happy. Thing is at that time everybody was doing powder coated all blacked out bikes, which are dope and will always look good, but I wanted something different, a bike that blended in but stood out like a sore thumb if you knew what you're gazing upon. Enter my bike. I saw it on Craigslist for a few months and kept it in mind, but was skeptical of the asking price for a then 23 year old bike. I figured why not. So I set up a meet with the guy and when he pulled it out of the garage, I knew exactly why he wanted the money he did. The thing is absolutely beautiful and has so much time into detail. The bike would be quadruple of what I paid to build it the way it was. I took it for a test ride, gave the man the dough, and was thrilled!! Rode it for about 150-200 miles and heard something wrong in the motor. I took it to LD Cycle they got new lifters and pushrods in it, and it was golden. After about a thousand more miles I decided why not trick it out a little bit and make it more of my personal style.
The relationship between Nick Williams (owner OFP Cycles) and I started here, I took it to him to put in the Baker OD6, because cruising around everywhere at four grand was not something I wanted to do for longevity's sake. That started becoming me coming around every other day or so to talk about other things to do. Then I started coming in everyday and wanting something else almost every time. West Coast t bars for that gangster look, Autometer gauges and PM grips to polish them off. I kept on coming back to absorb the knowledge Nick has regarding bikes and even after he completed an absolutely stellar job I still keep coming back to learn more. Best of all he never shamed me for any of my questions and went above and beyond behind the scenes to get my bike done. I was there everyday after work just to clean up or help out with simple things, organize and just learn and be surrounded by bikes, because I love it. Eventually Nick realized I wouldn't be going away anytime soon and started to let me help out with bikes, what started out as simple oil level, tire pressure, and battery voltage checks soon lead to oil changes, then tire changes, chain conversions,  primary and motor work. I'll forever be thankful to him for letting a guy like me come in and learn and just nerd out on these bad ass Harley's, because it certainly has and will continue to come in handy for the length of my life.
Unlike most other people that trailer there bike to a show or only ride it for three events every year, I ride this thing allot. To work, the shop, for fun, to shows and events, rides, and just because I can. I've accumulated around 17k miles In the almost three years I've owned it, but it's been operable for about half that, blown head gaskets, broke the tranny, and I'm just shy of exploding primary. Fortunately for me I befriended someone who admires my bike probably as much as me. With Nick, Jon Long, and Johnny Hayes' help I do things to it I'd dreamed of, so I'm especially proud of it to say the least. Knowing everybody that's put in a helping hand on it, and that I know what's going on is something I find humbling. There's been so many cool stories, memories, and friends I've made in keeping this bike going. I'll be riding and wrenching her till the end.
SPEC SHEET
Owner- Damian Concepcion
Year-1992
Make-Harley Davidson
Model- FXRT (Sport Glide)
ENGINE
Year- late 90's early 2000's rebuilt 2017
Type- S&S/Screamin' Eagle
Size- 88-inch
TRANSMISSION
Year- 2016
Type- Baker Overdrive Six Speed
FRAME
Year/Type- 1992/EC model
SUSPENSION
Frontend- RaceTech
Rear Shocks- Progressive Suspension 444's
WHEELS & TIRES
Brand- H-D-Polished 9 Spokes/ Michelin
Size- 19F 16R; 100/90/19F 140/90/16
Calipers- Performance Machine
Rotors- Performance Machine
Sprocket- Imzz Elite 9 spoke 52 tooth
PAINT & PLATING
Painter- Tommy Gerk / Tekni-kolor Body and Paint 
Plating- Sherms Custom Platingy6
Polishing- a bunch of rad dudes
Pinstriping- / Blinky
ACCESSORIES
Fairing- Memphis Shades
Front Fender-OEM
Rear Fender-OEM
Gas Tank-OEM
Dash-OEM
Gauges -Autometer Pro Cycle
Handlebars-West Coast T Bars 12"
Grips-Performance Machine
Mirrors- OEM
Hand Controls- OEM Chrome
Foot Controls- CCI
Pegs-CCI
Headlight- JW Speaker Adaptive 
Taillight – Drag Low Profile LED
Turn Signals-late model OEM
License Mount- OEM
Seat- Mustang Fastback