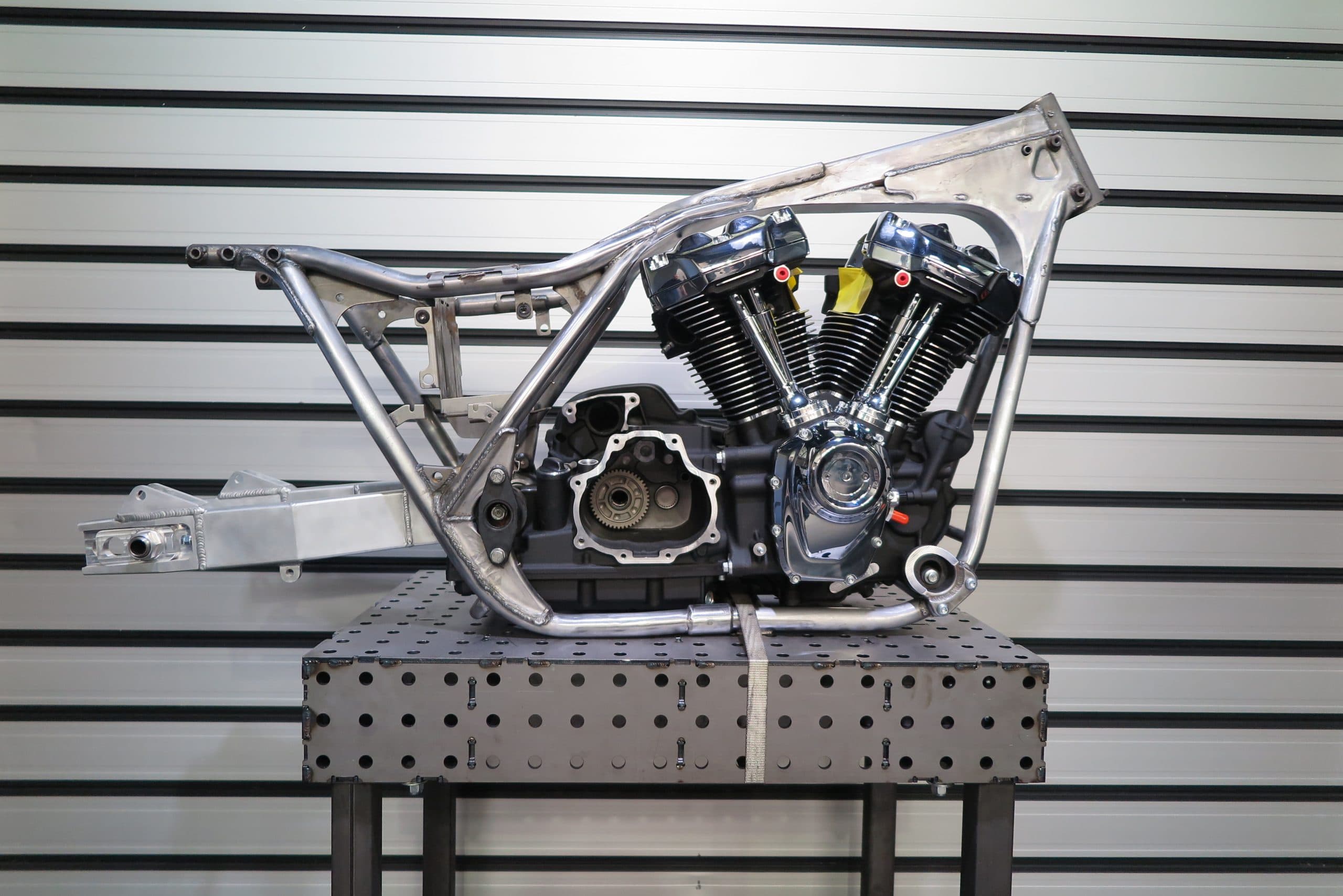 This bike has been a big bitch ever since the idea of it was dreamed up.
It all started last year over a trip to Phoenix, AZ and some beers. Well, many beers. And then the idea that Danny Wilson aka Motor Witch was going to build my 1993 FXRP with a badass Twin Cam motor. Danny proposed the Idea that we find a crashed 2017 Road King and hijack the Milwaukee Eight powertrain and all of the CAN bus electronics out of it, then put that hot mess into the FXRP. At first thought of it, I whipped out my phone and started searching various sites for a totaled and/or crashed M8-powered bike. After a lengthly search and coming up with two things: Jack and Shit I figured I would leverage my then current editorship at Hot Bike and reach out to the MoCo about getting one of their fleet bikes to tear apart. I knew it would be a monumental build that nobody had attempted before. as a motorcycle journalist it would be nothing short of an amazing story to tell. I just needed to convince the top brass at H-D that same fact.
Even though I have had a rocky relationship at times with H-D, I started hitting up every person I knew there that would get my vision. After a ton of unreturned texts, voicemail and emails I struck gold with a guy there by the name of Mike Lowney. For years Mike has been the guy who gets it and he has been responsible for aligning H-D with the likes of Born-Free and Mama Tried shows. Mike was kind enough to put me in touch with a few guys at H-D with one of them being the head of marketing. After a few calls with what seemed to be a legion of H-D employees, the deal was struck and it was ON!
The deal was this: I would supply the FXR, Danny would build it, Buddy Stubbs H-D would let us do the work there, H-D would supply the needed parts and Hot Bike would cover the build. The bike would also be Danny's Hot Bike Tour bike that he would build and ride. We first tried to get a bike from H-D's press fleet and it was a bit of a ball-up due to titling the bike in California. It was then decided by H-Ds marketing dept. to have Danny "put a list of parts together" and they would send the stuff to Buddy Stubbs H-D. Danny then proceeded to spend four hours on the first day of December 2017 coming up with seven pages of parts. he then sent the order in to H-D.  January 1st came and went and we didn't hear or see anything from them. Then the parts started flooding in until the 6th of January. Except the engine and transmission case.
The bike build was now in full swing, but we needed some world-class fabrication to get the M8 motor into the FXR frame as its not and easy swap like a Twin Cam. We contacted (well, begged) Justin Coleman from Torch Industries and Big Chris from FXR division to lend us a gigantic helping hand on modifying the frame to fit the motor up and brace it for some serious horsepower. The powertrain still didn't show up, so danny grabbed a rental bike form the Stubb's fleet and extricated the motor and trans to use for mock up. Desperate times called for some desperate measures indeed.
It was all going so smooth. The Motor and tranny showed up. We were getting all of the other needed parts shipped. Wheels were showing up from Jade Affiliated, Tires from Continental, a seat from Saddlemen, and we had boxes of the most killer parts you could ever hang on a bike piling up. And then on January 16th the shit hit the fan.  I was "downsized" from my editorship and brand director title at Hot Bike. Yup. My 10 years at the magazine was over and I had this goddam huge project with a myriad of sponsors supporting me and expecting the bike to be built and the coverage to happen…
Stay tuned for Part 2 next week.