Bell Brawl Motorcycle Stunt Contest Heads to Utah
Bell Powersports announces the second round of the 2021 Bell Brawl season. The first-of-its-kind V-Twin specific motorcycle stunt contest comes to Springville Utah on Saturday, June 12th, 2021, at
Legends Motor Co.
With four seasons now under its belt, the Bell Brawl stunt series legitimizes progressive and professional VTwin stunt riders in a competition platform. The Bell Brawl is also invite-only. It gives 20 highly talented stunt riders the opportunity to display their abilities in front of highly qualified judges. In the end the top five riders of the day reap the spoils of victory.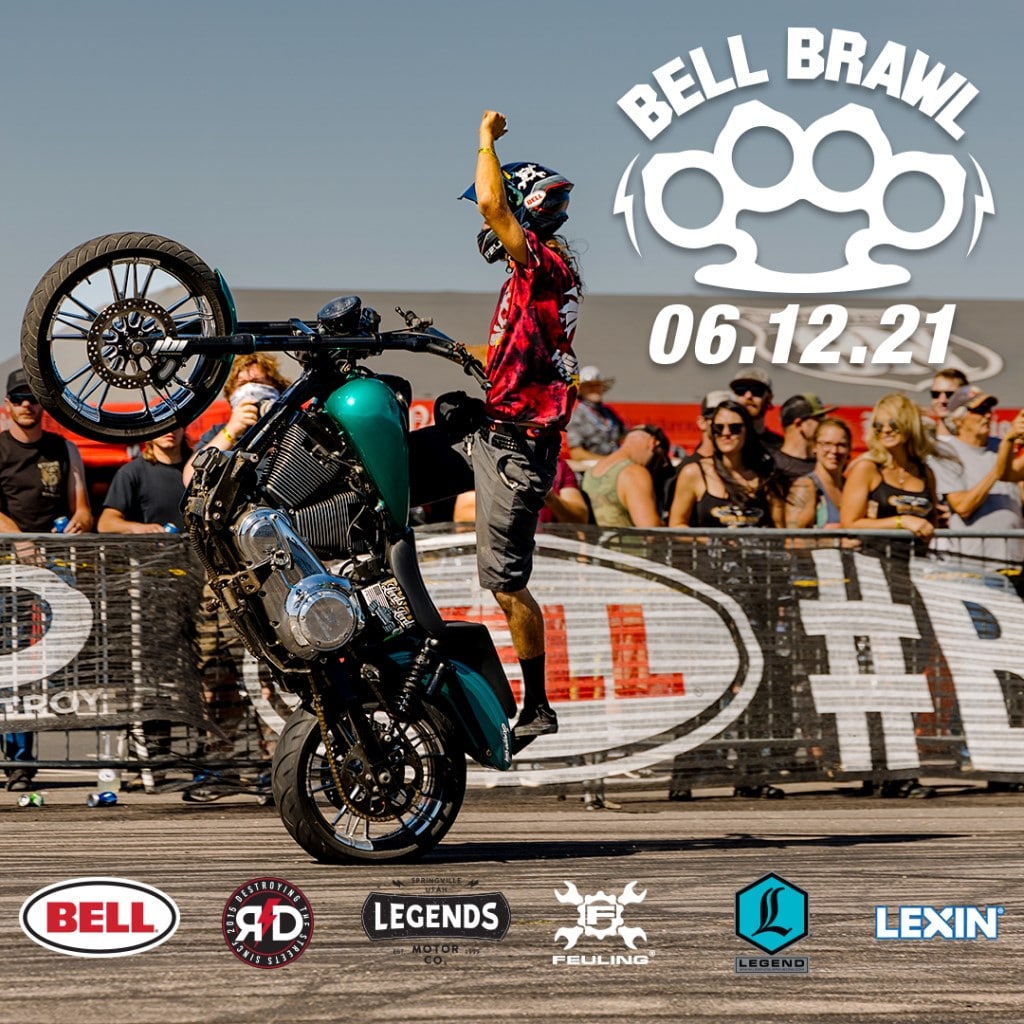 "We are extremely proud to be back and bigger than ever in 2021! We've increased the prize purse substantially, have some exciting up and coming new riders in the mix, and we are looking forward to rolling into Utah with a wide-open throttle." Brett Conley Brand Marketing manager for Bell Helmets says. "For fans who are not able to attend the event, be sure to tune in to the Instagram live feeds of @BellHelmets and @ride_and_destroy_com for real time coverage of the action."
Bell Brawl: Where and When
The event kicks off Saturday June 12th at 3:00pm at Legends Motor Co., located at 1715 West 500 South, Springville, Utah, 84663. First, preliminary rounds for all invited riders take place. After that, the field narrows down to a final round of five. At that point, the top honors will be determined by the panel of judges.
"After such an amazing kick-off in San Diego, we couldn't be more excited to continue the 2021 season in Utah," stated Max Kuszaj of Ride & Destroy. "Legends Motor Co is a mind-blowing experience for anyone that enjoys two wheels. To have a Bell Brawl at this location is an honor."
You'll also see highlights from the competition uploaded to all social media outlets. (@BellHelmets and @Ride_and_destroy_com). The 2021 "Bell Brawl" at Legends Motor Co is also supported by: Bell, Ride and
Destroy, Legend Suspensions, Feuling Parts, and Lexin Moto. All event information and competition rules are available here.