Bell Powersports Bell Brawl Stunt Competition Returns to Las Vegas
Bell Powersports is excited to announce the final stop of the 2019 Bell Brawl, a first-of-its-kind V-Twin specific motorcycle stunt contest, to Red Rock Harley-Davidson on Saturday, October 5th, 2019 in Las Vegas, Nevada.
With three seasons under the "Bell Brawl" belt, the "Brawl" stunt competitions are becoming "The" events to be at for qualified, professional V-Twin stunt riders who are pushing the limits of what is possible on 600-plus pound motorcycles.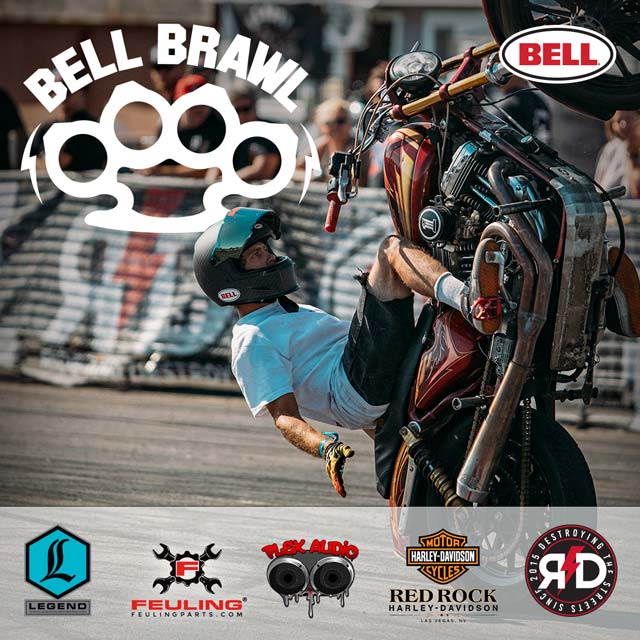 Bell rider/professional representative and stunt rider, Jimmy "Burnouts" Cyphers will lead the judging panel, along with Ashley "Smash Stunts" Lammela, and San Diego Customs very own "Mikey and Chip"
"This Final round of the 2019 season is shaping up to be an epic battle." Brett Conley Brand Marketing manager for Bell Helmets says. "We have a deeply stacked field of talented riders who are all hungry for the victory."
The "Bell Brawl" at Red Rock Harley-Davidson will start at 3:00pm (10/05/19) during Vegas Bike Fest at 2260 S. Rainbow Blvd, Las Vegas, Nevada. Preliminary rounds for all invited riders will occur, then will be narrowed down to a final round of five, where the top honors will be determined.
Highlights from the competition will be uploaded to all social media outlets. (@Bell_Powersports and @Ride_and_destroy_com)
The 2019 "Bell Brawl" at Red Rock Harley-Davidson during Vegas Bike Fest is supported by: Bell Powersports, Ride and Destroy, Red Rock Harley-Davidson, Legend Suspensions, Feuling Parts, Plex Audio, and Vegas Bike Fest. All event information and competition rules are available here.