Classic Solo Seat and Pillions for 2022 Indian Chief
Meet Corbin's classically styled solo seat for the newest Indian Chief motorcycle. It mates rider comfort with classy looks and a range of custom options. The seat also works with Corbin's removable backrest for a total of 13 inches of vertical back support. Additionally, the sculpted seating position gives maximum body contact with the seat and provides touring quality comfort. Moreover the neutralized seat platform offers an ergonomic position for a more integrated feeling with the bike.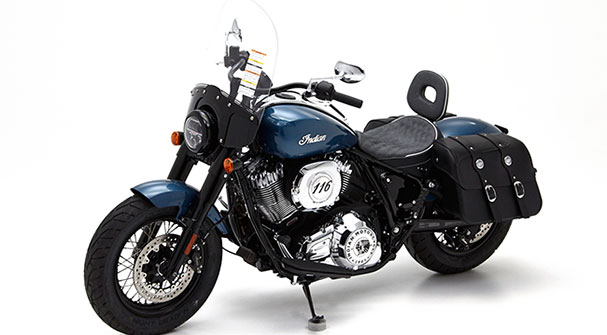 For your passenger Corbin offers two pillion options that mount up easily to your Indian. Their 50's pillion keeps a clean, low profile built up with Corbin's Comfort Cell foam to provide good mid-range comfort. Corbin's Touring Pillion is built wider and thicker with a dished seating platform to provide maximum weight distribution and support. Both come upholstered to match your Corbin solo for a totally integrated look.
And for the Passenger on Your Indian Chief:
Corbin's removable rider backrest is simple to install and adjusts easily to your posture. Just slide the backrest shaft into the internal hardware of the Classic Solo and lock it in place with a single bolt. You can then set the backrest where you want it and lock it in place with the easily accessible adjustment screw… no need to remove the saddle. Choose from a variety of backrest styles to suit your taste; Corbin recommends the #BR Ovalbac for the perfect balance of looks and support.
Corbin also designed its saddle to place the rider in the sweet spot on the bike for the best feeling of control. The neutralized seating area helps you stay firmly planted in the bike without sliding in the saddle.
All components use the company's proprietary high density Comfort Cell foam for a firm supportive ride. Dished shaping also provides good contoured support and minimizes the tendency to slide in the saddle.
Choose from a range of leather styles and colors for a custom touch to your Indian Chief. Leather provides a perch that breathes with your body. It also breaks in along with the foam shape for a personalized fit. Be sure to care for your leather saddle with a quality conditioner. With proper care, your seat will age gracefully, developing a unique character along the way. Get the full details on the Corbin motorcycle saddle here.