Custom Dynamics LED Plate Frames and ProBEAM Headlight
Custom Dynamics sent us the info on these new Harley-Davidson lighting goodies just in time for your holiday shopping. If LED gear for your Harley-Davidson is lacking, have yourself a look. The new Illuminated License Plate Frames from Custom Dynamics are now 100% plug-and-play on most Harley-Davidson models. The Low-Profile aluminum radius (12-degree curvature) horizontal license plate frames include six white LEDs for license plate illumination and flush mounted LEDs in two different configurations. The Quad license plate frame is built with 50 dual intensity red LEDs flush mounted across the bottom to illuminate as Running/Brake while 20 amber LEDs are flush mounted each side to function as left and right turn signals.
The Tri Radius license plate frame features 20 dual intensity red LEDs all flush mounted on each side to function as run, brake, and/or turn signal (depending on the model) in addition to the six white license plate illuminating LEDs. Both styles are available in your choice of a chrome or black finish, include mounting hardware and come backed by the Custom Dynamics Lifetime LED Warranty.
The NEW ProBEAM LED Adaptive 2 headlamps have been improved to feature JW Speaker Adaptive technology providing maximum light output where you need it most – it moves with you.
With advanced engineering and design, Custom Dynamics ProBEAM Headlamps offer the highest-grade automotive LEDs and components. ProBEAM 7-inch Adaptive 2 headlamps are now available with a pedestal mount and a chrome or black reflector.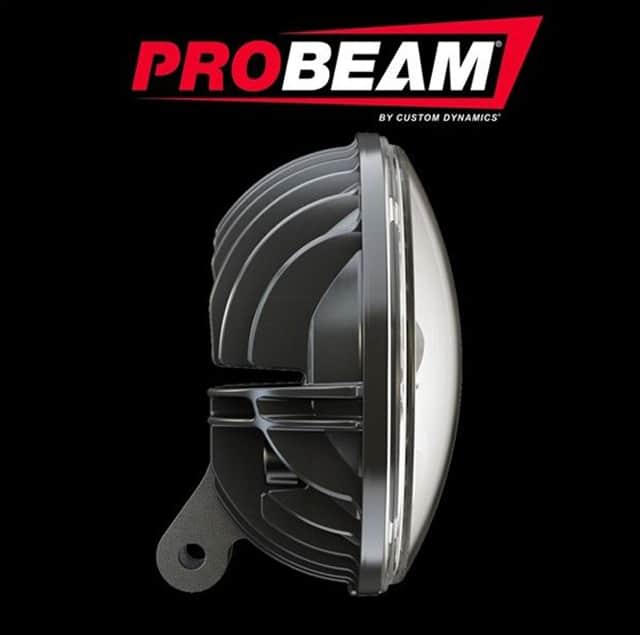 The pedestal mount accepts most ¾-inch headlight mounting blocks. The ProBEAM maximizes visibility and safety with modern technology designed specifically for motorcycle use.
For more information on all of these and the company's other fine lighting products, you can call Custom Dynamics toll free at 1-800-382-1388, visit their site, or contact your local Drag Specialties dealer.