Feuling Brings Road Glide to King of the Baggers
Feuling gots themselves a Harley-Davidson Road Glide they're racing at Laguna Seca for King of the Baggers. We've covered the two Indian Challengers that RSD and S&S are bringing to bear at the track. Until now, the H-D contenders have been kinda quiet in the press release department, though, so it's good to hear what Feuling is doing.
They are race ready for the Moto America bagger battle with Ben Bostrom piloting the beast. And you can check it out live.

This bike was built completely in house by the Feuling crew. Engine building, porting, exhaust, power development, tuning, fabrication, and bike building including the new Feuling 'BA' Air Cleaner.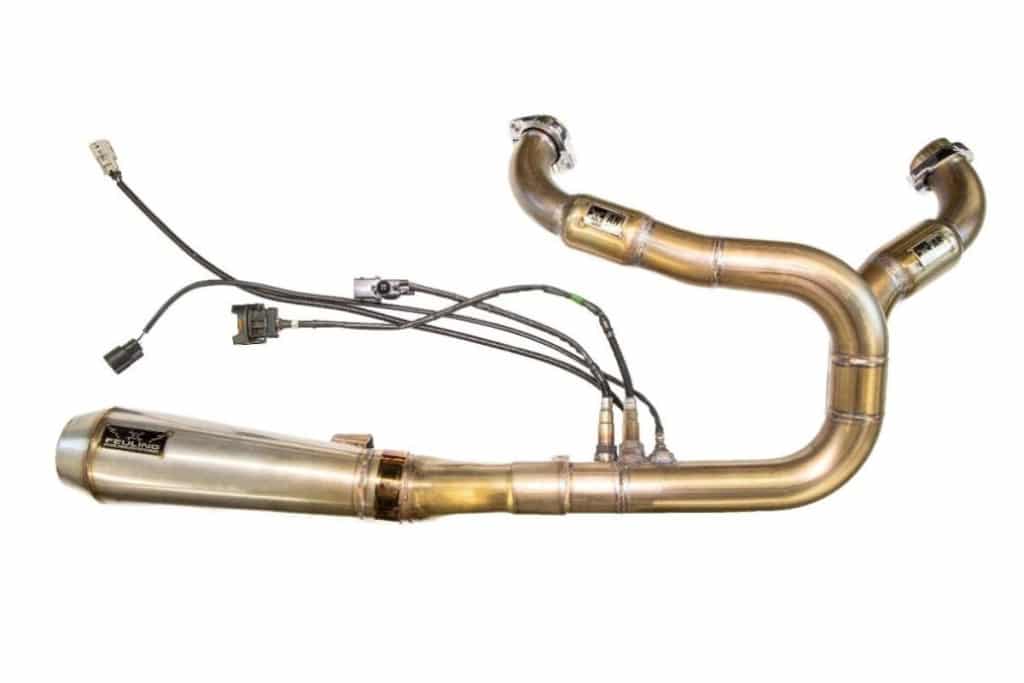 And check out the exhaust. It packs a custom Feuling Anti-Reversion chamber (Patent # US 4206600 A and 6336471 B1), stepped head pipe with 1 3/4-inch into the AR Chamber stepped to 2-inch, performance transitional merge collector (Patent # 4,796,426) with 2 3/4-inch exit. Additionally, it also has a removable perforated stepped muffler baffle with Feuling dogball insert (Patent #5,173,576), wrapped with stainless mat then fiberglass packing, finished with a highflow stainless end cap tapered on the inside for optimal flow and sound.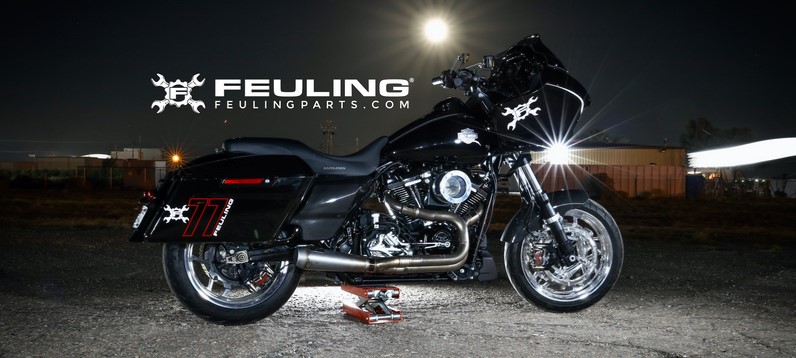 Feuling Road Glide Specs
Feuling Parts – 592 Race Series camchest kit, Highload Beehive valve spring kit, 6.1 g/s injectors, O2 sensors, air cleaner, anti-reversion exhaust system, vented dipstick
Saddlemen – Seat
Thrashin Supply – risers, handlebars, foot pegs, shifter tip
Legend Suspensions – front and rear suspension
Barnett Clutches – Scorpion clutch
Slyfox – Triple Trees, front fender, side covers
Speed Merchant – mid controls
Alloy Art – stabilizer, shift linkage, fork lowers, caliper mounts
Klock Werks – windshield
Horse Power Inc – throttle body
Lyndal Brakes – brake pads, wheels, rotors
Dunlop – Tires
RK Excel – Drive Chain
PBI – Transmission sprocket
Dark Horse – compensator
Baker Drivetrain – Transmission main bearing
Sounds like a recipe for greatness. We'll see how the race goes.