Harley Softail Standard | It's About Damn Time
The new Harley Softail Standard is o-fficially out as of this morning and we finally have a base-model Milwaukee-Eight Softail to play with. I would have thought that the MoCo would have led off with a Standard in order to give the aftermarket and all of us who love to personalize our bikes something our little imaginations could get medieval on, but that's just me. Regardless, if you want a bare-bones version of the new Softy to transform, here it is, and that's what's really important.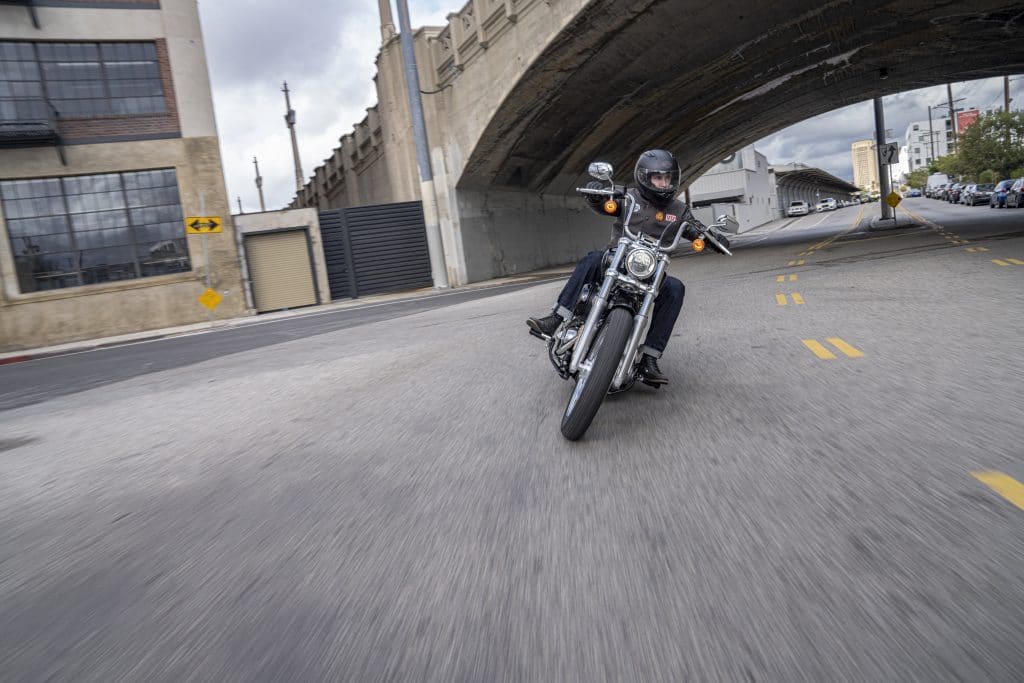 It's a mid-year addition to the 2020 Harley-Davidson motorcycle line that's less expensive than the other Softails in the stable. With a starting price of $13,599, the Softail Standard gets you a Milwaukee-Eight mill in the monoshock chassis for a few grand less than other bikes in the Softail family. That's one to three thousand to spend on pipes, a seat, and an air cleaner before you're even up to what other stock Softails cost. Harley-Davidson knows that, of course, and has created four Genuine Motor Parts & Accessories packages designed specifically for the Softail Standard model, and offered at a discounted price when ordered as a package (see package details below).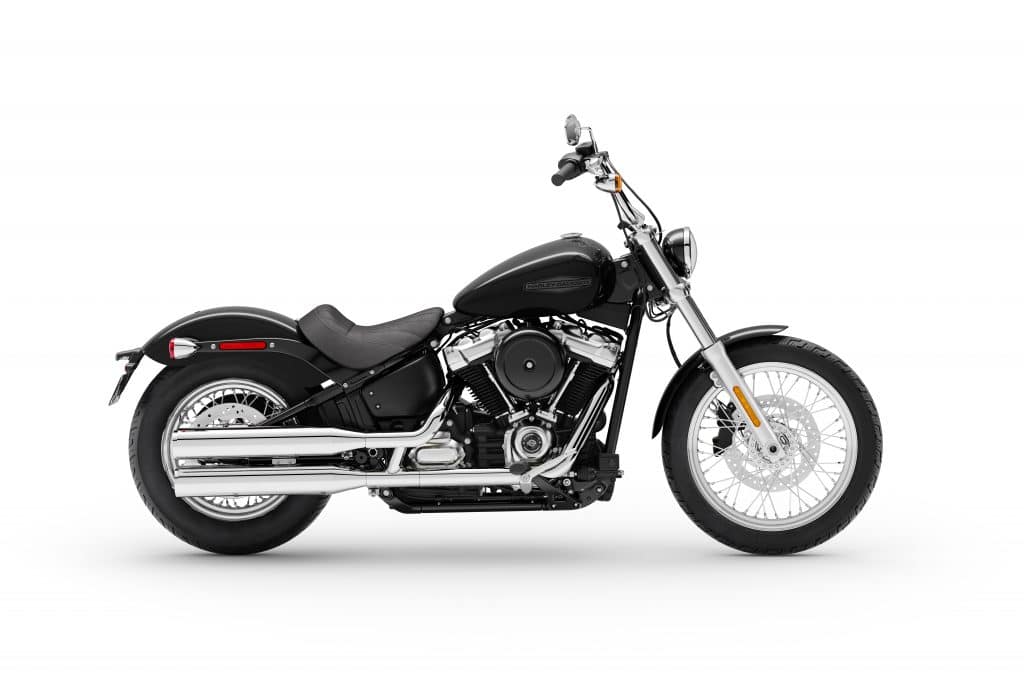 Suspension pre-load adjustment is accomplished by simply removing the seat to gain access to the shock body, making it easy to dial in the ride and handling for rider weight.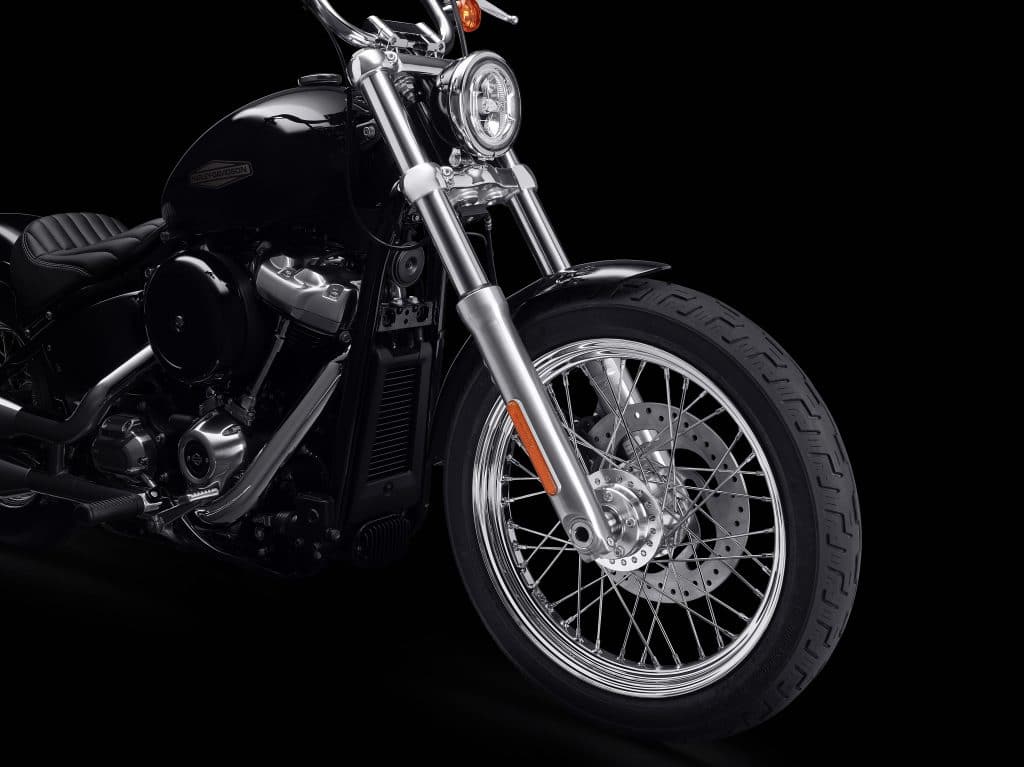 The Milwaukee-Eight 107 V-Twin engine delivers inspiring performance and the look, sound and feel that is classic Harley-Davidson. For the rider focused on performance this engine accepts select Harley-Davidson Screamin' Eagle Stage Upgrade kits.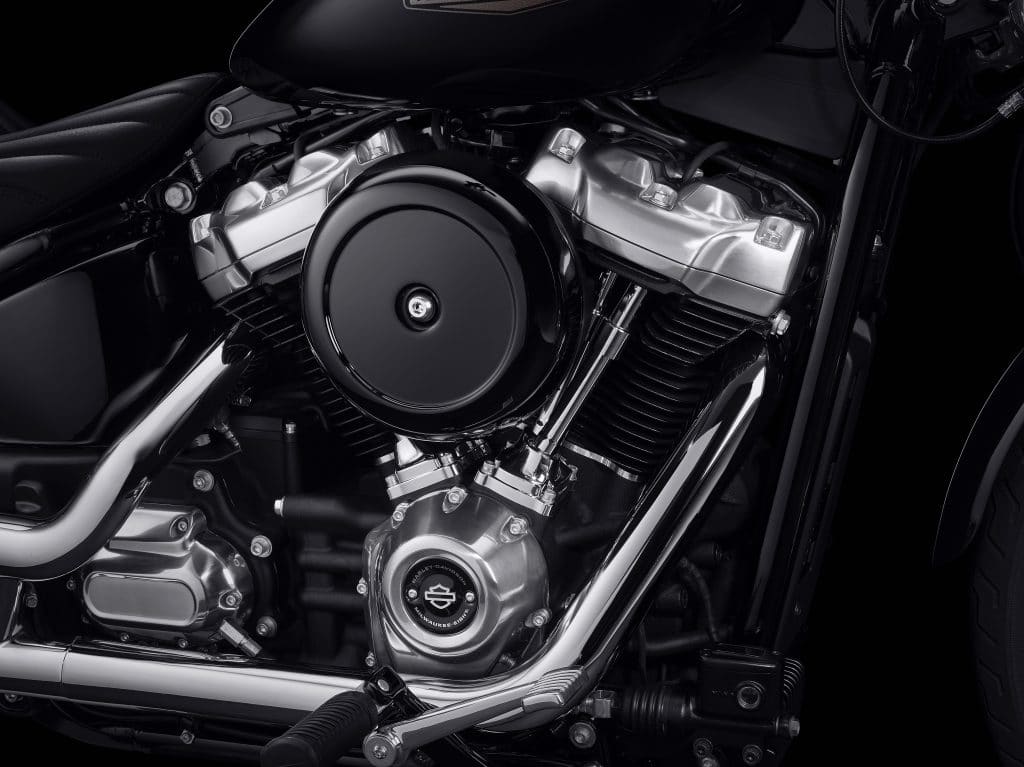 Earlier we said four packages of Genuine Motor Parts & Accessories were created by Harley-Davidson as a customization starting point for the Softail Standard Model. Each represents different custom direction and all components of each package can be ordered by an authorized Harley-Davidson dealer using a single part number. (Note: Package price does not include labor for installation by an authorized Harley-Davidson dealer)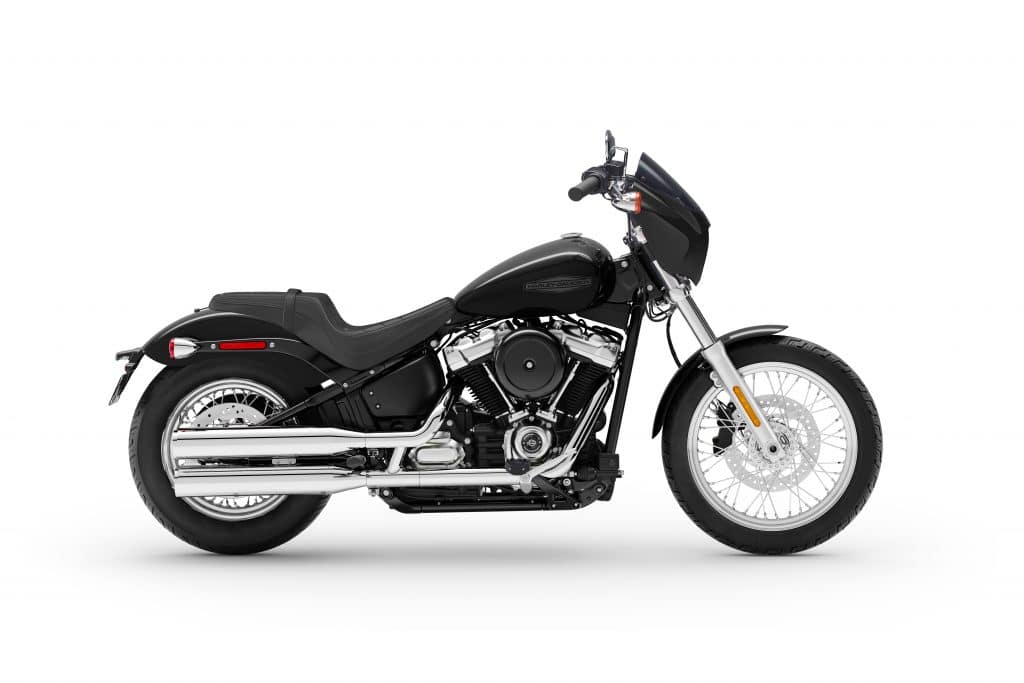 This performance-oriented package is a nod to West Coast style. Components include a Softail Quarter Fairing, black anodized aluminum Moto Bar handlebar with matching 5.5-inch tall riser, a Bevel two-up seat and passenger footpegs, and BMX-style foot pegs from the 80GRIT Collection.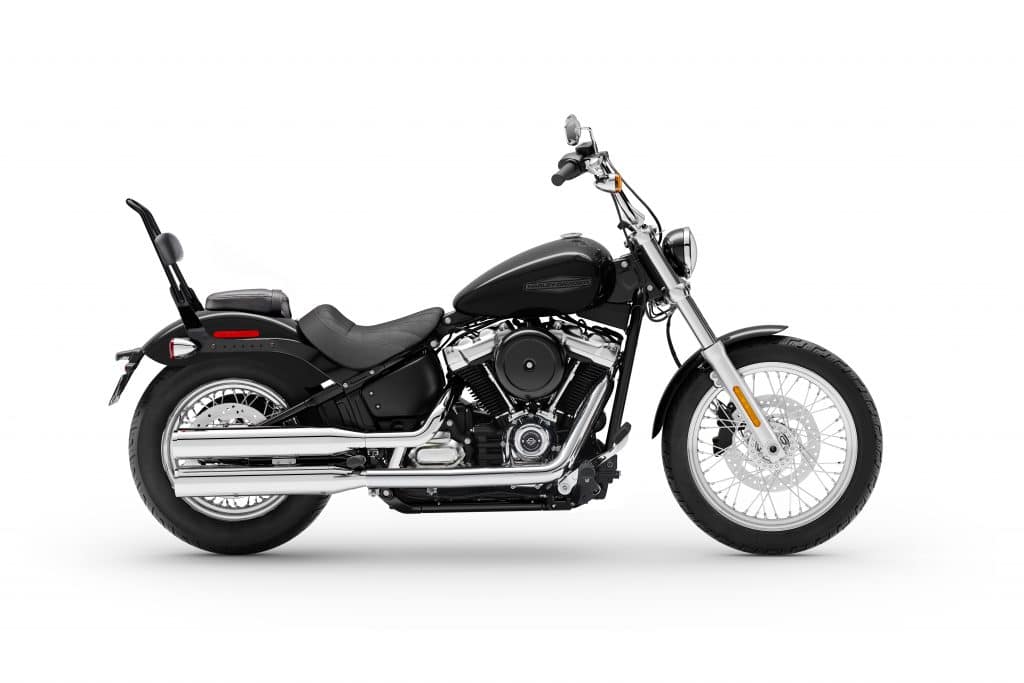 Combine classic bobber style with versatility by adding a pillion and a 21-inch detachable sissy bar with pad so a passenger can come along for the ride. This package also includes passenger footpegs and mounts, forward foot controls, and a black leather Single-Sided Swingarm Bag designed to hold essentials.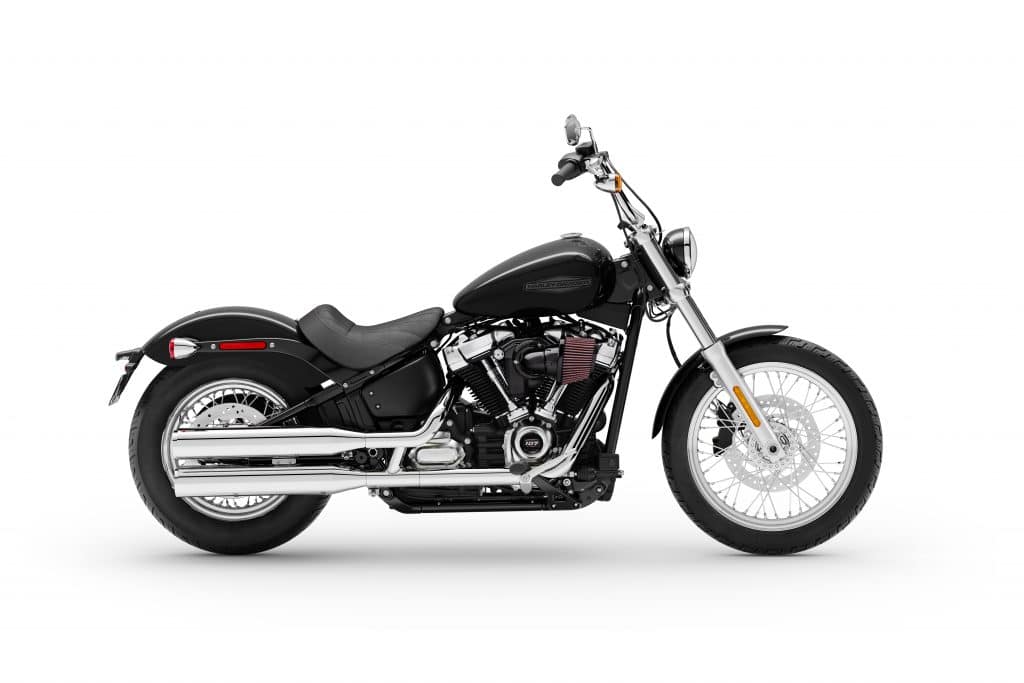 Amplify throttle response and mid-range acceleration with a Screamin' Eagle Stage II Torque kit for the Milwaukee-Eight 107 engine and a Screamin' Eagle Pro Street Tuner to dial it in. Complete the package with a free-flowing Screamin' Eagle Heavy Breather Performance Air Cleaner and Screamin' Eagle Street Cannon mufflers for a deep-bass exhaust note. It's a 50-state street legal, factory-engineered performance upgrade that retains the original equipment factory warranty when installed by an authorized Harley-Davidson dealer.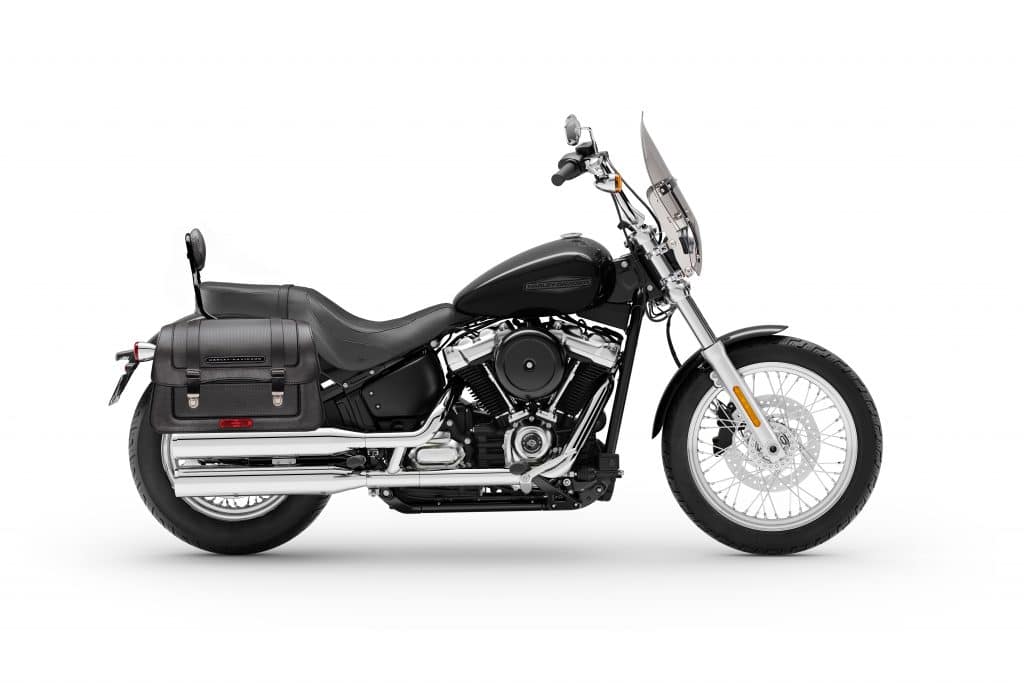 This package outfits the Softail Standard model for touring, with a comfortable Sundowner two-up seat and passenger footpegs, a 14-inch-high light smoke quick-release windshield, classic black Detachables saddlebags, and a 14.5-inch detachable sissy bar and backrest pad.
Note: Package selection varies by dealership. Prices listed are generally the Manufacturer's Suggested Retail Price , excluding taxes and shipping, and are subject to change without notice. Prices at local dealerships may vary.