Indian Crowned King of the Baggers
This past Saturday, MotoAmerica showcased 13 Indian and Harley-Davidson baggers going head-to-head at Laguna Seca. MotoAmerica and Drag Specialties presented the inaugural King of the Baggers. 
The King of the Baggers post-race recap video received more than 2 million views. In comparison, MotoAmerica's three superbike highlight videos from the weekend received a combined total of 13,000 views.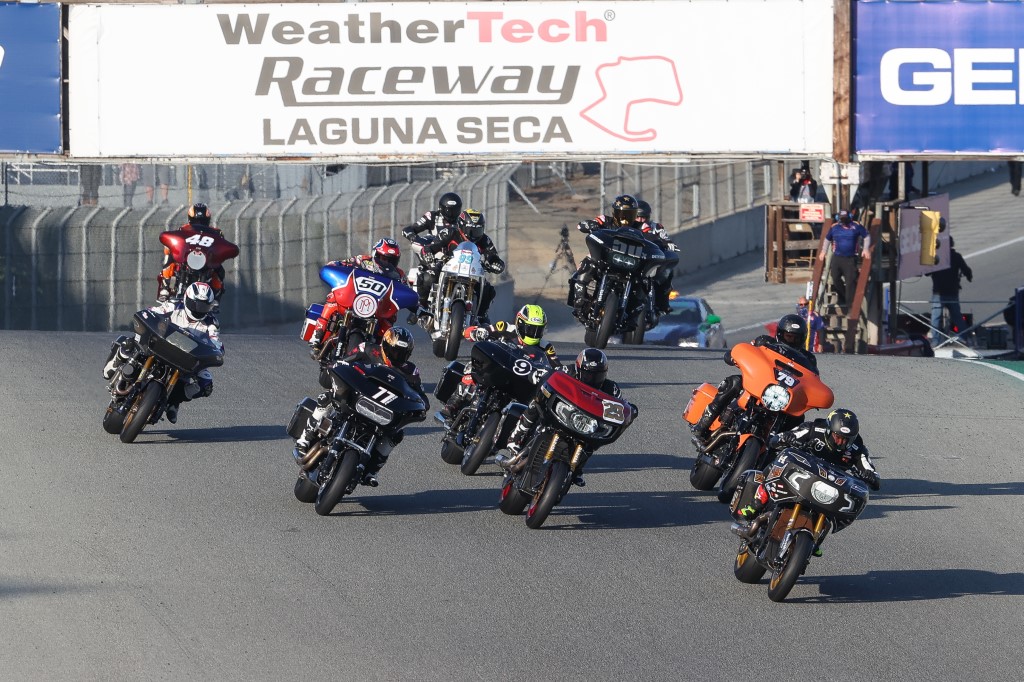 The race saw two modified Indian Challengers facing 11 modified Harley-Davidson Road Glides and Street Glides. Tyler O'Hara, piloting the S&S Indian Challenger, overtook Hayden Gillim on the Vance & Hines Harley Davidson in the corkscrew. Meanwhile NorCal local Frankie Garcia finished third on his Roland Sands Design Indian Challenger. They put the two Indians atop two of the three podium spots.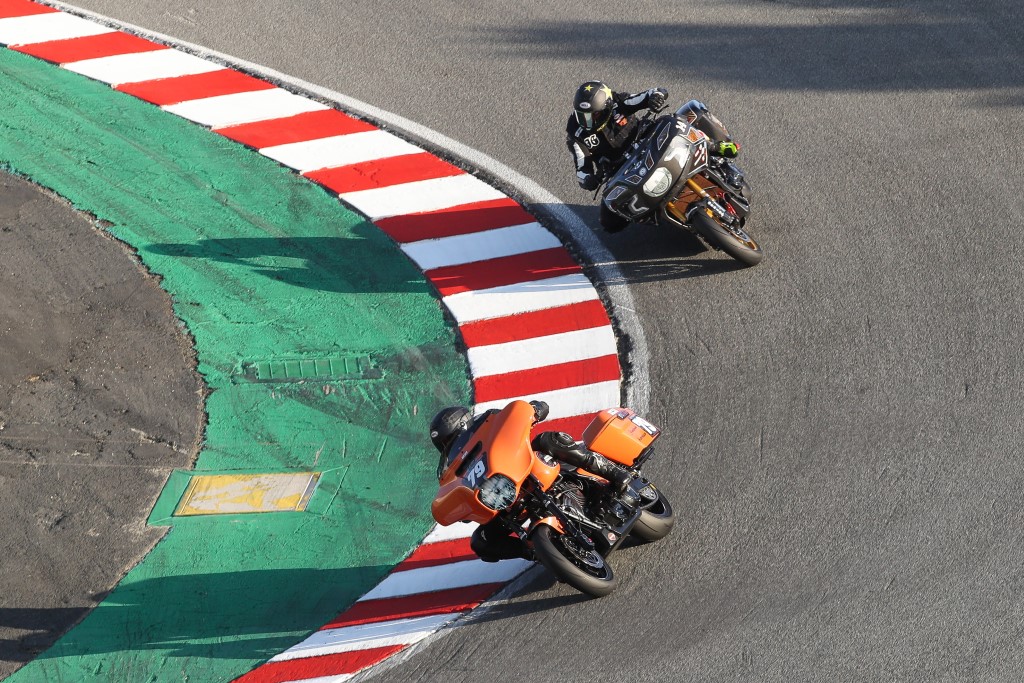 In 2020, Indian Motorcycle implemented "the Challenger Challenge" a marketing platform pitting its new performance bagger against Harley's Road Glide. A series of videos also played the Challenge out in head-to-head road tests led by Indian spokesman Carey Hart and Brian "Big B" Mahoney. King of the Baggers could be seen as an extension of that rivalry.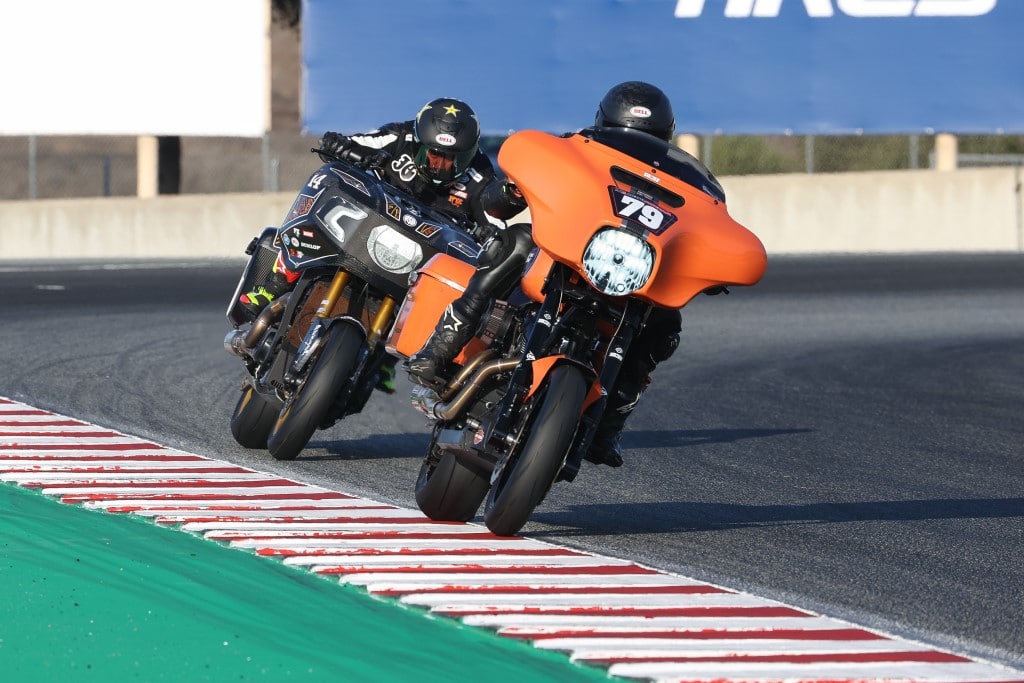 Tyler's Comeback
After jumping out to an early lead, halfway through the 8-lap race, Tyler O'Hara lost control in turn two. As a result, he ran his Challenger off the track into the dirt and fell into third place. From there, O'Hara slowly but surely bridged the gap, passing Garcia and overtaking Gillim before making his pass in the Corkscrew. 
Frankie's Comeback
On Friday after the final qualifying session, Garcia was practicing launches, and launch he did, dropping the clutch and looping the 600 pound Roland Sands Design Indian Challenger. In a stroke of what seemed divine intervention, the predominant weight-bearing portion of the bike missed Garcia's upper body, with the handlebars coming down squarely across his thighs. Garcia could barely walk after the accident, and purposefully woke up every hour, on the hour, to keep his legs from locking up during the night. It's a wonder he could walk on race day, let along pilot the Challenger. Instead, not only did he race, but he put it on the podium taking third place easily on a bike featuring an unmodified stock Challenger motor, with only a racing clutch added for the event.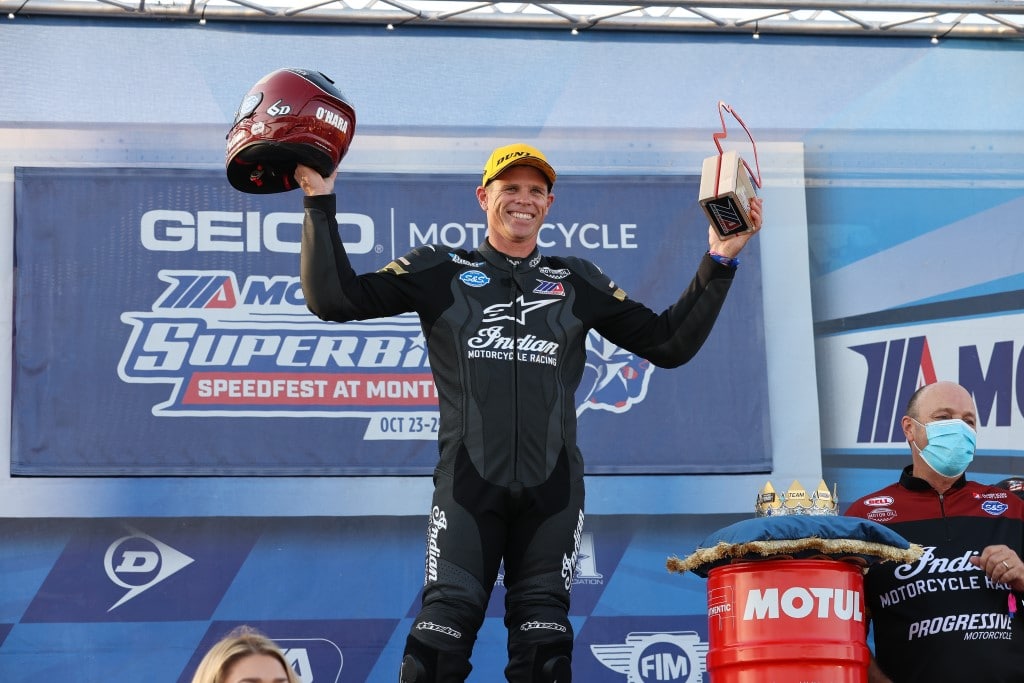 More Bagger Action in 2021?
It's rumored that MotoAmerica may roll out three of these bagger races in 2021. Will we see more teams choosing the Indian Challenger as their weapon of choice? It's probably safe to assume that more than two of them may show up on the grid.