Indian FTR 750 Sweeps Another Podium at Sacramento Mile
Need to lose money now? Bet against Indian's Wrecking Crew at the flat track. Indian Motorcycle Racing's championship-winning FTR750 secured its sixth podium sweep of the 2019 season. Reigning back-to-back AFT Twins Champion Jared Mees displayed his dominance over the field by holding off his Wrecking Crew Teammate Briar Bauman to win the Sacramento Mile. Bauman, the current Twins points leader, finished second, while Indian Motorcycle Privateer Davis Fisher rounded out the podium with his first-career Twins podium.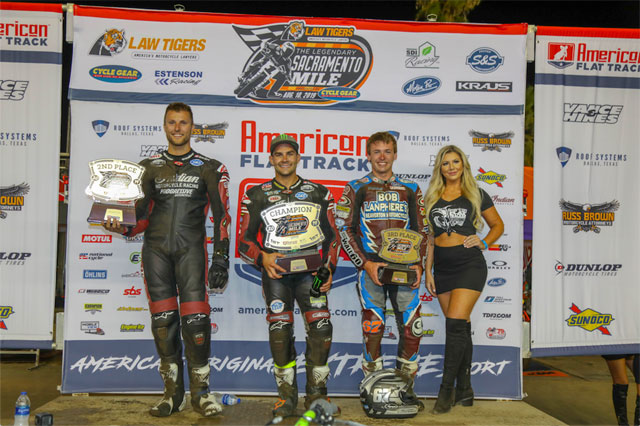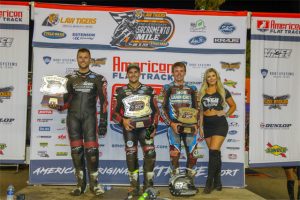 "Just as Briar bounced back from the Buffalo Chip TT with a win at the Black Hills Half-Mile, Jared returns to the top of the box in Sacramento after a tough finish in Rapid City," said Gary Gray, Vice President – Racing, Technology & Service for Indian Motorcycle. "With six races left, Jared reminds us all he's the reigning back-to-back champion and he's not going to let Briar run away on the leaderboard."
With seven races remaining in the season, the Indian Motorcycle Wrecking crew currently sits atop the points standings with Briar Bauman in first with 218 points, Jared Mees in second with 191 points and Bronson Bauman in third with 163 points. As was evident this past weekend, the race for the top spot in the Twins class is heating up and the three relentless riders are looking to continue their dominance over the field.
The season continues August 17 at the legendary Peoria TT. For more information on Indian Motorcycle Racing, visit IndianMotorcycle.com and follow along on Facebook, Twitter and Instagram.
For more information Indian Motorcycle Racing's sponsors, visit their websites: Progressive Motorcycle Insurance, S&S Cycle, Indian Motorcycle Oil, Parts Unlimited, Drag Specialties, Alpinestars, Bell Helmets, and J&P Cycles.