V-Twin Visionary Smoky Mtn Tour Builders and Schedule
The V-Twin Visionary Smoky Mtn Tour is rapidly approaching. We have an incredible line up of builders, riding routes and entertainment.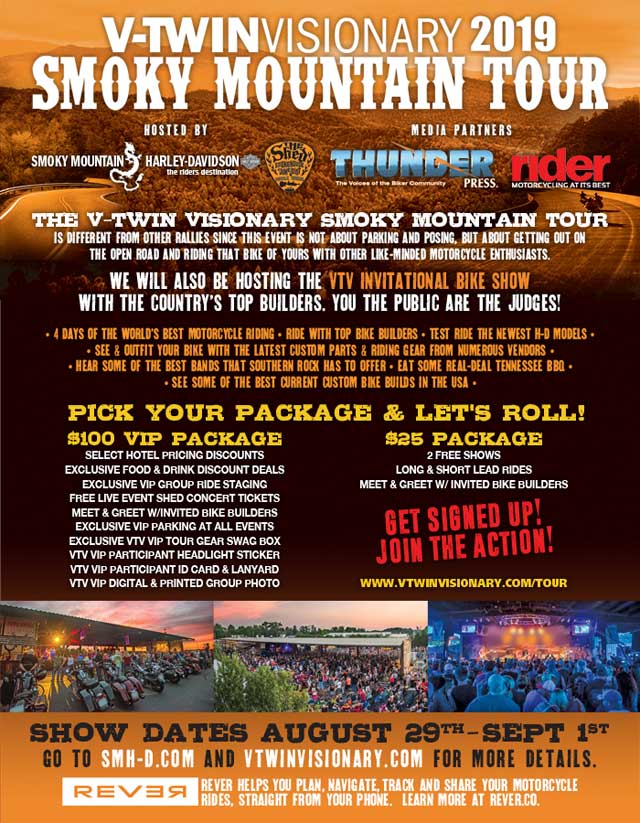 We have assembled a lineup of builders who are both local to Tennessee as well as nationally-known fabricators. We handpicked these builders due to their style, level of craftsmanship, ability and the performance machines they build. Though only a handful are current "household" names, we consider these builders as true visionaries when it comes to the custom motorcycle realm:
Matt Harris @ 40cal Customs
Pete Woodward @ Blue Ribbon Cycles
Danny Wilson aka Motorwitch
Pat Patterson @ Led Sled Customs
Brad Barnes @ Boosted Brad's
Nick Erikson @ Pop's Garage Fab
Brian Schimke @ TPJ Customs
Johnathon Denton @ Dirty Dixie Performance
Ron Harris @ Chop Docs Choppers
Jesse Srpan @ Raw Iron Choppers
Ricky Bongos @ Ricky Bongos
Drew Cemer @ Freakshow Fab
Chris Phillips @ Doomtown Choppers
Roy Martin @ Roys Toys
…with more builders being announced weekly!
Event Schedule
August 29th – Thursday
Long Ride – Mercier Orchards – Meet at 9am at Smoky Mountain H-D
Short Ride – Dragon/Cherohala – Meet at 10am at Smoky Mountain H-D
Mix & Mingle VIP Riders – 5p-7p at The Shed
Concert – Dirty Soul Revival – Music at 7:30
August 30th – Friday
Long Ride – Black Mountain – Meet at 9am at Smoky Mountain H-D
Short Ride – Devils Triangle – Meet at 10am at Smoky Mountain H-D
Ride in Show – Opens at Noon – Awards at 3pm
Pro-Show – Opens at 4pm – Awards at 6pm
VIP Meet & Greet w/ Builders – 6:30pm – 7:30pm
Concert – 7:30 Charlie Overbey & The Broken Arrows / 8:30 The Georgia Thunderbolts
August 31st – Saturday
Long Ride – Coke Ovens – Meet at 9am at Smoky Mountain H-D
Short Ride – Bald River Falls – Meet at 10am at Smoky Mountain H-D
100ft Drags – Noon – 2pm
Ride in Show – Opens at Noon – Awards at 3pm
Pro-Show – Opens at 4pm – Awards at 6pm
Concert – 7:30 The Georgia Thunderbolts / 8:30 The Kentucky Headhunters
Sept 1st – Sunday
Departing Brunch – 11am
Group Photo – 11:45am
Short Ride – Foothills Pkwy – Meet at Noon