Indian Motorcycle Leads Super Hooligan Nat'l Championship After Daytona Opener
Following an offseason that expanded the competitive landscape with new manufacturers lining up for the MotoAmerica Mission Super Hooligan National Championship (SHNC), it was Indian Motorcycle Racing and its factory team claiming the top two spots on the leaderboard, following the season-opening doubleheader at Daytona International Speedway. Piloting a pair of S&S-built Progressive Mission Foods Indian FTRs, reigning SHNC champion Tyler O'Hara and teammate Jeremy McWilliams each left Daytona with a pair of podiums, including back-to-back victories for O'Hara and third and second-place finishes for McWilliams.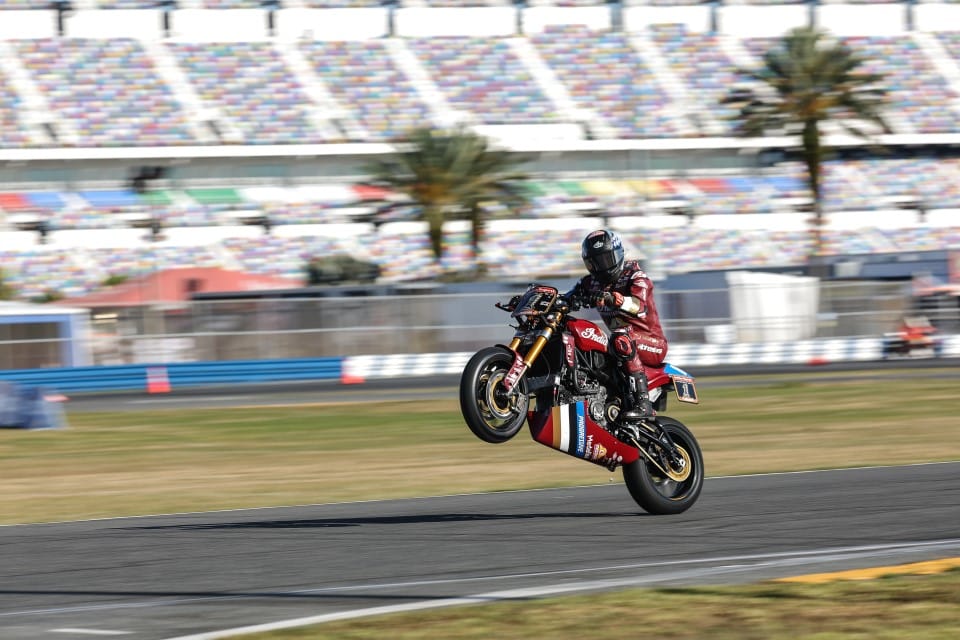 On Friday, March 10, O'Hara strategically tailed RSD Indian FTR privateer Bobby Fong for nearly the entire six-lap race. Waiting for the final lap to strike, O'Hara was able to carry more speed through the chicane and go up and around the outside of Fong to capture the season's first win by .0064 seconds. McWilliams rounded out the podium to complete the Indian FTR podium sweep.
"Bobby was running fast all weekend and gapped me for a period until I was able to make up some ground. The lapper through the chicane definitely played a big role as I wasn't sure if I was going to be able to draft pass him on the finish," said O'Hara. "But what a fun race, and for Indian Motorcycle to sweep the podium just shows how impressive this Indian FTR really is."
Race 2 on Saturday, March 11, was filled with plenty of action. After an early crash caused a red-flag restart, it was a five-rider group at the front of the pack. Pushing hard in the group, KTM rider Andy DeBrino lost his front end and laid his bike down, while Fong encountered a technical issue – making it a three-rider run for first between Harley-Davidson rider Corey West, O'Hara and McWilliams. While West ultimately crossed the finish line first, a post-race bike inspection found an illegal air intake that resulted in a disqualification – awarding O'Hara his second win of the weekend and earning McWilliams a second-place finish.
In the MotoAmerica Mission King of the Baggers (KOTB) class, O'Hara reached the podium with a third-place finish in Race 1. While the Indian Challenger had been running fast all weekend, even clocking the weekend's fastest speed on a bagger at 182 mph, both O'Hara and McWilliams suffered technical issues in Race 2. Indian Motorcycle Racing concluded the opening rounds at Daytona with O'Hara in fifth (21 points) and McWilliams in eighth (19 points) on the season's leaderboard.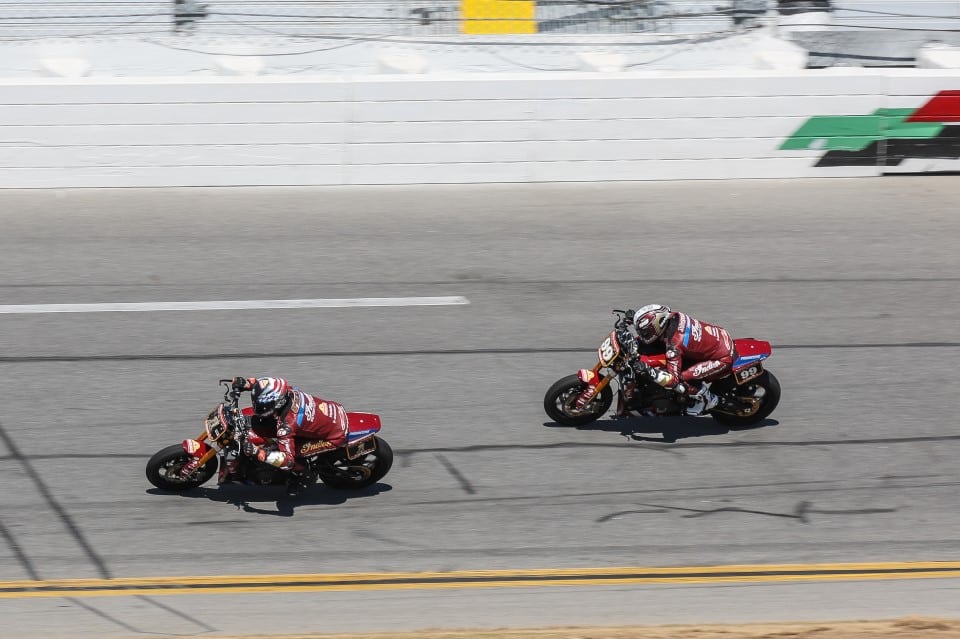 "Our issues this weekend were specifically with our tires, MotoAmerica is a spec tire series, we are only given one choice for tires for Daytona and they failed with our higher speeds after four laps, but our new bikes are performing incredibly well, with a significantly higher level of both handling and power, as evidenced by both our riders registering speeds of more than 180 mph throughout the weekend," said Gary Gray, Vice President – Racing, Technology and Service for Indian Motorcycle. "At the end of the day, the performance of our Indian Challengers, coupled with our success in the Super Hooligan class has us feeling extremely optimistic and incredibly motivated heading into the second round in Atlanta."
The 2023 KOTB and SHNC seasons continue with Road Atlanta April 21-23. For more information visit MotoAmerica.com.
Indian Motorcycle Racing is presented by Progressive Insurance® Mission® Foods and Medallia®, with additional support from Indian Motorcycle Motor Oil, S&S®, Parts Unlimited, Drag Specialties®, Performance Finance, and J&P Cycles®.
For information about Indian Motorcycle, visit here or follow along on Facebook and Instagram.