Joshua McDonald's Switchback Super Glide
Josh McDonald's Dyna has seen a lot of action in its transformation from Harley Switchback to performance Super Glide. But for as much as he loves wheelies on it, what he loves most is the fact that he rode it across the USA to see his dad; the guy who raised him around Harley-Davidson iron. Not only that, letting his father ride the bike was also huge for Josh. "Version 2.5 is in memory of him," Josh told us.
Before there was Super Glide, There was Switchback
He bought the bike in December of 2011. It started out as a 2012 Switchback: "I am an active duty Navy Seabee," Josh says. "I was stationed in Sicily and bought it from the new car sales on the base. It was shipped from Milwaukee and I have the certificate of origin from Switzerland."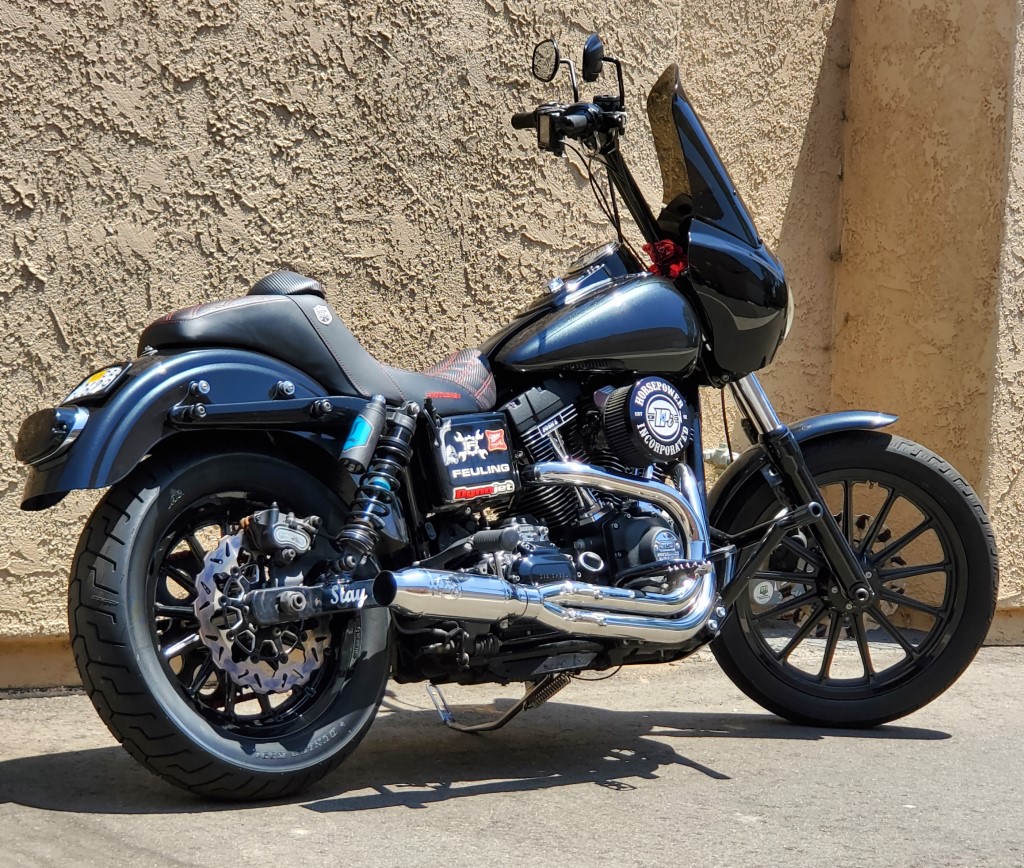 For as cool as that is, he enjoyed an opportunity most of us have to go really far away to have. Like, across an ocean far away. In 2012 Josh and few friends rode from Sicily up the Amalfi Coast to Rome for the 110th Harley Davidson Anniversary party. But it would be a few years before he'd be able to go long distance again like that. In 2017 he finally rode her home from Ventura, California to North Carolina to see his dad. He did long rides on the way (800 to 1000 miles a day) to get home quickly.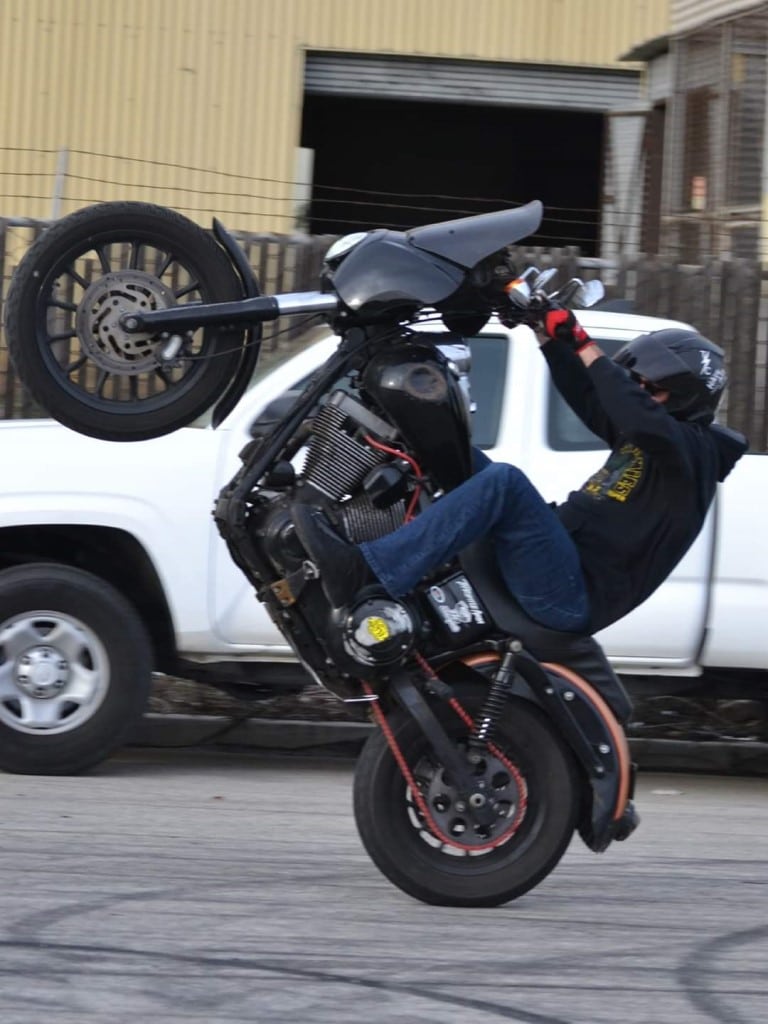 Josh, his dad, and Josh's friends took a few rides in North Carolina while he was there. For as much fun as they all had, Josh hit a snag on the return trip: "When I started coming back across the USA I lost a day of riding due to 60 to 80 mph winds across the Texas Panhandle. The next day I woke up and said, 'I'm getting back to Ventura today,' so I rode 1160 mi back in one day." Incidentally, he also logged 29k miles in the saddle that year.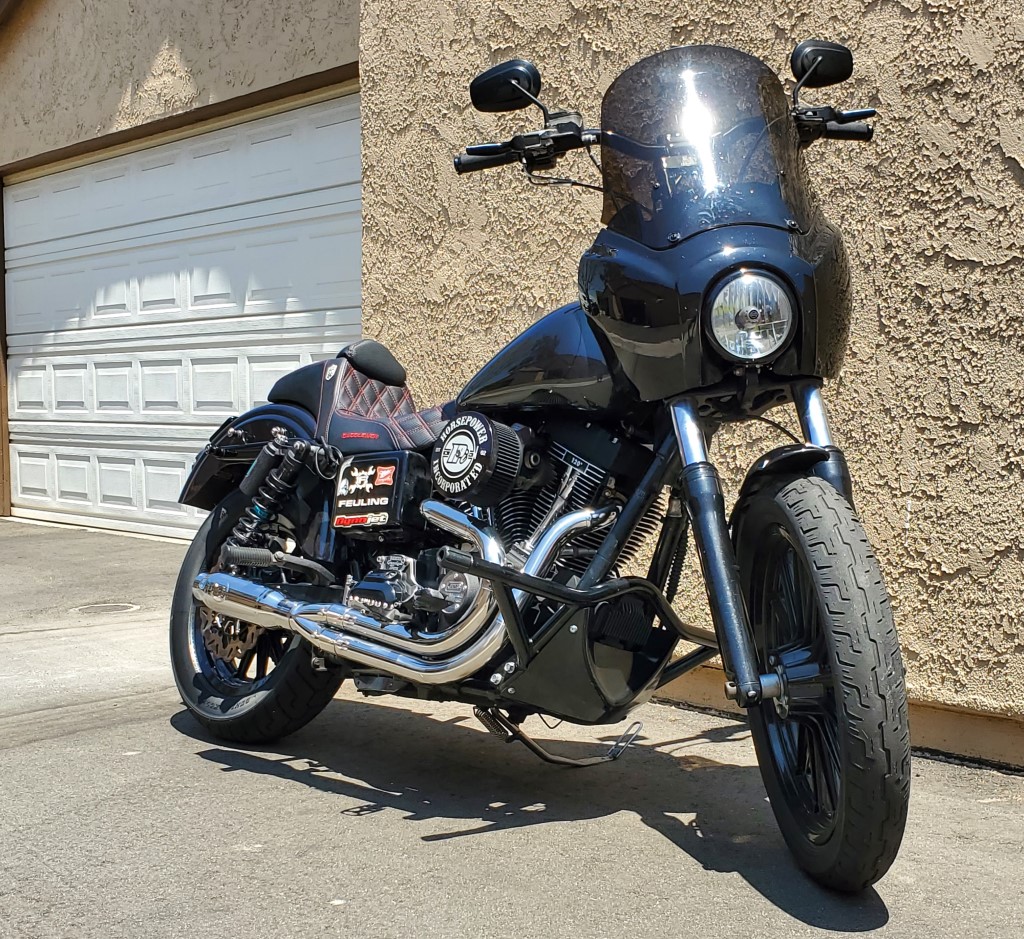 The downside (if you can really call it that) being that Josh was kinda tired of the Switchback look. That's when he decided to change over to the Super Glide.
Super Glide V1.0
The first incarnation of the customized bike was a mild warm-up compared to what you see now, though. "So I bought an off color front and rear fender set, Mid Glide trees, 49mm forks, and a 13 spoke wheels," Josh says. He also swapped over to 510 Mackie cams with a tuner. It was all good until May of 2019. That's when Josh blew a piston in San Diego.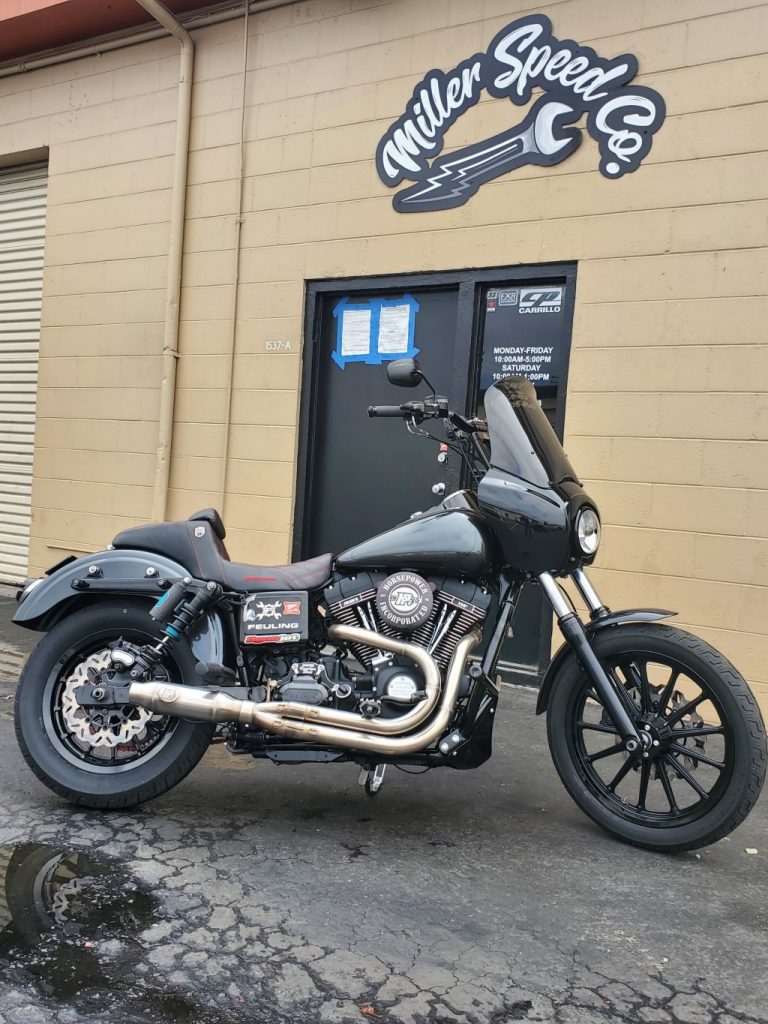 "That's all she wrote till I lost my dad on Christmas Eve and I knew his love for Harleys. This new build is my tribute to him. I did the build myself I ordered parts from my garage in Ventura and worked with Miller Speed Co. As you can tell from the shots (and the specs below), V2.0 is a very different animal. But if Josh McDonald logged Iron Butt mileage on the stocker, just imagine how much fun he has on THIS version.
SPEC SHEET
Owner-Joshua T McDonald
Year/Make/Model- 2012 Harley-Davidson Dyna Switchback
Build Time-  3 months
ENGINE
Year- 2020
Type-Size- Jims Machine 120ci  
Builder- Jims Machine       
Cases- Jims Machine         
Cylinders- Jims Machine               
Heads- Jims Machine         
Rocker Boxes- Jims Machine
Cams- Jims Machine          
Throttle Body-  HPI   
Air Cleaner- HPI
EFI Controller- HPI
Exhaust- HPI  
TRANSMISSION
Year- 2020
Type-   Baker Grudge Box
Gears-  6         
Clutch-  Barnett Scorpion      
Primary Drive- Barnett
FRAME
Year/Type- 2012 Dyna
Rake/Stretch- stock
SUSPENSION          
Frontend
Make- Legend Suspension
Length- stock 
Springs-  Legend Suspension
Triple Trees- Shamano            
Swingarm- stock        
Rear Shock- Legend Suspension
Length- 13.5-inch 
ROLLING STOCK
Front Wheel
Builder/Size- Harley 19-inch
Tire Brand/Size- Dunlop k591           
Brake Calipers-  Harley 
Brake Rotors-  Galfer USA
Rear Wheel-
Builder/Size-  Harley 16-inch
Tire Brand/Size- Dunlop k591 150/80/b16
Brake Caliper- Harley  
Brake Rotor-  Galfer
Sprocket- S&S Cycle
ACCESSORIES       
Risers- LA Choppers 
Handlebars-     LA Choppers
Mirrors- Drag Specialties
Hand Controls- Stock
Throttle Tube- Barnett
Foot Controls- FLO   
Pegs- FLO
Taillight- Moons MC
License Mount- Drag Specialties           
Crash Bar-  RWD
Seat-  Saddleman
Sissy Bar- Harley
Sissy Bar Pad- Harley 
Fairing- Krator