Derek Billingsley's 2015 Dyna FXDB | Golden Black
I purchased my first Harley-Davidson back in 2014 from Boswells Harley in Nashville TN. When I finally was able to afford my 2015 Dyna FXDB it was an accumulation of mixed parts and accessories years in the making. I grew up around motorcycles. My dad was an avid Harley owner and I knew that one day it would be my passion as well. The roots run deep for me.
Being a young tattooer at the time I bought it, I traveled doing conventions and guest spots for tattooing. So my whole focus was building up my career from the time I was 21. I worked damn near seven days a week for a very long time, devoting myself to my craft. In doing so, I tattooed in almost every single state and many countries. After years of focusing only on my work, I decided it was time to really start living my life. You can't take the money when you leave this world so you might as well fucking enjoy it!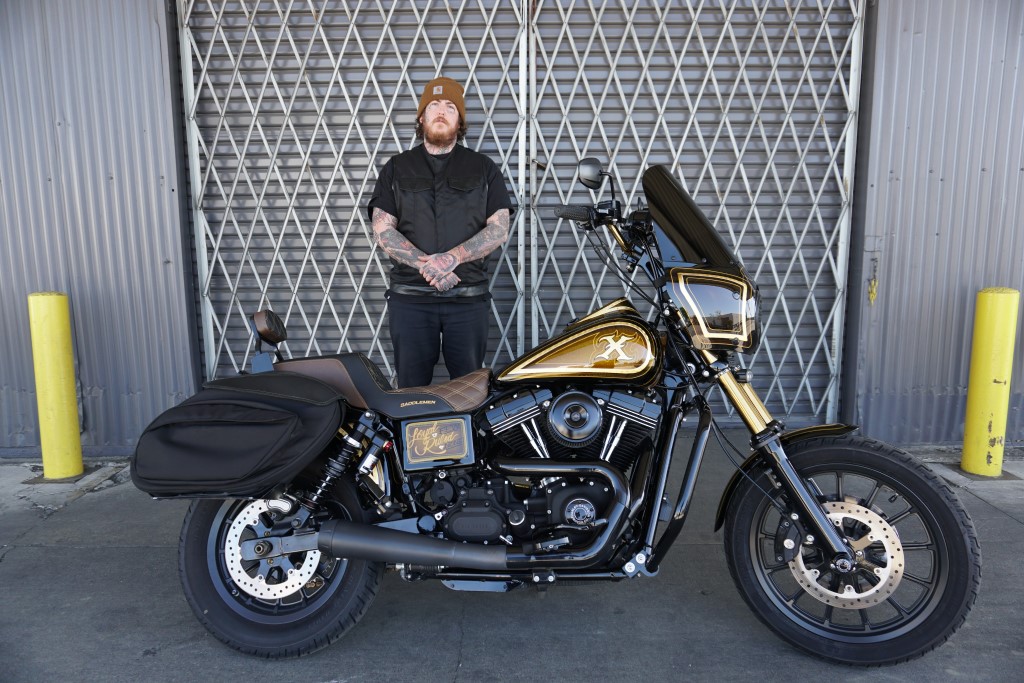 New York State of Mind
At the time, I was living in the NYC area, specifically Long Island, and I decided I needed a change. I took a job in Nashville, Tennessee and first chance I got I went into the Harley dealership to look at bikes. Even then I knew I wanted a Dyna because my Dad had ridden Dyna's in the past. I knew I was too fucking big to ride a Sportster and I knew if I kept tattooing 7-days a week I could afford the Dyna. So going in a didn't know much about the model differences. In the Dyna class, I just went for whatever looked cool at the time. I hadn't ridden street bikes and I really didn't know shit about what was going on, so I purchased a 2015 Dyna FXDB. Of course being in the south it had forwards and I threw on some bitchin' apehangers to be a cool guy! Trust me, it worked, LOL.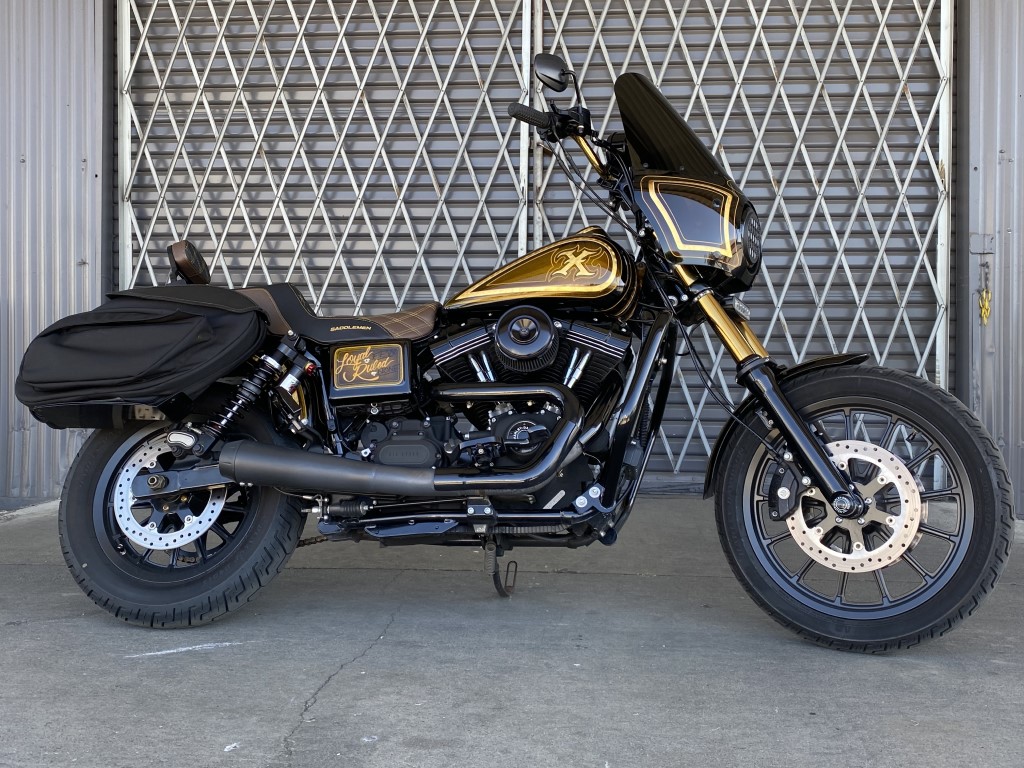 So I rode it "Southern Style" for a little while. I then blacked out some parts and was just blindly throwing shit on that I thought looked cool. I had no real rhyme or reason at all. Then one weekend I was out riding with my buddy Travis. He had a fully done-up Road King that was painted by Josh Lemon. After staring at that damn bike all day in the backwoods of Tennessee I decided that I would contact Josh to paint my standard black Dyna and have him do a panel paint black and gold scheme. I go in Monday talk to him about cost and turn around and give him free reign to do his thing. Tuesday I drop it off and by Saturday I already had the bike back. I couldn't believe he was able to knock It out of the park and that fast. Still blows my fucking mind to this day. He's a madman!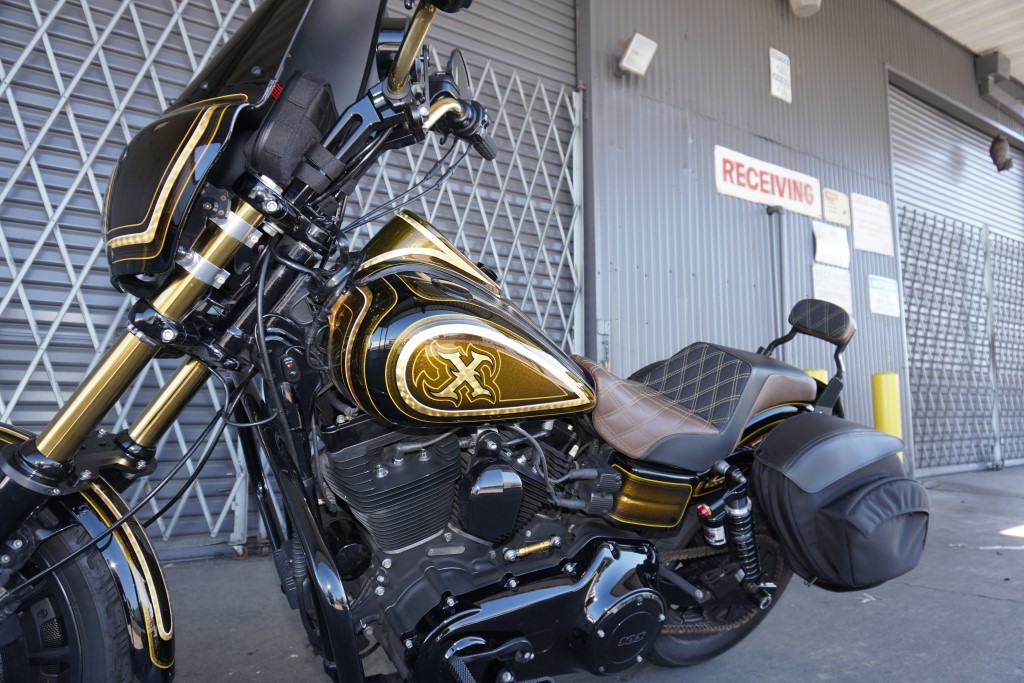 Fast forward a few months. I take a work trip out to Southern California for tattooing and immediately fall in love with the culture, the weather, and the year round riding. I said, "Fuck it. I'm moving here" and in less than a year made it happen. For the first few months of living here, trying to split lanes with these fucking wild-hog apes and forwards I was like, "This shit is stupid and I'm gonna die." Then the second "purpose-built" bike rebuild started. With riding literally every day, I spent much time and money gettin' it right. I have run multiple exhausts and multiple handlebar setups, but I couldn't be happier with the setup I currently run. It's been a lot of trial and error and wasted money but I wouldn't have it any other way. I know this bike front to back and have a total respect and appreciation for every single parts manufacturer or homie who has helped me put this thing together. I'm no bike builder for sure but I've figured out some shit over the years and I really love motorcycles.
Now that this 2015 Dyna FXDB is set up proper for what I do with it, I am taking on another challenge. Next up I'm gonna get my dad's 2003 100th anniversary CVO Road King, and rework it to make that baby really perform! My dad no longer rides due to be confined to a wheelchair and it breaks my heart to know he can never ride again. So I'm purchasing this bike and I'm gonna carry on his legacy and put down thousands and thousands of miles on a bike he always loved. The next one is for you, pops!
SPEC SHEET
GENERAL
Owner- Derek Billingsley
Shop- My garage or help from some friends
Year/Make/Model-2015 Harley-Davidson FXDB
Build Time- 4 years give or take
ENGINE
Year- 2015
Type- V Twin
Size- 103ci
Cases- H-D
Cylinders- H-D
Heads- H-D
Rocker Boxes- H-D
Cams- S& S .585
Throttle Body- H-D
Air Cleaner- San Diego Customs
Exhaust- Bassani Road Rage 2
TRANSMISSION
Year- 2015
Type- H-D
Clutch- H-D
Primary Drive- H-D
FRAME
Year/Type- 2015
Rake/Stretch- STOCK
SUSPENSION
Frontend
Make- H-D
Tubes- Hard Drive
Length- 2+
Springs- Race Tech
Triple Trees- H-D
Rearend
Swingarm- H-D
Rear Shock- Russ Wernimont Designs
Length- 14-inch
ROLLING STOCK
Front Wheel
Builder/Size- H-D/19-inch
Tire Brand/Size- Dunlop
Brake Calipers- HD Bagger Caliper
Brake Rotors- HD Brembo
Rear Wheel
Builder/Size- H-D/17-inch
Tire Brand/Size- Dunlop
Brake Caliper- H-D
Brake Rotor- H-D Brembo
Sprocket- Bung King
Chain- EK 530 Chain
PAINT & PLATING
Painter- Josh Lemon
Paint Manufacturer- Dunno
Colors Used- Gold & Black
Graphics- Josh Lemon
Pinstriping- Josh Lemon
Powdercoating- Americoat
ACCESSORIES
Front Fender- H-D
Rear Fender- H-D
Gas Tank- H-D
Dash-31 State
Gauges – Dakota Digital
Handlebars- Diamond Lane
Risers- Big Al's
Grips- Vans Odi Grips
Mirrors- H-D
Hand Controls- H-D
Throttle Tube- Moons MC
Foot Controls- H-D
Floorboards- San Diego Customs
Pegs- San Diego Customs
Headlight- Moons MC
Taillight – H-D
License Mount- Custom Dynamics 4-1
Front Turn Signals- Moons MC LED
Rear Turn Signals- Alloy Art
Crash/Engine Bar- Speed Kings
Seat- Saddlemen
Sissy Bar- H-D
Sissy Bar Pad- Saddlemen
Fairing- Memphis Shades Road Warrior
Stereo- Plex Audio
Amplifier-Rockford Fosgate
Speakers-Rockford Fosgate