King of the Baggers: Harley-Davidson Racers Sweep Podium
The Harley-Davidson Screamin' Eagle factory racing team dominated the second round of the MotoAmerica King of the Baggers road racing series at its home track of Road America, in Elkhart Lake, Wis. Kyle Wyman, aboard the #33 factory-prepared Harley-Davidson Road Glide Special powered by a modified Screamin' Eagle Milwaukee-Eight 131 Performance Crate Engine, also set pole position, posted the quickest lap of the race, led every lap, and took the win by more than 15 seconds. His new teammate and brother Travis Wyman also finished second in his debut on his #10 factory prepped Harley-Davidson Road Glide Special. Hayden Gillim took third and completed the podium sweep for H-D racers aboard his #79 Vance & Hines Harley-Davidson Street Glide.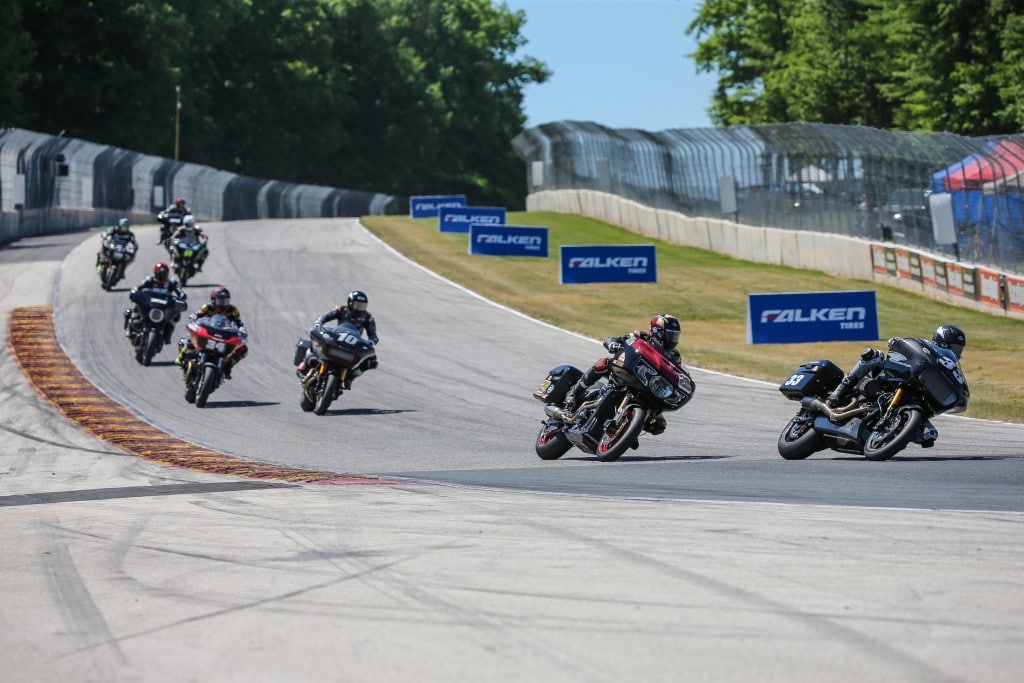 With the win, Kyle Wyman also takes a commanding 16-point lead over Gillim in the MotoAmerica King of the Baggers series heading into the final round at Laguna Seca. Indian motorcycle racers Frankie Garcia and Tyler O'Hara sit in third and fourth, while Travis Wyman is fifth in points.
One-Two Punch
"It's pretty amazing, getting a chance to ride for the factory, is something that's a dream come true," said Kyle Wyman. "Now to win for the factory is incredible. I can't thank Harley-Davidson enough and really all the individuals on the team because these guys are so passionate. They deserve this win so much. These guys put in so much work. It just feels amazing. One-two for the Wyman brothers, one-two for Harley-Davidson, it couldn't be any better."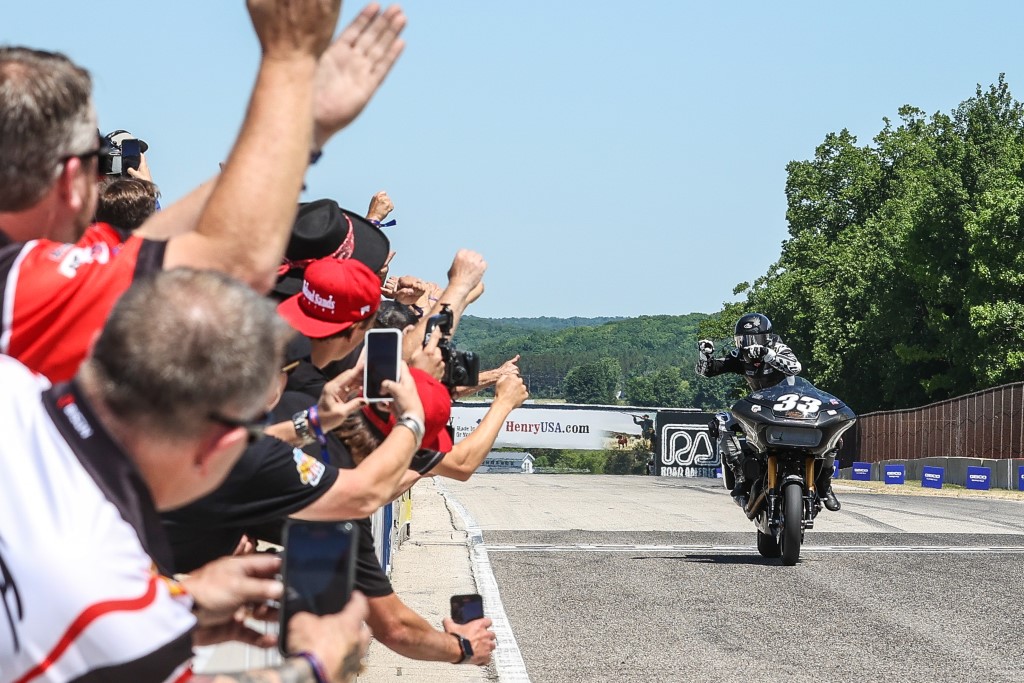 "When I found out that my brother got this deal with Harley-Davidson, I was pretty excited for him but also jealous," said Travis Wyman. "I actually made a joke to him that if they ever want a second rider to hit me up. And then within a month of having this program he asked me if I wanted to join the team. Through testing Kyle was quicker than me, but I knew that if we got the right set up, I would have a shot at the podium, and that was my goal for the weekend. Each time I got on the bike I felt more comfortable. With Kyle finishing first and me finishing second, it's an accelerated dream come true for both of us."
The Brothers Wyman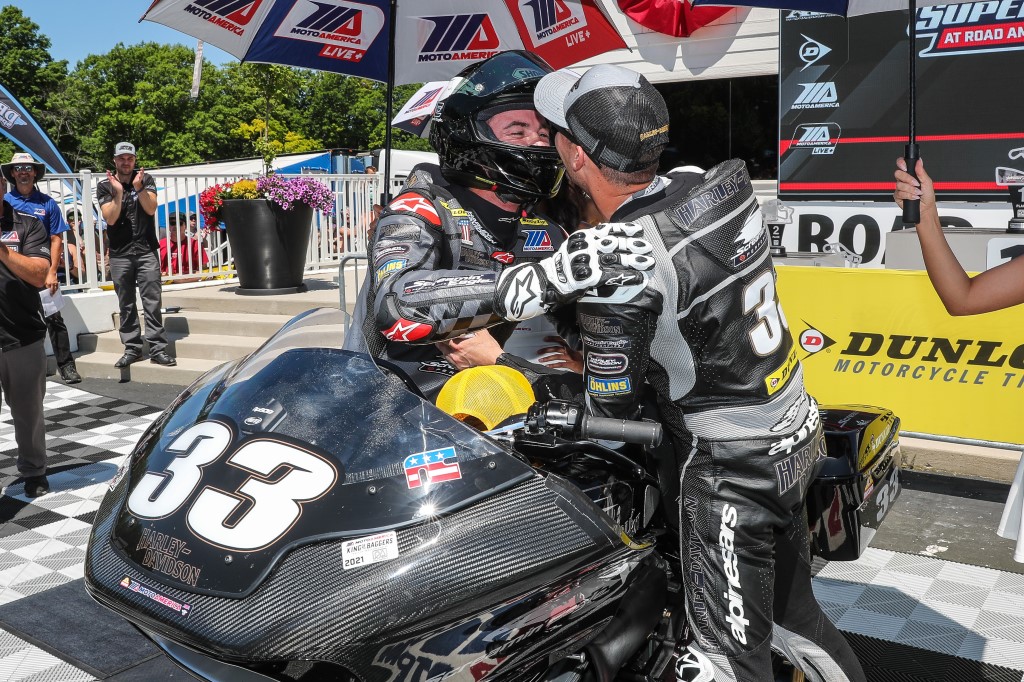 Kyle and Travis Wyman are also the sons of Kim Wyman, owner of Harv's Harley-Davidson in Macedon, N.Y., and grew up around Harley-Davidson and flat track racing.
"All of us at Harley-Davidson are very proud of Kyle and Travis, and the dedicated team of Harley-Davidson engineers who developed this program entirely in-house in addition to their everyday assignments," said Jochen Zeitz, chairman, president, and CEO Harley-Davidson.
About King of the Baggers
The MotoAmerica King of the Baggers series is for race-prepared, American V-Twin touring motorcycles equipped with a fairing and saddlebags. Harley-Davidson is also offering a nearly $30,000 cash contingency program for qualified Harley-Davidson competing racers. The final round of the King of the Baggers series is July 9-11 at WeatherTech Raceway Laguna Seca, Calif.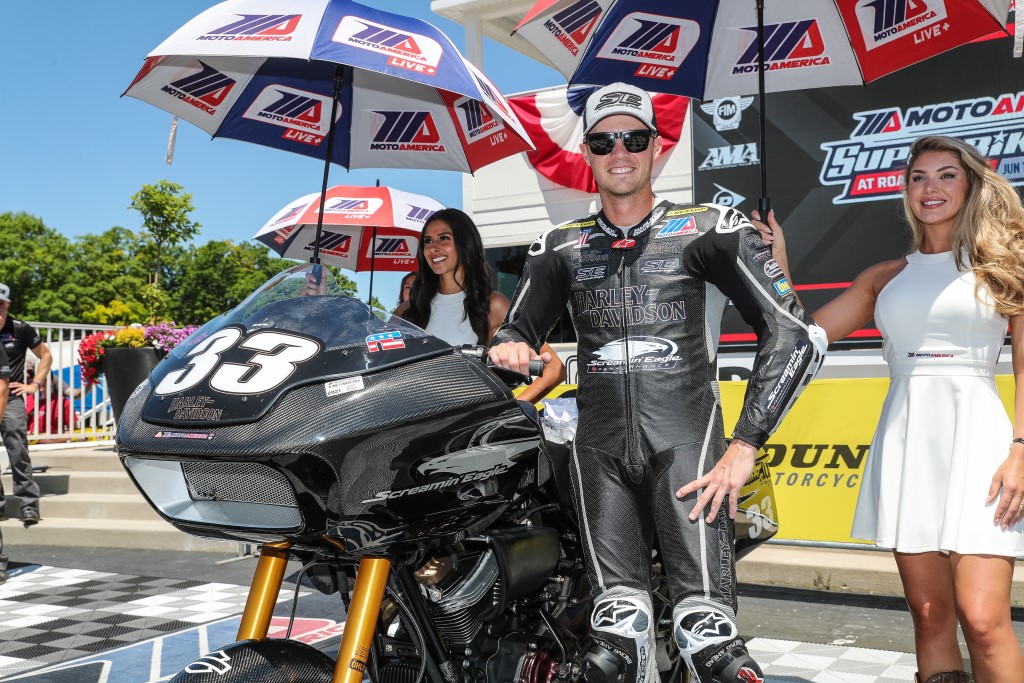 MotoAmerica King of the Baggers Race Results Road America:
Kyle Wyman (Screamin' Eagle Harley-Davidson)
Travis Wyman (Screamin' Eagle Harley-Davidson)
Hayden Gillim (Vance & Hines Harley-Davidson)
Danny Eslick (Rossmeyer Daytona Racing Harley-Davidson)
Frankie Garcia (RSD Indian)
Zack Nation (Zack Nation Racing Harley-Davidson)
John Sueberling (Mad Monkey Motorsports Harley-Davidson)
Eric Stahl (Jiffy Tune Racing Harley-Davidson)
MotoAmerica King of the Baggers Series Points:
Kyle Wyman 45 (Screamin' Eagle Harley-Davidson)
Hayden Gillim 29 (Vance & Hines Harley-Davidson)
Frankie Garcia 27 (RSD Indian)
Tyler O'Hara 25 (S&S Indian)
Travis Wyman 20 (Screamin' Eagle Harley-Davidson)
John Sueberling 19 (Mad Monkey Motorsports Harley-Davidson)
Eric Stahl 19 (Jiffy Tune Racing Harley-Davidson)
Danny Eslick 13 (Rossmeyer Daytona Racing Harley-Davidson)
Zack Nation 10 (Zack Nation Racing Harley-Davidson)