Le Pera Large Throw-Over Saddlebags
Le Pera Large Throw-Over Saddlebags team classic styling with new technology.  Like the name says, they're designed as universal throw-overs that mount to fit any style of bike.  The yolk (aka the leather piece joining the two saddle bags) adjusts to create the perfect fit.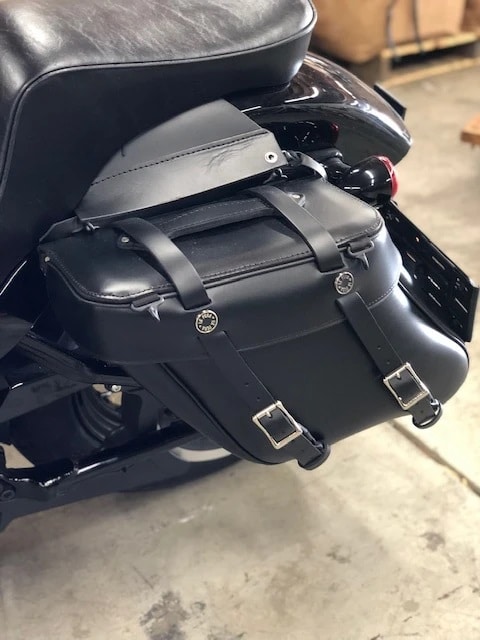 The yolk detaches from the bags thanks to a set of zippers. As a result, you don't need to take your seat off for removing the bags. Each bag measures 14 inches wide, 12 inches tall, and seven inches deep. Sets are made of 10-11 ounce thick full grain leather to retain their shapes. The leather is vat dyed black so the color goes all the way through. Addtionally, they're tanned to be UV and water resistant so the leather doesn't fade, spot or swell. Extra-long straps also allow you to stow rolled up chaps, a jacket, or other items onto top of each bag. Lastly, nylon clips atop the bags allow for additional mounting points for bungees or cargo nets.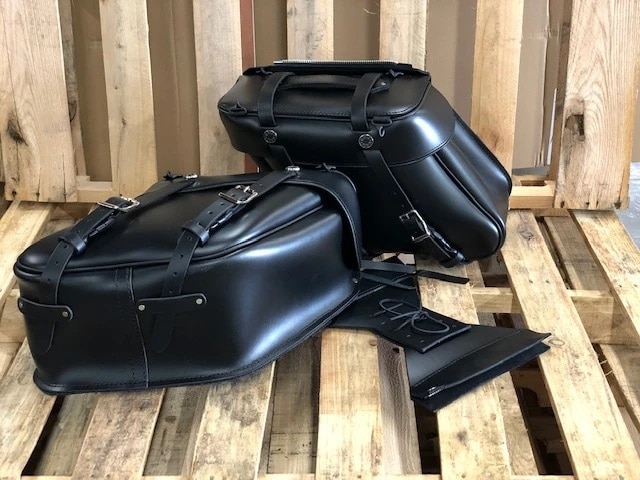 Each bag has an internal zippered stash pouch sewn in to prevent small items from being lost in the bottom of the bag. Handy carrying handles are riveted to each saddlebag top. Le Pera sews them with heavy-duty nylon thread and reinforced with rivets at stress points. Quick release buckles hidden under stainless steel roller buckles for easy opening & closing. Bag tops are reinforced with ABS plastic and the backs are cut from nylon infused rubber then reinforced with ABS plastic. Made in the USA and built to last! Sack up here.