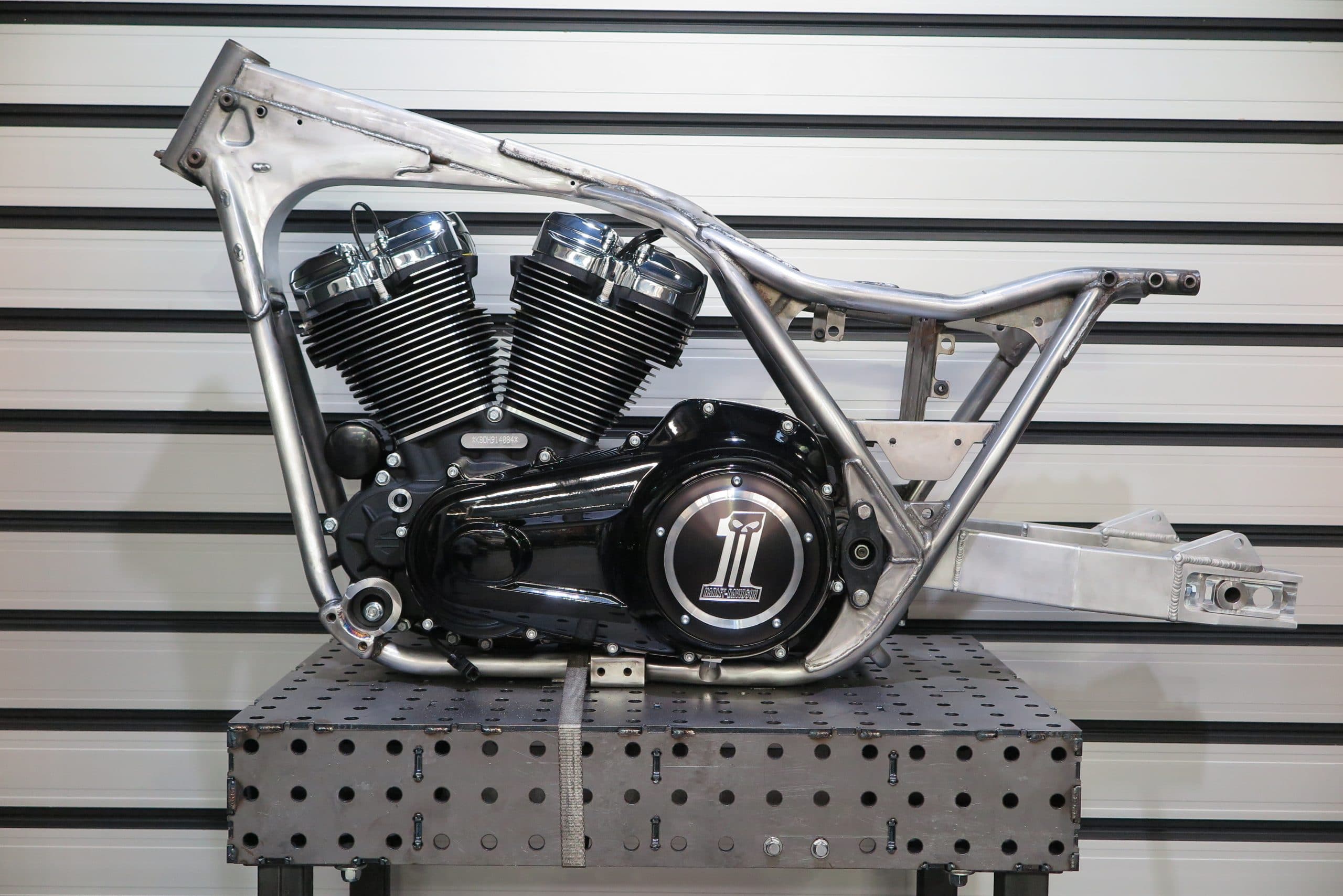 Now that I was unemployed and had a monumental bike build underway, I took a step back and evaluated my situation. Gone was a good job with a good salary and from what it seemed at the time not too many prospects for somebody working in the print media arena.
Sure, I could have just told everyone to eat shit, send the parts back and then sell the rest of the bike off and cut my losses. That thought crossed my mind for about a millisecond before I knew what I was going to do. And that was finish this bike by Sturgis. Phone calls were made to H-D's top brass telling them that the bike was still going to happen. Although they didn't sound too enthused that a guy that just got fired from his job (sorry, downsized) was still going to be the lead on this project. But what could they really do about it? Nobody else was going to take this endeavor on and get it done in a timely manner. I then made a deal with Jordan Mastagni, who's the new editor in chief of the magazine, that the bike would indeed be finished and that we would honor all deals made prior with the various people and companies partnering with us on the build. Besides, I now had plenty of time to build a bike right while on unemployment right?
Many of you reading along will exclaim that seven months is plenty of time to construct and finish a bike. Well, yeah if you are Lego-ing a bike together with a ton of parts that have been proven to work hundreds of times on other bikes (like putting a carbureted Twin Cam into an FXR) but this bike build was going to be a different story altogether. Danny Wilson, the guy putting this bike together also has two other jobs and a family as well. And of course Danny likes to do things the right way, which for most of us that means doing it the hard way. And so with a very bumpy road ahead, we trudged on.
We knew full well that the engine was not going to just slip right in where the blown Evo motor used to reside. It was going to require a ton of fabrication to make the new H-D Milwaukee Eight fit in those frame rails. Thank the lord above that Justin Coleman of Torch Industries and FXR Division was down to help out on this project with his major fabrication and metal working skills. Big Chris of FXR Division also came in to lend a helping hand regarding the design and construction of the bike. This relationship proved to be key in the construction of the M8FXR and still is. After we robbed an engine out of a rental bike for initial measurements we received the real motor we were going to use from the MoCo. Danny then removed the guts of the brand new engine so it would be much lighter and therefore easier to take in and out of the FXR frame when needed. And this proved to be very helpful when re-fabricating the frame. The frame had to be sliced and diced in a myriad of ways to allow the M8 motor to both fit and look good in its new home. We really wanted this bike to look like it came from the factory with this engine in it, so the backbone, down tubes, bottom frame rails, all had to me majorly modified to do so, but not so much that it looked like the one-off bike that it actually is. We used a modified motor mount from Chopper Hauss to hold the engine in place and Justin even stitched the new welds to look as if they were done by the H-D factory back in 1993. Then Justin braced the frame in more than a few places. This was done due to the fact that we will be installing a Leading Edge 151ci kit into the bike. The Leading Edge kit installs into the M8 cases after a bit of boring and once together and tuned it should put out more than 200hp and 230tq. We will have more on the fire-breathing engine in a later installment.
Now that people see how much fabrication and construction that went into the chassis, they asked us why we just didn't make a new frame altogether. Well, if you remember the deal was made between Danny and myself to put the new engine in an old frame. So that was going to happen no matter how much work to was going to take. Plus the bike is an FXRP and they have special VIN numbers, so we also wanted to keep that legit as well. Like I stated before, the right way is usually the hard way. And it was.
Once the frame fab was done and the engine and transmission snuggly in the motor  We started to hang parts on the bike starting with a C&S Customs swingarm. Race Tech built one of its G6 frontends, which by all accounts is the nicest inverted frontend we have ever used. This is due to the fact that the G6 is made in the USA one-by-one for the rider's weight and intended usage and they don't come from a sport bike or faraway land needing to be extensively worked on to get the correct feel on a 500-plus pound bike. In short, Race Tech does it right the first time. We also went with a set of custom tuned and built Race Tech 14.5-inch remote reservoir shocks out back. And it was all going so smoothly until we tried to install the shocks and ran into another major road block of this build.
Stay Tuned for part three of the build coming next week.