MotoAmerica: H-D Rider Kyle Wyman Wins Mission King of the Baggers Championship
Harley-Davidson Screamin' Eagle factory team rider Kyle Wyman won the 2021 GEICO Motorcycle MotoAmerica Superbike Speedfest at Monterey featuring Mission King of the Baggers championship at MotoAmerica Superbike Speedfest in Laguna Seca, Calif. Racing the #33 factory-prepared Harley-Davidson Road Glide Special, Wyman took the holeshot. He also set a new class lap record, and then led every lap of the race on the 2.238-mile WeatherTech Raceway road course. His bike is powered by a modified Screamin' Eagle Milwaukee-Eight 131 Performance Crate Engine.
Wyman beat second place Tyler O'Hara on the #29 S&S Cycle Indian Challenger by 4.388 seconds at the finish. Michael Barnes finished third on the #34 Hoban Brothers Racing DTF/Horsepower Inc./Darkhorse Crankworks Harley-Davidson Road Glide Special. Travis Wyman was fourth on the #10 Harley-Davidson Screamin' Eagle factory team Road Glide Special also.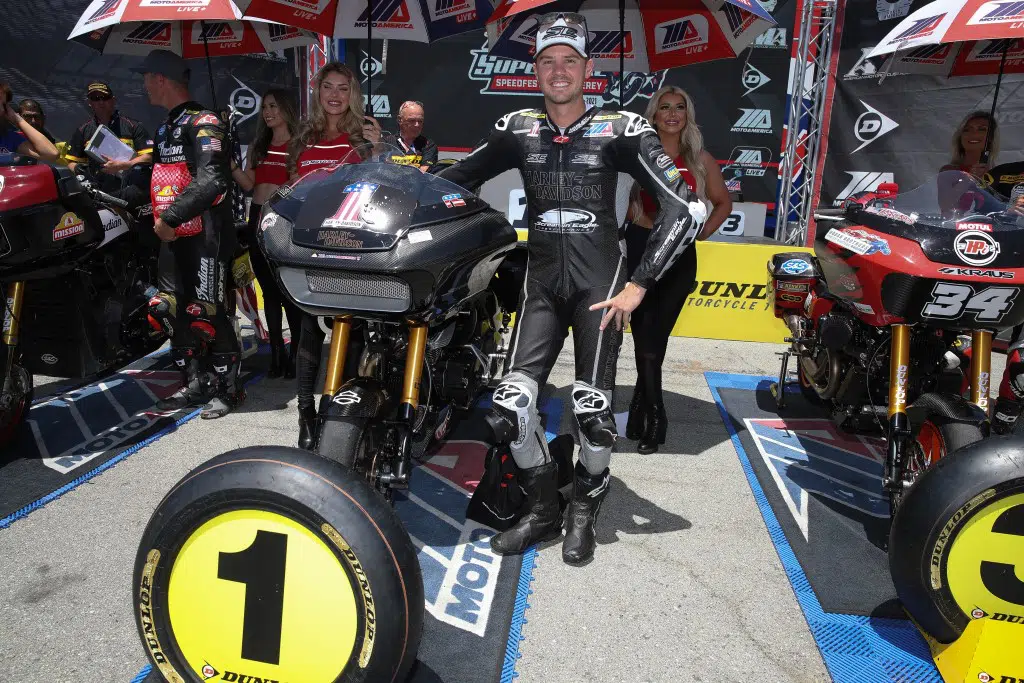 Elbow Room
The victory by Kyle Wyman came only weeks after surgery following a crash in the MotoAmerica Superbike race at Road America. The crash occurred June 13. He suffered multiple fractures of his elbow. Wyman sat out the Superbike races at Ridge Motorsports Park and Laguna Seca to focus on the King of the Baggers race and championship title.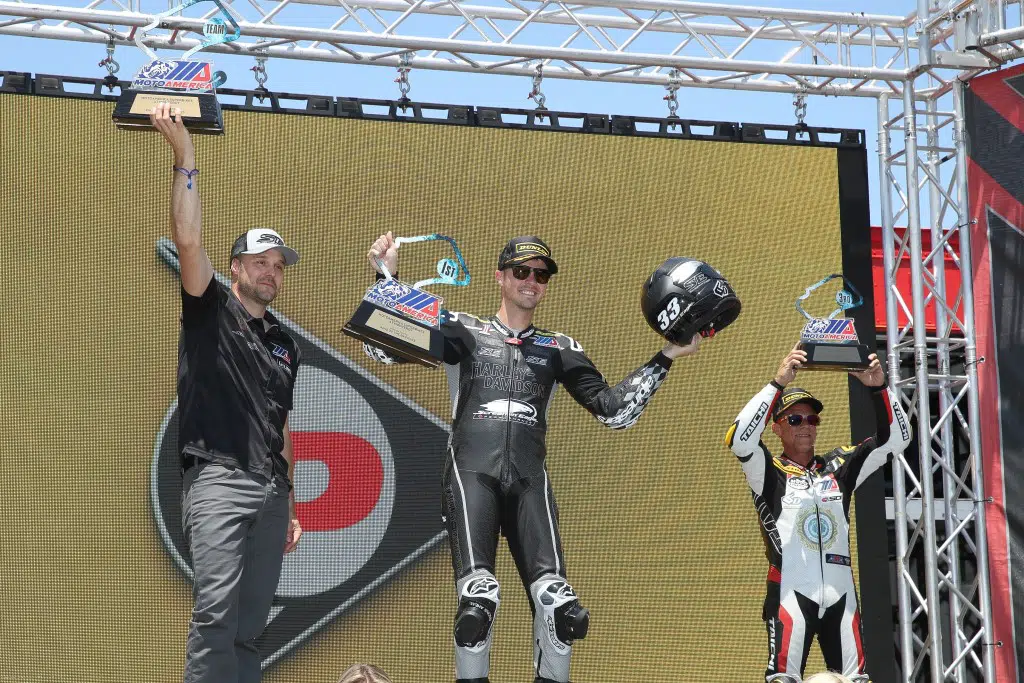 "I just wanted to give one lap of absolutely everything I had and see where that put me, and I saw plus one after the first lap and put my head down again," said Wyman. "The Harley-Davidson team has given me such an amazing motorcycle, and this is a dream come true for me. I grew up in a Harley-Davidson dealership but have been road racing all different brands. I never thought I'd race a Harley again after the XR1200 series, and here we are, King of the Baggers champions. Thank you so much to everyone at Harley-Davidson."
Wyman posted a fastest lap of 1:31.983 seconds, good for a new class track record, and also over a second faster than O'Hara's fastest race lap.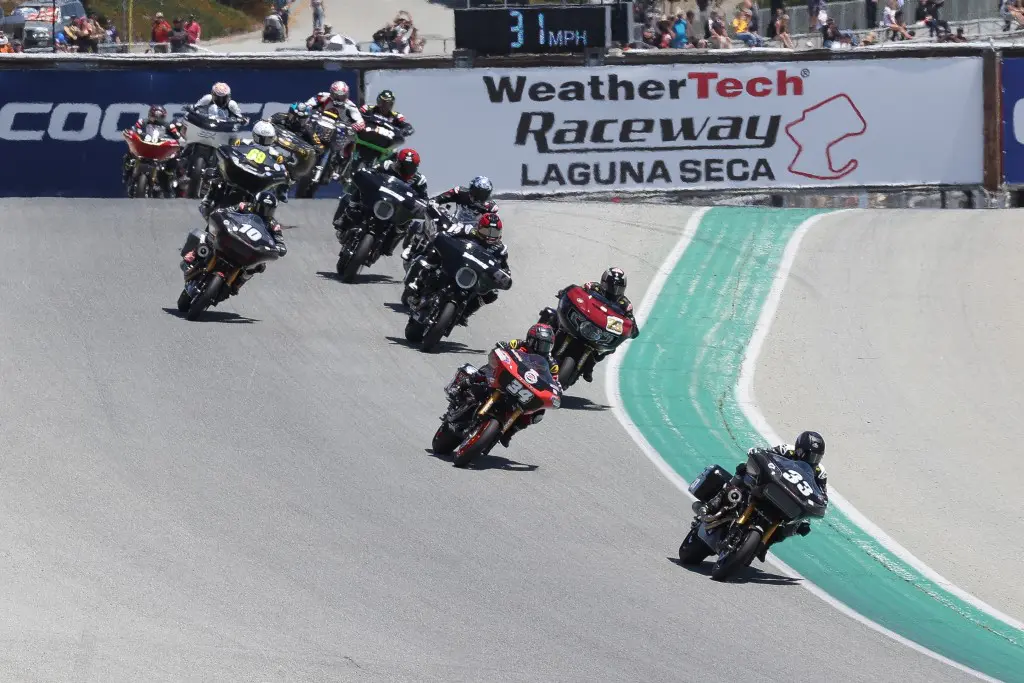 Hail the King, Baby
The MotoAmerica King of the Baggers series is for race-prepared, American V-Twin touring motorcycles equipped with fairing and saddlebags. With two wins and a second-place finish, Wyman wrapped up the three-race King of the Baggers series with 70 points. O'Hara also finished second with 45 points. Hayden Gillim slotted in third with 39 points on the #79 Vance & Hines Harley-Davidson Street Glide entry.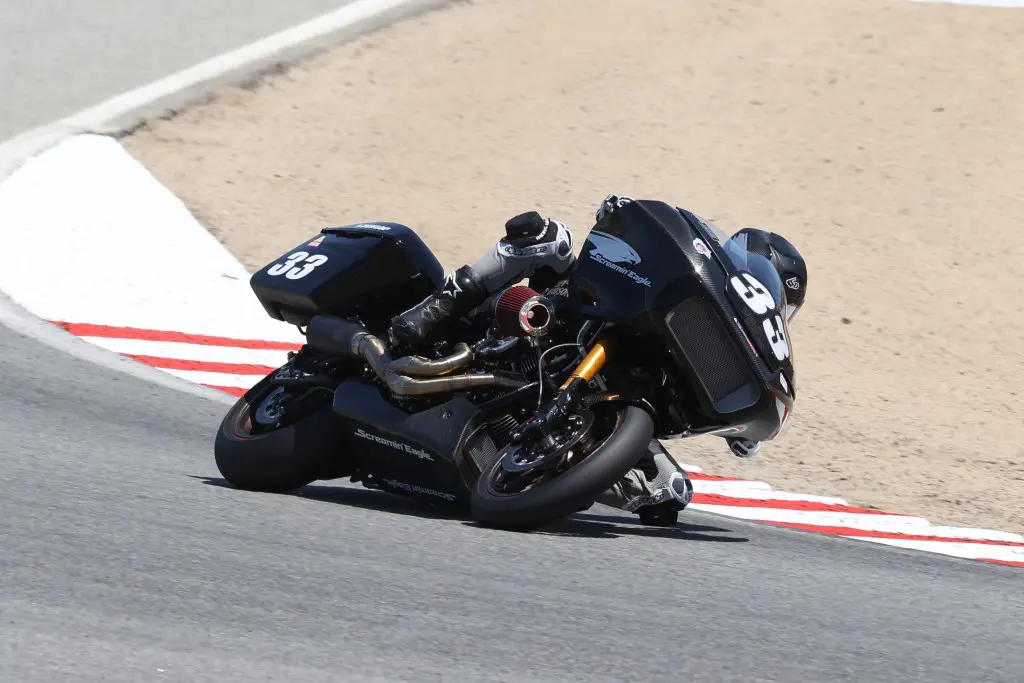 Kyle and Travis Wyman are the sons of Kim Wyman, owner of Harv's Harley-Davidson in Macedon, N.Y. They also grew up around Harley-Davidson and flat track racing.
MotoAmerica King of the Baggers Race Results Laguna Seca:
1. Kyle Wyman (Screamin' Eagle Harley-Davidson)
2. Tyler O'Hara (S&S Indian)
3. Michael Barnes (Hoban Brothers Racing/DTF Performance Harley-Davidson)
4. Travis Wyman (Screamin' Eagle Harley-Davidson)
5. Ben Bostrom (Feuling Harley-Davidson)
6. Hayden Gillim (Vance & Hines Harley-Davidson)
7. Frankie Garcia (RSD Indian)
8. Patricia Fernandez (Saddlemen Indian)
9. Zack Nation (Zach Nation Racing Harley-Davidson)
10. Eric Stahl (Jiffy Tune Racing Harley-Davidson)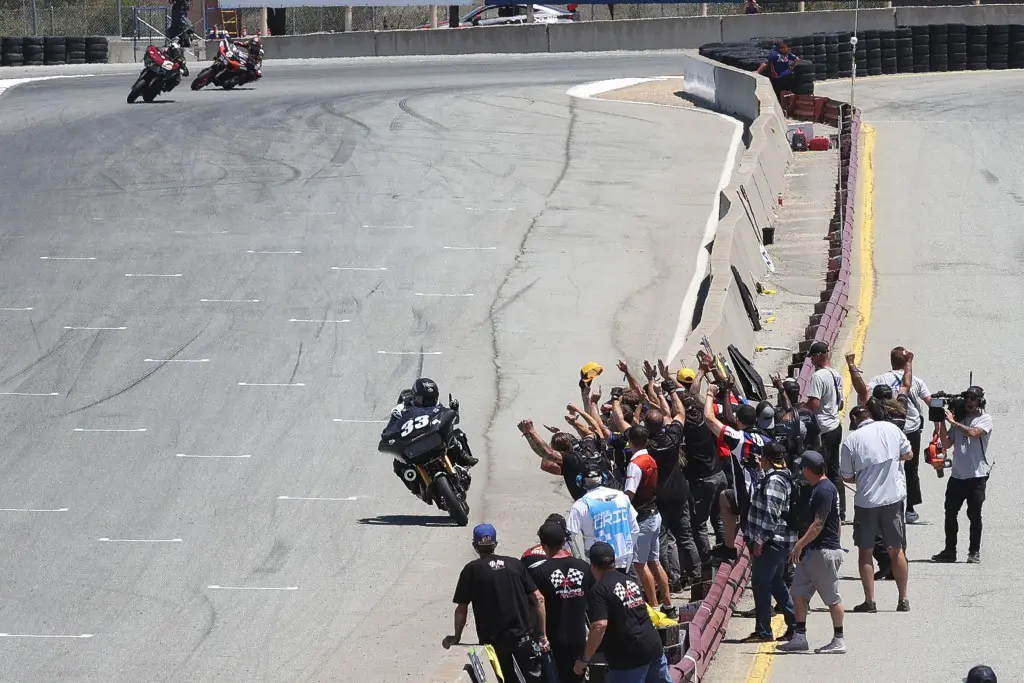 Mission King of the Baggers Series Points:
1. Kyle Wyman 70 (Screamin' Eagle Harley-Davidson)
2. Tyler O'Hara 45 (S&S Indian)
3. Hayden Gillim 39 (Vance & Hines Harley-Davidson)
4. Frankie Garcia 36 (RSD Indian)
5. Travis Wyman 33 (Screamin' Eagle Harley-Davidson)
6. Eric Stahl 25 (Jiffy Tune Racing Harley-Davidson)
7. John Sueberling 19 (Mad Monkey Motorsports Harley-Davidson)
8. Danny Eslick 18 (Rossmeyer Daytona Racing Harley-Davidson)
9. Zack Nation 17 (Zack Nation Racing Harley-Davidson)
10. Michael Barnes 16 (Hoban Brothers Racing/DTF Performance Harley-Davidson)