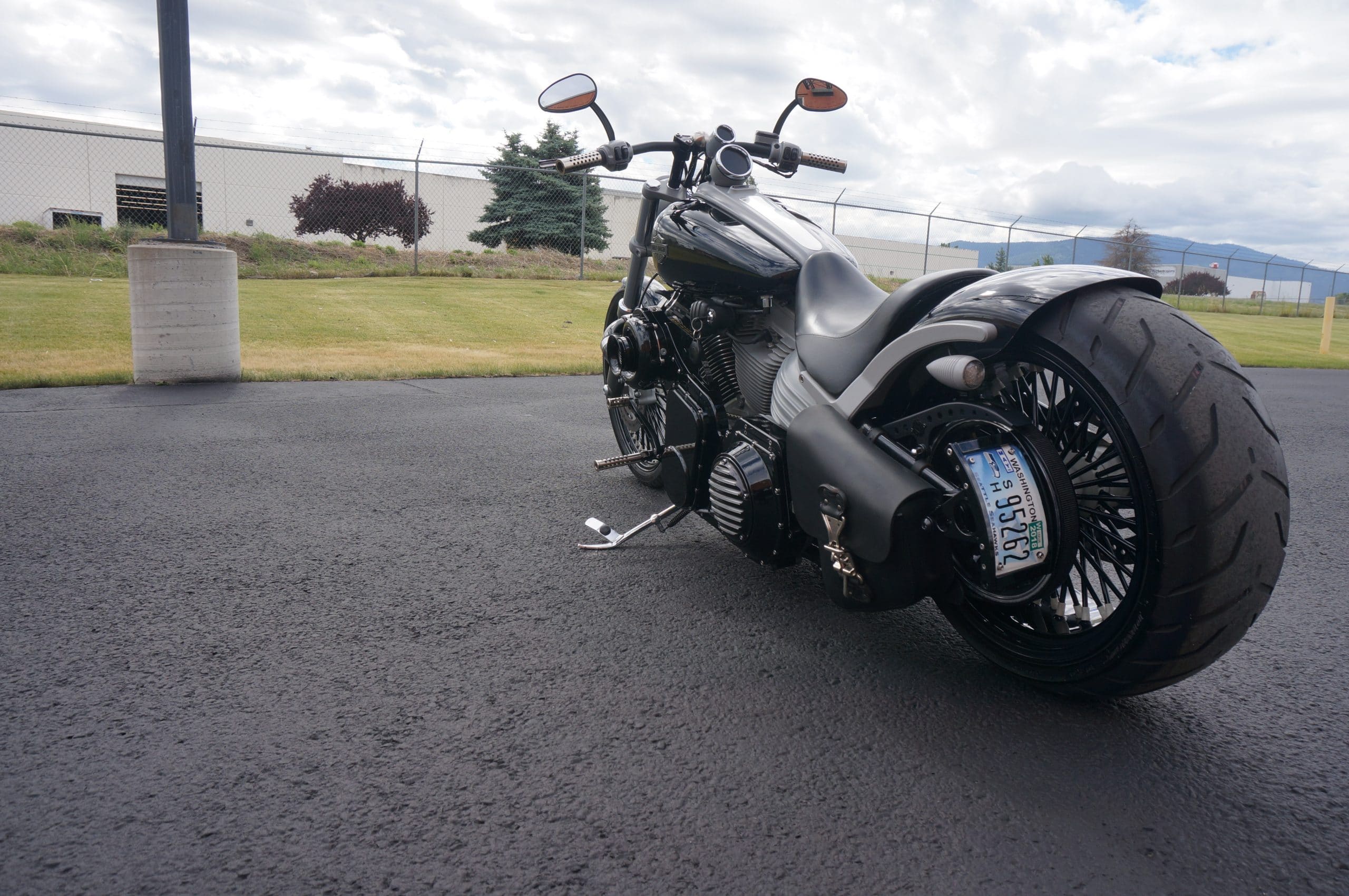 Words and Photos: John Gregg
To properly understand the direction, I've taken this bike through so far, you'd likely have to understand a bit of what makes me tick as a person. The aesthetic and mechanical modifications made to this bike up to this point, have been a product of the many cultural influences I grew up with as a kid, and have continued to immerse myself in as an adult.
I grew up in the 80's and 90's; a time when "HULKAMANIA WAS RUNNIN' WILD", Boyd and Brizio were building hellacious Hot Rods, Heavy Metal and Hip-Hop were ruling the airwaves, and legends like Arlen, Mondo, Perewitz, Indian Larry and the likes were killing the custom chopper scene! This was a mystical time when it was commonplace to see a pick-up cruising down the backroads, with the bed stuffed full of people; a time when it was routine for kids to be napping for hours on end in the rear window deck of the family sedan, while it was rolling down the Interstate at 55mph; a much less confusing and simpler time, when "liberal" was a term the carnauba wax label described how to apply the coat to your paint, "conservative" was the way you managed your wallet to make it to pay day after hitting the swap meet, the only thing that easily "offended" you, was someone bagging on your taste in cruising music, and a time when people's opinions weren't pompously put on display at the turn of every media corner, but instead were more appropriately categorized as having the same relevance and public appeal as the exiting orifice of their bodies!
Long before cable TV became overpopulated with a ton of derivative shows about "cookie-cutter customized" cars, bikes and trucks; my Pops was always "wheeling and dealing" his way into owning or building something that would otherwise have been way out of his budget. I got to grow up riding shotgun with Pops in many of those customs. Rides of all kinds; everything from his Nailhead Buick powered, hand-built C-Cab bodied Show Rod, to an early 70's So-Cal built, stretched and raked out, Triumph powered springer hardtail chop, even a ridiculously overbuilt, street driven Dent-Side Ford 1-Ton, "Bigfoot Monster Truck" replica that rolled on 48" Gumbo Mudders, and just about anything else in between. So naturally, I've been a gearhead since before I was knee high to a grass hopper, loving all things powered by an internal combustion engine. 
Fast forwarding to when I first laid eyes upon a Heartland USA equipped Softail, and I realized just how mean a Softail could look rolling a 240 or 250 rear skin… then along came the "Rocker" and Rocker C", Harley's factory equipped, wide tail swing-arm Softail. Seeing past the many awkward quirks the Rocker had from the factory, and instead focusing on all the potential the bike had, I picked a 2-year-old model back in 2011. Straight away I got rid of the godawful "wannabe hardtail look" of the factory fender and seat setup, with the help of Heartland's "EZ-R" rear fender and strut kit. I now had the foundation I felt was worthy of moving forward with for my long awaiting bike build.
*DISCLAIMER* Now, don't think for a moment that it's lost on me, that anyone willing to subject themselves to the endless drudges of scouring the MC aftermarket world for parts that could be "made to fit" Harley's "Bastard Child" of Softails, truly must be a glutton for punishment on a Masochistic level! However, that's largely part of what made me fall in love with the FXCW as a build foundation. I knew I was highly unlikely to ever roll up next to another properly built one at a stop light!
Now, it was time to determine a vision for what the bike would eventually become. Having always been enamored by the "form over function" look of Choppers, I knew I wanted a bike that had the "hourglass curves" of the feminine persuasion, (curvy tank lines, swooping down into a solo saddle, finished off out back with a perfectly proportioned backside!) a bike that looked smooth, sexy and CLEAN! Of course, I'd need equal performance to go along with all those good looks. That's when I looked to the "less is more", "performance meets personality" of Pro-Street Hot Rods, (Big ass blower hanging out, spark throwing slammed suspension, skinny tires in the front with big ole' meats out back, loud and proud pipes and all!)
I had the bike, I had the plan, now all that was left was find the correct parts to pull off the vision and the right folks, at the right shop to help me bring it all together… That's when I hooked up with my guys Brent and Steve over at Lonewolf H-D, our local Harley shop in Spokane Valley, WA. Brent and Steve have embraced and supported that I wanted to build a bike in a more traditional chopper fashion, by building a bike with the components and design I envisioned, rather than just throwing together a "bolt-on bike". Whenever I've had an idea, like when I gave Brent the marching orders on the ProCharger, he did his homework to make sure I he could help me make an educated decision. Once the trigger was pulled, Steve, who has experience building highly modified bikes and has installed multiple ProCharger setups, handled the rest; making sure along the way that  I had all the accompanying parts to get the most out of the system, wrapped up the install of the parts and modifications of the bike in a timely and clean manner, then took to the Dyno room to make sure the bike was making the most power and torque it could without prematurely damaging the motor.mFor those of you curious, she puts down around 130HP/140TQ to the rear wheel on the current setup, with a street-friendly tune.
Even though it's taken much longer than I had hoped to get it to the point it's at now, let alone to the point I envision it becoming, (raising 5 kids will eat up some serious spending money!) I'm stoked to take it to the next level. In the near future, the bike will see an entire brake system upgrade, (got to' get it stopping as well as it gets going), getting the tins sprayed with a fresh coat of custom paint, finishing off the air suspension with a set of fully adjustable billet air forks up front, building up the engine to hit around 220+ HP/TQ numbers at the rear wheel, all the associated driveline upgrades to handle that extra power, and maybe even some more custom touches to set it further apart from all the rest! While this ole' girl isn't the prettiest, skinniest, or most refined lady at the bar, she's most definitely one of the dirtiest, wildest, and is nothing but business when it's time for her to get down! Whether she's eating up 600's or running with the liter bikes, (up to 130 mph or so anyway), making the ProCharger howl like an angry hair dryer while riding sideways through multi-gear rolling burnouts, or just pissing off all the gray haired retirees by dumping the air out of the Shotgun Shocks and laying her out in the grass at their classic car show; I can't help but smile, because I'm slowly accomplishing my original design vision while building a bike that suits my preferences, instead of just bending to some "popular opinion" or "flavor of the month trend".
Spec Sheet
Owner-m JK Gregg
Year-  2009
Make-  Harley Davidson
Model-  FXCW Softail "Rocker"
ENGINE
Year-  2009
Type-  Twin Cam
Size-  96" (*120"+ forged build planned)
TRANSMISSION
Year-  2009
Type-  6-Speed w/ SE
FRAME
Year/Type-  2009
Rake/Stretch-  Factory H-D Spec  
SUSPENSION
Frontend-  Factory H-D
Rear Shocks-  Shotgun Shock air suspension
WHEELS & TIRES
Brand-  Ride Wright Wheels "Fat 50 Spoke Wheels"
Size-  F: 21"x3" / R: 18"x8.5"
Calipers- Factory H-D
Rotors- Factory H-D
Pulley-  RSD "Raid"
PAINT & PLATING
Painter-  Factory H-D "Vivid Black"
Powdercoating-  Various parts coated by Dark Sky Precision 
ACCESSORIES
Front Fender-  H-D
Rear Fender-  Heartland USA "Wild Heart"
Gas Tank-  Factory H-D
Dash-  Factory dash modified by Lonewolf H-D
Gauges-  Dakota Digital LED
Handlebars-  H-D Sportster Drag Bars
Grips-  H-D "Silencer"
Mirrors- H-D signal mirrors
Hand Controls-  Factory H-D
Foot Controls-  Factory H-D
Pegs-  H-D "Silencer"
Headlight- H-D LED
Taillight- Heartland USA
License Mount- Aftermarket
Seat-  Heartland USA
OTHER CUSTOM OR SPECIAL ACCESSORIES/FEATURES
ProCharger intercooled centrifugal supercharger system

H-D SE255 cams

H-D SE Race Tuner

Magnaflow Arlen Ness "Black Riot" 2-into-1 exhaust pipes