Exclusive to V-Twin Visionary; Sandy Roca shares some old time weight reduction secrets.
No, we got nothing against your (and ours) Coors-generated love handles. We'll let your doc (or Ol lady) bust your chops about that.
This tiny tech tome is about how to reduce the weight of your V-Twin motorcycle, whether it be chopper, racer, bagger or stocker. Why? Because, if done safely and correctly, a lower weight motorcycle gives its rider advantages. A lighter weight motorcycle accelerates faster and handles better. It's basic physics. Take less mass, apply the same force, and things happen faster and more responsively. For the same power engine, a lighter weight bike will accelerate faster. And the suspension will handle more responsively. On that ideology one can also overlay an American hot rod tradition: if some is good, then more is better. Plus, cutting weight is a virtuous circle.  A lighter chassis means lighter parts can hold it call together.
Increasing engine performance is another valid route to speed. Think, higher compression, better breathing, more displacement, hotter ignition. These technicalities entail  BMEP, volumetric efficiency, flame travel, piston speed and much more. But they can also cost a small mountain of money. So…. putting parts — and bikes — on a diet has been a simpler, way-cheaper, time-honored alternative to more engine power.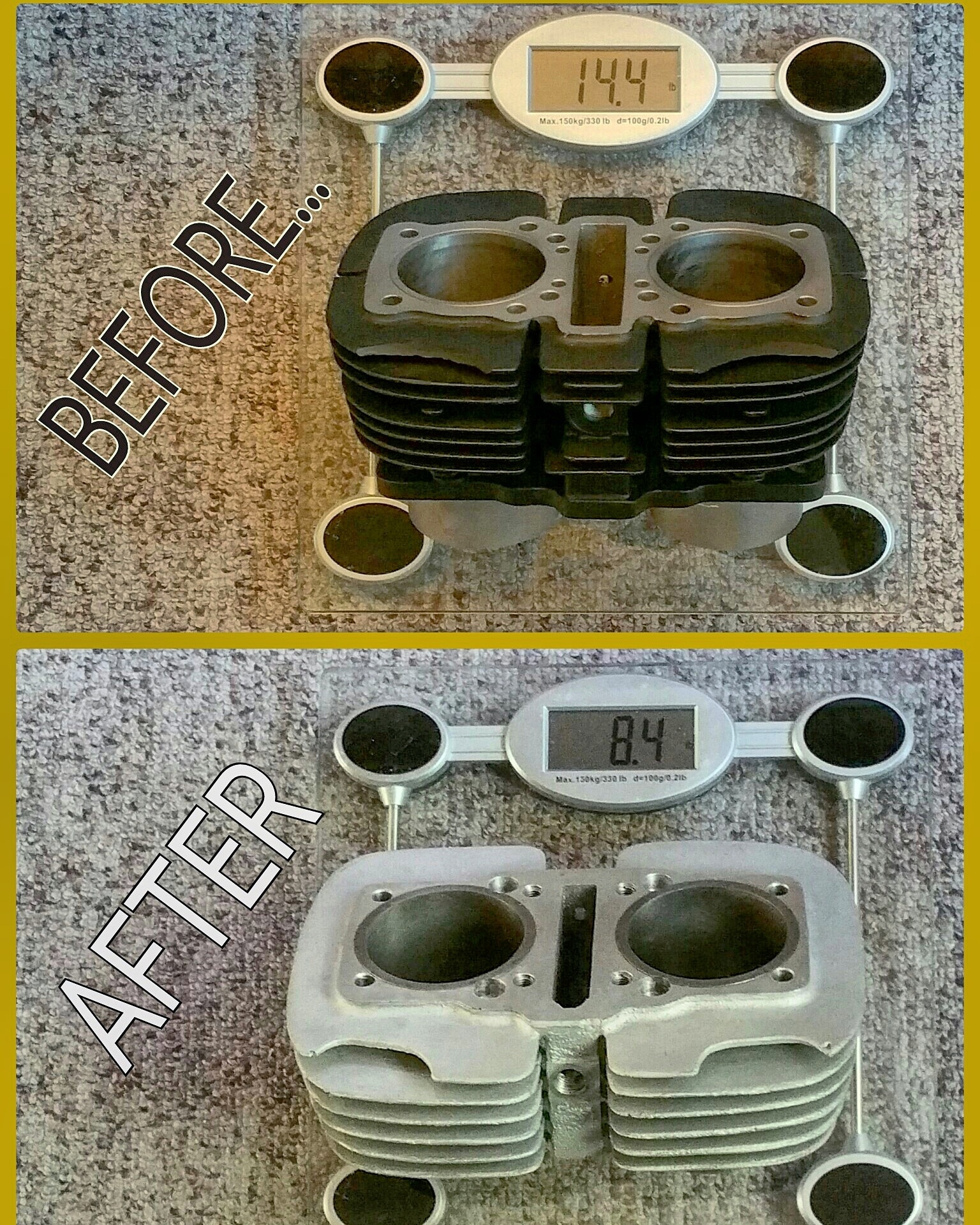 Let's take in a little history to see what you can do today. As early as the 1930s in America, Harley/Indian-mounted one-percenters and backyard customizers began to apply such logic to motorcycles called cut-downs, later bob-jobs, and still later, choppers. Their strategies were manifold  (pun intended). To cut weight, they removed or modified heavy stock parts like valanced fenders, fat bob gas tanks and fully sprung seats. European and British bikes were more sparse and functional, but there was still room for improvement. Steel wheel rims often got replaced with aluminum ones. Customizers and hot rodders similarly fabbed gas and oil tanks, fenders, sprockets, mounting plates and more out of lightweight alloy. Aluminum cylinders a la Kayser (for Horex), Chantland (for Triumph) and Dunstall (for Norton) were expensive and rare — but saved considerable avoirdupois.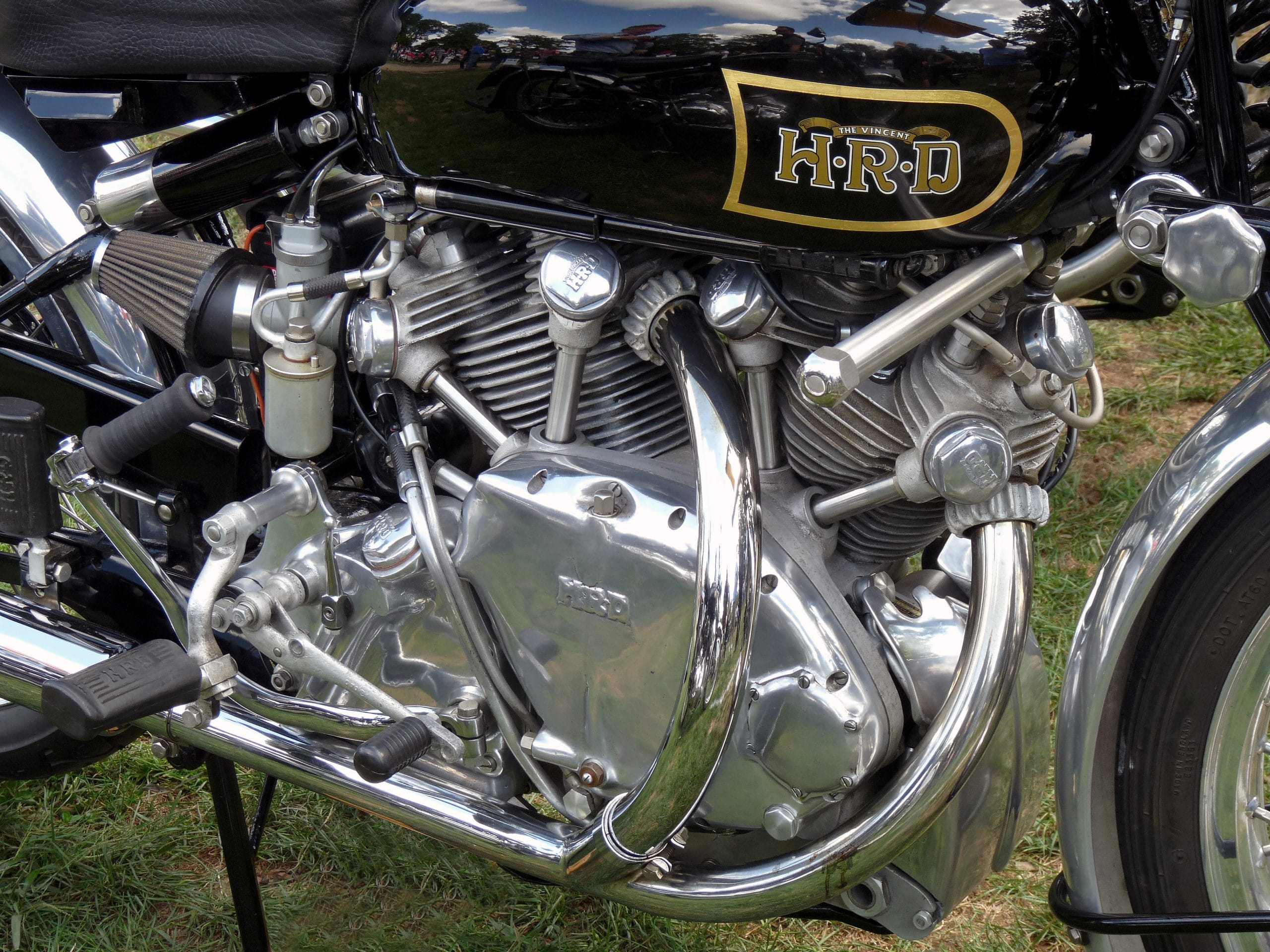 One post war motorcycle from the British Isles took a different approach to these same end — the Vincent. Stevenage factory engineers devised an innovative structural oil tank with upper frame mount that used the unit-construction engine as a stressed chassis member. This effectively eliminated the weight of a conventional frame. They also took advantage of post WWII metallurgy with extensive use light aluminum alloys throughout the machine. The result was a motorcycle that easily weighed 100-plus pounds less than its American "big twin" competition — and hence easily out performed them, even with less engine displacement, in a mild state of tune. As a result, for the Black Shadow model, the Vincent of that era could thus rightly claim to be "The world's fastest standard motorcycle." See photo 2.
So what about your and your bike? Here's a few old timer tips you can use.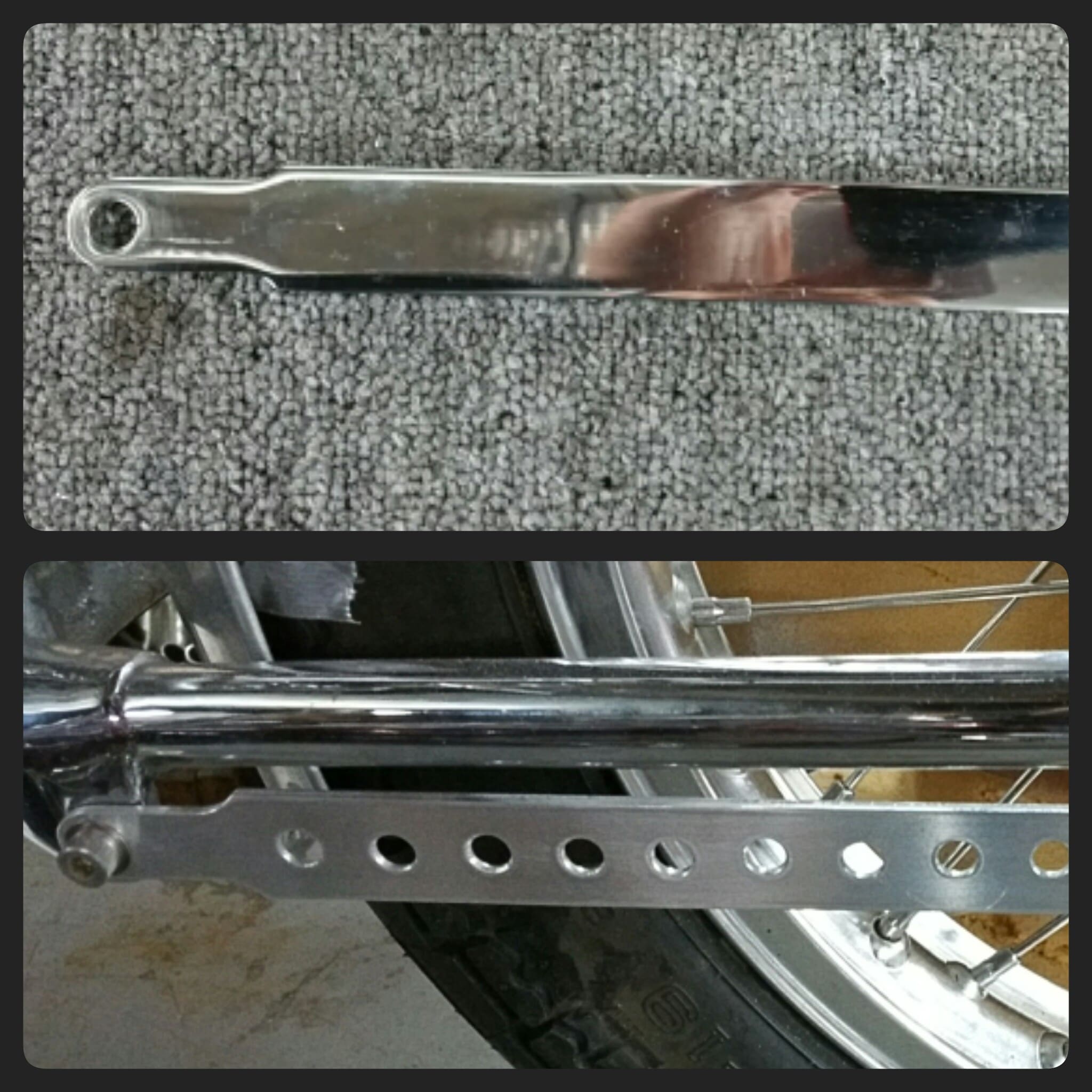 Hole drilling. Non structural parts like control knobs and chain guards can be judiciously Swiss cheesed.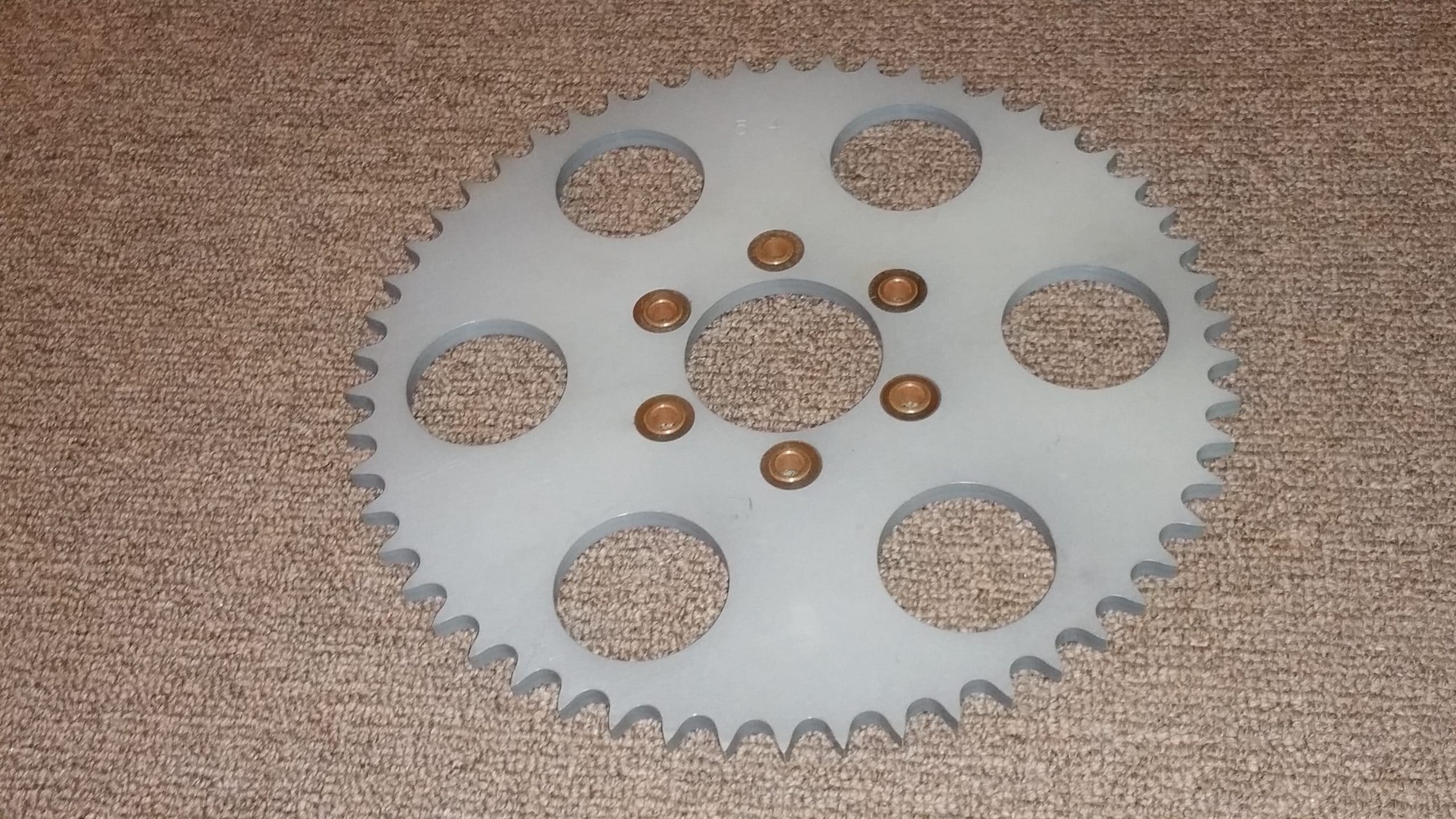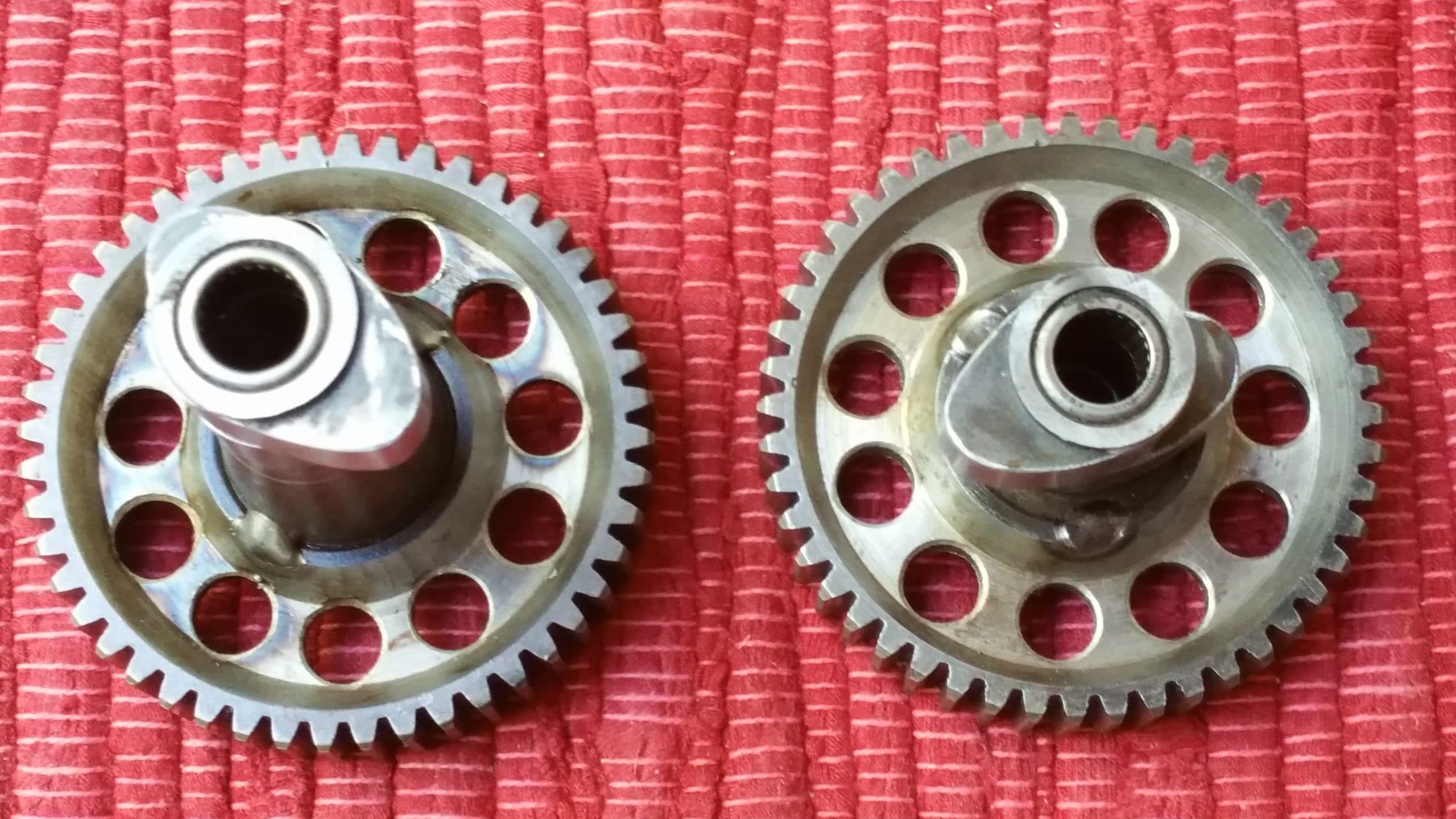 This also applies to things like sprockets, but don't overdo it. Engine specialists and experts often lighten internal parts like cam gears, rocker arms and even conrods via drilling and material removal. Leave that to them — unless you really know what you are doing.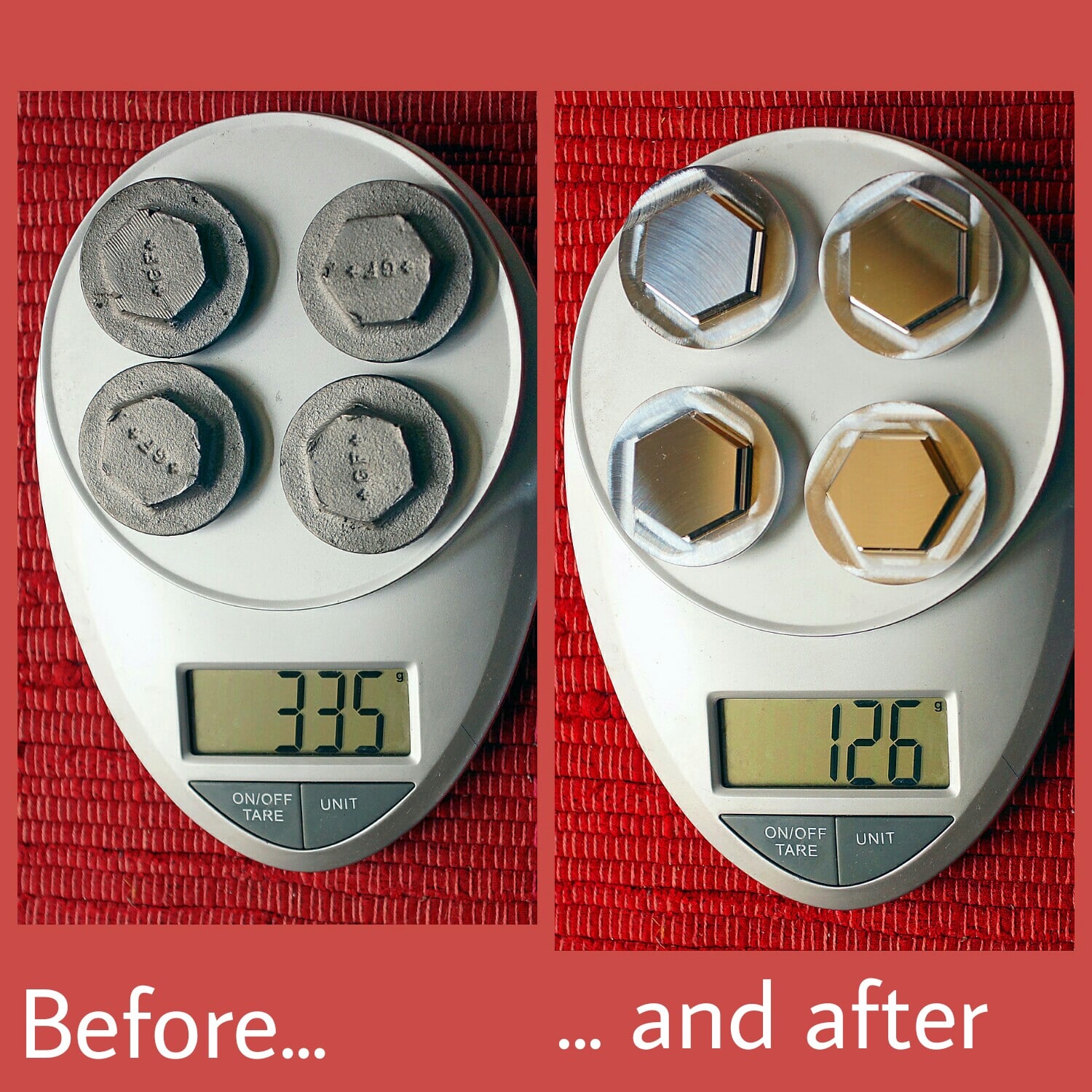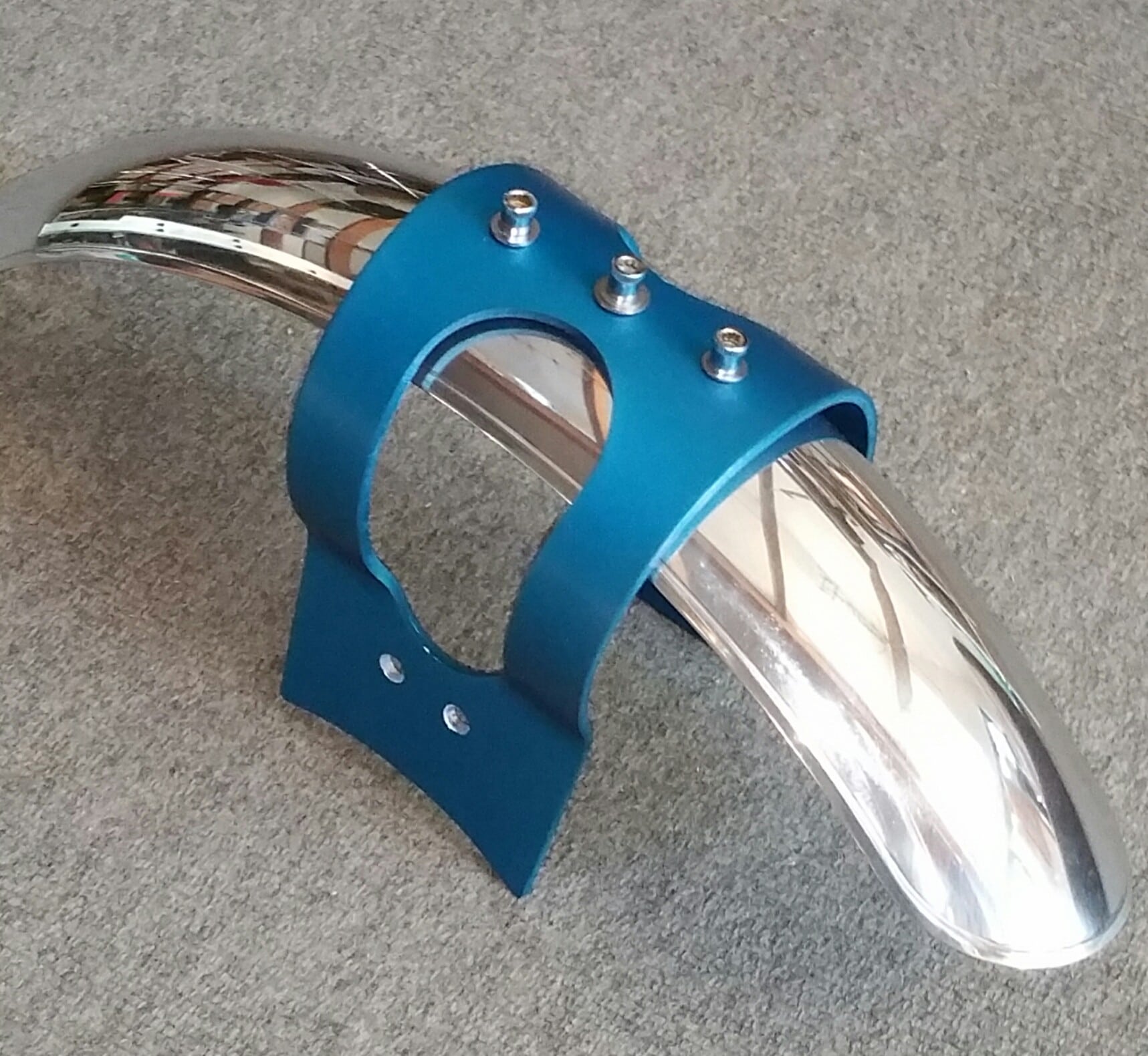 Awesome aluminum. Modern treated alloys can be as strong as mild steel. With computers its often possible to scan a heavy steel part and reverse engineer it in light alloy. You can also save weight on things like clutch baskets and  brake stays. And, the aftermarket has all kinds of this cool stuff ready to bolt on. You can also swap out steel for aluminum fenders, wheel rims, gas tanks, braces and levers.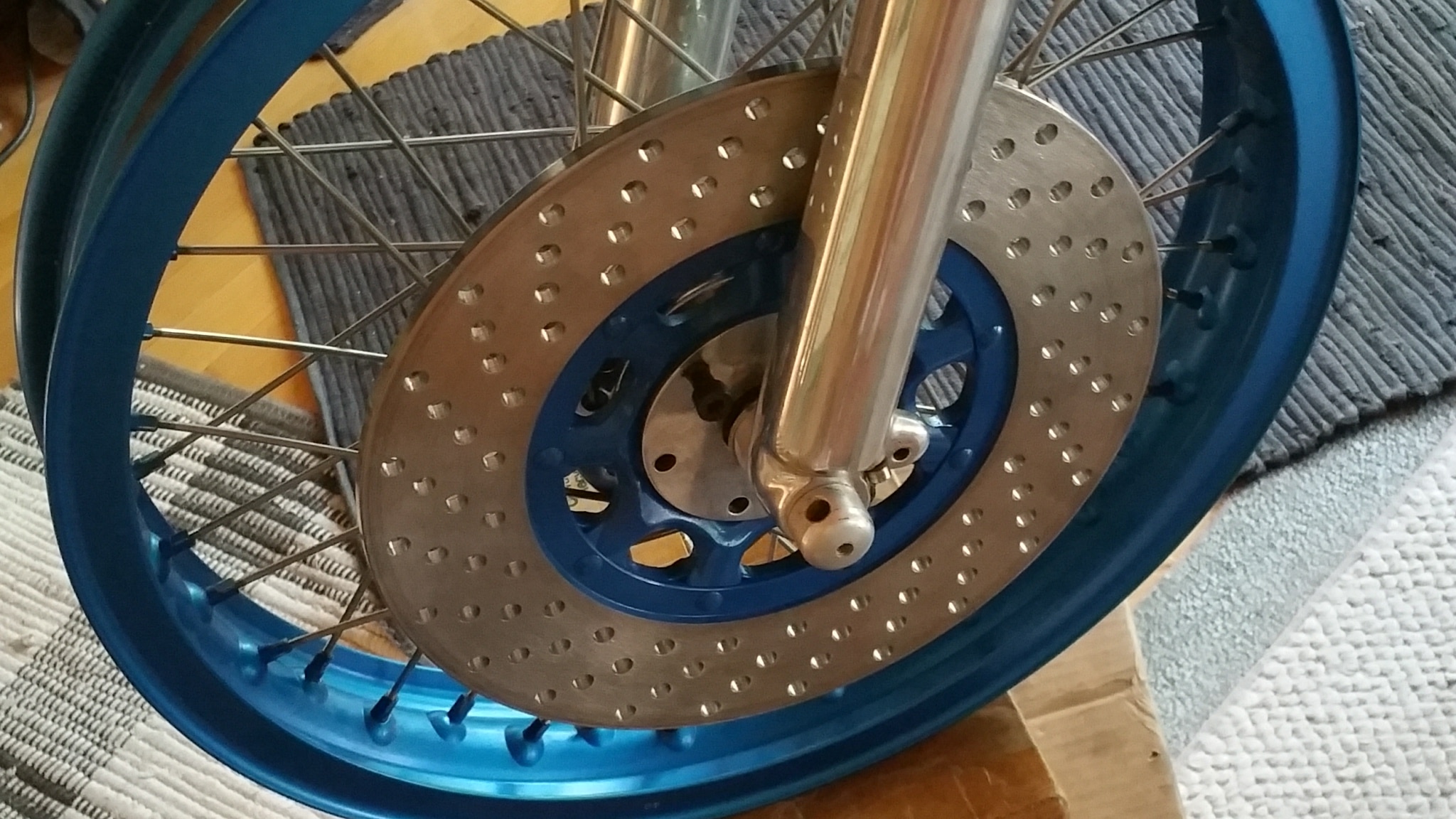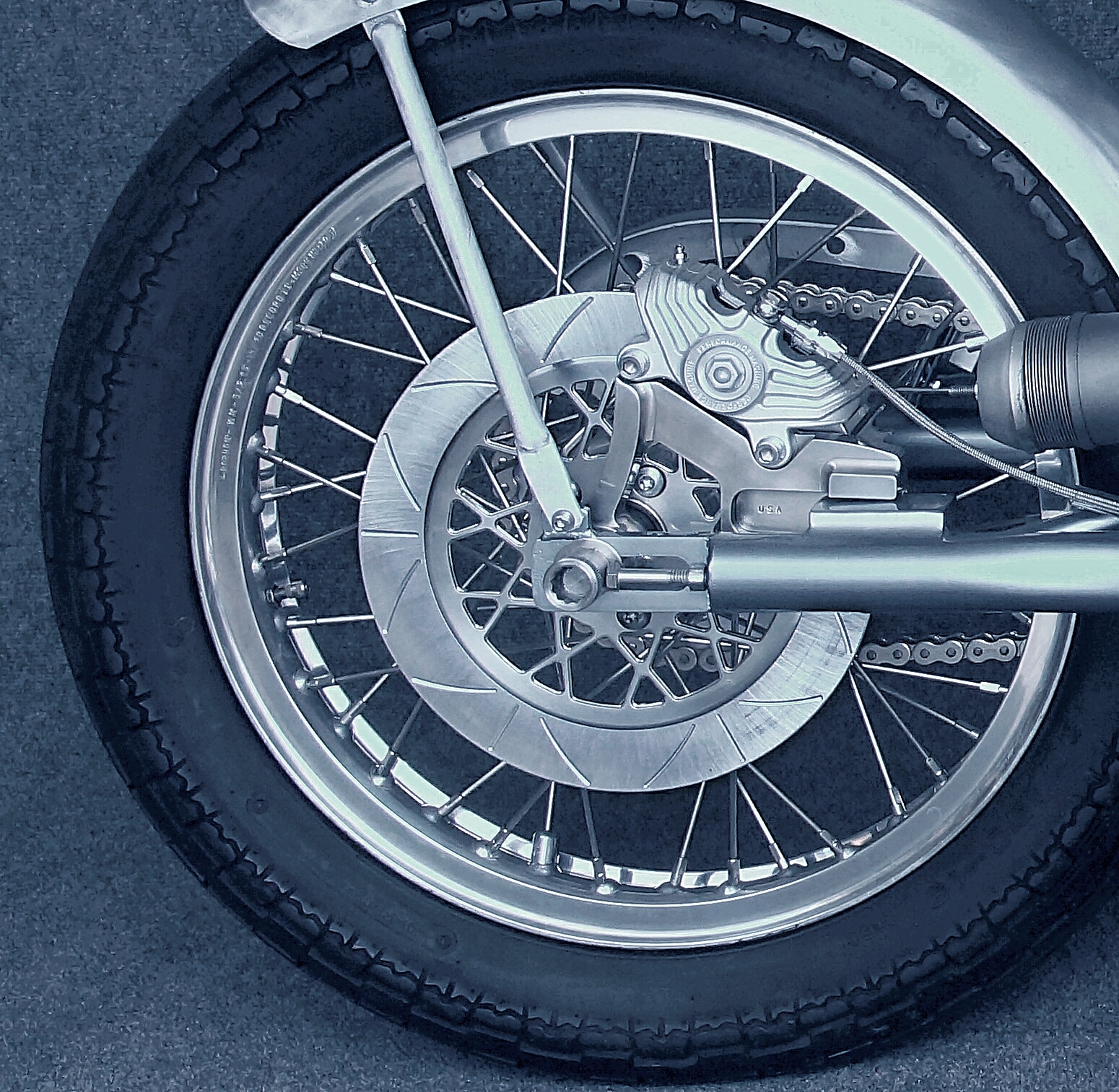 Brake rotor reductions. Heavy brake disks can be carefully drilled. Seek out a pro service for this operation. Or go super light with ceramic/composite material for rotors. Lyndall Brakes are the go-to guys for this.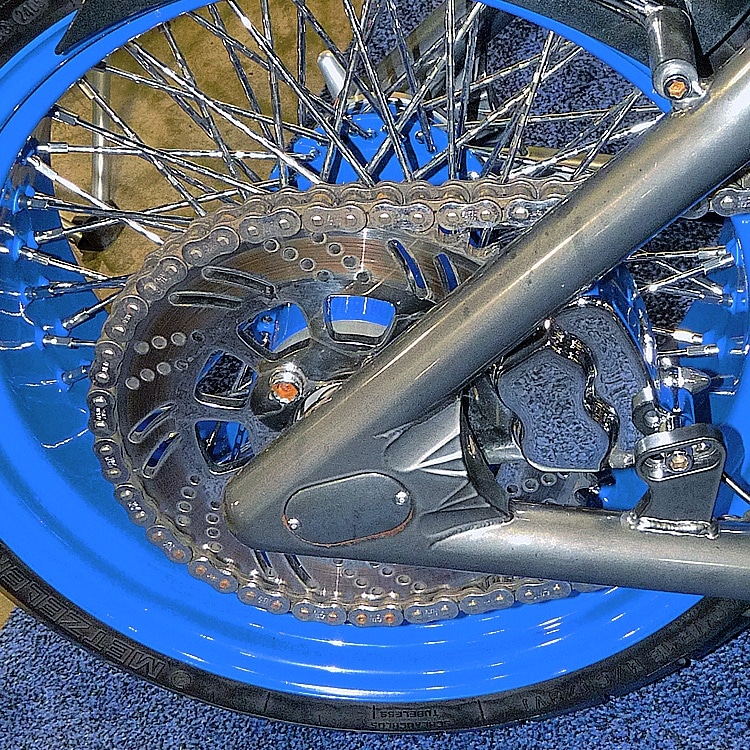 Some custom builders make a sprotor, a combination of rear chain drive sprocket and disk brake rotor (called a "sprotor" ) to save a few precious pounds.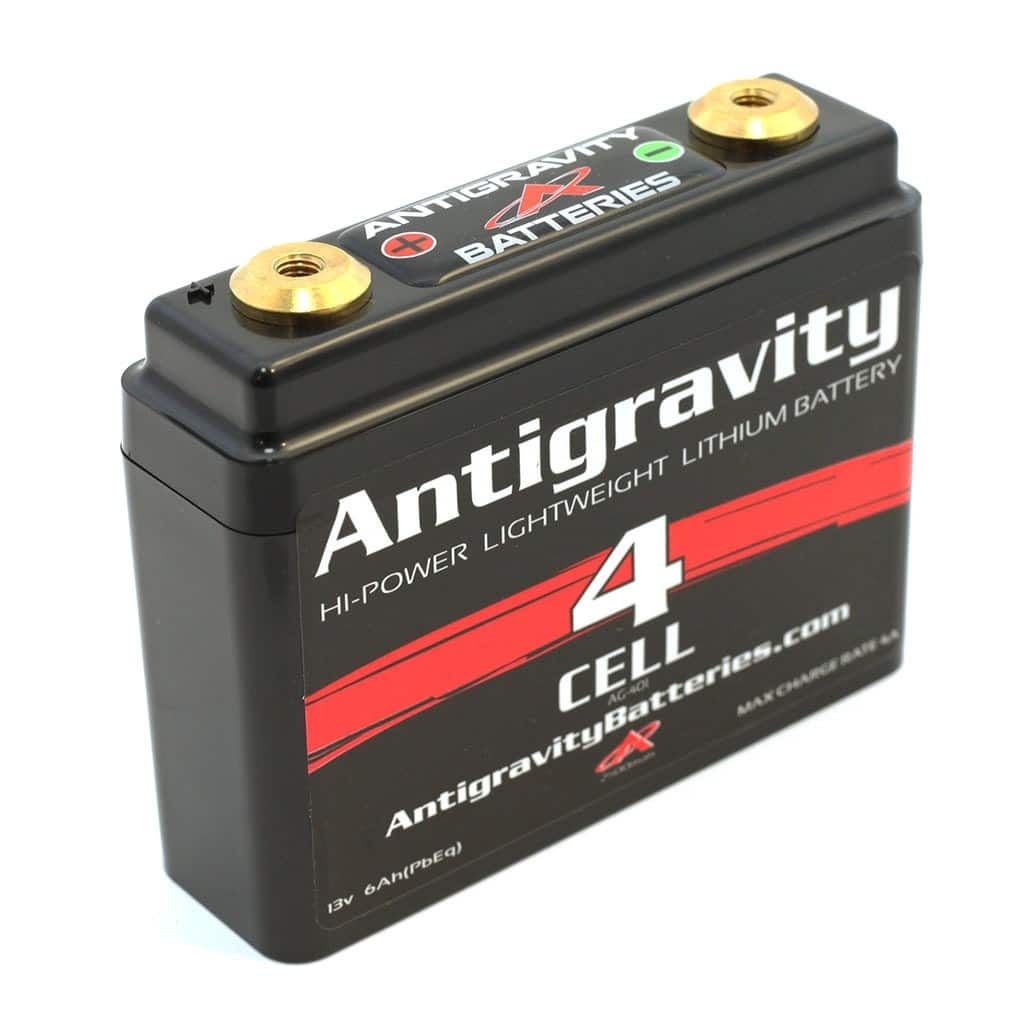 Lightweight lithium. One final step that will save a ton of avoirdupois is to swap that heavy wet cell battery for new technology lithium. Just make sure you get a maintainer designed for your unit.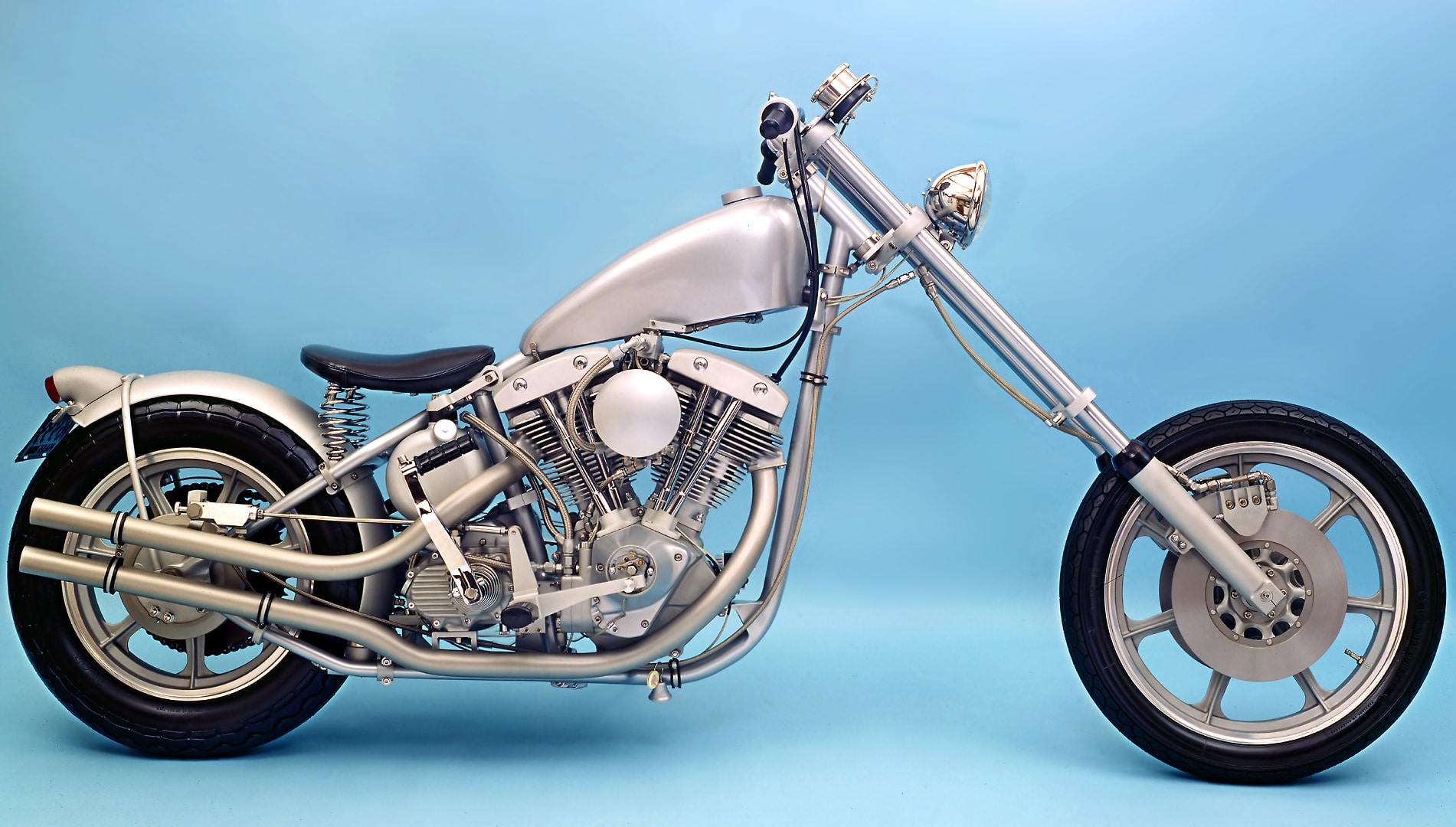 So what's the payoff for a bike diet? Years ago, using many of these ideas, a Mystery Man built a Shovelhead big twin that tipped the scales at a scant 403 pounds.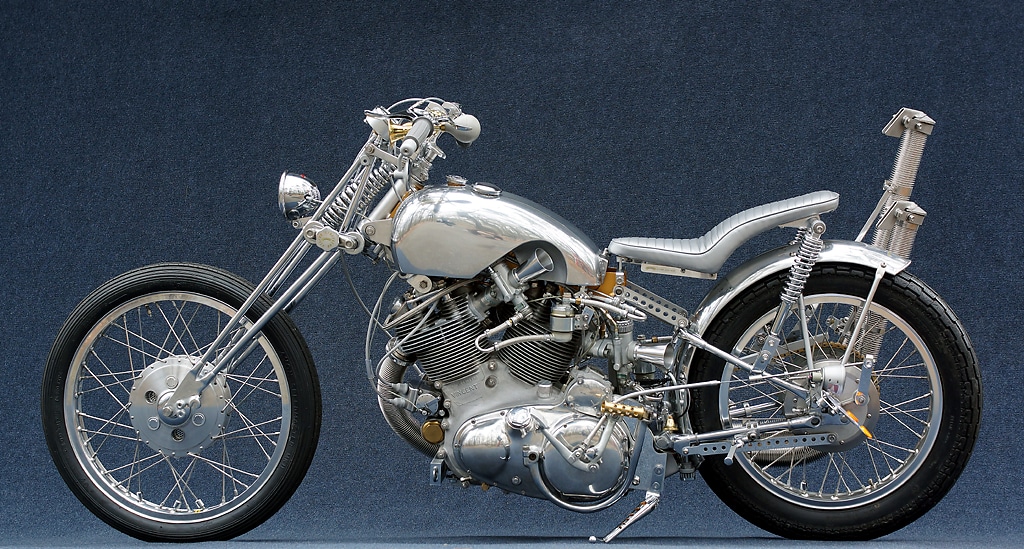 More recently Stone's Motorcycle had a hand in a Vincent chopper that, at 368 pounds weighed 12 pounds less than the famed Black Lightning race model .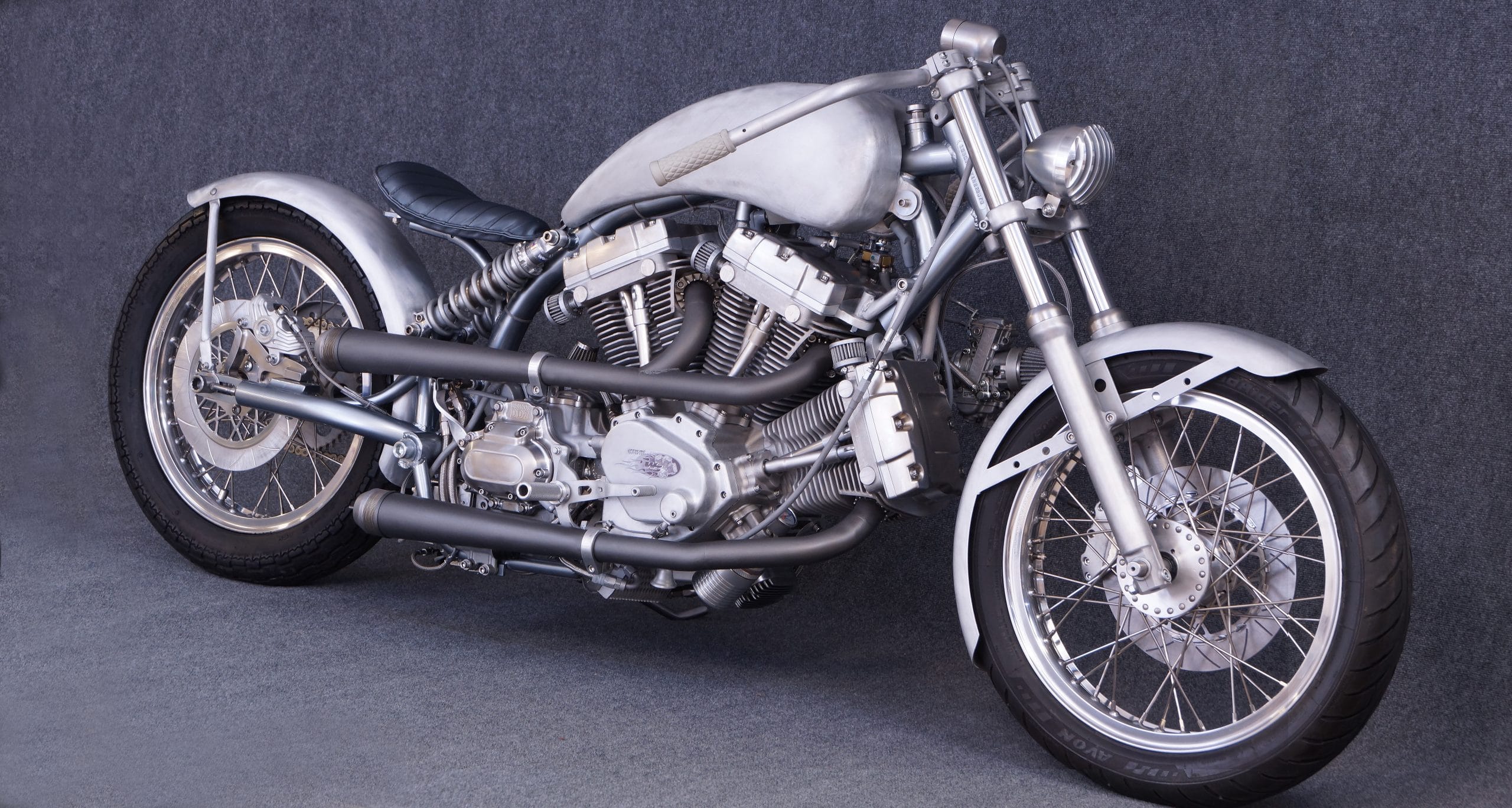 And last but not least, Stone also built a "cut down" special around a Feuling W3 engine that came in at just 485. None too shabby for a 150 cube electric start motorcycle.
That's about it. Like weight saving, this short article demonstrates that less can mean more!
— Sandy_a.k.a_jake