Written by Nick Razzano
It shouldn't have happened to Carlin. The phrase continues to go through the minds of those who knew the multi-talented phenomenon from Santa Barbara, California, Carlin Dunne. Carlin, 36, succumbed to injuries sustained after a crash during the 2019 Pikes Peak International Hill Climb (PPIHC), while piloting a Ducati V4 Streetfighter prototype during what was clearly a record breaking run. Initial reports said that his bike hit a large bump in the road which caused him to lose control and crash near the summit of the 12.42 mile mountain course. An official investigation was completed by PPIHC officials which ruled out mechanical failure and stated "After reviewing footage from the incident, it appears that the rider (Dunne) highsided coming into the last turn before the finish line."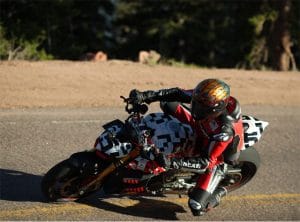 Carlin was the first motorcycle competitor to break the prestigious ten minute barrier and set a new course record at Pikes Peak in 2012 on a Ducati Multistrada. He intended to take back the motorcycle course record which was stolen by Chris Fillmore piloting a KTM 1290 Super Duke in the 2017 race. Ducati released a video prior to the 2019 race highlighting the V4 Streetfighter prototype, ending with the challenge "The Gloves Come Off at Pikes Peak".
However Dunne was not just a racer at Pikes Peak. His love for adventure and all things two wheeled led him to experience life through many exciting genres; Motocross, Trials Bikes, Baja and Offroad Racing, Supermoto, American Flat Track, and even Freeride Mountain biking. His personality and accomplishments made him a role model for my son who started following Dunne at the ripe young age of 6. And what a role model for him to have had.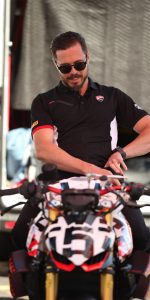 Carlin was a wonderful human being. A team player and a genuine soul. He never gave the impression that he was better than anyone or had anything to prove, he simply wanted himself and all those around him to have a blast. He was tenacious and had a competitive spirit that made him a force to be reckoned with on the track. One of his great talents was also coaching. Carlin served as a rider mentor to racers in 2016 and 2017 at Pikes Peak with the Ducati Squadra Alpina, a program designed to orient rookie's and assist them in learning all of the intricacies of racing up a 14,115 ft. mountain.
Dunne performed in this role amazingly and it was because of his love for the sport and genuine care for his fellow racers. He was also a personality that made its way onto to the big screen and starred in numerous documentaries. His last big film, Dust 2 Glory, followed him on a journey to race in the prestigious Baja 1000. With limited showings in the local theater, I found myself bringing my 6 year old boy to see the film after 10:00pm on a school night. Because, you don't miss seeing your hero's on the big screen. He left that theater with a whole new appreciation for racing and passion for riding.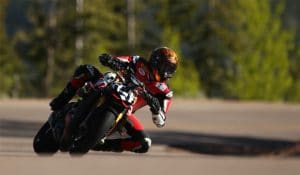 It shouldn't have happened to Carlin, he was too good, too experienced. The motorcycling community lost a legend, a true champion that was a proponent of adventure on two wheels. I don't know how to explain to my son that one of his hero's is gone. It's hard for me to accept it. I can only explain that it was his time, that we must do the most with what we get, and to remember the good things he taught us. My boy and I will always have a reverence for that mountain, and will always appreciate the life lessons and spirit of a friend to all riders, Carlin Dunne. Race in Peace my friend. You are our champion every time we look up the hill.
Editor's Note: If you would like to show your support for Carlin Dunne's memory, you can buy stickers and armbands here. All proceeds from the sales go to Carlin's family.
Nick Razzano is a motorcyclist currently living in Vicenza, Italy working for the US Armed Forces. He worked with the Pikes Peak International Hill Climb as a registration official and Media liaison for 5 years and worked closely with Carlin and all those he competed with.