Simpson Ghost Bandit Helmet: 1000-Mile Thrash Test
I have tested or owned just about every version of Simpson Bandit helmet made over the last 20 years. Most of them were not made for motorcycle riders in mind. But hell, they looked cool, so that was good enough for me. All the Simpson helmets of old have a reputation for poor ventilation, limited peripheral vision, and being a bit heavy. But that was then. This is now.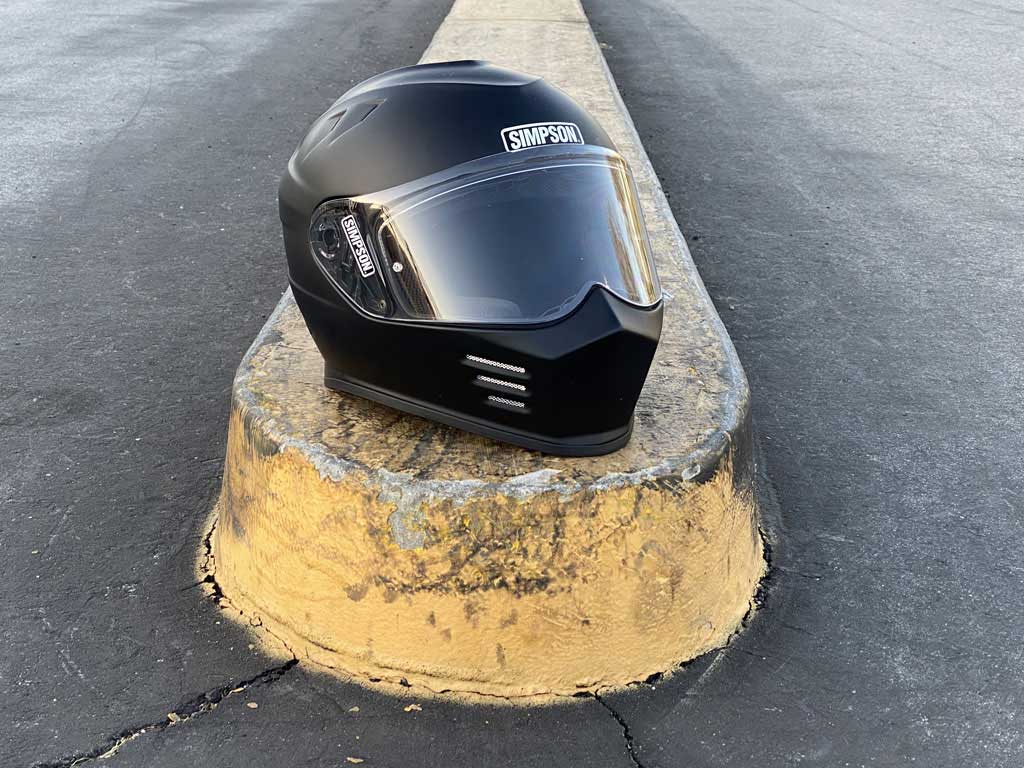 The Simpson Ghost Bandit ($469) is the company's first real-deal up-to-date motorcycle helmet. It is DOT and ECE certified and has all the same features of the leading helmets on the market. However, it also features many design cues taken directly from the Simpson Bandit helmet line.
Vent Control
Simpson claims that the Ghost Bandit's fiberglass composite outer shell has been aerodynamically tuned for motorcycle riding. And unlike the rest of its Bandit brethren, it has an actual air ventilation system. Simpson also has gotten with the times by supplying integrated speaker/microphone pockets in the Ghost Bandit's removable and washable line. Thus it accommodates the myriad Bluetooth motorcycle communication devices available today.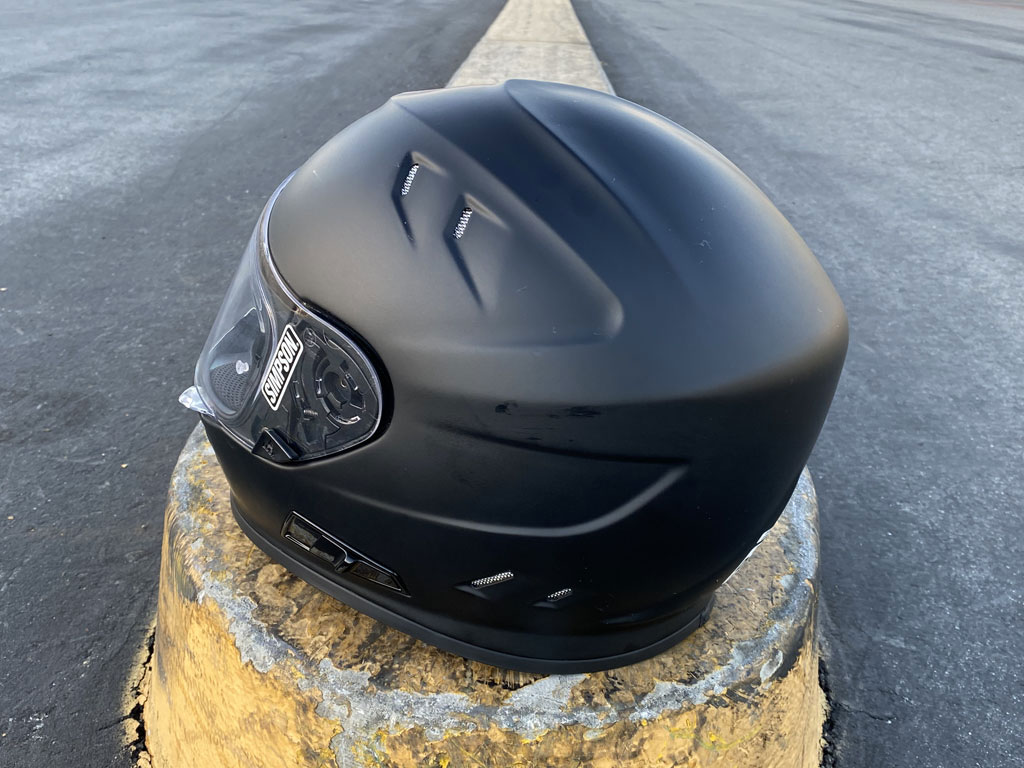 The Ghost Bandit helmet also has a drop-down inner sun visor feature. This is popular with the Sport Touring motorcycle crowd, but not so much with down-and-dirty Harley-Davidson motorcycle riders. The tinted inner sun visor is easy to use and effective with the supplied clear outer shield. That said, I didn't think this was a needed add-on to this helmet since most everyone who buys a Simpson Bandit runs a tinted or mirrored shield ($49.99). That was until I found out that you can swap the inner tinted shield to a clear one ($39.99). When nightfall hits you pop up the dark outer shield and will still be protected by dropping down the inner one. But being me, I still feel that these slide-up inner shields on any helmet are a little gimmicky and just add weight to the helmet.
Bandit on the Loose
When I first put on the helmet it was loose. I found it to run almost a size larger than other helmets I have tested, so buyer beware. Once fitted with the correct size helmet I hit the road for an inaugural 150-mile ride. The helmet had a large viewing area with a ton of peripheral vision. However, it had some unwanted buffeting between 70-80mph. It wasn't the sort of severe head shake like putting your head into a paint shaker, but it was noticeable. The helmet's inner liner and cheek pads formed to my head and face shape really well.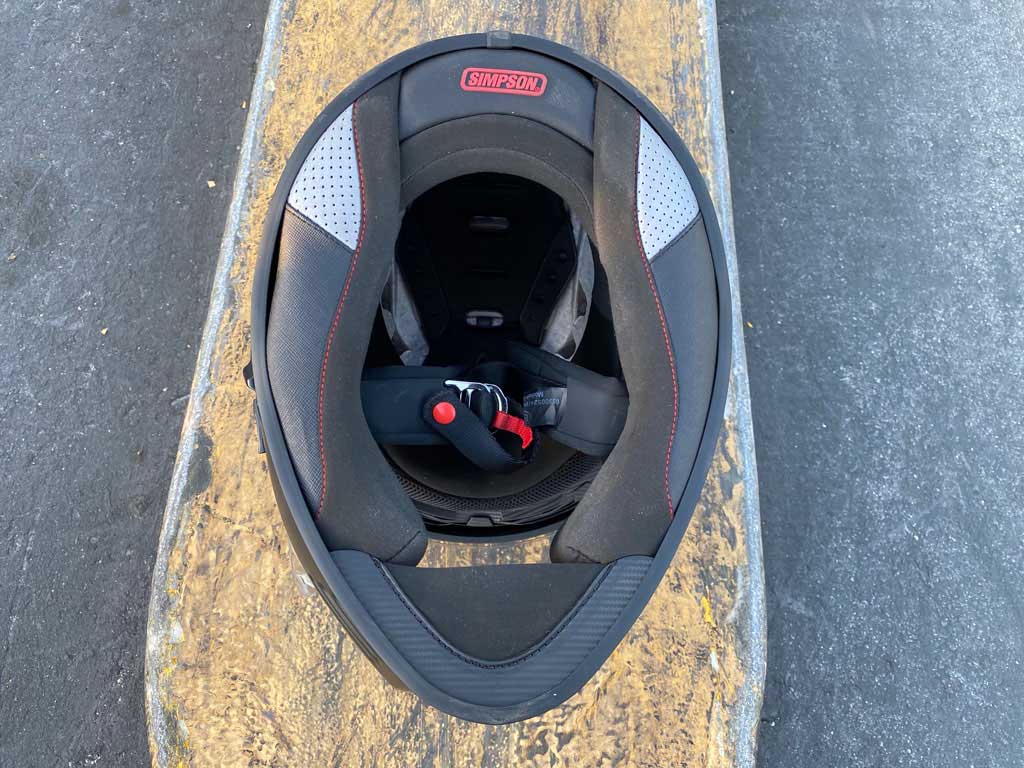 It started to be comfortable in only a matter of hours and not days or even weeks like some other brands. This was indeed a good thing. The helmet had good ventilation; even at low speeds and over 90-degree temps. Of course it was the best of any Simpson helmet I've ever tested. But that is not saying much. Putting it up against any other helmet of this price range I would say it really ventilated well. There is one caveat to this, though. The upper vents are non-adjustable. That means they are open all the time, making this a three-season helmet. Unless you remove the liner and tape them shut with some old stickers you have laying around during the winter months.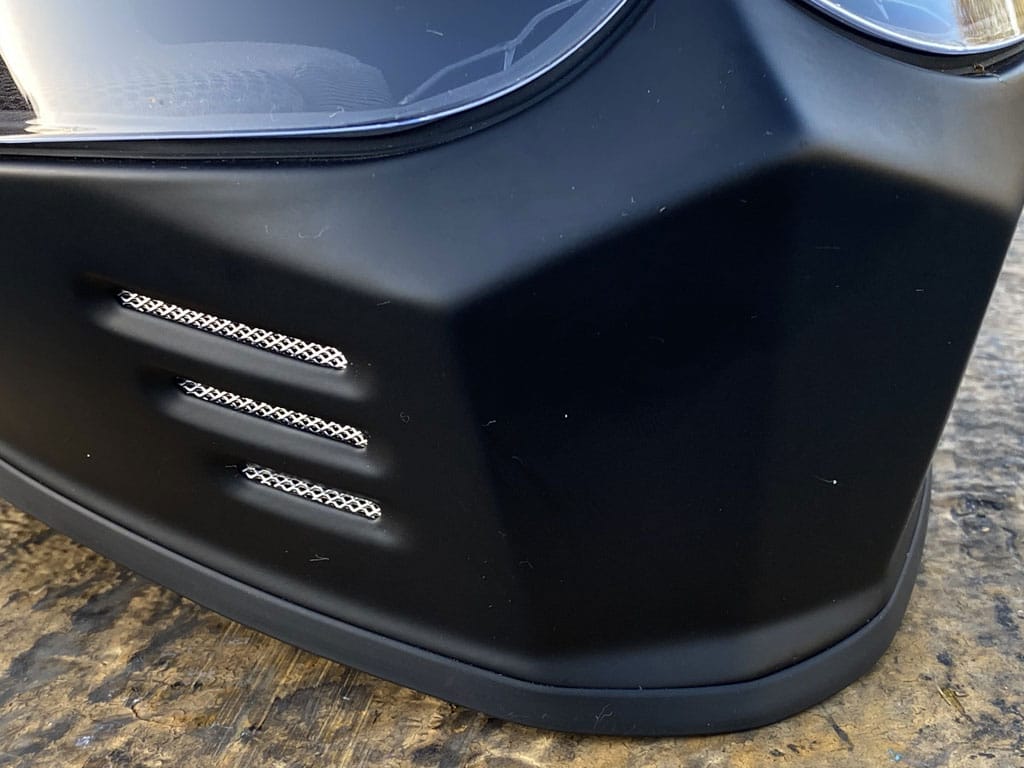 Though the helmet is comfortable and flows air well, the Simpson Ghost Bandit is pretty damn loud at double digit and triple digit speeds. I usually run a set of high quality headphones cranked up to 11, so it didn't really bother me for the first few rides. Then one day I forgot the headphones at home and took the full brunt of the helmet noise for the duration of my three hour ride.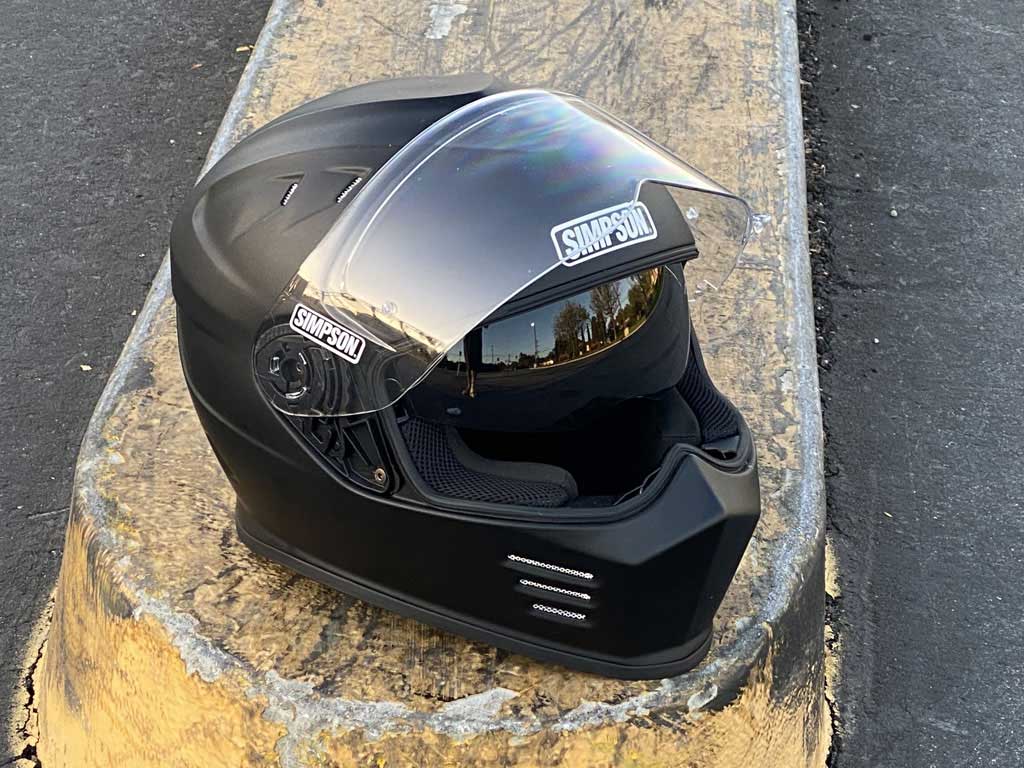 Shortly after that I installed a Lexin FT4 Pro communication system. Luckily the Lexin seems to have a higher volume than many of the other com units on the market. Thus it negated the annoying wind song greatly when streaming music from my iPhone. When I was taking calls while riding with the Ghost Bandit I heard who I was talking to and when I asked if they could hear any of the ambient wind drone the answer was always no.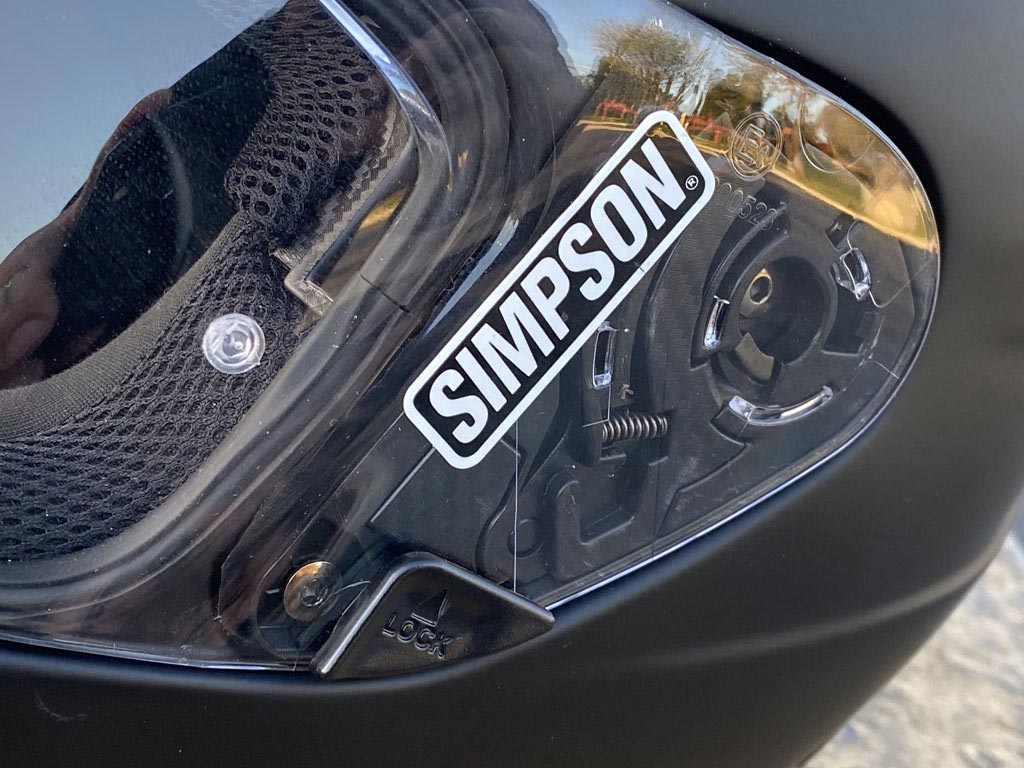 I have tested well over a hundred helmets in my days of editorship and you need to understand that helmets are a lot like riding boots. Whereas every person fits them different, testing them is very subjective. A person's height, riding posture, and even weight has an effect on how a helmet fits and works. After the 1000-plus miles I put on the Ghost Bandit I moved onto other helmets in this price range to test and review.
Yes, there are a lot of helmets in this price range and for me this is one of the best looking. Performance wise, I would say that this Simpson Bandit Helmet is a huge win for the company, but they still have a little ways to go to be in the ranks of the top-rated helmets such as Arai or Shoei.