S&S Talks About the KOTB-Winning Indian Challenger
If you follow KOTB you already know that Tyler O'Hara piloted the Indian Challenger to the championship. And if you follow our website, you may have read our interview with Tyler. This week, we're following up by picking the brain of S&S Cycle's David Zemla about the race bike itself. Seeing as how Indian teamed with S&S in grooming the Challenger for championship glory, we thought getting input from S&S was a good plan. Here's what David had to tell us about the championship-winning Indian Challenger.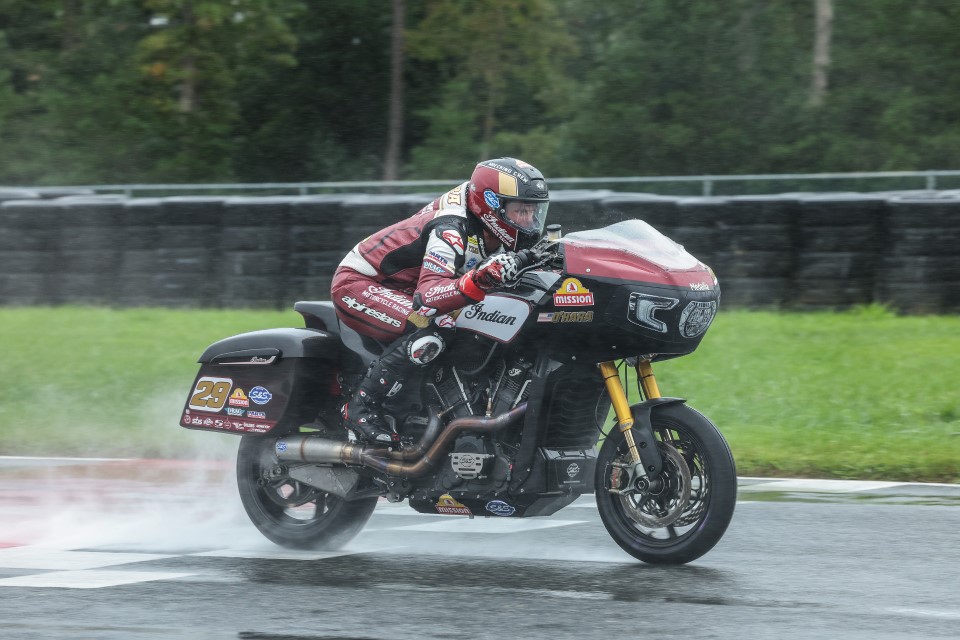 How did S&S come to get involved on Tyler's Challenger and King of the Baggers?
Years back Tyler had raced the XR1200 Series and we felt he understood the unique challenges of a V-twin race bike. Also, the initial race was in Laguna, which is Tyler's home track.
What are the Challenger's greatest strengths as a platform for racing? What areas needed more help than others?
The Challenger engine and trans are really solid out of the gate. In fact, several of the other Challengers in the class are running relatively stock motors. As far as things that need help, the engine as a stressed member of the chassis which works excellent in normal road conditions, but creates some challenges during race speed cornering.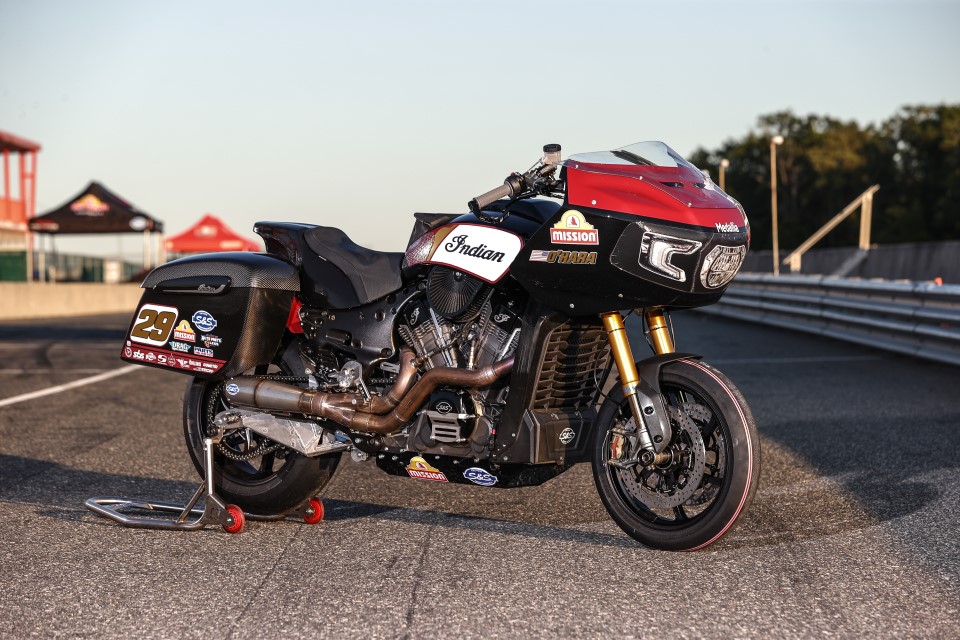 Tell us about how a team takes a stocker like this, breaks it down, and builds it back up into a race bike. Yes, I know that's a big question and I have plenty of coffee.
That's quite the ask! We have one hell of a team designing parts and wrenching on these bikes. Each of our race Challengers sees major modifications, from custom swingarms to triple trees, rear sets, and brakes. So the bikes come down to the frame components and are built back up with race parts. Need any stock Challenger wheels? 
What similar and different challenges (different vs a sport bike or cruiser) do you face when turning a dedicated stock bagger into a track-worthy racing bike?
The challenge with baggers is largely cornering clearance (both H-D and Indian). Otherwise the bikes are amazingly adept at track duty. In race spec they'll sit six inches higher than stock, have the rider relocated to a higher position, and everything tucked in. In full lean, parts are still very close to the pavement and even getting too close to the rounded curbing can pick up a wheel and put the rider on the ground (ie, Tyler's crash in Dash for Cash at Brainerd).
Tell us about researching the parts you created for the bike.
Road Racing motorcycles is not new, so much of what the teams do to these bikes is inspired by existing race machines.Wheel size, steering geometry, suspension travel, etc are relatively known quantities and are then layed over the bagger platform and tweaked to work.
Has there been a lot of re-tuning and adjustment for the team and the bike over the course of racing KOTB or did you guys get it locked in so smooth that you you didn't need to make any big adaptations to the bikes during the season?
The very first bike shares very few parts with the current bikes. The team tweaks them every single race and often during the races. Sometimes it's minor suspension adjustments, other times it may be an experimental engine mod. Racing is always about the evolution of the machine and our crew is not afraid to try new stuff.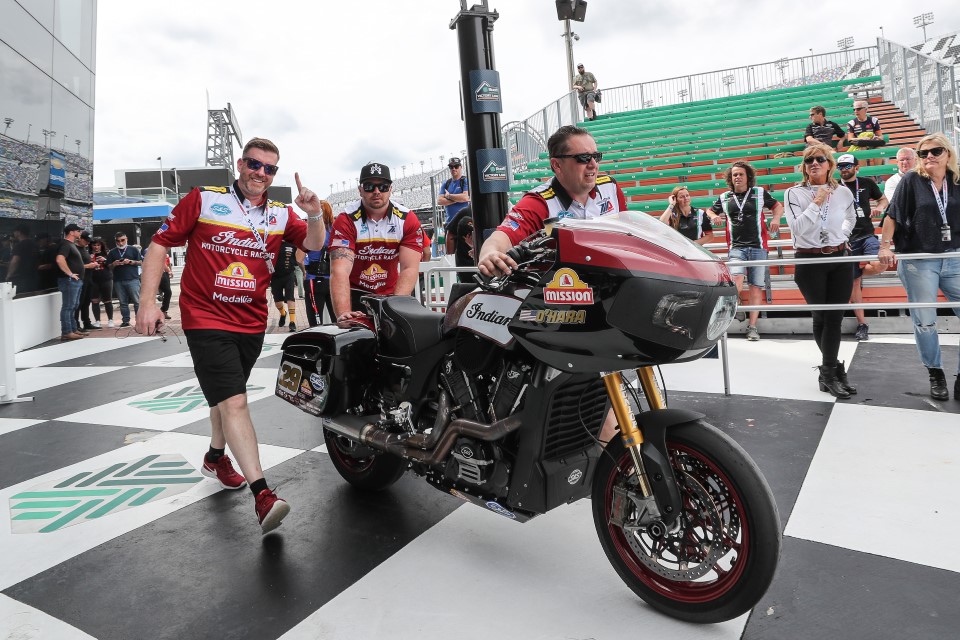 What did S&S learn from the experience?
We're always learning, some of it has been engine prep, definitely suspension tuning, and a lot of rider ergonomics lessons. The tools we bring as well as the way we bring them has really changed a lot, too. We have a massive portable cart that holds parts and even several spare engines. I think as a team we're now prepared for just about any calamity. Raider cartwheels the bike? Not a problem. Shift linkage gets wonky? No problem…
How do those lessons apply to consumer parts?
S&S was born of racing, so our consumer-facing products already have the durability and performance testing baked into them.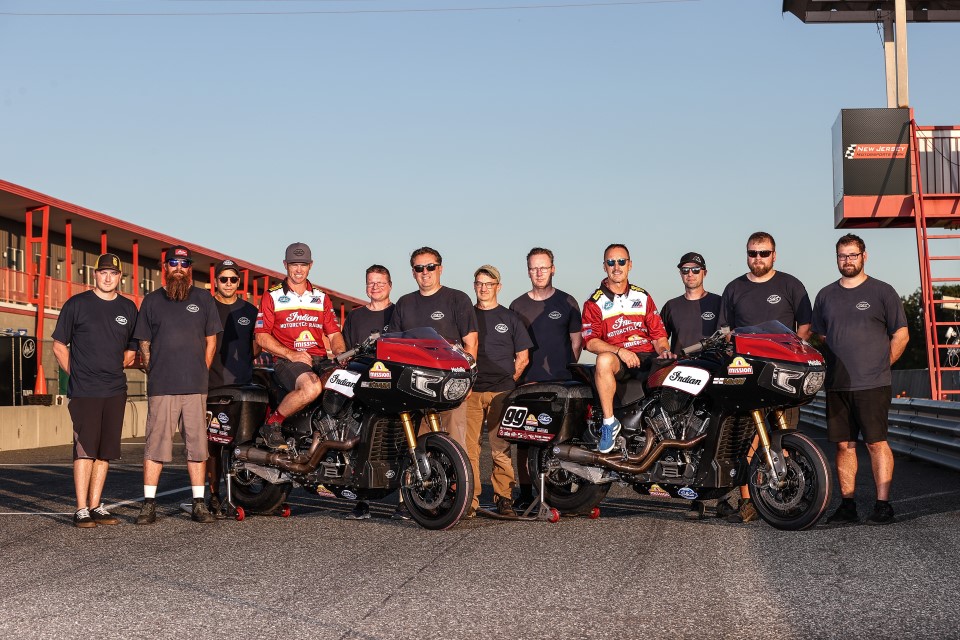 2022 Indian Challenger King of the Baggers Specifications
All race bikes are built from new street legal motorcycles
S&S adjustable rocker arms
S&S race spec camshafts
17-inch OZ 3.5-inch front and 6-inch rear with S&S billet rotor adaptors
112-inch big bore cylinder kit
S&S 2-into-1 stainless steel race exhaust
Custom S&S side mounted induction system
Saddlemen raised race seat
S&S adjustable triple clamps, 230mm fork spacing, 50/55mm fork diameter
Ohlns forks
Ohlins rear shock
Brembo 330mm front brake rotors
Brembo StyleMA, Cast Monobloc, front calipers
SBS DS1 front brake pads
Brembo RCS19 corsa Corta front master cylinder
Beringer rear master cylinder
EBC rear rotor with Hayes rear caliper and pads
530 chain conversion kit 21/55 shipped standard
Maxx Sport ECM with custom wiring harness
AIM Dash and data logger
Full Spectrum battery with custom battery tray
S&S rear set foot controls
S&S/Klockwerks fully adjustable handlebars
S&S aluminum fairing mount
Saddlemen carbon fibure saddlebags
Fiberglass rear fender
S&S billet clutch cover
S&S aero headlight insert
S&S/Indian aero windshield
Custom slipper clutch
Machined frame downcasts for lean angle
S&S raised Battery Box
Coolant reservoir and bracket
S&S light weight saddlebag mounts
S&S Billet Chain Tensioner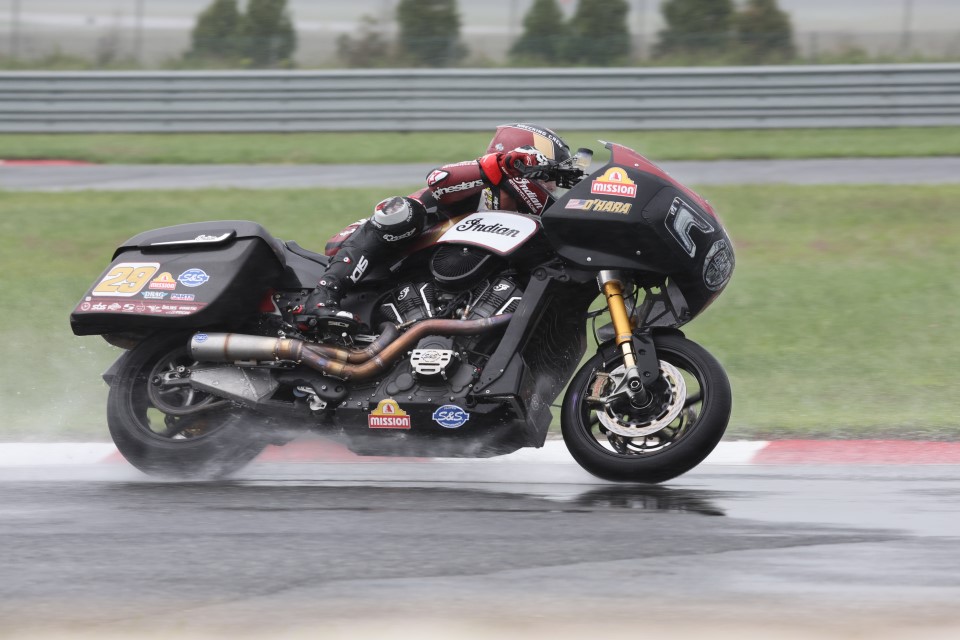 Follow MotoAmerica on Facebook, Instagram, and Twitter for updates on Mission Foods King of the Baggers racing. For more information on Indian Motorcycle, go here. See what S&S Cycle has to offer for your Indian or Harley-Davidson on the company website.