The Troublehead: Brad Columbus Shovelhead
In 2014, standing next to my new bride as her maid of honor was giving her toast, in the middle of this everyone at the reception was blown away when out of the blue this nut rides a Harley into the middle of the reception, leading my bride to grab the microphone and say, "I have a little announcement. Brad has always wanted a Shovelhead, so I got him one as a wedding present!"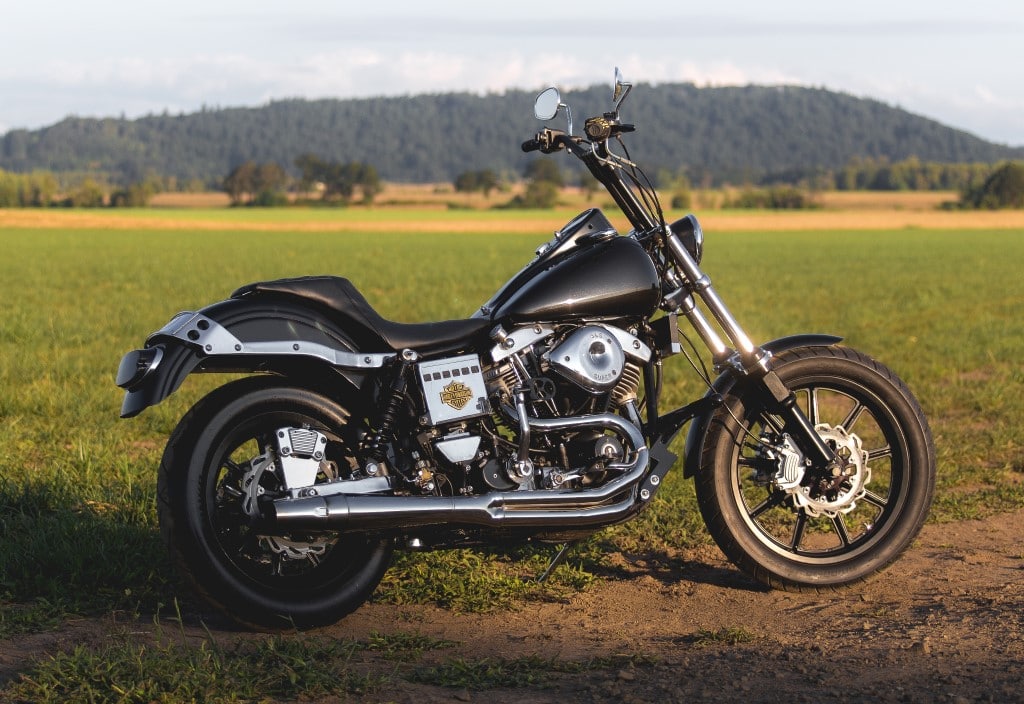 Shovelhead Games
Mind blown! Yeah, my wife is pretty damn rad. From there I took it down to the frame and built a screamin' bar hopper. You know, 16-inch apes, drag pipes, slammer shocks, a pretty black paint job, and forward controls. Your everyday typical Oregon Harley ridin' dude's style. Let's get something straight. There's nothing wrong with that style but up here at that time it was the "go to." We were always a bit behind when it came to the leading edge of performance and style. But not anymore.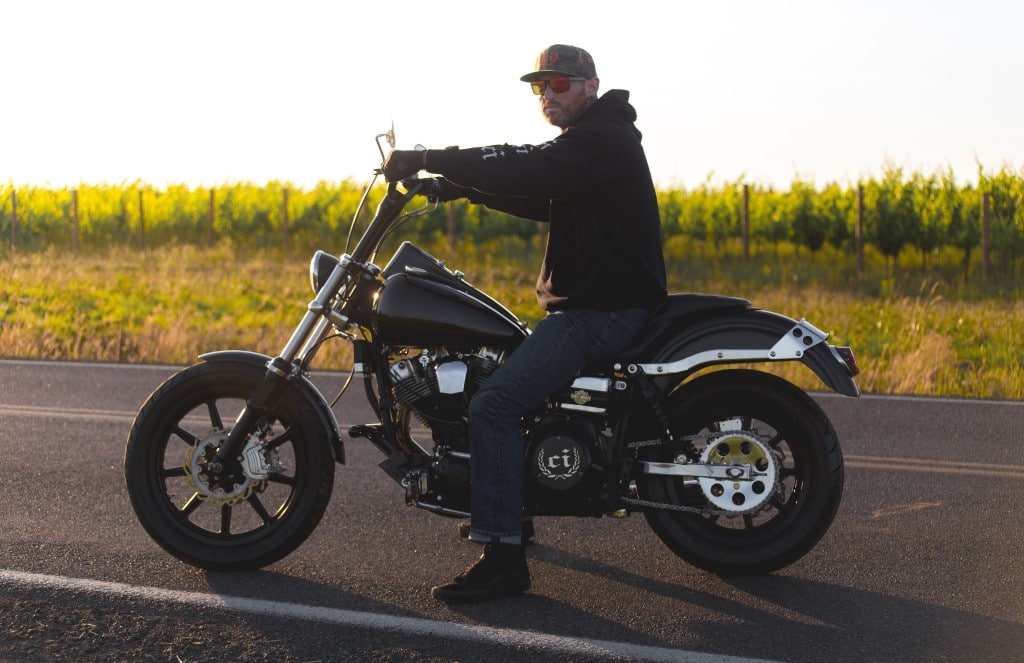 This bike was a blast to run around town and on short trips. However it sat more than I rode it. It was a big part of my brand Crash Inc. at the time. As the Harley community grew more performance minded, I built a bagger encompassing these ideas. It was both more comfortable for my wife to ride and helped my brand grow. Fast forward to 2018. I had the pleasure of meeting The Man, The Myth, The Legend: Victor Hansen aka @MOD_GLIDE07. We became best friends instantly (he's the reason this article happened, and I appreciate it more than he knows).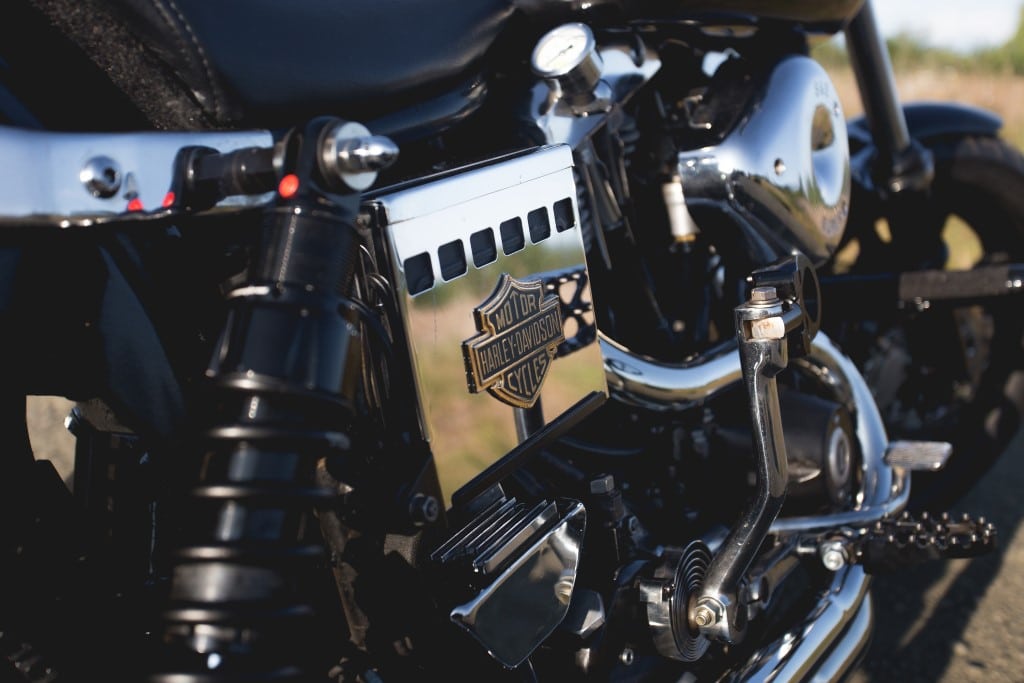 We kept in touch over the next year and I planned a trip down to Born Free in 2019. The trip and show blew my mind being in the thick of all these performance-built bikes!
Creative Spark
That's when the spark hit me. I told myself I'd come straight home and transform/build my bar hopper shovelhead into a performance wide glide. Not only packing good looks but also packing performance without losing the old shovelhead nostalgia. I'd assemble it with some trick, updated "new age" parts. And so the "Troublehead" was born.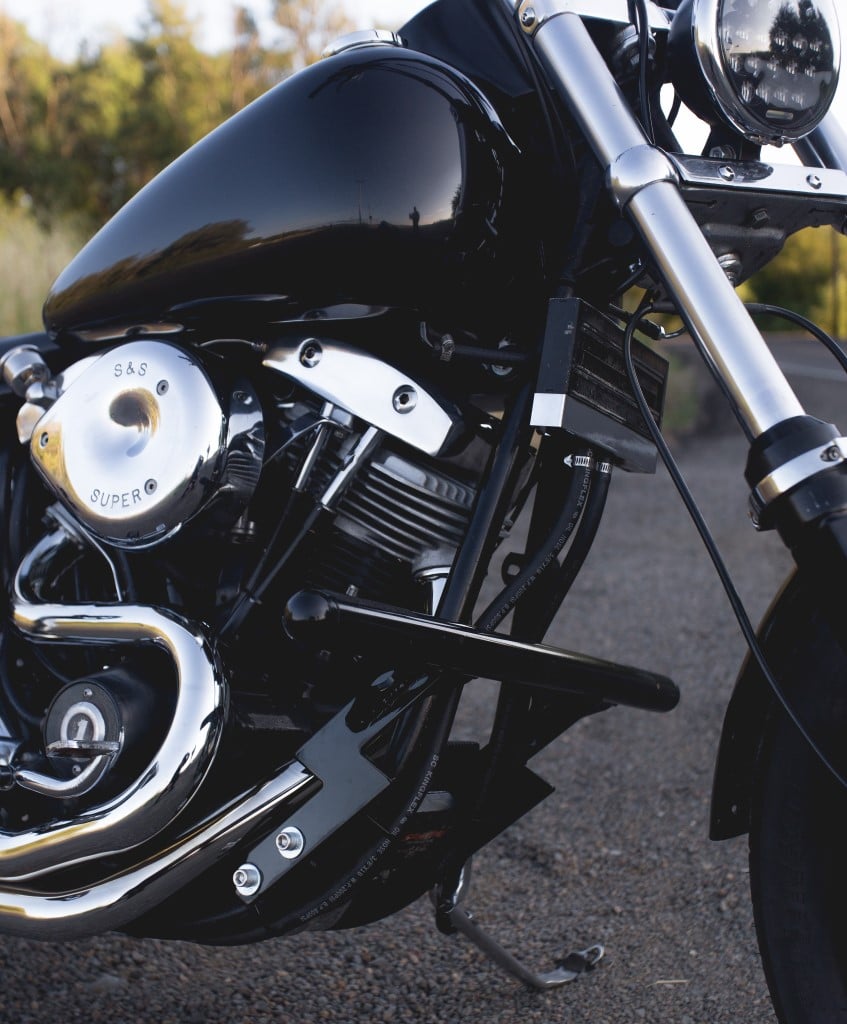 To the naked eye most people think it's an old FXE with some trick parts, but it's not. It started as a 1981 FXWG, with factory forward controls, a 21-inch spoke front wheel—the whole nine. This time around I started by fabbing up my own tank mounts to run a Fat Bob rubber mount tank. After, I ditched the Fat Bob fender and struts, went to an FX rear fender setup, and converted back to mid controls.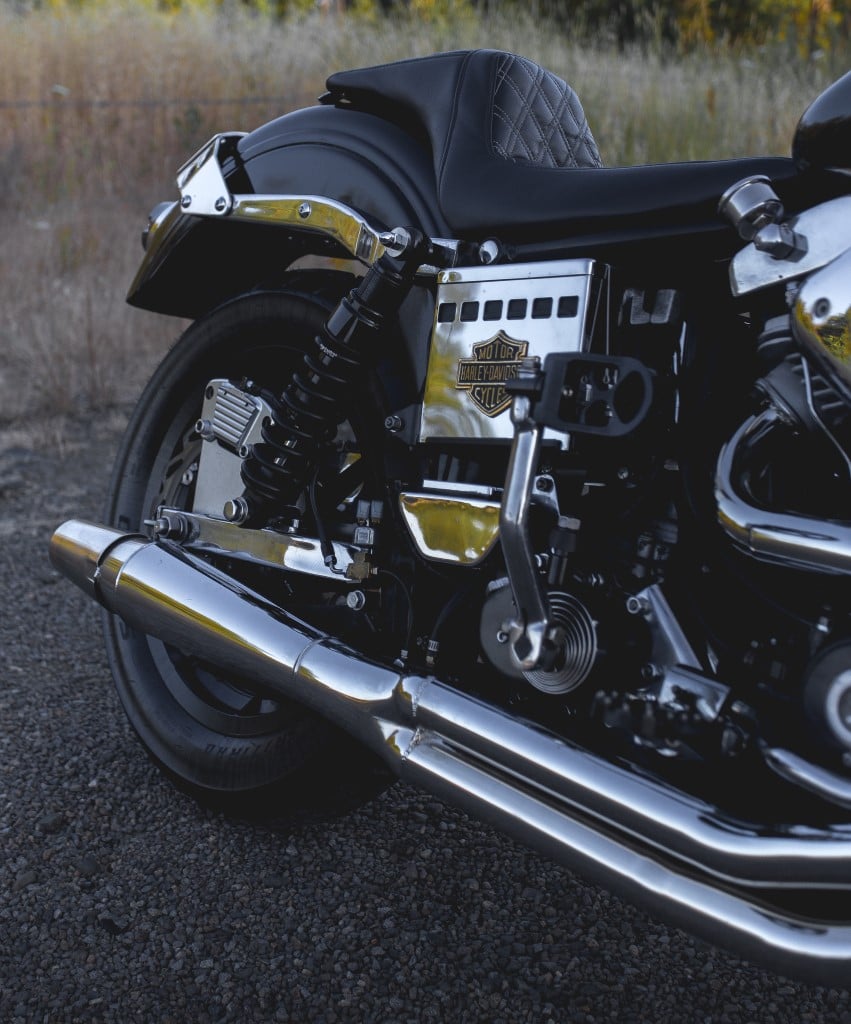 Race Tech was nice enough to set me up with springs and gold valves. I also grabbed a set of mags and machined some spacers for the front rotors. That let me retain the 41mm wide glide front end. Chopper Hauss made me a one off set of 10-inch full floater rotors to keep that old school feel. After some serious research, shimming, and shaving, I was able to squeeze some GMA 4 piston calipers on her. If you know shovels you know they weren't equipped with much stopping power. Now she stops on a dime.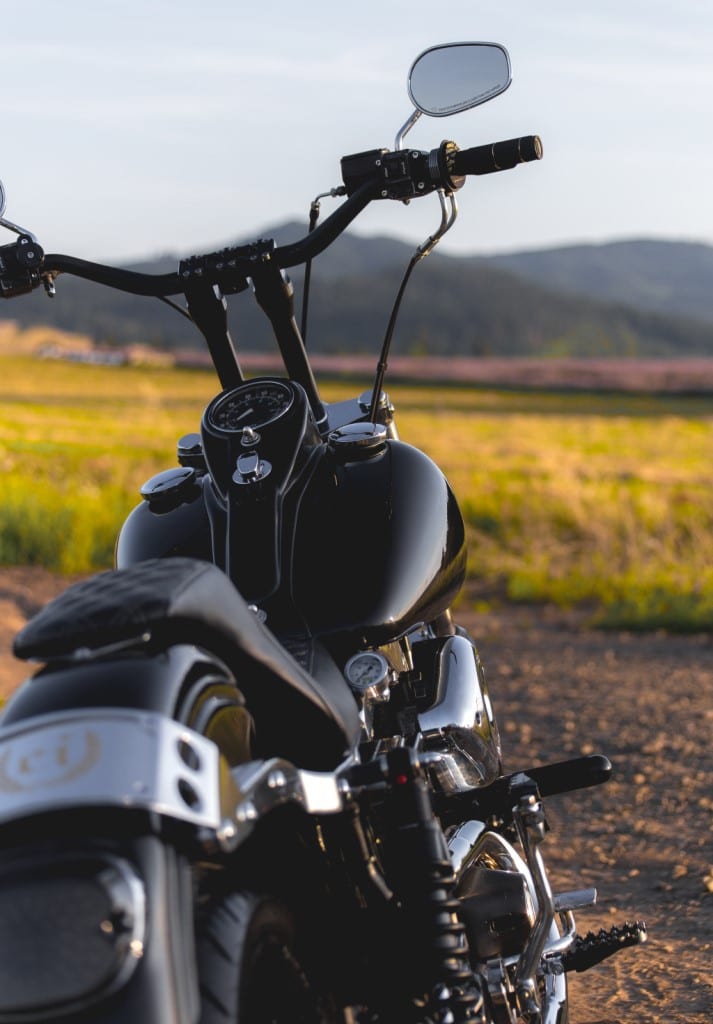 She needed some more HP so of course S&S jugs and heads were in order. My buddy Wes does paint work for a hobby. He shot the paint in his barn. My boy Dallas and I re-shaped an old king and queen seat for her in my shop. He then took it back to South Dakota, where we literally designed the seat via text and Facetime. We even mailed it back and forth a couple times. The crash bar was handmade by my bro Rob. Additionally, my homey and I Mychal designed the license plate mount. He hand shaped to the bike.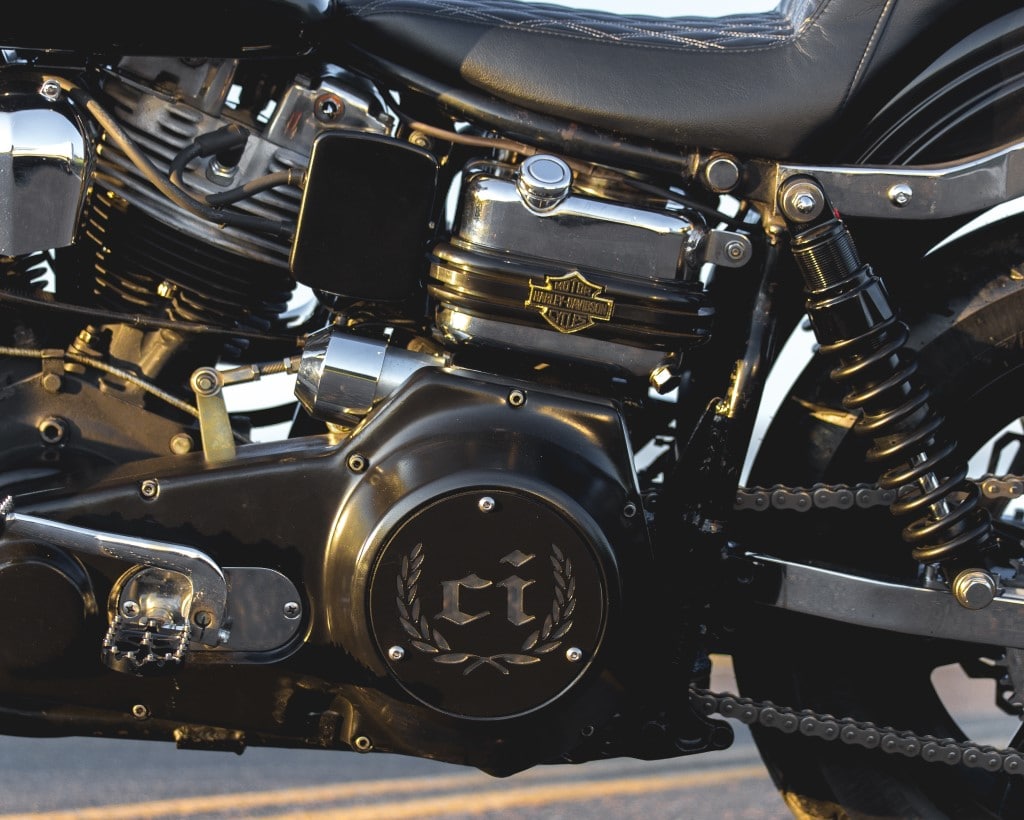 Out back the Shovelhead sports Racing Bros shocks, an adjustable swing arm, some cool sliders, and matching caliper and rotor. I also completely re-wired the bike and updated to all LED lighting. I was asked when putting it together if was going to retain the kicker and I said, "Hell yeah." So of course it needed a matching pedal which ties in well with the old-meets-new theme.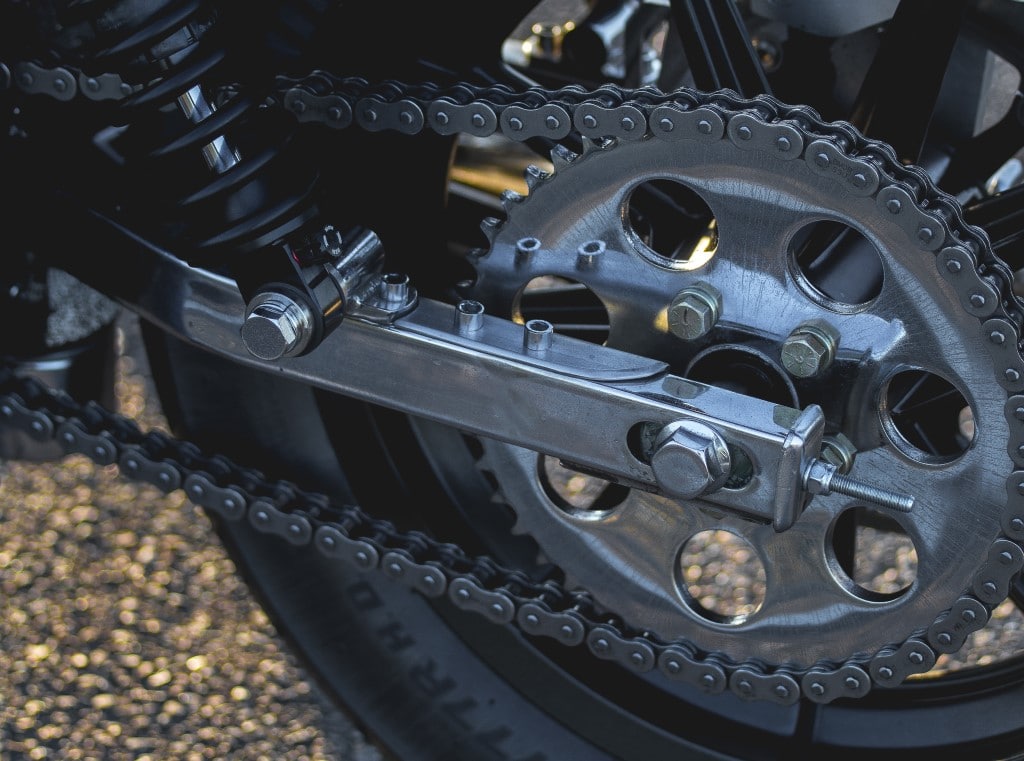 All said and done the Troublehead was quite the challenge. But to me it's a true testament to the power of positivity, putting in work, and accomplishing anything you set your mind to. There are many far more talented garage builders out there that we may or may not ever see (social media is definitely helping with that). Yet we're out here, all of us are adding something unique and important to the Harley community. So, for this opportunity, Jeff, I thank you. I'm holding my beer up high to you and all the rest of us garage builders out there. –Brad Columbus